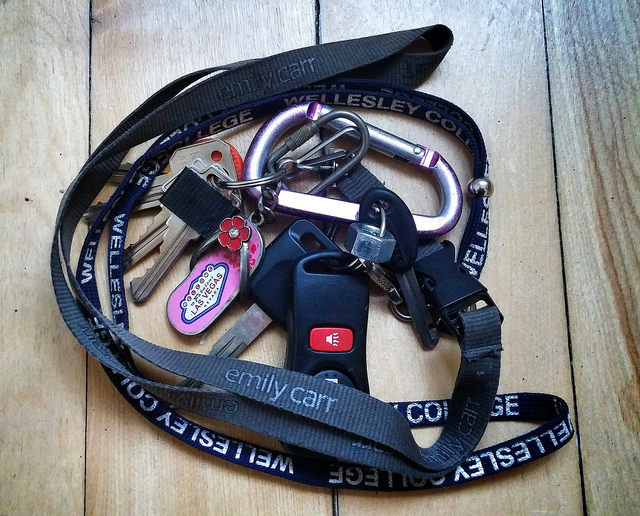 - - -
I once dropped my keys in a small-town department store and didn't realize they were missing until I heard a voice on the loudspeaker asking, "Will Emily Carr please report to the customer service desk?" My name isn't Emily Carr, but I knew they were referring to my key ring's grey lanyard from Emily Carr University, which I received when I gave an art talk there.
I have no particular love for the lanyard. But thanks to my immigrant father, I inherited an obsession with salvaging garbage and refusing to buy anything I can't find gratis. Every resource is hoarded, every opportunity cached. This economic prudence extends to my key ring, which is full of found objects I can't throw away. In addition to the lanyard, there's a small pink flip-flop — a souvenir from a trip to Vegas I never took — that I discovered washed up along a river in Maine. These souvenirs are held together by a purple climbing carabiner that advertises PDQ Delivery Service and warns NOT FOR CLIMBING. I've had it so long that I forget where it came from.
Amidst these larger objects, it's easy to miss that my key ring also includes a small, plain nut — the kind that goes with a bolt. I've always liked the shape of nuts. They are angular, hard, thick, unforgiving metal. Pretty yet easily overlooked. They were a source of entertainment during my childhood, when my father dragged me to hardware stores (every weekend, it seemed) to find the tools he needed for his endless home improvement projects. I was always bored out of my mind until I reached the aisle with drawers of nuts, bolts, nails, and screws. I preferred the hexagons, and since I was a kid supposedly helping my father, I had total permission to stick my fingers into the drawers and interact with the cool, angled, unbreakable metal for as long as I liked.
Nuts, it turns out, are practically free: 10¢ apiece, 25¢ tops. But that's not cheap enough for me. I spotted mine in a gravel driveway at the home where I lived a decade ago. It reminded me of those long-ago trips to the hardware store, and the price was right, so I added it to my key ring. If my father could slow down long enough to stop working and worrying about how to get ahead, he might get a laugh out of this. He might nod approvingly at my resourcefulness, even though I'm a professor now and he has three rental properties, even though we both can afford to buy as many nuts as we want. "Shah bash," he might say, "maybe we can find a use for that."
- - -
Key Ring Chronicles is a crowd-sourced project that explores the stories behind objects that people keep on their key rings. It was created and is overseen by Paul Lukas, who has kept a quarter with a hole drilled through it on his own key ring since 1987. Readers are encouraged to participate by sending photos and descriptions here.