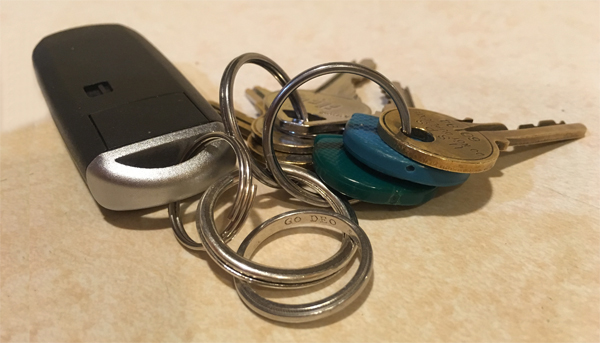 - - -
The inscription inside my wedding band says GO DEO, which is Irish for "Forever." Plus there's the date of our wedding, 21 years ago. My wife's ring has the same notations. I'm not sure when she stopped wearing hers, but it was a while after we decided to divorce. At the time, we were both still living in our house, with our kids, so to me it seemed a bit early. When I moved out, though, I found I was ready.
What do you do with something that says "Forever"? It seemed wrong to put the ring in a drawer. The meaning had changed, but not that much. I decided to thread it onto my other ring, a key ring I've owned since before our marriage and expect to have always. Funny, I got that ring at a wedding, too. It's silver, a groomsman gift from my good friend Andy. It came with an inscribed silver fob that I still have somewhere, but I use only the ring.
Is a key ring the right place for "Forever"? Everything else there is transitory. Keys last only until they're replaced, or until I forget what they're for, or until I'm forbidden to use them. Relevant example: The day I added my wedding ring, I removed the keys to the Marital Residence, as our lawyers like to call it. Should my ring likewise be out of circulation?
I think what I've done is okay. I imagined, once, that GO DEO was a pledge I should always keep visible, to myself and to others, in public and in private. These days, as a description of my marriage's impact, it's just a truth — one I carry with me daily, mostly out of sight, never to bed.
- - -
Key Ring Chronicles is a crowd-sourced project that explores the stories behind objects that people keep on their key rings. It was created and is overseen by Paul Lukas, who has kept a quarter with a hole drilled through it on his own key ring since 1987. Readers are encouraged to participate by sending photos and descriptions here.