Hello, friends! This page is the galley portal for McSweeney's, where members of the media can download advance reader copies of our forthcoming and most recent releases. Note that these are uncorrected and should not be quoted without confirmation from us. To learn more or to arrange interviews with our authors, please be in touch with the publicist noted. For password access, please send your name and the organization you're writing for to: eric@mcsweeneys.net.
If you're a book buyer and have any questions about distribution about these or other future titles, please contact danweiss@mcsweeneys.net
Upcoming Titles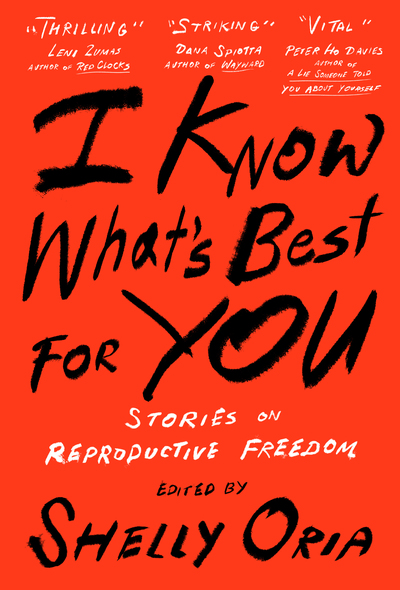 I Know What's Best For You
Edited By Shelly Oria
Publicist: Raj Tawney – raj@mcsweeneys.net
Paperback—May 24th, 2022
$21.99
978-1-952119-32-3
Edited by Shelly Oria—author and editor of Indelible in the Hippocampus—this explosive, intersectional collection of essays, fiction, poems, plays, and more, explores the universality of human reproductive experiences, as well as their distinct individuality.
An enlisted sailor must choose between her military career and keeping an unexpected pregnancy. A mother of three decides to become a surrogate, but is unprepared for everything that happens next. A trans man's pregnancy forces them to approach their key relationships in a new way. A woman's choice to live a child-free life is put to the test when her husband's dying wish is for them to become parents. Forced sterilization camps line the borders of America in a dystopian future that may not be far off.
In their own unique and unforgettable way, each storyteller examines our crisis of access to care in ways that are at turns haunting, heartbreaking, and outright funny.
I Know What's Best for You is a collaboration with the Brigid Alliance, a nationwide service that arranges and funds confidential and personal travel support to those seeking abortion care.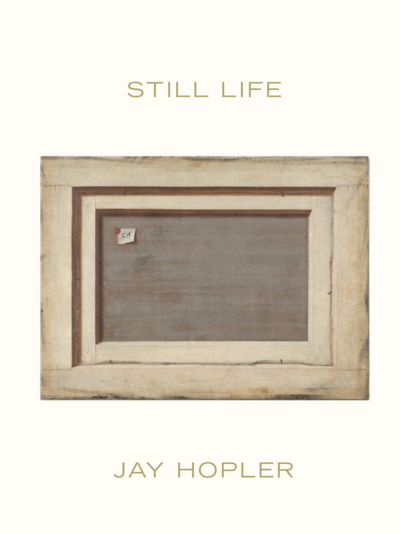 Still Life
By Jay Hopler
Publicist: Kelly Fortsythe – kelly@forsythepr.com
Hardcover—June 7th, 2022
$18
978-1-952119-37-8
Confronted with a terminal cancer diagnosis, Jay Hopler—author of the National Book Award-finalist The Abridged History of Rainfall—got to work. The result of that labor is Still Life, a collection of poems that are heartbreaking, terrifying, and deeply, darkly hilarious. In an attempt to find meaning in a life ending right before his eyes, Hopler squares off against monsters real and imagined, personal and historical, and tries not to flinch. This work is no elegy; it's a testament to courage, love, compassion, and the fierceness of the human heart. It's a violently funny but playfully serious fulfillment of what Arseny Tarkovsky called the fundamental purpose of art: a way to prepare for death, be it far in the future or very near at hand.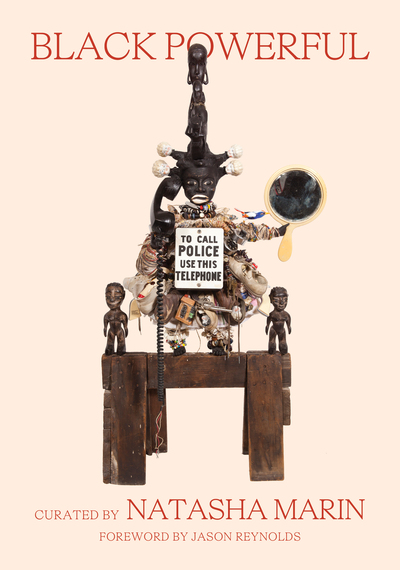 Black Powerful: Black Voices Reimagine Revolution
By Natasha Marin
Publicist: Amanda Choo Quan – amandacq@gmail.com
Hardcover—September 6th, 2022
$15.99
978-1-952119-25-5
Award-winning viral curator and poet Natasha Marin follows up her acclaimed Black Imagination with a brilliant new collection of sharply rendered, breathtaking reflections from more than one hundred Black voices.

When do you feel most indigenous?
What does it sound like when you claim yourself?
When do you feel most powerful?

Black Powerful explores the monumental resilience, joy, and triumph of Black People everywhere.

Cover art by Vanessa German.
Recent Titles
People Want to Live
By Farah Ali
Publicist: raj@mcsweeneys.net
Hardcover/Anthology—October 26th, 2021
$24
978-1-952119-29-3
Set in Pakistan, these award-winning stories follow people living on the brink of abandonment—in their personal relationships and their place in the world. A mother, coping with the sudden death of her son, uncovers long buried secrets in his absence. An anguished girl grabs a chance for a life beyond the orphanage walls where she lives and discovers the price of freedom. A young couple tries to keep their fraught relationship steady as a heat wave engulfs their city. A son returns to visit his aging parents while beset with memories of a troubled childhood. And two thieves find themselves in a situation more precarious by the minute, and more dangerous than their original mission.

Ali's characters battle loneliness and in their fight reveal surprising vulnerabilities and an astonishing measure of hope..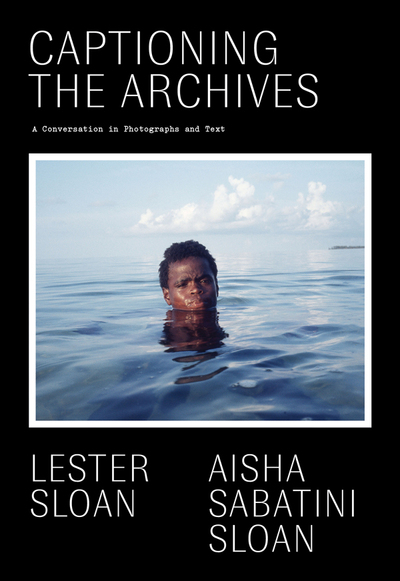 Captioning the Archives
By Lester Sloan and Aisha Sabatini Sloan
Publicist: raj@mcsweeneys.net
Paperback—November 16th, 2021
$30
978-1-952119-15-6
Lester Sloan began his photography career as a cameraman for the CBS affiliate in Detroit, then worked as a staff photographer in Los Angeles for Newsweek magazine for twenty-five years. His daughter, noted essayist and National Magazine Award-winning writer Aisha Sabatini Sloan, covers race and current events, often coupled with analysis of art, film, and pop culture.
In this father-daughter collaboration, Lester opened his archive of street photography, portraits, and news photos, and Aisha interviewed him, creating rich, probing, dialogue-based captions for more than one hundred photographs. Lester's images encompass celebrity portraits, key news events like Pope John Paul's visit to Mexico, Black cultural life in Europe, and, with astonishing emotion, the everyday lives of Black folk in Los Angeles and Detroit.


The Every
By Dave Eggers
Publicist: raj@mcsweeneys.net
Hardcover/Novel—October 7th, 2021
$28
978-1-952119-36-1
When the world's largest search engine/social media company, the Circle, merges with the planet's dominant e-commerce site, it creates the richest and most dangerous–and, oddly enough, most beloved–monopoly ever known: the Every.

Delaney Wells is an unlikely new hire. A former forest ranger and unwavering tech skeptic, she charms her way into an entry-level job with one goal in mind: to take down the company from within. With her compatriot, the not-at-all-ambitious Wes Makazian, they look for the company's weaknesses, hoping to free humanity from all-encompassing surveillance and the emoji-driven infantilization of the species. But does anyone want what Delaney is fighting to save? Does humanity truly want to be free?

Studded with unforgettable characters and lacerating set pieces, The Every blends satire and terror, while keeping the reader in breathless suspense about the fate of the company–and the human animal.

The Every will be available in a dizzying, ever-expanding, and entirely randomized array of cover variations.
Ivory Shoals
By John Brandon
Publicist: jonmpublicity@gmail.com
Hardcover/Novel—July 20th, 2021
$26
978-1-952119-17-0
In the tradition of Mark Twain and Cormac McCarthy comes this distinctly American, pulse-quickening epic from the acclaimed author of Citrus County and Arkansas.


Twelve-year-old Gussie Dwyer—audacious, resilient, determined to adhere to the morals his mother instilled in him—undertakes to trek across the sumptuous yet perilous peninsula of post-Civil War Florida in search of his father, a man who has no idea of his son's existence. Gussie's journey sees him cross paths with hardened Floridians of every stripe, from the brave and noble to a bevy of cutthroat villains, none worse than his amoral shark of a half brother. Will he survive his quest, and at what cost?


Rich in deadpan humor as well as visceral details that illuminate a diverse cast of characters, the novel uncovers deep truths about family and self-determination as the reader tracks Gussie's dangerous odyssey out of childhood. Ivory Shoals is an unforgettable story from a contemporary master.


Domestic Crusaders
By Wajahat Ali
Publicist: raj@mcsweeneys.net
Chapbook/Play—September 7th, 2021
$10
978-1-952119-2-79
The Domestic Crusaders focuses on a day in the life of a modern Muslim Pakistani-American family of six eclectic, unique members, who convene at the family house to celebrate the twenty-first birthday of the youngest child.
With a background of 9/11 and the scapegoating of Muslim Americans, the tensions and sparks fly among the three generations, culminating in an intense family battle as each "crusader" struggles to assert and impose their respective voices and opinions, while still attempting to maintain and understand that unifying thread that makes them part of the same family.


The Museum of Rain
By Dave Eggers
Publicist: raj@mcsweeneys.net
Hardcover/Novel—Summer, 2021
$4.99
978-1-952119-35-4
Oisín Mahoney is an American Army vet in his 70s who is asked to lead a group of young grand-nieces and grand-nephews on a walk through the hills of California's Central Coast. Walking toward a setting sun, their destination is a place called The Museum of Rain, which may or may not still exist, and whose origin and meaning are elusive to all.
In one of his most elegiac short stories, Dave Eggers gives us a beautiful testament to family, memory, and what we leave behind. Presented here in a slim, pocket-sized hard cover, with a cover illustrated by Angel Chang.


Tragic Magic
By Wesley Brown
Publicist: sin@jackjonesliteraryarts.com
Hardcover/Novel—February, 2021
$24
978-1-944211-98-1
Tragic Magic is the story of Melvin Ellington, a.k.a. Mouth, a black, twenty-something, ex-college radical who has just been released from a five-year prison stretch after being a conscientious objector to the Vietnam War. Brown structures this first-person tale around Ellington's first day on the outside. Although hungry for freedom and desperate for female companionship, Ellington is haunted by a past that drives him to make sense of those choices leading up to this day. Through a filmic series of flashbacks the novel revisits Ellington's prison experiences, where he is forced to play the unwilling patsy to the predatorial Chilly and the callow pupil of the not-so-predatorial Hardknocks; then dips further back to Ellington's college days where again he takes second stage to the hypnotic militarism of the Black Pantheresque Theo, whose antiwar politics incite the impressionable narrator to oppose his parents and to choose imprisonment over conscription; and finally back to his earliest high school days where we meet in Otis the presumed archetype of Ellington's "tragic magic" relationships with magnetic but dangerous avatars of black masculinity in crisis. But the effect of the novel cannot be conveyed through plot recapitulation alone, for its style is perhaps even more provoking than its subject. Originally published in 1978, and edited by Toni Morrison during her time at Random House, this Of the Diaspora edition of Tragic Magic features a new introduction by author Wesley Brown.


Spilt Milk
By Courtney Zoffness
Publicist: mandy.medley@nectarliterary.com
Hardcover/Essays—March, 2021
$22
978-1-952119-14-9
What role does a mother play in raising thoughtful, generous children? In her literary debut, internationally award-winning writer Courtney Zoffness considers what we inherit from generations past—biologically, culturally, spiritually—and what we pass on to our children. Spilt Milk is an intimate, bracing, and beautiful exploration of vulnerability and culpability. Zoffness relives her childhood anxiety disorder as she witnesses it manifest in her firstborn; endures brazen sexual advances by a student in her class; grapples with the implications of her young son's cop obsession; and challenges her Jewish faith. Where is the line between privacy and secrecy? How do the stories we tell inform who we become? These powerful, dynamic essays herald a vital new voice.


Praise Song for the Widow
By Paule Marshall
Publicist: sin@jackjonesliteraryarts.com
Hardcover/Novel—March, 2021
$24
978-1-952119-04-0
Avey Johnson-a black, middle-aged, middle-class widow given to hats, gloves, and pearls-has long since put behind her the Harlem of her childhood. Then on a cruise to the Caribbean with two friends, inspired by a troubling dream, she senses her life beginning to unravel-and in a panic packs her bag in the middle of the night and abandons her friends at the next port of call. The unexpected and beautiful adventure that follows provides Avey with the links to the culture and history she has so long disavowed. Originally published in 1983, Praise Song for the Widow was a recipient of the Before Columbus Foundation American Book Award, and is presented here in a beautiful new hardcover edition.

"Astonishingly moving."
-Anne Tyler, The New York Times Book Review


You People
By Nikita Lalwami
Publicist: jonmpublicity@gmail.com
Hardcover/Novel—May, 2021
$26
978-1-952119-13-2
From the outside, Pizzeria Vesuvio seems just like any other pizza place in West London: a buzzy, cheerful Italian spot on a street where cooks from Sri Lanka rub shoulders with waitstaff from Spain, Georgia, Wales, Poland and more. But upstairs, on the battered leather sofas, lives are being altered drastically and often illegally, as money, legal aid, safe passage and hope are dealt out under the table to those deemed worthy. Set in the opening years of the 21st century, against the backdrop of the Sri Lankan civil war and its outpouring of refugees to Britain, You People asks the big questions at a time of bewildering flux. What price do we put on life, on freedom, and the right to love in an age defined by seismic political change?


Other McSweeney's Titles
My Gaza: A City in Photographs
By Jehad Saftawi
Publicist: Raj Tawney – rajtawney@gmail.com
Hardcover/Photo Book—November 17, 2020
$35
978-1-944211-97-4
My Gaza offers a startling perspective on contemporary Gaza. Photographer Jehad al-Saftawi documents his life there up until his escape in 2016. Al Saftawi's eye is drawn to moments of humanity and tenderness that redefine this place, beyond propaganda, beyond prevailing narratives. Through vivid images and captions, al-Saftawi exposes a place that cannot withstand further escalation. A gun to the head. An interrogation. A family in strife. Urgent and resolute, My Gaza is the first book of its kind: photos of present-day Gaza by a Gazan journalist.


The Lights and Types of Ships at Night
By Dave Eggers
Illustrated by Annie Dills
Publicist: McSweeney's – publicity@mcsweeeys.net
Hardcover Children's Book—November 17, 2020
$24
978-1-952119-07-1
You may have heard of ships. You may have also heard of the sea and the night. Bud did you realize there's nothing more beautiful than a ship and its lights on the sea at night? In warm and witty prose, this books asks the reader to consider the splendor of glowing lights cast by ships on a shimmering waterway. Meet a trawler, a paddlewheel ferryboat, an icebreaker, and something called a RoRo—all richly illustrated to illuminate the gorgeous explosion of color that only happens where boats and water and lights converge.
McSweeney's Issue 62: The Queer Fiction Issue
Publicist: press@mcsweeneys.net
Hardcover —November 24, 2020
$26—Product Page
978-1-944211-91-2
McSweeney's Issue 62: The Queer Fiction Issue collects absurd, bold, bleak, humorous, and astonishing works of fiction and art by queer writers of all orientations. Inside this luxurious hardcover, you'll find stories about storm chasers and Colombian supermodels, about talking plants and DIY bands and camboys and encounters with the dead. Contributors include Bryan Washington, Eileen Myles, Kristen Arnett, Sarah Gerard, Juli Delgado Lopera, Gabby Bellot, Dennis Norris II, Emma Copley Eisenberg, K-Ming Chang, and many more.

Guest-edited by Patty Yumi Cottrell, and filled to a surfeit with letters, stories, and dazzling full-color comics and art, you'll be jealously hoarding this collection for decades to come.


The Game
By Alessandro Baricco
Publicist: press@mcsweeneys.net
Hard Cover/essays—December 1, 2020
$24
978-1-952119-00-2
Fourteen years after the publication of his cult classic I Barbari, Baricco returns in The Game to the topic of change, in a journey that maps out the transformations that the digital revolution has wrought upon the landscape of human experience. From Space Invaders to the PlayStation, from Windows 95 to the conundrum of artificial intelligence, Baricco traces the trajectory of a revolution in the way we think, feel, and communicate – and seeks to discover what it might actually mean for our future.


Of Color
By Jaswinder Bolina
Publicist: press@mcsweeneys.net
Paperback/essays—June 30th, 2020
$18
978-1-944211-86-8
In his debut essay collection, award-winning poet Jaswinder Bolina dissects "how race," as he puts it, "becomes metaphysical": the cumulative toll of the microaggressions and macro-pressures lurking in the academic market, on the literary circuit, in the dating pool, and on the sidewalks of any given U.S. city. Training a keenly thoughtful lens on questions about immigration and assimilation and class, about the political utility of art, and about what it means to belong to a language and a nation that brand you as other, Of Color is a bold, expansive, and finally optimistic diagnosis of present-day America.


My Favorite Girlfriend was a French Bulldog
By Legna Rodriguez Iglesias
Translated by Megan McDowell
Publicist: Jonathan Maunder, jonmpublicity@gmail.com
Paperback/novel—July 14, 2020
$18
978-1-944211-77-6
My Favorite Ex-Girlfriend was a French Bulldog is a novel told in fifteen stories, linked by the same protagonist, our narrator, who—in her own voice and channeling the voices of others—creates an unsparing, multigenerational portrait of her native Cuba. Though she feels suffocated by the island and decides to leave, hers is not just a political novel—nor just a queer novel, an immigrant novel, a feminist novel—but a deeply existential one, in which mortality, corporeality, bureaucracy, emotional and physical violence, and the American Dream define the long journey of our narrator and her beloved pet dog, who gives the book both its title and its unforgettable ending. In its daring style and structure—both playful and profound, youthful and mature – and its frank discussion of political and sexual identity, My Favorite Ex-Girlfriend was a French Bulldog marks the emergence of an original and essential new voice.


The Fire in His Wake
By Spencer Wolff
Publicist: Jonathan Maunder, jonmpublicity@gmail.com
Hardcover/novel—July 21, 2020
$28
978-1-944211-89-9
For galley access, please email eric@mcsweeneys.net.

The Fire in His Wake, Spencer Wolff's debut novel, recounts the journey of Arès, a Congolese refugee left for dead in the wake of ethnic violence. Part sweeping portrait of life in the Maghreb, part epic tale of hope and perseverance, Arès' fate, like the fate of millions, sends him on a kinetic flight across northern Africa with Europe as his goal. He reaches Rabat, Morocco, where he binds himself to a desperate community of exiles, and meets Simon, a young, UN worker, whose journey is altogether different but no less fraught. While Arès struggles to find a way forward and come to terms with his past, Simon gradually awakens to the bitter contradictions of his work at the UN. Their challenges, told in Wolff's clear, lively prose, carry the reader from the inner halls of the UN to the hazardous realities faced by the refugees in the streets and on their risky crossings to Europe. When a storm gathers at the UNHCR, and the ghosts of the Congo's violence unexpectedly surface in Rabat, the two men find themselves on a collision course, setting the stage for the novel's unforgettable and genre-busting ending.


Black Imagination
Curated by Natasha Marin
Publicist: press@mcsweeneys.net
Hardcover/essays—February 4th, 2020
$14—Product Page
978-1-944211-84-4
"Close your eyes—make the white gaze disappear." What is it like to be black and joyful, without submitting to the white gaze? This question, and its answer, is at the core of Black Imagination, a dynamic collection collection curated by artist and poet Natasha Marin. Born from a series of exhibitions and fueled by the power of social media (#blackimagination), the collection includes work from a range of voices who offer up powerful individual visions of happiness and safety, rituals and healing. Black Imagination presents an opportunity to understand the joy of blackness without the lens of whiteness.


Unnecessarily Beautiful Spaces for Young Minds on Fire
Edited by the International Alliance of Youth Writing Centers
Introduction by Dave Eggers and Amanda Uhle
Publicist: press@mcsweeneys.net
Coffee Table Book/Educational Photo Book—March 1st, 2020
$25—Product Page
978-1-944211-82-0
Every kid in the world needs a safe, welcoming, and even weird place to write. That's the theory behind 826 Valencia, a writing and tutoring center started in 2002. That center, with a pirate-themed storefront, inspired similar centers around the world, from New York to Melbourne. Across 280 pages and hundreds of beautiful full-color photos, this lavish, oversized book takes you behind the scenes of how these centers started, in the hopes of inspiring more communities, schools, and libraries around the world to build their own centers for young writers. Unnecessarily Beautiful Spaces for Young Minds on Fire is a joyous and wildly creative book, filled with stunning photos of the world's most welcoming and wild spaces for young minds.


Heaven
By Emerson Whitney
Publicist: Mandy Medley, mandy.medley@nectarliterary.com
Hardcover/memoir—April 14, 2020
$24—Product Page
978-1-944211-76-9
Emerson Whitney writes, "Really, I can't explain myself without making a mess." What follows is that mess—electrifying, gorgeous, defiant.
At Heaven's center, Whitney seeks to understand their relationship to their mother and grandmother, those first windows into womanhood and all its consequences. Whitney retraces a roving youth in deeply observant, psychedelic prose—all the while folding in the work of thinkers like Judith Butler, Donna Haraway, and C. Riley Snorton—to engage transness and the breathing, morphing nature of selfhood.
An expansive examination of what makes us up, Heaven wonders what role our childhood plays in who we are. Can we escape the discussion of causality? Is the story of our body just ours? With extraordinary emotional force, Whitney sways between theory and memory in order to explore these brazen questions and write this unforgettable book.


Illustoria Magazine
Publicist: press@mcsweeneys.net
Periodical/Children's
Illustoria #9: Food—Product Page
Illustoria #10: Color—Product Page
$16
McSweeney's is now publishing Illustoria, the beloved art and storytelling magazine for children and their grownups. This thrice-annual publication celebrates visual storytelling, makers, and DIY culture through stories, art, comics, interviews, crafts, and activities. This high-quality publication is geared toward readers ages 6-12 and the young at heart.