The Goods is a gallimaufry of games,
puzzles, comics, and other diversions, appearing in
newspapers across the U.S. and Canada. Each week, a
cavalcade of artists and writers from the world of children's
books will contribute amusements that will enthrall kids and most
adults. Thoughtfully conceived and visually stunning, every issue of The
Goods will deliver a new collection of recurring features and new work.
(Technical note to newspaper editors: The Goods is a paginated feature that can
run as a half page in broadsheet newspapers, or as a full page in tabloid-sized papers.)
CONTRIBUTORS
Jon Adams, Mac Barnett, Brigette Barrager, Annie Barrows, Brian Biggs, Stefan G. Bucher,
Jared Chapman, Kevin Cornell, Peter Dalkner, Carson Ellis, Susan Garbett, Shawn Harris,
Jory John, Laurie Keller, Jon Klassen, Jon Korn, Colin Meloy, Brian McMullen, Avery Monsen,
Matthew Myers, Michaelanne Petrella, Sam Potts, Adam Rex, Christian Robinson, Jon Scieszka,
Bob Shea, Lane Smith, Dan Santat, Matthew Sutter, J. Ryan Stradal, Scott Teplin, Eric Wolfinger, Mo Willems.

NEWSPAPERS CARRYING THE GOODS
The Goods will be featured in newspapers around the country.
We'll have a complete list of places where you can get The Goods soon.
SAMPLE ISSUES OF THE GOODS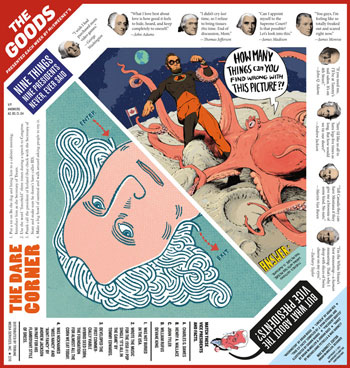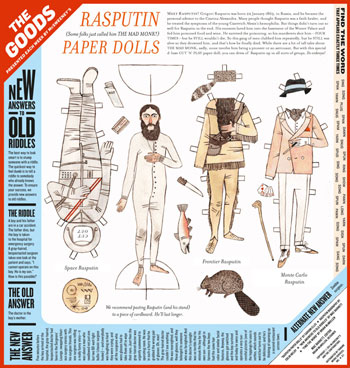 ISSUE 2: PRESIDENTS' DAY 2011
Featuring a full-color drawing of Abraham SuperLincoln on the moon, a powder-wig maze through George Washington's head, a handful of true vice presidential facts, and a collection of nine things nine presidents never, ever said.
ISSUE 4: RASPUTIN PAPER DOLLS
...plus a ridiculous rewritten riddle and the world's
narrowest "find the word" game.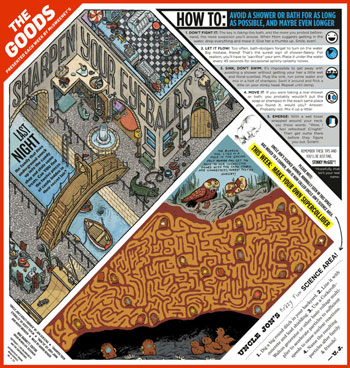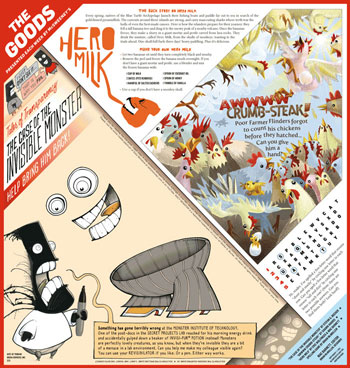 ISSUE 5: SHARPEN YOUR EYEBALLS
Featuring a super-fun color-coded maze, an alligator-inclusive candy hunt, concise instructions for how to build your own back-yard supercollider, and five foolproof tips for avoiding a shower as long as possible.
ISSUE 7: THE CASE OF THE INVISIBLE MONSTER
A tiny word search, a big draw-your-own monster corner, a medium-sized count-the-chickens game, and a simple recipe for hero milk.
NOT GETTING THE GOODS?
WRITE TO YOUR PAPER AND ASK FOR US BY NAME!
(the features editor is your best bet.)