Happy Thanksgiving! Please enjoy these Thanksgiving reminiscences and recipes from John Gorham and Liz Crain, authors of Toro Bravo, and don't forget to check out our feast-related discounts on their book as well as special Thanksgiving bundles for your foodie host (or your foodie self) and that highly coveted area of any holiday seating chart, the kids' table.
- - -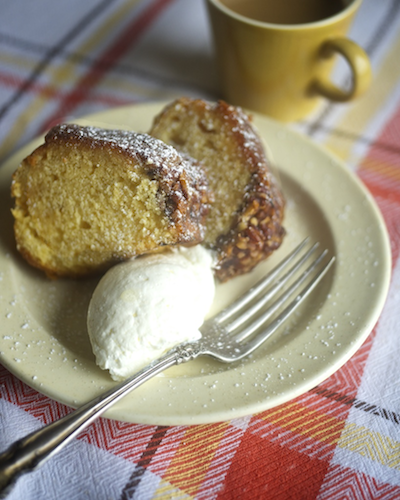 - - -
Growing up, the holidays were pretty drab. My dad worked a lot, and my parents weren't really into celebrations. We never had a Christmas tree or gifts or anything like that. But sometimes my parents tried, and about once every three Thanksgivings, we would have Thanksgiving.
At those Thanksgivings, we'd always have a turkey, canned cranberries, stovetop stuffing, and green bean casserole made with canned Campbell's cream of mushroom soup. My mom would make Parker House Rolls from scratch, though, and we'd eat them with honey and butter. For Christmas, it was always pot roast with onions, carrots, a pot of lima beans, and mashed potatoes.
I didn't really start cooking holiday dinners until I moved out. My first holiday dish, which became a tradition, was a duck confit and roasted grape strudel. I had a German co-worker, and that was a Christmas dish his family made and I adopted as my own. I always cook Thanksgiving. It's important to me to make that a special day.
Turkey
When I was a kid living in Shelby, my mom bought a turkey and decided she was going to try cooking it in a bag. When dinner was almost ready, my step-dad came into the kitchen and said something to my mom about how she was cooking the turkey and they started fighting, and my mom took the turkey out of the oven and just chucked it in the trash outside and took off. It was pretty close to being done, so my dad went outside, took it out of the garbage, and said, "it's still good. Turkey's in a bag!" and made us eat the garbage turkey for dinner that night. I was in third grade.
I've cooked turkeys every year for the last twenty-five years. I've smoked them, I've roasted them, I've fried them, I've done everything, and I think the best way is the simplest way. I use a free-range organic bird—one that's been treated well, but not one of those too-skinny heritage breeds. I like Mary's organics—their turkeys are consistently good. I like a turkey that's about sixteen to eighteen pounds—not too big, not too small. That feeds about twenty to twenty-five people easily, and doesn't overwhelm you with leftovers.
I believe in a dry rub. So many people do a wet brine, but I like just salt and pepper—it's easier and better. About three or four days before you roast it, rub salt and pepper onto both the inside and outside of the turkey. Then just let it sit and air dry in the refrigerator, three days. That's how you get a really crisp skin.
On Thanksgiving, right before you're going to cook the turkey, rub it with a little butter on the skin, and a little more seasoning. Then stuff the stuffing in the cavities: the neck cavity and the body cavity. I always make a batch of cornbread the night before I make my stuffing. That goes into the stuffing along with bread, apples, hazelnuts, lots of sage, thyme, chicken stock, butter. (When you let the turkey rest, take that stuffing out and kind of blast it in the oven in case there's any raw turkey in there.) Put the turkey into the oven at about 425 degrees for about fifteen minutes, then take it down to about 300 degrees for about three to three and a half hours. We're going for a long slow roast. If I feel, at the end, that it's getting there and I don't like where the skin's going, I might want to turn off the oven and move the turkey around. For the last half hour, if the skin seems to be going in a bad direction, you can put a little foil on the top to keep the skin from getting brown. Then take the drippings and baste the turkey.
Stick a thermometer in the thigh joint and the deepest part of the breast. When the temperature reaches 155, pull the turkey out and let it rest for an hour. I'm adamant about that. A turkey should not be eaten steaming hot—that means it's going to be dry. A turkey at eighteen pounds, after resting for an hour, will still be adequately hot.
About forty-five minutes after resting, pull the stuffing out. You don't want to pull that out to early or it will get cold in undercooked areas. You want all that heat from the turkey working for you. Pull the stuffing out about fifteen minutes before carving it, and put that in the oven to finish cooking.
Aunt Ingrid's Rum Cake
Right before Toro opened, right around Christmastime, I took a trip to Germany where Ruby's great aunt Ingrid showed me how to make this holiday cake. You pour so much rum on this cake that you preserve it: if you wanted, you could actually send this cake to somebody in the mail. It'll still be really good a week later. The secret to baking this cake is a dirty trick: a pack of vanilla pudding. We make all our cakes from scratch but still add a packet of vanilla pudding to them.
Ingredients:
¾ cup all-purpose flour
¾ cup pastry flour
¼ teaspoon salt
½ tablespoons baking powder
¼ cup vanilla pudding mix
¼ pound room temperature butter
1 cup sugar
2 large or 3 small eggs
1 teaspoon vanilla extract
½ cup plus 2 tablespoons buttermilk
¼ cup dark rum
½ cup pecans, lightly toasted
Procedure:
1. Sift both flours, salt, baking powder and vanilla pudding mix together.
2. Combine vanilla extract, buttermilk and dark rum, set aside.
3. In an electric mixer, cream the butter and gradually incorporate the sugar a little at a time.
4. Once the all the sugar has been added and the mixture has increased slightly in volume, add the eggs one at a time. Wait until each egg has been fully incorporated before adding the next. (Alternately, add the sifted dry ingredients and the buttermilk/rum mix to the batter as follows: 1/3 of the dry, ½ of the wet, 1/3 of the dry, ½ of the wet, and the last 1/3 of the dry. Wait only until each addition is incorporated to add the next.)
6. Grease and flour three bundt pans and evenly distribute the chopped pecans in bottom of each of the pans.
7. Pouring over the nuts, gently and evenly distribute the batter in the two pans. Avoid stirring or tapping the pan.
8. In a convection oven, set on low fan, bake the cakes uncovered at 325 degrees for about 45–50 minutes. The cake is done when a wooden skewer is inserted and comes out clean.
9. Prepare the glaze while the cakes are in the oven.
10. Let the cakes cool for 10–15 min after removing them from the oven. Gently remove the cake from the bundt, making sure that the cake is free of the pan and then place the cake back in the pan.
11. Use a wooden skewer to pierce the cake all over and slowly pour ½ of glaze over each cake.
12. Leave the glazed cakes in the bundt pans for at least three hours before removing. To store, leave cake in pan and place large plate over the exposed cake. Invert and wrap tightly.
Glaze
4 tablespoons butter
4 tablespoons water
½ cup sugar
¼ cup dark rum
Melt the butter in a pan, stir in water and sugar and simmer for five minutes. Add rum, stir, and remove from the heat.
- - -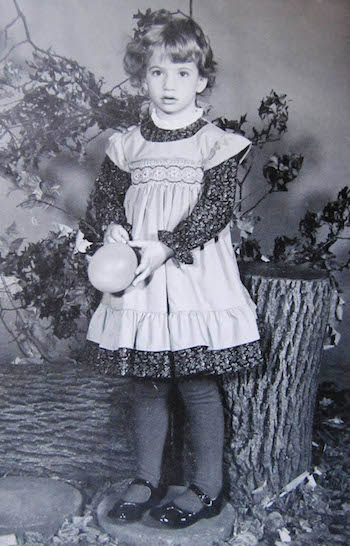 Toro Bravo coauthor Liz Crain modeling with some decorative gourds in the Polly Flinders Fall 1981 4–6x collection, courtesy of Liz Crain.