In the past couple of months, the voices and even the lives of older people have been marginalized, scapegoated, written off. Most recently, certain politicians have presented a false and horrifying choice — either we protect citizens over 60 or we save the economy.
We thought it was time to hear their voices. They are living this anxious, troubled moment like no one else. Every week will add more stories to this mosaic — some tragic, some wistful, some full of levity and hope.
Please add your voice. If you want to share your thoughts, or if you know a family member, neighbor, or friend who should be heard, click here for our submission guidelines.
*
For a list of contributors so far, click here.
*
IN THE HALL CLOSET, RIGHT NEXT TO MY COAT
Lynne Griffin
Scituate, MA
Born in 1960
I've always looked forward to my birthday. Being born on the first day of spring brings with it a certain kind of existential dare to focus on the positive, to look ahead. This year I hit a milestone — one that I'd had no qualms about until COVID-19 hit. I woke up on my 60th birthday knowing I would spend the day alone. My husband is an essential worker and would be gone well into the night. Before he left, he organized a FaceTime birthday call with our adult children and my grandson. I laughed when my husband gave me flowers plucked from our garden and said, "Surprise!"
I spent the afternoon nostalgic for other celebrations surrounded by family; I looked through old photos. I thought, if I got the virus I'd be alone like this, except sick, maybe in an ICU. I began my career as a registered nurse, and while I trusted that medical professionals were going above and beyond during this crisis, I started worrying about the dire predictions that they'd need to ration care. I imagined myself hungry for air in a hospital bed unable to advocate for myself. With messy hair, no makeup, in a depersonalizing hospital gown, I wouldn't seem vibrant or vital. If I landed there, complete strangers would choose whether or not I'd score a ventilator based only on the information in my chart — sixty-year-old female, chronic asthma.
Alone at home on my birthday, I had an idea. Somewhere in a closet, I had a digital photo frame. I'd load it with photos of me and my family with the intent to inspire healthcare workers to fight for my life. I'd include the romantic picture of my husband and me raising glasses of good wine in a café in Paris. A sweet snapshot of my son hugging me last year on Mother's Day. The beautiful one of my daughter holding her newborn son. Then the photo that brought the tears — the one of that little boy at seven months old, sitting on my lap, wearing a Santa hat, the two of us draped in a string of Christmas lights.
In the days after my birthday, I considered what I'd done melodramatic. I felt silly, because the odds I would stay well were in my favor. I didn't tell anyone what I'd done.
Then on April 7th, Massachusetts put out their Crisis Standards of Care — didactic guidelines for allocating scarce resources when demand outstrips supply. Turns out my worries were well-placed. As I had suspected I would be dinged for my age and chronic respiratory condition. My priority score ranges were right there on page seventeen.
So I'm keeping the photo frame exactly where I put it the night of my birthday. In the hall closet near the front door, right next to my coat.
*
AT 19 AND 20 WE ARE INVINCIBLE
Sandell Morse
York, Maine
Born in 1939
In the spring of 1958, I come down with the flu. I am 19, a sophomore at Wilson College, and so many of us are sick that the college turns the dining hall — a room that seats four hundred young women at tables for ten — into an infirmary. Cots are lined up side by side. I have no idea I have the Asian flu, or that I am living inside a pandemic that will kill millions worldwide and approximately sixteen hundred in the States.
I have no memory of aches, pains, fever or chills. I have a vivid memory of opening my eyes and seeing a new young doctor standing beside my cot. Realization comes slowly, and as I smile, he puts an index finger to his lips. Joe, my boyfriend, has borrowed a car, a white doctor's coat, and a stethoscope. He bends toward me. "How else was I going to see you?"
At 19 and 20, we are invincible.
Decades pass, and in the spring of my eighty-first year, COVID-19 ravages the globe and my country. Certain politicians tell me I must sacrifice my life for the sake of the economy. My life will put people back to work. The old normal is gone.
*
TAKING STOCK
Sue Kelman
Waltham, MA
Born in 1947
With Armageddon upon us, I took stock of the foodstuffs stored in my basement:
1 package squid-ink pasta
I'll never eat this.
1 jar of coffee steak rub
From someone who thinks I grill and eat more steak than I do.
3 cans Sterno
Just in case.
1 box tempura batter
I've never made tempura but like the idea. The box stays.
1 jar of figs in syrup
Given to my Dad because he loved figs, then taken back after he died.
1 large of lychees in syrup
Makes a lovely addition to fruit salad. When did I last make a fruit salad?
1 can fried bean curd
Stir-fried dishes are healthy, right? Where did I store my wok?
1 can New England lobster bisque
Bought at the Christmas Tree Shop in Orleans, MA nine years ago. Definitely suspect.
1 can Indian pudding
Bought in case my brother-in-law Geoffrey ever visits. He loves the stuff. Hasn't been here in 13 years.
Multiple packages of bonito flakes
Have you ever seen how fun these look waving in the wind on top of an order of agedashi tofu? So cute.
1 can oyster mushrooms
For a little minute I thought the can said 'oysters' and got excited. Oyster mushrooms? Not so much.
1 pint jar dried salsa seasoning
This could be delish' in potato salad, say a teaspoon or so.
1 can sweetened red bean paste
My friend Freddy told me it was yummy on vanilla ice cream, but I haven't seen him in 15 years. He lives in LA now and sells colored diamonds to the rich.
1 large jar sweet mixed pickles
Definitely a keeper, especially since I threw out the pickled onions. Ick.
1 jar of seeds from Mom's marshmallow plant in Connecticut
They need more sun than I have, but the flowers are pleated like a fabulous Fortuny silk.
1 bottle clam juice
Always a keeper for linguini and clam sauce. Now if I only had a can of clams (and some fresh parsley).
The pièce de résistance
Five years ago, I ordered a package of assorted emergency dried food meals; the kind survivalists keep in their bomb shelters for, wait for it… Armageddon. Haven't had the nerve to see what it contains.
*
IT IS THE YOUNG WHO MUST FACE THIS PANDEMIC
Adrienne Drake, MD
Mission Viejo, CA
Born in1948
It was 1981, and I, a freshly minted Internist specializing in Infectious Diseases, had just started out in private practice. One of my first patients was a beautiful young man named Rob, who had been treated at the Mayo Clinic for weeks. He had unrelenting diarrhea and was wasting away. He and his mother, who kept constant vigil at his bedside, returned to California to be closer to family and friends. Since I had trained at the Mayo Clinic, his care was transferred to me.
A mysterious disease was striking down gay men in San Francisco. It was dubbed the "gay plague." Rob adamantly denied being gay. I did not know what I was dealing with. Soon, they were calling this new epidemic, GRID, or Gay-Related Immune Deficiency. As women and IV drug users were also becoming infected, and more was learned about how the virus killed people, the disease was renamed, AIDS, or Acquired Immune Deficiency Syndrome.
Over time, I saw more and more people with AIDS. While we could treat the infectious diseases that devasted these patients, there were still no anti-viral medications that could treat the underlying illness. I will never forget the feelings of disbelief, despair, and helplessness I felt as I watched the otherwise young and healthy fall victim to this strange, new syndrome. They were also the targets of moral judgment, as though they deserved such a horrible death.
Myths about how AIDS spread were rampant. In some cases, infected family members were isolated, as though they could infect others by simply coughing, hugging or using the same towels. In retrospect, I think Rob was afraid to tell me he was gay. Why should he risk it? Maybe he was right not to tell. At least he died with no one afraid to touch him, draw his blood, or breathe the same air. His mother never left his bedside. He did not have to die alone.
Fast forward to the Era of Covid-19. I am now 71. I am considered among the "vulnerable." Yet, so much more has been learned about this virus in just five months than was known about AIDS in five years. I know how to stay safe. I don't feel vulnerable and I don't feel marginalized. I feel lucky. I have lived a good life. I have Medicare. I have Social Security. My 401K will be okay.
I believe the younger people are the vulnerable ones, the overlooked and the marginalized. Although I, too, once served on the frontlines, no one is expecting me to return. And although the pull is strong, I know it would be foolish to go there. High risk as my age defines me, if I got sick, I would consume far more resources than any help I could possibly render. It is the young who must face this pandemic head-on. They are the ones who must return to work, who are responsible for caring for children and elders, who will suffer from their sense of invincibility.
*
THEIR STORIES HAVE DIED WITH THEM
Robert Miltner
North Canton, OH
Born in 1949
Who will tell our stories? Once upon a time, elders were viewed as knowledgeable authorities in their families and communities, and were held in high regard for their accrued and useful wisdom.
My mother was our family storyteller. She had boxes of family photos: my father in the Pacific when he was in the army during World War II, her father in his fireman's uniform in Cleveland, her grandfather in his Great Lakes ship captain's hat and peacoat. She told of her two French-speaking Alsatian uncles who'd worked in the Algerian bauxite mines to earn passage for the rest of the family to get to Ellis Island, and of her Irish grandfather who came over as an indentured twelve-year-old. Shared memories of the difficulties of her childhood during the Great Depression are particularly prescient right now.
A Hasidic proverb states, "For the unlearned, old age is winter; for the learned, it is the season of the harvest." The wisdom of elders remains available to be gathered. Yet we now hear callous public officials say the country's oldest members should die to save the economy. The Covid-19 virus is deadliest to the elderly. Sadly, nursing homes, veterans' homes, and long-term care facilities report nearly a third of the nation's mortality rates. Tragically, the poorest and uninsured of the elderly population are the most vulnerable. Too many have died isolated from families and loved ones. Their stories have died with them.
Will we who survive the pandemic tell our narratives on video, in oral histories, in memoirs? And what tales will we tell? Of the trauma of disruption, separation, isolation, chaos, and despair? Or the story of how, through shared loss and grief and mourning, we forged a bond into something greater than ourselves so that we can begin our healing.
*
BUT THE FEAR SLIPS IN
Aífe Murray
San Francisco, CA
Born in 1953
8:20: Michael, my partner of 45 years, puts on a mask. I breathe deep.
8:30: He must be in the store by now. I stand at the dining room window so I will be able to see when he puts down the shopping bag one floor below to unlock the back gate. He's broken the seal of the cocoon.
It's 8:50: He must be at the checkout stand paying the cashier behind her shield of plexiglass. I have laid newspaper across the table by the back door and on top of the washer and dryer. I'll run packages under streams of water at the utility sink; put out cleaned packets and fruit to dry; help with his disrobing so I can wash his mask and clothes.
Two years into the 1918 epidemic, my grandfather James died from flu complications. My cousin Shirley had a hop-turn to her walk and one narrow limb. I was too young to remember the fear about polio, but I did fear the end of the line in the school basement where the doctor stood with a big silver needle.
His mail keeps coming from UC Berkeley decades after our housemate Jamil got dementia, started giving us his things — a soft handmade scarf, a rosy tie-dyed bath towel – and then disappeared. I can't remember the fear about AIDS. Fear evaporates.
It was a day of alternating sun and fog when I spied a black terrycloth robe at a garage sale, perfect for my then 8-year-old son. Oscar, who cut my hair at Garbo's on the corner, was selling five identical black robes. When I held it up to ask the price, he paused. "That's all I remember him wearing toward the end." He suddenly wanted to get rid of everything. That's how we knew he was sick. But fear is not what I remember.
Michael goes to the market a block away; he's the first and only one there on Sunday morning. He returns to our cocoon, where we barricade. But it slips in, the fear.
*
HOLD ON THERE, SPARKY
Jan Bartelli
Rensselaer County, NY
Born in 1955
It seems only yesterday that seniors were moving to a constant drumbeat of directives to stay active, undertake new challenges, and embrace the ethos of continuous reinvention. To rewrite our narratives.
The COVID-19 story is not the rewrite we had in mind. In this new edit, we are susceptible, pitiful, even expendable. Sometimes all three.
But hold on there, Sparky.
House Speaker Nancy Pelosi is 80. Dr. Anthony Fauci is 79. Governor Andrew Cuomo is 62. In short: the cavalry rides in from geezer country. But then, so do the opposition's generals: President Trump is 73. Mitch McConnell is 78.
Susceptible, pitiful, expendable? Debatable. Persevering, laudable, and desperately needed? Certainly.
*
WHO WANTS AN ARRANGED COHABITATION AT AGE 85?
Katharine Esty
Concord, MA
Born in 1934
I am 85 years old and am happily ensconced in my apartment in a retirement community near Boston. Life is good. I live on the 2nd floor of the building and my boyfriend of two years, Peter, a younger man of 84, (who some friends call my "boy toy") lives on the 6th floor. We commute by elevator many times a day. We usually eat meals in my apartment and sleep at his. It is nice because we know where all the light switches are in each other's apartments — essential when you're one rug trip away from dum-dum da DUM.
Then the pandemic blows in like an ill wind that knocks out other concerns. At our daily morning Zoom meeting our community director announces new rules along with the coronavirus case count for Massachusetts that day. She skips the number of deaths. First, the dining rooms and the fitness room are closed. Then, no meetings or gatherings. Oh, no going outside! And finally, everyone must stay in their own apartment. If my boyfriend and I want to be together, we must choose one place or the other.
What? I don't want to cohabit! We both love retreating to our own space. Yet, we know we want to be together in quarantine. But both of us prefer that the other move. We want our familiar furniture and doodads. And the pictures of our beloved, deceased spouses as well as of the children and the grandchildren. Despite the stereotypes of older folks' ineptitude with technology, it's our computer devices that drive our decision on who's got to move. I have a desktop that won't move easily and Peter can do most of his communicating on his mobile phone. So, Peter moves. We throw a few of his clothes into a suitcase and fill a carry-on bag with his essentials — medications.
Peter and I are so happy despite the national nightmare. I rearrange my living room furniture to give Peter space to work and to enjoy the river view. I buy a longer shower curtain and give him my favorite pillow. We compromise easily. I watch Homeland with him and he watches Anna Karenina with me. I stay up way later than I want. The days slide by. We count ourselves lucky to be together.
It's 45 days since I've seen a real person other than Peter. Secretly, as much as I love Peter and having him here, I have to admit it was even more perfect when we each had our own apartment set up just the way we wanted. I look forward to when we can go back to zipping up and down on the elevator. And I can have the lovely feeling of being totally alone in my apartment while I fart to my heart's content.
*
MY MOM HAS SURVIVED EVERYTHING ELSE
Sara Tung
San Francisco, CA
Born in 1960
As a daughter and the oldest in my Chinese family, I was supposed to take care of my mom. But I defied expectations, forsaking a steady professional life, and instead alternating between periods of employment or writing and travel. I got married only a few years ago to someone I met in my forties. I have no children.
Now my mom and I walk once a week. As she puts one unsteady foot in front of the other, I note how fashionable she is at 89 in a rose-colored tracksuit, state-of-the-art trainers, YSL sunglasses, and home-dyed hair. I follow six feet behind. Both of us wear masks and a straw hat covers my greying hair. People make way for us on the sidewalk.
Until recently my mom worked as a chemist for the EPA, lived in her own three-bedroom apartment in the East Bay, and drove a red BMW. Two years ago, not wanting to live alone anymore, my mom moved downstairs from my sister in the Castro, who subsequently moved to Minneapolis. Months later, Mom caused a six-car collision and the DMV suspended her license.
Now, with shelter-in-place, she's had to stay home. At first, Mom pooh-poohed COVID-19 precautions. "If you go, you go," she said.
On walks, my mom will open up about her past, especially if we're near waves crashing against rocks — like at Bodega Bay, the Marin Headlands, or Fort Point. Those spots remind Mom of her girlhood home near the Three Gorges in China, where her family lived while her father, a Nationalist general, fought the Japanese. In 1949, just before the Communist takeover, she zigzagged her way through China to Hong Kong, staying two years until she was forced to join her family in Taiwan.
Mom's life has been full of zigzags. She and my father immigrated to the US, married, and eventually settled in Southern California. By the 1980s, they had attained the American Dream — a six-bedroom house and three college-educated kids. But then, things began to fall apart. My parents, scarred by war, divorced and split their assets. Eventually, Mom lost our house.
I'm all she has left in this corner of the world. And with "old people" told to stay home, I'm the one she turns to for groceries, fixing her TV, trips to the bank or post office, and walks. With social distancing and Mom's poor hearing, it's difficult to talk, but I know Mom will survive this; she's survived everything else.
*
EVEN THE BEST PEOPLE ON FACEBOOK ARE NUTS
Lesley Morrison
Crossville, TN
Born in 1954
Over the years, I've gathered a few tips for making friends:
Look people in the eye. But not for too long. If they raise their eyebrows, you have overdone it.
Ask open-ended questions and then listen to their answers.
Call them on the phone once in a while even though this does not pass your needles-in-the-eye test.
Say yes when they invite you to things, and then show up.
Last but definitely not least, do NOT talk about politics and do NOT go on Facebook. You may discover that your sweet, funny friends are actually idiots who believe that COVID-19 is part of a deep state plot involving the nefarious Dr. Fauci, Hillary Clinton, and vaccines that will take over our brains.
They will refuse to wear masks, proclaiming "faith over fear." They will invite you to cookouts even though you haven't left the house in weeks while they have been picking up germs all over town. Then, when you politely decline their invitation, they will say, "I understand" with a condescending tone that lets you know your faith is lacking but they will still be your friend.
It's enough to make you hate them.
But don't be too hasty. Remember the time when your husband was in the hospital for surgery, and your friend came and played cards with you in the waiting room. Remember when your friends showed up at your doorstep dressed as Raggedy Ann and Andy, knowing you needed a laugh. Remember all the texts your friends sent when you had the flu, the calls when your husband was recovering, and the invitations to get together back in the good old days when a cookout was not necessarily a death sentence.
Then log off Facebook, count to ten, and give your friends a call. They will be happy to hear from you.
*
I ORDERED A REUBEN AND MY HUSBAND GAVE ME THE HAIRY EYEBALL
Louisa Levine
Los Angeles, CA
Born in 1958
The "dying alone" thing doesn't freak me out. I'm not sure I want anyone to witness my death, especially if it's an unconscious, intubated, masked one. Certainly I don't see any reason for my husband to stand there and watch me die. My husband "helped" at the births of both of our sons, so it's not as though he has an idealized image of me that would be shattered by the sight of my grisly physical self. After the first birth, he boasted that he "wasn't grossed out at all" and said that "seeing a small human being emerge from one's wife is like science fiction."
Last night I asked him if he thought we'd gotten to know each other better during these weeks of isolation. He grunted and rolled over. I'm 61 and Jeff is 60. I lean more toward fatalism; he, toward anxiety. This has always been the case.
Our older son, now 31, a disillusioned Bernie bro, is more like me. First, he plunges into despair: the futility of trying to teach distracted 8th graders Spanish on Zoom, the futility of Joe Biden, and the inevitable second victory of an idiot president. This and his utter lack of hope kaleidoscope into a virus-tinged certainty of doom and destruction.
However, his housemates, cat, music, edibles, and Instant Pot can still make him happy. His 27-year-old brother, like his father, is irritable and has bad dreams. He washes his vegetables with soap and fears that we, his elderly parents, will get sick and die. He doesn't want us to get takeout because the cooks breathe on the food. He worries about money, his future, keeping his girlfriend happy, becoming respected and important, and what he thinks he detects in his father's tone of voice.
Jeff lists the risk factors. We don't smoke or have asthma or cancer (that we know of). "Obesity," he intones. I'm not obese, but he runs three miles a day (at least) and I don't. The last time we went to Greenblatt's, I ordered a Reuben and he gave me the hairy eyeball. Now at home, Jeff reads parts of obituaries aloud, noting the ages of the dead. Many of them are way older than we are; some as young as our children. He feels almost safe in the certainty that he is just a few missed sit-ups away from a wretched end.
*
WE'D BETTER DO THIS RIGHT
Robert Pickard
Fallbrook, California
Born in 1952
According to a survey I saw a few days ago, I'm an accurate reflection of the current national mood, in synch with the 80% that say they're wary of leaving home and going to restaurants, barbers, and the beach just yet. To me, loosening up too much too soon seems risky with this virus on the prowl, but I feel the pull too.
Jeanne and I are 67-year-olds with no underlying conditions, married 42 years, and living in sleepy Fallbrook, California, a rural town north of San Diego that claims to be the Avocado Capital of the World. This morning, after a long spell of fog and rain, the sky turned a clear baby blue and the sun was blasting. Sick of staying inside, I ventured onto the front porch to camp out awhile. I put on my outside shoes and set up my laptop, books, water, sterile wipes, nitrile gloves, and inflatable butt pad (damn that sciatica).
Five minutes later, a car pulled into our driveway. I sprang from my chair, jammed on my indoor shoes, and locked myself inside the house. The driver, a young lady in yoga pants, jogged up with bags of food we'd ordered. Hmmm, no mask or gloves. I peeked out a window and gestured for her to leave the bags on the driveway. "Be safe!" she said, and as she jogged back to her car, I tried to remember how long droplets hang in the air.
The fact that I fled embarrassed me, but I couldn't help it. Until now, I haven't been anywhere near the defining crises of my time — 9/11, Vietnam, the assassinations of the Kennedys and Martin Luther King. I followed them on TV. The closest I came was in 1992, when I scored tickets to the company's box seats and took the family to watch the Dodgers play the Phillies at Chavez Ravine. Around the 7th inning, a deep, melodious voice came over the PA system and said, "Due to civil unrest, the 10 and 110 freeways are closed." I can still hear it.
The L.A. riots were raging, and somehow we missed the cue. The 110 South was our route home. As we buckled the kids, ages 5 and 8, into the back seat, Jeanne gave me a look that said, "We'd better do this right." We drove north and west on freeways we'd never taken before. We finally wound up on the familiar 405 and snuck by the violence that was lighting up the sky to the east.
What bothers me now is how this crisis has awakened an insidious fear in me. I'm not a great sleeper, and when I wake up at 3 a.m. the specter of the virus creeps into my tired cranium and exhumes the shadowy terror I felt watching scary movies as a kid.
In the morning, thank God, most of that crap fades away. What gives me hope? The few things of which I'm certain. The dedication of doctors and nurses fighting the good fight, and the people who deliver our food and prescriptions. The comfort of FaceTiming with our two kids and their families, while we dream of the day we can hug them again.
I don't know if that's hope, but it's a damn good reason to stay inside, wipe down the mail and groceries, and keep washing our hands while singing "Happy Birthday to You" for as long as it takes. Because we'd better do this right.
*
BY MARCH 16th I WAS UNEMPLOYED
Marguerite Tinker Vulfs
Nevada City, California
Age 63
On the evening of March 7th, I locked the door of the small business I worked for on the main street of a small Northern California town. I never went back.
This is week eight for me of staying at home. I started a little sooner than most as a small virus of some sort (not COVID-19 I was assured at the time) plagued me the week of March 9th. By March 16th I was unemployed. The owner of the shop has the building and business for sale now. I had worked there nine years, the last six years 30-40 hours a week depending on the season.
I loved our customers. I loved the laughter in the shop when someone found a treasure that was perfect. I loved the beauty that was created. I loved the way the sun would shine in the windows. I loved working with the other ladies in the shop, three of us 60 and older. I loved the creative spirit and the helping spirit of what the shop stood for.
It has been a few weeks of resting, cooking, gardening. The only thing that makes sense is to stay home. I have looked for work and will continue to. At age 63 with so many unemployed, it does not look promising. This age group not quite ready or able to retire. What will we do? I continue to look for answers.
In the meantime, I have time to watch the new green leaves of the cottonwood trees tremble in the breeze. To watch three bright blue jays line up on a bamboo fence. I have time to watch the stars at night as I pray for my family and friends, as I pray for strangers I do not know.
Like many, simplicity calls me as I live with this. Chop wood, carry water.
*
I GUESS I'M WILLING TO FILL MY ROLE AS THE TARGET CLASS FOR SOCIETAL CONCERN
Kelly McDonald
Provo, UT
Born in 1952
Life changes quickly. One day I'm a stable, fatherly figure in the lives of my family, a trusted advisor to former coworkers, a stalwart neighbor to those who live around me. The next day, after governmental announcements, I'm in a vulnerable class of the aged, deserving of my own shopping hours at Costco, my possible death a threat to those who don't social distance.
I'm 68, and I fall into the age group that has been determined to be the most vulnerable. Don't misunderstand. I'm sensitive to the analysis of health professionals. But I run a 5K once or twice a week. I enroll in university coursework with twenty-year-olds to satisfy my desire for lifelong learning. I just rebuilt the WiFi infrastructure in my son's home so that they can continue their stay-at-home work and school activities. I don't feel old or fragile, and I'm wondering how a government mandate has suddenly partitioned me into this protected class. Suddenly, those closest to me are treating me with a new posture of fragility, reminiscent of my own aged grandparents.
When my grandparents were pushing 70, I was about 8 years old. Whenever we went to visit them, my parents would caution me to be on my best behavior, and especially quiet in my demeanor. My grandparents were frail and couldn't tolerate a lot of roughhousing in their presence. At least that's what my parents told me. My siblings and I tiptoed around their house, anxious to leave so that we could return to our noisy play. I thought they were on the verge of passing away, yet they lived another 10-15 years. Was it a ploy on my parent's part to keep me in line, seen but not heard? Maybe they weren't as fragile as my parents portrayed. Maybe they would have enjoyed a bit of a youthful clamor.
Recently, in defense of social-distancing, Dr. Catherine Troisi from Utah Health said, "For the sake of a barbecue, would you want to put your parent or grandparent's life at risk?" I don't doubt the sincerity of this statement or its truth. But it sounds a lot like my parent's admonitions to an unruly child. But I guess I'm willing to fill my role as the target class for societal concern. I better start acting the part to be more convincing of their sympathy. Now, where's that cane that I know is down in the basement somewhere?
*
A TRIP TO THE POST OFFICE
Jeanne Hall
Nashville, TN
Born in 1944
I used to go to the post office once a week. I rarely gave it any thought other than to drive there, go inside and drop off my letter or package. Now I must give careful consideration to this journey. There are decisions that I need to make. Is this a package that must go out now? I conclude that it is. Is there anyone else who can take the package for me? I conclude there is not. I have made two decisions already. Next, I must determine which of the two post offices closest to me would be easiest to accomplish my goal. I realize the larger one would be my best choice. Three decisions made!
On the drive over, I decide I will look to see the number of cars in the parking lot before I make my decision to go in. Upon arriving, I conclude the car population is small enough, so I pull into an empty space. My next thought is, "Perhaps I should wait for someone to come out and ask them to take my package in?" I realize I will be making contact with a perfect stranger and what is the difference between talking to that stranger and just going in and talking to the clerk. Next decision made, I go inside.
I walk to the front of what is normally a very long line. Shortly, I am called to the window. I can see that the postal clerk is aware of the fear in my eyes. She quietly steps back from her station and motions me to come forward. I step up to the counter and place my package on the scale. She then motions me to step back. I move away and she begins the process of weighing it and determining the proper postage. She tells me the price and motions me forward as she takes a step back. She says, "One moment, ma'am." She leans under the counter and picks up a Lysol wipe, thoroughly cleaning the credit card machine and the entire counter around it. She then steps back and again motions me forward.
As I insert my card, tears start to roll down my cheeks. I was so moved by the care with which she accomplished this usually very simple task. When I had completed the transaction, she again motioned me back as she stepped forward. She took the receipt, wiped it down, and lay it on the counter. Beside it, she placed a clean tissue as she could see my tears were still streaming down my cheeks. She again stepped away from the counter. I picked up the receipt and took a step back. In gratitude, I bowed to her. She bowed to me in return. Such a normally simple task had turned into a beautiful experience with an unknown, unnamed clerk in my local post office.
*
WATER IN FRONT AND HILLS BEHIND

Barbara Bedway
Nyack, NY
Born in 1951
When I left Ohio in 1974 for graduate school in New York, among the things I carried were two gold coins from my father. He wanted me to have them "in case the world goes to hell in a handbasket and you need to get home." It was the year of the OPEC oil embargo, long lines for gas, inflation almost 11 percent. Gold, at $160 an ounce, was how he imagined I could escape any cataclysm that might shut down the world we knew, and I would somehow be able to exchange my way back home.
Every family has its financial war stories, and this was ours: how my grandparents, immigrants from Mount Lebanon, faced foreclosure with their nine children in the winter of 1932. They ran a grocery store in the small Ohio coal-mining town of Adena, and for months had been selling food on credit hoping President Roosevelt would quickly put their cash-strapped customers back to work. But rescue arrived in the form of a last-minute loan from a relative. Only then were the family members able to retrieve their stacked-up belongings from that very public front porch and begin to take up their lives again.
My father became a successful small businessman (with a paid-off mortgage) but within his nervous system survived the fear of immense menace in the world. He once told me the Lebanese — fleeing a changing cast of invaders and persecution from the seventh century onward — always look to settle with "water in front, and hills behind." You need routes for escape and routes for sanctuary; you need hope stitched with coins into the hem of your skirt. I ended up living with the Hudson River in front and hills behind me, in a world where masks and distance are more precious than gold.
*
BALANCING, BUT BARELY
Sara Kirschenbaum
Portland, OR
Born in 1959
I stand balanced in the middle of a three-thousand-foot seesaw. On one end is my mother in New York City, writing a poem. She's about to turn 90. On the other end of the seesaw is my wife in Portland, Oregon. She is 64 and winding down a 41-year career as a labor and delivery nurse. She's not a famous artist like my mother but is steady and skilled at helping babies be born. At her end of the seesaw, she's watching TV and recovering from a flare-up of her asthma that recently put her in an ambulance. How can I possibly choose who to attend to?
Seesaws are dangerous. There is that "thunk" when one end bounces down too hard.
When I went away for college in Ohio, my mother sent me a cassette tape. She had this idea that we could send each other audio letters. I recently played the tape and she's crying the whole time. She says, "I've lost my way with my work. I don't know what direction my painting is going!" And she weeps. I never recorded an answer back.
I stayed on in Ohio after graduation, working with the kindest people, all of us trying to stop the nuclear arms race. Together we started nearly 200 peace groups.
I finally made it all the way to the West Coast with a baby and husband in tow, in 1991. Back when three-bedroom houses in Portland, Oregon could be purchased for $69K. I came out here like some pioneer woman trying to remake my fortune. The marriage didn't last, but a West Coast utopia did.
And finally, finally, I found my wife. I am so worried about her getting COVID-19 with her history of asthma. Didn't I come all the way to the West Coast thirty years ago so I could stop taking care of my parents? My dear mother's caregiver has just been diagnosed with the virus. If I go to NYC, will I ever be able to safely see my wife again?
My mom has dodged death at least a dozen times. Nearly drowning at just a few months old when her cousin ran her baby carriage into the ocean. That was followed by arsenic poisoning, sepsis, fire, another fire, a train derailment, brain stem stroke, clogged carotid artery, broken hip, re-broken hip, breast cancer, and Legionnaires' disease. I built her a house here, next to mine, but she's refused to budge for eight years now, saying she cannot leave her beloved New York City and especially her art studio. I cannot say I am not relieved.
I stand now on the middle of this seesaw. Afraid that if I favor one side, I'll lose the other. Balancing, but barely.
*
TO DO LIST
Cari Shields
Warrenville, IL
Born in 1955
Celebrate my sixty-fifth birthday

Apply for Medicare 

the whole alphabet of parts
Take mild insult that regarding COVID-19, 

I could be described as "over sixty with pre-existing conditions" 

Use that definition to be more patient with myself

Figure out how to set up the lighting and laptop in my study so I look professional online

Hide the clutter

Lean in close to the screen as I counsel people

who had enough to contend with before this virus got into the mix

Teach an online grad course 

Listen to the challenges of students as they rearrange their lives

Arrange for an extension on their final due date


Spend a surprising amount of time ordering groceries and preparing meals

Make my own granola and yogurt

Discover new recipes for using up the quinoa in the pantry

Order more quinoa 

Grieve the loss of time with family

Cancel two trips to see the grandchildren

Watch the latest video of the twins at least ten times in a row

Explain to my father once again why I cannot come and see him in the
nursing home

Stay in touch with friends

Worry about them when they are sick 

Rejoice when they recover

Develop a love-hate relationship with everything virtual 

Attend virtual meetings, classes, family gatherings, church
and happy-hours

Decide it's like eating half a meal:

better than nothing 

never enough

Spend more time with my husband

Walk the dogs with him if it's not too cold or rainy or early or late

Remind him too frequently to wash his hands

listen to him sigh "I know"

Forgive more easily

Be thankful that he is not virtual

Order a good set of binoculars 

Celebrate the fact that I live at the edge of a small wetland
during Spring migration 

Observe birds through my window

Identify a Wilson's Snipe, a Solitary Sandpiper,
and White-Throated Swallows

Admire a pair of Great Blue Herons as they take off in unison
and soar over the pond

Let my heart follow a couple of Ruby-Crowned Kinglets 

who swiftly flit from branch to branch and tree to tree

definitely not sheltering at home

*
LIT UP LIKE SPIRES ON GOLDEN CROWNS
Kent Shell
born in 1957
Brooklyn, NY
The sirens are continual; they seem to be one siren, pausing for breath.
Every evening my wife Jenny and I make our lists, side by side in bed, and email them to each other. Three things we're grateful for. When we started I noticed that gratitude begat gratitude, like multiplication. The pale amethyst of the shallots as I minced them into tiny jewels, a golden egg yoke, beaten, the deep acquaintance I've made with the tiny rectangle of nature in our Brooklyn back yard. A seven-letter word — 50 bonus points! — in our seven hundredth game of Scrabble. I'm grateful that my daughter managed to get home to Wisconsin, grateful that Jenny's older daughter, who lives a few blocks away, left her apartment and is sheltering with us.
Lately, we've been forgetting the list. Gratitude feels harder to come by. Let me try: I'm sixty-three, and on a Zoom chat I was complimented on my full head of hair. Gratitude may thin but I've got my hair and my vanity.
At first, I pushed the sirens away. I felt worried, I didn't want to see, I didn't want to hear. I told my daughter every time we spoke by phone, until she made me stop, "This could be the thing that kills me."
Every two minutes another death in my city. Oh, New York. You'll break my heart.
At three o'clock every afternoon the church bells of Brooklyn ring for fifteen minutes to accompany the souls of the dead. At seven we're on the stoop with Cleo, the new puppy, whooping and clapping and clanging spoons against pots, in a rowdy chorus with neighbors we can't approach. Across the way there are people cheering on the tops of red brick buildings, lit up in sunset like spires on golden crowns.
Deep in the night as I sleep I hear the thin sound of a siren, rising and falling, getting closer, getting farther. I wake, grateful to touch warm, sleeping Jenny beside me. The siren fades as the ambulance passes, and I imagine the passengers inside: the patient in distress, the EMT, the driver, all journeying together, all exhausted, all scared. I join them. I send my arms through the walls of my bedroom, through the streets, through the night to wrap them all in an embrace.
And I say to them all, "I won't turn away from you."
*
THE END OF VANITY
Lynn Lauber
Nyack, NY
Born in 1952
On most days of my life, I've stood in front of a mirror to undergo the listless primping that takes up so much time, even as I ask myself how attractive one needs to be to meet a plumber, undergo a colonoscopy, or pick up a prescription.
I don't bother with the answer, because, of course, I know. Still, the habit of adjusting my looks whenever I leave the house has become as embedded in me as a thorn.
When I was a child, my grandmother used to say, "Time to put on my face," which meant dusting her cheeks with ivory powder and smearing on mulberry lipstick.
If the number of beauty products I've bought over a lifetime suddenly rose up behind me, it would be a mountain too high to climb. On my bathroom shelf is a crowd of products with nearly evangelical names:
Amazonian Savior Multipurpose Balm
Crème de La Mer Moisturizing Regeneration Intense
BB Glow Thermal Protection Mist with Honey Complex
Instant Age Rewind Effaceur Correcteur Multi-usage
But for the first time since puberty, I'm not using them, nor even looking in the mirror. Now I wear my thick horn-rim eyeglasses and torn stretch pants and forget to brush the back of my hair. This week I even began leaving out my dental bridge in the morning. When the mailman knocked on the door the other day, I saw his look of alarm as he took in my new persona – my hair standing on end, my gap toothed smile and thick glasses. I laughed. I couldn't help it.
And with that I opened my hand and released that old wheezing balloon of ancient vanity. Deflated now and useless, it floated up and away.
It might have taken a plague, but I finally let it go.
*
WE KIDS WORK IN CLUSTERS
Bindy Bitterman
Chicago, IL
Born in 1931
For years I've said the last time the country was united was World War II. I was 10 when it began. I was scared to death: scared because I was Jewish, and the future of Jews all over the world was in jeopardy; scared because scores of young men — and some women — were going off to uncertain futures and possible death.
But, we were united. Boy, were we united. And we were together physically. Even we kids worked in clusters — at school, buying war stamps with our dimes; at home, collecting newspapers and tinfoil and household fats from our mothers and our neighbors for that mysterious entity, "the war effort." Why did "the war effort" need our papers and fat? Who knew? Didn't matter, they did, so we collected it.
At home, our parents went to rallies to buy and sell war bonds or went to meetings to raise money for one war-related cause or another. My mother wore a gray uniform with a red cross on the sleeve when she went to roll bandages. Families sacrificed foodstuffs, hoarding their sugar and butter ration stamps for future birthday and wedding cakes.
We don't know when, or how, this pandemic will end. It will end sometime, of course. We don't know how many of us will lose our lives—so many already have. At least now we have a chance to be together, even if not physically. It may be the last time in a generation we have such a perfect opportunity to do so.
*
I USED TO LONG FOR SOLITUDE
Lucy Sanna
Madison, WI
Born in 1948
I used to long for solitude. "Peace and quiet," as my father would say when I'd asked him what he wanted for his birthday.
I'm from a big Irish-Italian family. Dad passed away last March at the age of 101. My mother, 95, doesn't remember that, or much else. Yesterday the hospice nurse told me she has two weeks. I'm not allowed to visit her in the retirement home — not because they have the virus, but because they don't want it. I understand. Maybe I could bring a ladder and talk to her through her patio door. Weeks ago, when I could visit, she seemed glad to see me. Once I left, her caregivers told me, she didn't remember that I had been there, but in the moment, she smiled and carried on a fantasyland conversation. She always was a good storyteller. A great gossip. The Irish, I guess. I miss that already.
Mom would expect a big Catholic funeral Mass with friends and family and hymns and Communion. She went to everyone else's funeral Mass. Some of my siblings are in Texas and California. No flying now. Mom's outlived all her own siblings. And her friends who are left would be too frail to attend even if it weren't for this damned virus. The funeral home tells us that the refrigerators are full. We'll need to bury her right away.
Lots of time on my own. I've been working on a novel for the past three years. This would be a great time to finish it, alone at last. But I'm so obsessed with the news about the virus and so angered by the politics that undermine sanity.
Today the sun came out. I went to the backyard, determined to get the garden going. I dumped over a barrel that had filled with rainwater and a dead squirrel plopped out. I shivered back into my cozy place.
*
THE EPICENTER OF THE EPICENTER
Patricia Mulcahy
Jackson Heights, Queens, NYC
Born in 1952
I live in the epicenter of the epicenter, Queens, New York. My local hospital has been on CNN so many times that its exterior has become a tragic urban cliché.
In some ways I've been preparing for some version of lockdown all my life. What I learned growing up in a noisy, crowded, sometimes chaotic household, was how to compartmentalize, and to look for a road out, at least in my imagination.
When "Cock-Eyed Optimist" blared from the family stereo, my six-year-old self would fling out my arms emphatically in imitation of Mitzi Gaynor as I sang, "I'm stuck like a dope/with this thing called hope/and I can't get it out of my heart!"
Today I block out the death statistics from the news; I let persistent sirens blend into the background, along with the bells chiming from the Catholic Church across the street. Later I listen to the daily 7:00 p.m. clapping and yelling in honor of the healthcare workers.
In the window of a neighborhood café run by Colombians, in a borough where over two hundred languages are spoken, a huge heart composed of protective gloves hangs in the window, festooned with tiny bottles of hand sanitizer and hanging gloves emblazoned with words like: clean; limpieza; health; amor; faith; protection; tolerance; pacienca; protection; do not lose your mind.
Do not lose your mind. Pacienca.
*
NOT A GOOD TIME FOR HYPOCHONDRIACS
Paul Lyons
Philadelphia, PA
Born in 1960
A month before the pandemic, I moved in with Dad. I'm 60. He's a jovial 91. It's astonishing to see him upbeat, singing "Tiny Bubbles." When I was younger, he was often tense and overwhelmed, working two full-time jobs while raising seven sons. Even after we grew up, he was still anxious — about his friends dying, mom dying, and his own close calls. His cancerous kidney was removed 15 years ago, and ever since he's been living a fraction away from needing dialysis. He could die any minute now. He laughs it off, greeting me each morning with, "How's it going kiddo?"
I lost my job performing comedy on cruise ships, so I've been paying my bills by painting my friend's house. It seemed safe at first, as she lives alone, but I had to make three trips to Home Depot. They didn't have anti-bacterial wipes for the carts or masks for the workers. I'm constantly hearing new ways the disease spreads, from people who are asymptomatic, pre-symptomatic, even just breathing. This is not a good time for hypochondriacs.
Dad keeps telling me, "I'm happy you're here." I tell him it scares me. I could be asymptomatic and give him the virus. In the last two weeks I've been to the ER twice for anxiety attacks.
The second time, he heard me hollering in my sleep. I got home late from the ER and told Dad about my anxiety attack. He smiled and said, "Well, I'm glad I didn't yell at you for keeping the light on."
This time with Dad is wonderful. For years he was hotheaded, now he's lighthearted. His life of labor gave him this time to relish. Accepting death has given him ease. Never has he appreciated life this much.
This country wasn't built for simplicity, fragility. But it's not too late to build that foundation; perhaps the greatest country in the world can become the most decent. We love being vital, able to accomplish anything. But life continues to teach us humility. Life is more precious when we, and the ones we love, are closer to death. For so long I held onto Dad's hurtful words and overlooked his love.
I've postponed the painting. I stay home and join in when Dad sings, "Tiny Bubbles."
*
UPPER WEST SIDE
OLD-LADY STYLE
Stephanie Gangi
New York City, NY
Born in 1955
Back in January, I googled coronavirus. I'm no medical expert — well, I mean, I actually am a medical expert, but my area of expertise is me and my own breast cancer, something I've been studying with great intensity since 1999 — but it was obviously an outbreak on the move, and fast. Naturally (and existentially) what caught my eye was: folks over 60, anyone with a compromised immune system, anyone in chemotherapy, were at especially high-risk. Check, check, check.
On Sunday, March 1, I ventured to Ikea with my daughter and her partner. We hugged goodbye. On Tuesday, March 3, I had a cocktail in the neighborhood with a friend. We hugged goodbye. My next moment of human touch was on Wednesday, March 4, when Catherine, my favorite oncology nurse, tapped at the crook of my elbow and slid the needle into a good vein for my monthly infusion. Next last moment of human touch: Catherine again on April 1.
On Easter Sunday, that same daughter undertook an expedition from Brooklyn to the Upper West Side to sit apart in Riverside Park with her high-risk mother, me. I was so excited. I packed a tote with popcorn, a $20 rosé, plastic cups, a picnic blanket, and a tape measure to keep proper distance, which was really just to make her laugh. I was so overcome when I saw her that I threw the blanket over her, swaddling my 34-year-old baby in a new version of mother with newborn. Intense hugging commenced. I can still feel the deep, deep breaths we took together, and the long, muffled exhales we released. I cried, what else is new.
I'm in my ninth week of semi-quarantine, no touch, no fun, unproductive, with uncrossable distances between me and mine. I remain healthy-ish, cancer nicely stable, immune system working. My early evening screen is alight with family and friends, the dog snores in the other room. I'm managing, I'm here, but I feel that at the end of some days, I'm the next version of me. I'm senior me. I'm 64, so on-brand as "old." There's a goddamn song devoted to it, a song I've always hated.
But reality is relentless. I made a will. I planned another picnic. I lie on the floor and spoon the dog, who tucks his muzzle into my hand. I shout "Get a mask!" at runners in time-honored Upper West Side old-lady style. Strange but true, I look forward to chemo with Catherine again, first week of May, my next close contact.
*
WHO NEEDS GRANDPARENTS?
Bethanie Gorny
Born 1945
Boynton Beach, FL
So now it's been decided: grandparents are expendable.
My husband is the child of Holocaust survivors and grew up in a community of other Holocaust survivors. No one he knew had grandparents. It was a familial experience that none of them had. Their grandparents had been considered expendable and didn't survive. It was a strange world; something was missing. He never experienced the special relationship that children have with their grandparents, until now, when he is a grandparent himself.
That special connection is like no other. Ask a grandparent. Ask a grandchild. Grandparents are not disposable. They provide love with no strings attached; how often does that happen? Who else but a grandparent teaches you to fish and doesn't care if you catch one? Who else teaches you to bake a cake and doesn't care if it rises? Who plays a game with you and always lets you win?
*
I NEED TO MELT MY ISOLATION
Gail Osborne
Culver City, CA
Born in 1932
On my virtual belly
I crawl down electronic tunnels
pop out upon a windowed world
of boxed faces
and beyond the faces
rooms which I shamelessly explore
a zoom-invited trespasser
in personal space
But please don't take it
impersonally
You see, I need to melt
my isolation
in the warmth of your kitchen
smel1 the soup
simmering on your stove
I take comfort from
the mustiness of others' rooms
their friendly
mess of scattered magazines
strain for a glimpse
of family photos on the walls
yearn to browse bookshelves
pick out a tune on the piano
I'd like to kick off my shoes
snuggle into your sofa
with a steamy cup of tea
That is to say
get behind the surface
get to the hearth of the matter
and defrost
*
MY MOTHER DOESN'T KNOW SHE HAS COVID-19.
SHE ONLY KNOWS SHE'S SAFE
Judy Bolton-Fasman
Boston, MA
Born in 1960
I am gloomy, and I feel guilty that I'm so blue. I have a warm home and a stocked refrigerator. I'm sheltering in place with my immediate family, whom I love very much. And yet. Even though there are glimpses of silver linings that reflect love and gratitude, this quarantine still feels like a punishment.
Sometimes my mind feels fuzzy. For example, I can't remember why I argued with my husband the other day. I only recall that when I shouted at him, "Where was the ever-patient man I married 30 years ago?" He quietly answered, "He's usually here." A few hours later, as we kissed passionately — an act that feels forbidden in this new world — I couldn't stop thinking: Did we just infect each other?
The virus spread like wildfire in my mother's nursing home. She's the latest patient to test positive for COVID-19. All I can think of is that despite the abuse that my mother heaped on me for so many years, I don't want her to die alone.
Sheltering in place while symptom-less is its own madness. I indulge in the magical thinking that goes hand-in-hand with my panic disorder. If I do or do not do Y, X will or will not happen. Do my thoughts control me, or do I control them? Will I know if I've crossed the border into an irreversible nervous breakdown?
A friend says the worries I have about my well-being stem from a healthy curiosity, and curiosity thrives when you feel safe. The best I can say is that I am subconsciously safe. I have a big stash of medication and love. Those things are more precious than the toilet paper and the eggs I hoard.
When I can focus, I have work that I love. But I'm terribly behind on my journal entries. I am mulling over an idea inspired by a writing prompt I saw — "Write about a time where you were dead wrong about someone." A few days later, I have an epiphany. My mother! I was dead wrong that her conditional love was typical.
My mother's nursing home facilitates a Zoom call with her. She looks healthy, and she's more engaged than confused this morning. For the moment, she is alive and curious about her grandchildren, who are on the call too. She doesn't know she has COVID-19. She only knows she is safe.
*
HAVE WE MET?
Rita Jane Gabbett
Born 1956
Chicago, IL
Maybe not directly, but you've met someone like me – a parent, an aunt, a colleague who held up your promotion by refusing to retire. Growing up to the same songs as everyone my age, in my mind, I was "Born to Run" and would be "Forever Young."
Starting out in bow blouses and tailored suits, I spent 40 years in journalism. I kept my maiden name when I married; we were all making a statement back then. It is a testament to COVID's sense of humor that I retired two months before one of the biggest stories in a century. Not that I regret my decision — grandparenting has been everything everyone said it would be and more. Well, it was until COVID-19 told me to "sit still" in a way I hadn't since my mother's sideways glance in church.
Like so many in my generation, I have batted back age with morning yoga, daily 3-mile walks, and probiotics. But numbers don't lie and COVID-19 is screaming my age at me and forcing our children to enforce the "stay at home" rules. To be considered "a vulnerable population" is a shock to a woman who dyed her hair until silver became the new blonde.
We are a generation of doers and workers and helpers. "You don't need to hold that door for me," rolls off my tongue much easier than, "Can you pick up some groceries for us?"
Maybe it's not the worst thing at 63 to spend a minute thinking about mortality. Maybe it is time to learn to say, "Thank you. That would be great. I'll be here all day." Maybe it is time to give some serious consideration to what matters and who I still want to become. After all, I've got a little time now to think.
*
EVER WISH THE WORLD WOULD STOP
SO YOU COULD CATCH UP?
Steve Farmilant
Chicago, Illinois
Born in 1956
I'd hoped I'd have my life together by the time I became a grandfather, but was still years away from comfortable retirement when my eldest gave me that gift ten years ago. I hoped I'd have enough cribbage points for a bronze rating by the time I was eligible for Medicare, but I'm still 115 points short with just over a year to go. And the weekly club has been suspended indefinitely due to the pandemic.
I've lived a life of uncertainty and fear, punctuated by the anxiety and depression that comes from self-doubt, disappointment, and disappointing others too many times. Sure, we all make errors of judgment, but I've been too harsh on myself for the failures and not proud enough of myself for the successes in my wake.
Ever wish the world would stop so you could catch up? The past few weeks of sheltering in place have given me the opportunity to get started on that. I've had plenty of chores to do — clean out a desk, organize my workshop, thin my closet of unworn clothes — but I haven't done any of that. I've had plenty of time to sit quietly and find my spiritual center. I haven't done that either. Instead, the troublemaker in my head has given way to the mischief-maker. I've reached out for laughter, I've reminisced with old friends, taken a stab at writing poetry, re-watched a few of my favorite movies, and experimented with home-made corn tortillas.
It dawned on me this morning, a month into being at home with my four favorite women (my wife, our daughter, a scruffy terrier, and a curious kitten), that despite the fears I manufacture about the world and my place in it, I am quite comfortable in my own skin. I trust myself. I may never have hit a grand-slam home run, but I am a reliable base runner you can count on for a single and the occasional triple.
*
AND THE WALKING MAN WALKS…
Jim Ferry
Parker, CO
Born in 1954
Hey Texas Lt. Governor Dan Patrick, you can go ahead "take a chance on your survival in exchange for keeping the America that all America loves." I'll take a pass. I've seen my 44 years' worth of retirement savings plummet in value, to the extent that my planned-for retirement is certainly at risk. I'm a diabetic with high blood pressure, due at least in some part by my serving at the altar of commerce during that long time.
I'm lucky enough to still be working, albeit from home, and actually play a small part in our nation's response to this crisis, working in the electronics supply chain and supporting essential industries. But my contribution pales in comparison to several of my siblings who fight every day in small-town Indiana nursing homes. It pales in comparison to so many others who continue the fight for people, and not their pensions.
My wife and I are both older, and I'm at risk. We wear our masks and adopted social-distancing early. But we're both determined to get to the other side of this, to whatever that new reality happens to be. We have children to celebrate and grandchildren to guide. Selfishly, I've got books to read and hope to finally finish Moby-Dick. We're not ready to go.
As a diabetic, I need to drop weight and get in better shape. It's a small thing, but if I do get this virus, I don't want to be the reason that someone else doesn't get a needed ventilator. So I walk. I break up the home office monotony by putting my bandana mask on and walking.
I went out early this Saturday morning to a brilliant blue sky, knowing that Colorado will see an April snowstorm tomorrow. The moon was still visible in the sky, several days removed from its "Super Pink Moon" status. I could see the snow-crusted sides of Pike's Peak, distantly looming over a nearby ridge, starkly white against that brilliant blue sky.
Someone had written a message in pink chalk on the sidewalk. It said, "You are loved." Good to know. In my mind, James Taylor sings and I keep going, "And the walking man walks…"
*
CLIFF JUMPING
Gerald McCarthy
Nyack, NY
Born 1947
It happened like this: I had volunteered for Vietnam after being stationed at a Marine airbase in North Carolina. When we landed on the runway in Chu-Lai, I could feel the heat reflecting off the metal runway strips before we ever got off the plane. It was mid-summer 1966 and the Marines were taking casualties just a few kilometers inland. In fact, my friend Brent Ike Griggs from advanced training in California was already dead, having stepped on a mine his first day out. It was a bad time.
My orders were for FLSG-Bravo, where I would help to unload cargo boxes coming off the ships at the base for a month or two before getting orders for another outfit. The sergeant in charge of our makeshift platoon was a Korean War vet and he knew where the "new guys" would be going once our work was done.
In the late afternoons when our eight-to-ten-hour shift was over, he took six or seven of us to the high cliffs above Company Headquarters. He told us we were going for a swim, but first we had to leap off the cliffs into the ocean: a 35- to 40-foot drop. There were rocks below, jutting out from the froth and waves, but if you ran and jumped out, it was a clear landing into the water. The sarge went first. Laughing, in the ocean below, he waved us on.
One by one, we all joined him below. It was a wild, crazy thing to do and to keep doing. It took a good fifteen minutes to climb back up and jump again, but that's just what we did.
Now I realize the sarge knew what we did not know. We would all be leaving soon enough.
One night he refused to let me volunteer for a line outfit when a call came out for replacements; an infantry company had been taking 50% casualties. He knew. And now I know the sarge realized — we would be all facing a different war when our orders finally came through. No sense in getting ahead of things, rushing into what he knew was inevitable. For him, the cliff jump was a kind of metaphor for what lay ahead. And now I know what he was after, but then, I hadn't a clue.
When the pandemic hit, I remembered Sergeant Bethlehem and his lesson of leaping into the unknown, his way of facing adversity, staring down into the crashing waves of the ocean and jumping off the cliff.
*
OUR CHILDREN DO NOT EASILY FORGIVE
Lisa Carnochan
Bay Area, CA
Born in 1956
There are those selves we see in the mirror. In particular, I'd like to give a shout out to my new jowls. Hey friends. Then there are those selves others build for us with the tools of social media. OK, Boomer.
In our sixties, the long-running threads of our lives contract like tendons. If we're to let go, we've got to break or extend. The tightest pull, in my experience, comes from you. Our children. We can leave our husbands and our wives and our jobs and our houses, but our children are ours forever, and you do not easily forgive. After sixty, we step into the tightly focused spotlight of your approbation. Open the lens, kids. See us widely. You hurt our feelings.
I guess by "our," I mean me.
*
I'M TALKING TO YOU
Rachel Cline
Brooklyn, NY
born 1957
I'm not afraid for myself. I mean, of getting sick. I'm tough, I'm a New Yorker. Don't even. I'm walking here.
In the early days of this thing I posted something maudlin on Facebook like, "I would hate to find out that some 20-year old died just so I could live." I had been up the previous night wondering if I was having trouble breathing, and whether I could bear to call 911 if I was, or if it wouldn't be easier to wade into the East River. I worried, I wept, I woke up, and then I cried tough like the New Yorker that Scorsese's movies taught me to be. Tube the kid, first! I'll be okay!
Sometimes, perhaps in an actual battle, acting brave can result in becoming brave, but that is not the current reality. Now acting brave (buying takeout dinner from the local gourmet deli every night, as my 80-plus stepmother is still doing) turns out to just be acting selfish. Even volunteering at the food pantry is forbidden to those over 60. Would it be so bad to just kill all the olds? Sounds like a monstrous idea, but the question it conceals is worse: what if we just let the people die who have no choice?
For every brave M.D. or nurse we honor with our nightly cheers, there are dozens more nurses' aides, orderlies, janitors, food service workers, transit employees, cops, postal workers, etc. being exposed every day. And only those first few categories of worker will have adequate protective gear when they need it, even if all our governor's requests are met.
After 9/11, New Yorkers were gentle with one another for a long time. Many of us were traumatized and we knew you couldn't tell who, just by looking. I am afraid the same will not be true when the dust settles this time. I don't know if I am brave enough to meet the eyes of those who lost friends and family while I sat inside reading the obits. I'm not worrying about the economy — nor even about my nephew's college education, my pension, or if Broadway will ever be the same. I'm worrying about the essential fabric of my city. It's not going to be pretty when this is over, people. I'm talking to you.
*
KILL GRANNY
Diane Gottlieb
New Hyde Park, NY
Born in 1960
"Kill Granny." That's what I call this new attack on older Americans "inspired" by COVID-19. Old people (the definition of which, by the way, varies considerably depending on which age group is doing the defining) are going to die soon anyway, the logic goes, so why waste a ventilator on a senior when a more "deserving" candidate may be in need?
I'm not going to argue who is most deserving of healthcare. I'll leave that one to the bioethicists among us. But questions like this shed light on an insidious attitude towards those of us who are getting up in years. Just as our current political climate has opened new spaces for the expression of hatred towards other marginalized groups, old folks, Coronavirus has now done us the honors. And, like other oppressive movements, some of its staunchest supporters come from within our own ranks—older men. "Give your life for the sake of the economy, old people," is a message I've been hearing way too often lately. Just ask the Lieutenant Governor of the great state of Texas, for example, who recently said in a TV interview, "I want to live smart and see through this, but I don't want the whole country to be sacrificed." He claims to have talked to "hundreds of people… and everyone says pretty much the same thing."
Well, Dan Patrick, you and your hundreds of cohorts are welcome to take the bullet, but not me, certainly not for the economy.
When old people, or any people, are valued less than the dollar, the real loser is not the economy but our humanity. And for individuals who don't see the value in those who've lived long lives, I say, "Your loss!"
I believe I am more valuable now than I've ever been before. Gone are the days when I was pulled in multiple directions, stretched to my limit, working, raising kids, and, often, my husband. I have a much broader perspective now, much greater humility, and, yes, greater wisdom. By living and learning, I've become a person with much to share. And the "hundreds" of seniors I've talked to "say pretty much the same thing."
The more seasons one experiences, the more seasoned one becomes. So instead of "Killing Granny" maybe we should look to her right now, she who's been through all sorts of pandemics and she's come out the other side.
*
THE DISASTER I HAD BEEN TRAINED
TO EXPECT HAPPENED TO MY DAUGHTER
Donna Miscolta
Seattle, WA
Born in 1953
Long before this pandemic, long before my daughter tested positive for COVID-19, I was trained in the specter of disaster. I was born in 1953, within a decade of the start of the nuclear age.
In the late fifties, I did duck-and-cover drills with my classmates. We scrambled beneath our desks, cued by the screech of a siren. My face to the ground, arms wrapped around the back of my head, I believed that this is how our lives would be saved should bombs blast through the shelter of classroom furniture.
In the early sixties, I watched my mother stock a cupboard with canned goods, foods that we never knew came in a can, like brown bread. There was a tenseness to her stacking the cans three-deep on the easily reachable lower shelf. When we asked what they were for, she demurred. But it was in the air — fear. And the words were on the news – Cuba, Castro, missiles. If the disaster came to pass, canned goods would save us.
In the eighties, bringing children into a world of nuclear arms escalation seemed either an act of faith or foolishness. When I was in my last trimester with my daughter Natalie, Chernobyl happened. Scientists projected the path of the nuclear cloud would cross over our Seattle home. Sheltering under a table with a stash of canned goods seemed a quaint and utterly useless safeguard against disintegrating atomic nuclei. In the end, the Chernobyl cloud, that invisible menace, drifted north of us.
Now another invisible menace has settled itself around the world, its U.S. epicenter in New York, where Natalie now lives. The makeshift hospital and truck morgues in Central Park are just blocks from her apartment, which is also situated between two major hospitals. The sirens transporting COVID-19 victims are a constant scream. The peril is always close and ever loud. The disaster I had been trained to expect was happening to my daughter.
Her work exposed her to the virus. She waited and wondered alone in her apartment. When would it strike her? How hard? Her head ached. She was tired. Were these symptoms? She rested in bed, took ibuprofen, downed tea for its herbal properties and Gatorade for its electrolytes. Her nights were sleepless with worry, her days plagued with fatigue. She lost her sense of smell. She knew that was a symptom, sure now that she was infected. A test confirmed it. Days later, her sense of smell returned, the fatigue abated, the occasional headache now more likely due to the strain of bearing the pandemic alone and the unthinkable what-ifs had her symptoms been more severe.
Each evening at 6:55, her cat leaps to the sill in anticipation of the hand-clapping, banging, and cheers, that pour from windows in support of the health care workers risking their lives to save others. Natalie throws open her window to shout. To breathe.
*
STILL RUSHING LIKE SPRING FLOODS
Thomas J. Hubschman
Brooklyn, NY
Born in 1941
The way we elderly were dismissed at the start of this COVID-19 thing, as if we had passed our expiration dates anyway, was just an exaggeration of how we are treated all the time. If we are occasionally shown respect, it is for our longevity, not our present usefulness. To the young we look like dried-up fruit. They don't realize that inside these parched exteriors, a rich mental life and torrents of emotion are still rushing like spring floods.
I used to assume I was an aberration, a grotesque exception to the deceleration that seemed synonymous with advancing years. If I found myself getting excited about a new idea or weeping from music that used to make me feel merely exalted, I figured I'd better keep it to myself lest someone try to medicate me. When I fell in love — it could be a toddler or a puppy as easily as a human being, a sudden pang as startling as my first kiss — I scarcely recognized this "I" as the same man I was twenty or even ten years ago.
And it's not just intensity. There's a difference of kind. That first kiss in the hallway of my teenage girlfriend was intoxicating, stupefying. But what I call "falling in love" now seems to be experienced by a different kind of being, before an undeveloped gray creature but now multi-colored and winged. Where did he come from?
I'm not alone. Other old people feel what I feel but keep it to themselves: It's disgraceful, even pathological, to experience deep feeling at our age. When was the last time anyone saw two flabby, wrinkled bodies coupling in a movie? Passion is the provenance of youth, a scandal in the old. If we're noticed at all we're seen standing, not quite steadily, on a line at the supermarket looking a bit overwhelmed, or leaning against a railing to catch our breath — scarcely sensible, never mind living at a pitch some people take illegal drugs to achieve. If we're seen holding hands in public, people stare and wonder what sort of ember could possibly glow in such dry, wasted forms.
The worst of it is not that the young don't realize what we are, it's that we ourselves don't appreciate it. No one holds us in greater contempt than we do. We not only don't celebrate our enhanced sensitivity, we accept its medicalization all too readily. Indeed, we do fall into genuine depression. How could we not? But is depression not appropriate to someone no one values, a mere burden to family and society in general? And do we not, in fact, turn into husks, old fools, even demented old fools as a result? How could we do otherwise, apart from the sturdy minority who maintain some sense of self-worth?
It's not easy to resist an environment that reinforces such negative attitudes. Ask any member of a so-called minority group. Yet, we elderly are the goal humankind has striven so long to reach: an old age with bodies and minds still in working order, ready to impart not just wisdom but what it means to feel life at its deepest level. Reaching this point used to be the privilege of a select few. Now threescore and ten is commonplace. Why should we not share the blessings of this maturity with everyone else? Would it not be irresponsible to do otherwise?
*
I'VE BEEN LYING ABOUT MY AGE
SINCE MY LATE TWENTIES
Nancy J. O'Shay
Los Angeles, CA
Born in 1957
I rushed toward the attendant in the Trader Joe's parking lot, stopping a few inches short of six feet away, and blurted out, "I'm sixty-two!" He waved toward the seniors, and as I thanked him, I told myself the vaguely quizzical look on his face was due to the fact that he thought I was perhaps too young, when in reality he may have been thinking, "Damn woman, you better tend to those stay-at-home gray roots!"
It was unthinkable for me to have blurted out the actual number. I've been lying about my age since my late twenties, something I've gotten away with, but am tired of. I want to trumpet that this is what sixty-two looks like! Energetic, independent, smart, attractive, quick-witted, creative, up on pop culture, dancing like I'm twenty!
But I'm an actress, and that's at cross purposes with my desire. I tend to play younger than my age, and throughout my career I've dodged the age question, fibbed if cornered, and strategized to hide my "dirty secret" by presenting my voter registration and social security card when filling out the I-9 form on set, in lieu of the customary driver's license. But my strategy isn't needed much these days. Roles are not as frequent, I'm obviously way over forty, and actress years are like dog years. Hollywood Old comes decades earlier than Des Moines or Richmond Old.
But I haven't joined the herd. Not yet. No botox or fillers in my softening face, no plastic surgery, save for a long-ago nose job so I wouldn't look "ethnic" back when that mattered. Nowhere near Mitch McConnell's or a pelican's, my neck has seen better days, and in the wrong light my creased cleavage looks like it just smoked a pack of Camel non-filters. My midsection? Let's just say it's the victim of "The Three Ems" — menopause, medication, and muffins.
But I'm happy.
Women my age complain about being invisible, especially to men, and while that may be true, I'm fine with it. If I did get checked out for my looks in my younger days, it was often from the type of man that wouldn't interest me. I wanted to be seen for my inner life, my personality, curiosity, wit. I wanted men to ogle that. I still do.
I could carry on, but I must get to bed now. I'm a night owl, the Trader Joe's senior line is for early birds, but I'll be there, as I'm running dangerously low on chips and cheap wine. If I'm feeling wild, I may even spring for some extra TP. After all, that sounds like something an old person just might do.
*
SWIMMING WITH GATORS
J. E. Sills
Queens, NYC
Born in 1953
1.
A month ago I dreamed of gators.
One night I'm dodging them in a big car with my older sister driving.
The next night I'm swimming in dark waters alone but unafraid even when I look down and see gators gliding beneath me. We're all going in the same direction, chill as you please.
Dream books wanted to know if I was afraid. Did the gators snap at me? Could be a good thing or portend catastrophe.
I set to making my living will and last will.
2.
My son lives in Philadelphia and we talk each day, sometimes by video. I've surrendered to the unibrow of my elementary school picture and my chin sprouts white hair if I forget to pluck. Is that why Malcolm's voice cracks? Like the time he slipped up and told me he dreamed about me and didn't say what. The silence between us is followed by my promise to be safe and a brag: I swim with gators.
I'll hug the stuffing out of him when I see him on the other side of this.
3.
I live with my younger sister, Alice. She has recovered from a stroke two years ago but blood thinners place her on the CDC's at-risk list. When the city shut down she still went to work at a post office in lower Manhattan, despite our pleas. I get it. The mail must move. Her husband takes her both ways through a New York that is sidelined.
Alice bristles when she hears the economy described like that. She doesn't see it as shuttered from her postal window where she looks out on a Spanish-tiled lobby and the flow of masked UPS and FedEx workers past the wildlife murals.
She's her own evidence. Hustling packages, moving mail, selling stamps, keeping the books as fewer of her coworkers show up. As some are taken by the virus. She's six months away from retiring from a job that provided her a comfortable middle-class life but will there be a post office in a year, underfunded as it is? The young ones aren't invested in it either. They don't show up to face angry customers pounding on doors demanding the same service as when the city was on her feet. They don't buy the essential lie.
4.
We both live with one of her sons, an FDNY rescue paramedic. It's a spacious deal with a backyard and birdies in the trees in a community that would be exploding with graduation parties. DJs blaring Soca Reggae Merengue Hip Hop from big speakers in tiny backyards.
But for the plague.
Jr. has been in self-quarantine since the beginning. He dons his hero clothes at work and leaves them there. He stays six feet away. He routinely cleans the bathroom he shares with his mother (credit to the plague here) and keeps us in bleach and Lysol. He spares us his own fears and grim stories from the front where the dead are piling up. Where people who used to be taken to hospitals for last chance revivals are pronounced dead at home. Where he's exposed to the virus in concentrated doses and his job is more recovery than rescue.
5.
I'm frontline adjacent, you could say. I'm a fiction writer and former journalist who can tick off a couple of things on that at-risk list. Two of the people I love and live with put themselves in the gator's path and by association I walk with them. And no matter how diligent we are about washing hands and bleaching common areas, one thing we can't mitigate: being Black in the time of COVID-19.
When 'Rona is done with us we will see a sobering picture of "normal." The clusters and wide swaths of Black and Hispanic people who occupy stay-home impossible jobs and died or almost did. People who fell navigating the stress of a racialized world with poor health care services and food deserts. It did happen.
6.
I swim with gators unafraid. And I see you.
*
QUARANTINE DIARY
Jane P. Perry
Oakland, CA
Born in 1955
1.
I went for a walk to Lake Temescal. More people, understandably, than in the days previous. People are not getting "six feet." After reminding a few, then getting exasperated and mad, I spied a dried fennel stalk. Just my height. Holding it horizontally from my hip out the additional four inches, I created the required space, much to people's perplexity. Two runners took my picture, calling it performance art.
2.
After exhibiting COVID-19 symptoms, but not enough symptoms to be tested, I'm quarantining in my home away from my husband Bob.
8:30: Wake up. Feel no worse. Yay! Put mask on and go to bathroom.
9:00: Call Bob on phone. He brings up tea. When he goes out to grocery shop, fret, fret, fret…
10:00 to 5:00: Where did the time go? Emailed, read online. Listened to radio. Did yoga for breathing until head started to hurt. Napped. Bob adds hot water to my tea and lemon jug. Take big breaths outside and stop because I am cold. Write letter to an investment company that intends to invest in the GasLink Pipeline project in Alberta. Tell them I am in quarantine with a headache but we are all in this together so cut it out. I probably ate lunch.
5:00: Another call to Bob. Pose question, which will be repeated in the following days: "Am I making this too hard on us by quarantining apart when it really is a moot point?" Answer always the same from both of us: "I don't know."
7:00: Dinner arrives. Bob, who is highly averse to onions, has put raw onions in my salad. We never comment on how thoughtful that was.
7:45: Hear a frog! Tell everyone on Facebook.
3.
I feel like I am going back in time, remembering all the remedies and rituals, like Vicks Vaporub, giving thanks for our food, and the many front line people now risking their health who made my meal possible.
4.
Bob has a dream. All the Republicans are watching a static red screen. All the Democrats are watching a blue screen, only the blue screen has slight, subtle shifts of hue. The screens are actually like a membrane, or the edge of a cloud. Trump can't help himself. He keeps periodically poking the blue screen, which leaves a red fingerprint. The Democrats are mesmerized.
5.
I have been crying today and yesterday. It feels like a relief to have such an open heart. And I've been bursting out laughing too. The crying is feeling close to people as they share their pain while I listen on the phone or via Zoom: a cat calling out to my brother from the street after getting hit by a car, a grandmother who cut all her hair off in grief, another whose body turned cold looking at the poverty in Bangladesh during this pandemic, or me seeing a video of Five Islands, Maine, where my mom and dad lived. I was grateful to all these Youtubers as I cried my eyes out. Then, sitting watching the trees, I burst out laughing seeing a bird go from one tree to the next, deciding not to use its wings, but shape itself into a bullet and just shoot on over.
*
SEQUESTERED SEPTUAGENARIAN CELEBRATION
Lora M. Hein
Edmonds, WA
Born in 1950
We started staying home the first week of March after learning neighbors who had symptoms were refused testing.
My seventieth birthday later that week was another question. Celebrating in sequestration would be limited. We stayed housebound. Meanwhile, my spouse pondered how to surmount this challenge and still celebrate a milestone birthday.
On my birthday we took a walk in the nearby woods during a break in the rain, a delightful change of scene. Pink salmonberry blooms were appearing on bare branches and skunk cabbages' bright yellow spathes were bursting from muddy bottomlands.
Back home, rain resumed. Supper was artichokes, potatoes, and sautéed mushrooms plus garlic chives fresh from the garden. When the rain lightened, we bundled up to sit on the front porch, getting peeks of sunshine through clouds.
Something was missing. Singing "Happy Birthday to Me" each time I had washed my hands had been solo all day.
 While we sat in the light drizzle, relatives called, singing along with the Beatles' "They Say It's Your Birthday" playing in the background.
As they finished, I heard a saxophone coming down the sidewalk playing "Happy Birthday to You!" A neighbor two doors down, home from college, was playing his tenor saxophone, leading his parents and sister to shelter under a tree at the corner of our yard. Our neighbors next door, over a decade older than me, brought out a "Happy Birthday" balloon repurposed from her February birthday, and tied it on our fence.
The couple across the street and their two sons in their twenties emerged with a "Happy Birthday" sign made with colored markers on a flattened cardboard box. Everyone sang along with saxophone accompaniment one more time. 

How thrilling to have such supportive and resourceful neighbors, orchestrated by my creative spouse. On a gray, drizzly spring evening, seeing each other outside for a brief visit across our garden, all safely separated, was the best surprise. This sequestered septuagenarian celebration was my most memorable yet.
However, my best gift of all was learning my sister had missed the chorale rehearsal that became the first COVID cluster in the next county.
*
LET OUR FORBEARS REST WITH THEIR DREAM
Stephanie Cotsirilos
Portland, ME
Born 1947
I've lived for 73 years in an interval between cataclysms. Meaning: my good fortune's been immense. I have no complaints.
At the front end of that interval lived my immigrant Greek grandmother. During her last minutes forty years ago in Chicago, her caretaker placed a candle in her hand so Yiayia could focus on the flame. It went out only when the caretaker gently took the candle from her grip.
Yiayia died with her early 20th-century American dream intact, as though it were a birthright, never mind the Native, migrant, and formerly enslaved peoples to whom my grandparents gave no thought as they claimed their own survival patch of soil in Illinois.
Greeks coming through Ellis Island, hammering iron pins into railroad ties, transforming fruit sales from street carts into import businesses, sending kids to college to become white-collar professionals. Eventually producing me and my generation, a group very sure we were Americans first, regardless of our oleaginous last name. We had everything we needed, including the right to protest everything we had.
Staying well ahead of want was my forbears' victory. Earthquakes and grinding poverty? Escaped. Learning English and making money? Done. The Great Depression through World War II to the GI Bill? Victoriously managed. Spanish influenza and poliomyelitis? Vanquished.
Opening his wallet at the supermarket around Thanksgiving in 1979, Dad said, "Always make enough money so you can buy all this." Mounds of our food rolled on the conveyor belt, ice floes toward a dark, unnaturally warm sea. Not an image he'd have considered. Progress and bounty, not climate change, were his motivators. He left water running from the tap because he figured he'd paid for it. I shut it off, and he thought I was a hippie.
In 1969, his mother, Yiayia, had even offered to buy me a husband. Times were good.
There was something sweet and hard as a callous about my grandparents' certainty that toil led to treasure; and my father's certainty that reason triggered reward. His mom was illiterate. He became a respected attorney. Their trajectory was always up, up, up.
I secretly prepared for catastrophe – expecting what had gone up to come down.
And here it is: In the 21st century, the nation's losing altitude.
I'm glad my forbears are gone. For them, today would be an undeserved repeat of 1918 or 1929. Let them rest with their dream.
In 2020, the pandemic's grand and brutal readjustment requires young people to trace their lives along the parabola of a fall, regardless of dreams. Too many people, long at the low point, say a bitter welcome to newcomers. The interval is closing.
There may be room, though, for placing a candle into someone's hands. To do it in hopes of lighting a path through life rather than death. I'll trim the wick.
*
ONE MORE DAWN, ONE MORE DAY, ONE DAY MORE
Anne Buelteman
Santa Cruz, CA
Born in 1951
When speaking with friends over Zoom and cocktails recently, conversation turned to the array of productions now being offered for viewing on-line, from the National Theatre in London to Broadway shows. Although this is a fine thing for all of us who love theatre and are staying home, I was somewhat alarmed to hear a friend rhapsodizing about a future in which we will all attend theatre performances from the living room couch.
As someone who has earned a living (and a decent pension) as an Equity union actor and someone who regularly attends local theater, the idea that the living room screen might come to be regarded as equivalent with a live theater performance is chilling to me. Live theater is not television or film. Live theater is… live theater.
Live theater is listening as a character confides that her 1935 feminist college aspirations were derailed by an early arranged marriage and immediate pregnancy, and hearing the woman next to you stifle a tiny sob.
Live theater is the huge laugh that rolls through the house when an extravagant gesture from the top of a grand piano inadvertently leaves one of the singer's breasts flying free. And it's the aplomb with which it is tucked back in.
Live theater is the audible gasp from a sold-out audience in Shanghai viewing the first ever Western musical theatre performance in the P.R.C., when the red flag of a student revolt is thrown into the air over the musical cry "One more dawn, one more day, one day more!"
Live theater requires being present, present in the same space with other human beings, present with all your senses on the alert to observe and listen as you are told a story in a particular way. It is the ultimate cooperative creative endeavor, made up of so many components of imagination and skill, of multiple designs coming together in the present moment – coming together with the heartbeat of the actor, the stagehand, the dancer, the musician, all seeking some answering rhythm from the people in the seats.
As I confront my mortality, the vitality of live theater seems a timely treasure – there is nothing more alive. We may all of us – participant and observer – survive with bodies more or less intact, but I believe with all my heart that our souls face starvation without live performing arts.
*
WE HAD LIVELY MINDS
Anna Rabkin
Berkeley, California
Born 1935
Lockdown brings memories of my brother and me hiding in an apartment in Poland during World War II. Always hungry, we spent two years in lockdown; even our room's balcony was out of bounds.
But we were children. We wanted to play, to learn, we had lively minds. My older brother created a shoebox dollhouse, and we used buttons to play tiddlywinks and as pieces on a homemade checkers board. Our few precious matches served as pick-up sticks. A table covered by a floor-length tablecloth was a tepee, tent, fort, you name it.
Those childish amusements set me thinking about how privileged I am now. I don't lack food, or contact with people I care about. I can take invigorating walks in the woods. Shelves of books I haven't read in fifty years wait to be rediscovered. I am learning to have virtual meetings, happy hours, meals with friends. I have long talks on the phone. I have time to tackle my various unfinished projects. If I don't do them now, when?
My mind returns to 1939. Poland was poorly prepared for war. In spite of Polish military professionals' advice, politicians, pressured by other countries, postponed mobilization time and time again. Fast forward to 2020. Medical professionals warned the administration that our country was poorly prepared to fight a pandemic. President Trump dismissed the threat, continued to spread misinformation, and fatefully, postponed federal involvement. Not only did he fail to lead an international response, but he castigated potential allies. The country lost crucial months to prepare hospitals and personnel, to stockpile supplies and equipment.
That is the past. The recent unanimous passage of the two trillion-dollar stimulus means we have entered a new stage: big government is suddenly a savior. But who will rally the country as FDR did after Pearl Harbor? Not this president. I feel that it will be left up to us to spread the message that compassion eclipses hate, expertise outperforms ignorance, cooperation trumps blame. If we, ordinary people and the leaders who care about us, are successful in spreading this message, we may remember COVID-19 as the beginning of a new, more hopeful era.
*
GRACE AND GOOD HUMOR:
MY SON, WITH DISABILITIES,
CLEANS WHEELCHAIRS AT THE NIH
Eugenia Kim
Washington, DC
Born 1952
I have a 31-year-old son with disabilities, a rare genetic disorder that causes cognitive disabilites and low muscle tone, among other, now-managed issues. As an essential employee at the NIH Clinical Center, the research hospital at the National Institutes of Health in Maryland, he has specimen rounds — picking up specimens and delivering them to the lab twice a day—and collects and cleans wheelchairs throughout the hospital. He is one of the many unsung heroes in a hospital setting.
Because he thrives on routine, he is perfectly suited to this job, and has been performing it now for ten years. He used to take the Metro to work (one of us would take him to the train station and meet him after work) but now we drive him and pick him up, a 40-minute commute each way, although there is very little traffic. Three of his four parents, two biological and two step-parents, are over 60. Twelve days ago he was exposed to a co-worker who tested positive for the virus. On the evening we were told about the exposure, my first thought was that he was in good health and would weather any illness, but that at least one of us would need to quarantine with him should he get ill, meaning one of us would surely also get ill. The disease had come home.
Luckily, NIH has a 24-hour COVID-19 test, so the infected employee had minimal exposure to other workers before discovery. This is why there is such a critical need for better and more widespread testing. They shut down his Patient Transport office for a week for deep cleaning. Some co-workers who were closer to this employee needed to quarantine for fourteen days. My son was considered "medium risk" because he reported that he did not sit near the employee nor did he speak to them, though he often says "no" when he senses this is the correct answer.
Still, he remained asymptomatic and was permitted to return to work eight days later, with instructions to wear a mask and gloves now as he traverses his rounds. By then, NIH was screening everyone who entered the hospital, employees included, and visitors were severely restricted to one family member per patient, or if the visitor was scheduled for treatment. My son showers as soon as he returns home and we clean his uniform daily. He has absorbed these changes to his routine with grace and good humor, a lesson to us all.
*
WHAT DAY IS IT TODAY?
Esther Cohen
New York City
Born in 1947
Meeting friends for dinner B.C. Before Corona
seems long ago. Now a disconcerting
mix of frightening what is happening to
so many people and to this world
sirens and sirens and sirens every night
and wonderful too the park each day and spring
deep yellow tulips time we didn't have before to meditate
lucky enough with food good roof
luxury of this time to consider how to make
the world more fair how we can continue to fight for workers
do more than clap, how to use this time
to play a song, say John Prine and Iris Dement singing
one of my all time favorites In Spite of Ourselves,
and then, just listen.
*
IF ONLY THE GOOD DIE YOUNG, WE WILL LIVE FOREVER
Elizabeth S. Wolf
Merrimack Valley, MA
Born 1958
This is not how it ends. A novel virus flooding my lungs doesn't scare me for some reason. My ex-husband texted the other day. He doesn't think this is how he dies, either. He's an addict living in a sober house, on parole after six months in jail. He'd been Narcan'd back to life on a public restroom floor. Now he's essential: a cashier at Walmart. If only the good die young, we will live forever.
This isn't my first tea party. I have lived a life that was often out of control. When your birth family rejects you, it leaves a mark. I swung between shelters and prep schools, free clinics and universities. I am now an accomplished data manager making full salary while working from home. A home I own. With a yard and a dog fence. I lock the doors at night, my daughter and me safe inside.
At 38, I married a man who was smart, had perspective, and a wicked grin. I lost a pregnancy at 39 and had a baby at 40. My husband stole to support his drug habit. We got evicted with an infant. Our next apartment burned down. I was 48 when we divorced. For years he called me names, threatened me, said I ruined his life. Now he's sober and bored and texts sometimes just to chat. Our daughter is the best thing either of us has ever done.
But if I'm wrong, if COVID-19 comes my way, please don't put me on a ventilator. Use it for someone with a full heart and a loving family. Play me out with a soundtrack of Bonnie Raitt, the Grateful Dead, Melissa Etheridge, and Bob Dylan.
*
FIRST EXPERIENCE BEING DEFINED
Sylvia McShane
Dublin, Ireland
Born in1948
I don't feel old — I'm dating. I lead a dynamic, complicated life.
Well, I did until Saint Patrick's Day 2020.
Now I'm imprisoned in my house. My nomadic life severely curtailed — I'm cocooned.
On that date, the Irish government introduced a restrictive public health measure to protect all vulnerable citizens — at risk because of medical, autoimmune, and age-prescribed indicators.
On our national holiday, two people had died and 292 infections were recorded.
Leo Varadkar, the Taoiseach, addressed the nation telling us to brace ourselves for the surge.
Schools and pubs were already closed.
As a former public health practitioner, I fully support "age" as an "at-risk" criteria.
Still, I'm resisting.
Not the public measures. I think the government strategy is a sound one.
I'm having a problem applying the measures to me.
Born in 1948. I'm in rude health.
COVID-19 changed everything.
I've had to grow up fast — grasp the nettle that "old age" applies to me.
*
LATE BLOOMER
Judah Leblang
Medford, MA
Born in 1957
I was born in 1957, the expansive peak of the Baby Boom. My generation, as The Who reminded us, wanted to die before we got old. At least that's what I heard growing up, listening to the music on my transistor radio and watching my older peers protest the Vietnam War, go to Woodstock, and partake in the sex, drugs and rock n' roll lifestyle that I could only glimpse from my perch in suburban Cleveland. I wondered if I was born too late.
Fast forward fifty years. In the midst of the pandemic, I find I'm eligible for "senior hours" at my local grocery store, one of the few privileges of age. The other morning, I trooped into Whole Foods with my funky homemade mask crafted from a yarmulke I 'borrowed' from my synagogue. A man of about 70, with a real disposable mask, stood inside the doorway and asked, "Can you tell me your age, please?" The answer, 63, felt strange on my tongue, a foreign substance.
I've always been a late bloomer. After bouncing around in work and in life — I was a special education teacher, a career counselor, a sign language interpreter, and a kitchen worker at a yoga ashram, all by age 35 — I became a writer in my 40s, and finally fulfilled a dream by writing and performing a one-man show in my mid-50s.
Now, I'm constantly reminded that I'm over 60, a member of a high-risk group. The constant COVID coverage tells me what I already know – that life is finite. And though I've reinvented myself several times over the past few decades, Father Time is the ultimate arbiter, and he always wins in the end.
My last name, Leblang, means 'live long' in German, but men in my family usually don't. My father died at 61; his father was 65. Still, I'm hunkered down at home, thankful for my relatively good health, and hoping that as a "Junior-Senior," I'll still have more time.
*
I HAVE SEEN THE SUN
Keith Nightingale
Ojai, CA
Born 1943
When I was born, Stalingrad was in its final death throes, the battle for Guadalcanal was underway and FDR and Churchill were in Casablanca. The war was well underway with some small glimmer for optimism. My father was in China as my grandmother and her brother were ministering to the people of Pasadena in a grossly over-stretched medical system. Meanwhile, my mother managed both a victory garden and my bed-ridden great-great-grandmother.
I was commissioned in the infantry on June 6, 1965, and immediately went to jump school and Ranger school, accompanied by a wife, a newborn, and a parakeet. I had two tours in Vietnam, participated in the Iran Rescue, was an assault force commander in Grenada and assisted in the residue of Panama and Mogadishu.
In all these events, I fervently hoped to see the sun during the worst moments of the dark. And I always did as I know we will see it after this battle. I have always believed that life is luck and timing, and despite all these seemingly horrendous experiences, I have increasingly believed that optimism is the prevailing ammunition for the soul.
Most of all, I take heart in my grandmother and her irises. She endured tremendous pain with her husband, an ambulance driver at Verdun for the French. She made it through the 1918 Flu, the Great Depression, World War II and family dissolution. Through it all, she tended her garden, nurtured future growth, and took great care to instill in me the qualities and opportunities that life brings. Today, her irises are in bloom for the first time in many years. I look on their emergence as a metaphor for us in this moment in time. The sun will shine and we shall go on. We just have to fight until that moment arrives. And it will. I know.
I have seen the sun.
*
THE EYES OF MY EYES HAVE BEEN OPENED
Jane Ganahl
Bay Area
Born 1952
With news that oldsters like me are most at risk for the virus, some youngsters have shrugged their shoulders and called COVID-19 the "boomer remover." Some politicians even suggested that if we seniors really loved our country, we'd go back to work and keep the economy from tanking, damn the dangers. Call it a patriotic suicide.
I spent most of my professional life as a journalist, covering fires, murders, earthquakes, and other calamities. I did enough "victim's family" stories to turn my heart into the hardest obsidian. (I had to; it was the law of the newsroom to not let anything get to your emotions.) The hardening of the heart extended to my personal life, where I ended two marriages when they became too challenging, as well as every romantic relationship I'd ever been in – and there were many. I lived my life selfishly, devoid of spiritual belief of any kind.
But like many who reach this age – perhaps because we wake up to the fact that our years on the planet are numbered – I began to question all this a few years ago when I stumbled upon a colony of stray cats near my home. They were starving, neglected, sick. As a longtime cat lover, I could not turn away, and started to help. This seemingly small development proved to be the one that would slowly drag me into a softer-hearted version of myself. To quote e.e. cummings, "the eyes of my eyes" were opened.
And when the granddaughter was born almost three years ago, the transformation was complete. Every movement of her tiny hand, every verbal utterance, seemed sacred: biblical code telling me my life's direction, and reminding me that the iron doors to my heart can never again be closed.
So here I sit, aching from the pain of isolation and separation, tearful when I see the suffering of those in ICUs around the country, euphorically grateful that I am healthy, enchanted by the jade-green centers of the ranunculus flowers I bought myself for my birthday… feeling everything so acutely. I sometimes wish I could shut those doors, even just a little.
But I can't, and that's okay. This is me at 68. I rescue cats and earthworms, dote on the people I adore. Am I ready to die? Absolutely not. I love myself now. Wall Street will have to find another martyr.
*
IT FALLS INTO PLACE NICELY
Nancy Davidoff Kelton
New York, NY
Born in 1947
I am 72, a writer, and live in Manhattan. I used to talk to myself. My husband, Jonathan, now works at home, so now I have to talk to him.
Other than that, I have not much changed my routine. Or my clothes.
The only people who have seen my early-March haircut are Jonathan, grocery store cashiers and shoppers, and the Union Square Whole Foods security guard who lets senior citizens in at 7:30 am.
About my haircut, my mother would have said, "it falls into place nicely." She and I talked about my hair and clothes. She called my black tops "dreary" and always urged me to wear bright designs with flowers and flamingos.
I miss our talks about my dreary clothes.
I miss my New School classroom. I have been teaching there since 1980. A substitute more technically competent than I am is teaching my April sessions remotely. My students are probably as grateful as I am that I do not have to Zoom.
I am grateful my sister returned my call. It had been a while. My messages about our being a family got to her. We spoke at length and laughed.
I miss hugging my family out west. I miss feeling safe back east.
I am grateful for my loving husband, who plays Scrabble with me. I am grateful I usually win.
*
MEMORIES IN QUARANTINE
Edward Iwata
Silicon Valley
Born 1957
Before any pandemic kills our race, elderly storytellers will write tales that outlast our extinction.
As a young newspaper reporter, I knew little about life or death. But I saw a lot of dead bodies.
Bodies shot in bar fights, mangled in car crashes. Wax-like bodies lying in coroner's offices and funeral homes. Once, I saw a man leap off the Golden Gate Bridge, his body slamming into the water like a limp doll.
I hid those memories in quarantine long ago. The ghoulish images didn't resurface until recently, when the specter of illness and death seems to be everywhere.
Roaming the streets to cover the news got my adrenaline pumping like nothing else. But to be honest, I'm glad that I'm not covering this virus. I won't have to bear witness to the corpses, although their souls will drift into our homes, our dreams.
Older now, I reflect more on death. That happens when you dodder into the last quarter of your life. One upside, though: lucid dreams and specters no longer scare me.
Reporters gather grim daily facts to describe the global nightmare. But in the end, storytelling elders will write the tales that last. They'll give us signs of hope. They'll show us that there's more to life than death.
*
A PROPER APOCALYPSE
Geoffrey Dutton
Belmont, MA
Born 1944
I didn't think that the apocalypse would be like this. It's supposed to be all fire and brimstone, buildings tumbling down with panicked individuals running through streets not knowing which way to flee. I guess that's just the movie adaptation. When I consider the slo-mo scenario that has engulfed the world, I actually feel thankful that while the end may be coming, it's not yet near.
I'm a geezer dad. My daughter is a college freshman who had to dismantle her dorm room and move 200 miles back home for the duration. It's lovely to have her here again, but she struggles under the weight of video lectures, writing assignments, and equations to solve. What sustains her is all the texting and Snapchatting that punctuate her sedentary day — youthful activities we used to disparage. Now, more than ever, they are ties that bind. Still, I desperately want to see her have a life worth living in a world worth living in.
My wife and I walk around a track circling a reservoir. The girl runs, enjoying wind in her masked face. Back home, from my porch, I watch an industrious neighbor spading up sod to plant a victory garden and others walking dogs, kids on bicycles, the trash being picked up on schedule, wondering if this is the way the world ends.
When I was eight or nine, I had a recurring dream. I was on a quiet street in some pretty little town in the foothills of a forested mountain, with morning glories twisting along picket fences in front of happy whitewashed homes. Then, my vision telescopes up the mountain to an old sawmill where two nasty-looking guys are putting together some kind of infernal machine.
At that point, as if that mountain were a sleeping volcano, my dream abruptly ends with a violent explosion. I hear its echoes as the scene shifts and I briefly find myself hugging a pole in my grade school cafeteria before I awake, hyperventilating. Now that was a proper apocalypse, not this creepy sub-microbe that's ground most everything to a halt. Not with a bang but a whimper.
*
SURPRISINGLY RECIPROCATED
Michael J. Solender
Charlotte, NC
Born in 1958
Much to the chagrin of my sister-in-law, an infectious disease nurse, I once indulged myself and got a shave from a blind man, in a back alleyway in Delhi.
Despite the admonitions of my brother's wife, I once risked hepatitis for an intimate experience with a stranger I'd never see again.
That's precisely what I miss most during the coronavirus-imposed hiatus: connecting with random strangers as I transact my daily life, risks and all.
I yearn for Uber drivers who want my advice as to how best to get to the airport, grocery checkers who divine whether I'm a paper or plastic kind of guy, and Starbucks baristas who need to spell my name correctly ("C" or "K" in Michael?) as if alphabetical correctness will enhance my Flat White.
These daily connections are as comforting to me as the weighted blanket I cocoon with at bedtime. The comfort of familiarity and constancy I found in everyday human touchpoints are, for the Coviddy-time-being, lost.
Oh, the down-the-street neighbors whose faces I know but names I don't, still wave as they drive by on their way to the grocery. And the UPS dude is happy to take me up on a soda, but he hasn't got the time to chat like he used to before we all ran for cover at a sneeze.
It's okay, I get it. Social distancing is anything but social.
"Hellos" are social. Holding the door is social. And while niceties are in short supply at the market, they're surprisingly reciprocated when received.
Tiny acts of humanity inspire me. Small gestures can have big results.
*
CONVERSATION WITH MY 94-YEAR-OLD FATHER
Carol Davis
New York, NY
Born 1957
I'm talking to my ninety-four-year old father on FaceTime. I watch as his face moves on and off the screen because he doesn't really understand FaceTime. Sometimes he reaches out and touches the screen, covering the camera with his index finger. His devoted caretaker, conscientiously masked and gloved, takes the finger away from the camera and holds the phone for him at the correct distance. Still, his eyes wander, as the technology is simply not intuitive to him. I wonder if he believes he's really talking to me.
We can't sit together in the same room, he casually squeezing my hand while he tells me the same stories I've heard countless times. He's an immigrant who fled Hungary with his family when he was a young boy and learned the language of tenacity and arrogance on the streets of the Bronx. He built an empire, traveled the world, collected vintage automobiles, each of which he can still name by make and model, better than he can remember my birthday. Now he sits in his living room, isolated from his family; we are his last remaining connection to his already shrinking world.
"Where are you?" he asks me.
I live directly across the park from him.
"I'm home. Where I always am," I say in the same reassuring tone I used with my own kids when they were young.
"How are you feeling today?" I ask.
"Not bad for an old man," He says. He pauses, a faraway look in his eyes. "How old am I?"
"Ninety-four," I say.
"Ninety-four," he repeats. "I thought I was eighty." He sounds disappointed.
"How's your mother?" he asks. "I haven't heard from her in a while."
I don't know whether I should remind him that she died over forty years ago. Before I can answer, he begins a story I've heard many times.
"You know we met in the Catskills," he continues, "right after the war. I had no money. I got a job as a busboy at the Kiamisha Lodge. The pay was good. I'd just come back from Germany, assigned to work at a D.P. Camp [Displaced Persons Camp—Ed.], because I spoke Hungarian and German. They needed interpreters for all those people from the camps. I found my cousin and my aunt, and my mother was so happy I found them…."
He goes on for a while longer before trailing off, as if the gravity of his story suddenly tires him out.
"How are you doing?" I ask.
"Not so good," he replies.
"What is it?"
"My blond girlfriend told me she doesn't want to see me anymore."
*
DANCING WITH MY DAUGHTER
IN THE MIDDLE OF WEST 70TH
Robin Reif
New York City
Born 1951
Though I would never have uttered this aloud, I always believed myself invincible. My father, a doctor, lived to 99. His motto: genetics overcomes all. I thought I'd won that lottery until this crisis punctured my delusion. I'm told each day that my age gives the virus the edge in any potential skirmish, a threat made painfully real when my generous and amiable neighbor, a retired dentist, died of the illness last week.
My daughter puts me back on track. I can't think of a better way to spend precious days than with this child who I adopted as a single mom. She's heading to college next fall, so staying home has gifted us time for a long good-bye. We've been looking through old photographs, remembering what we've been through as a family and having difficult conversations, the kind that might have gone unspoken without this strange cocoon created by quarantine. I've had the chance to apologize for some terrible mistakes. She's had the chance to be angry out loud and we've embraced as tightly as we ever have.
We've begun marking time with new rituals: heading out around 11:00 pm each night into the vibrant, unstoppable spring. We stroll empty streets, dark and fragrant with red maples and crabapple trees in bloom; magnolias too, their stiff, upturned beaks starting to crack open. She takes my arm. We chat, or we're quiet. We improvise a dance in the middle of West 70th Street without a car in sight.
Finding freedom in confinement feels like the descending of grace.
*
TIKTOK GIVES ME HOPE
Jack Smith
Rockville, Maryland
Born 1951
With the COVID-19 virus spreading throughout the world, we are pretty much in a binary situation. There are only two states. You have the virus or you don't. Within that state, there are more branches. You will get the virus or you won't. If you get it, you will recover or you won't. We are all pretty much passive observers as we sit at home and watch and wait.
And yet, I am hopeful. What gives me hope right now is the community on TikTok, the platform for short, 15-second videos. I spend at least an hour a day during my self-imposed COVID-19 quarantine surfing the video clips for things that make me laugh or think or help me learn something new.
So many people are posting unique content that discovery is a continual process. There are music and dancing creations, if you want escapism. But there are also videos of communities supporting each other. Various First Nations people honor and support each other and show off their language, music, dress, stories, and families. Families show off their quirks and siblings and patriarchs and matriarchs and pets and stresses. And it's not "Us" or "Them" that is most often shown, but "We."
Instead of a line down the middle of the world, TikTok is a prism that shows the true granularity of our cultures in its good, bad, and even ugly nature. And that's what brings me hope. The diversity and celebration that is often a hidden part of our society are what will help us survive this current crisis. We have survived wars and disease and famine and disasters from the past because we are diverse. I think we forget that at times.
*
MY DYSTOPIAN LIFE
Rita Winters
St. Louis, MO
Born 1951
In an attempt to make myself feel younger, I signed up for an online class in January — "From We to The Walking Dead: Gender in Dystopian Fiction and Film." It sounded pretty hip, I had never watched The Walking Dead and I thought having younger classmates might do more for me than a Botox shot.
It's hard to get excited about fictional dystopias when the world you are living in is worse than any of the ones you've read about. I think my younger classmates probably need Botox shots now, too, because they are even more worried than I am.
Good news: Despite the title of the course, The Walking Dead has been struck from our assignment list and replaced by Station Eleven. None of us are capable of watching a zombie apocalypse unfold as friends and relatives sicken and die around us. So even though I am forty years older than some of my classmates, we now have something in common. We feel death is much closer than we did four short weeks ago, and we are all facing it together, with hopes of earning our A's before it doesn't matter anymore.
*
I NEVER HAD NIGHTMARES BEFORE
Andrea Troy
New York City
Born 1943
In all of my many years on this earth, I've never had nightmares.
Now I have them every night. Every night I wake up shaken, but I am unable to recall the details of the dream, other than I am back in the Bronx of my childhood, and hideous things are happening.
I loved the close-knit, peaceful Bronx area where I resided until my family, and many others, had to leave in 1955 to make room for the Cross Bronx Expressway. At age 12, things as I knew them evaporated in a moment. That highway devoured our neighborhood.
Now my sleep reveals the damaging emotional aspect of my having felt uprooted so suddenly. Now the pain comes disguised as vile dreams.
There is nothing positive about this epidemic but it has forced me to recognize earlier trauma and acknowledge it. Maybe in some way my past has helped me deal with the present crisis.
*
CAN I STILL SAVE THE DAY?
Ken Neuhauser
Louisville, KY
Born 1951
You might consider this a lunatic's fancy or fantasy but until recently, a peek into any mirror somehow deceived me into seeing a young man with brown hair and a smile that sparkled its way into the hearts of those I love.
Now, though, while under siege from this virus, all mirrors reinforce what I am to others: a vulnerable old geezer with a bushy mustache.
As a parent of four, loving, grown children with three amazing grandchildren, I've always felt confident that I would save the day if overwhelming challenges and obstacles interrupted their well-deserved happiness and serenity.
But my confidence is on shaky ground after we — that's you, me and the rest of the world — have been pummeled and tossed into a vortex by the unwelcomed behemoth that has disrupted life as we know it.
Can I still save the day? Perhaps. Fortunately my children are superheroes. I'm positive, though, until my last dying breath I will always be there for family and close friends. And without hesitation they will always be there for me. Sorry, COVID-19, you ain't gonna mess with that!
But with heartfelt admonition from my children and a strong dose of common sense my wife and I, along with one child and a grandchild, are "Healthy at Home" — a label Kentucky Governor Andy Beshear prefers over "Shelter in Place."
No complaints from me. Of course I miss the love, hugs, and touch from my other children and two grandchildren who live only 1.5 miles or less from our house. So close yet so very far away.
But perspective has always been the North Star of how I view things. My dad spent three and a half years separated from my mom while preoccupied with the Battle of the Bulge and D-Day during World War II. Three and a half years. My eyes tear at the very thought.
So from me you won't find a whisper of despair. I have the love of my family. And I haven't suffered as so many others have.
But please do me a favor, don't call me a vulnerable old geezer.
Remember: I'm only 6 feet away, not 6 feet under.
*
IT'S TIME TO GET IN LINE
Janice Northerns
Liberal, KS
Born in 1956
Everyone my age or older has one. That pale, dime-sized dimple of flesh on the upper left arm, a smallpox vaccination scar. I grew up on a farm in rural West Texas, and the school I attended provided free immunizations for all its students. In the fall of 1962, we first-graders lined up outside the school nurse's office for the shots. We compared our raised pustules, our swollen and feverish arms. Mrs. Lott, the nurse, lined us up once more to check the vaccination sites and we were warned sternly not to pick the scabs as they began to form. We were only six, but we thought about what it would be like to inhabit a body covered in these sores. We thought about what it would be like to die from smallpox. We lined up again and again during our elementary years for immunizations — against polio, T.B., diphtheria, pertussis, and tetanus.
My mother and father were deeply religious. They believed in the power of prayer, but they also held sacred facts and science, doctors and medicine. They didn't object to us receiving these immunizations, and neither did anyone else's parents. They were grateful.
My mother spent several weeks in the polio ward with one of my older brothers, who at the time was just eighteen months old, during a polio outbreak in 1954. My brother made it through with no lasting effects, but Mama often told me of seeing other children in the ward in iron lungs.
When my mother was a teenager, she and her younger brother came down with pneumonia. My mother pulled through. Her brother did not, dying at age fourteen.
There is nothing good about this pandemic, but I hope the memory of how quickly the balance between health and illness, between life and death, can be upended stays with us. When a COVID-19 vaccine arrives, I will line up for it. I hope the line I join is a long one, a line that stretches back to my memory as a six-year-old getting that first vaccination, and beyond, to the memories of past outbreaks, to the memories of our elders. Now more than ever, we need that collective memory.
*
BECOMING A GRANDMOTHER DURING THE PANDEMIC
Susan Ito
Oakland, CA
Born in 1959
On day three of sheltering in place we were getting accustomed to the new normal. My husband, me, our two adult daughters, and son-in-law were now all huddled at home. Our jobs were on hold or online. Five adults and three dogs had been thrust into a new intimacy.
On Sunday afternoon, a group text message on the "family channel" spread through the house: Our elder daughter, living downstairs, was in early labor. Before the outbreak of coronavirus, she had planned on a home birth. Now, we were doubly relieved she wouldn't be entering a hospital. A few hours later, the doula and midwife arrived and I heard my daughter's voice break through the floorboards: a single, long roar of pain and effort.
The sound of her voice shattered me. I grabbed my puffy headphones to distract the sound of her suffering, and then I heard my husband and younger daughter's voices. "Is that a baby?" "I hear a baby!"
So soon? I joined them at the top of the steps. And then I heard it: the unmistakable cry of an infant, hoarse and insistent. The doula appeared, grinned and gave us a double-fisted thumbs-up. The midwife had arrived with just seconds to spare.
We were ushered into the dark room, heated to sauna temperature so that the transition from womb to earth would not be too abrupt. We knelt by the bed. A little black-haired creature snuggled against my daughter.
"She has a butt chin," murmured the new aunt. The tiny familial dot of a cleft. We sighed in recognition, and how she mirrored both her parents: her perfect nose, her flowering lips.
We baked a cake with limited ingredients. The flour was almost gone and we had no powdered sugar for frosting, so we made a flourless, mousse-like chocolate cake that called for eight eggs. How carefree we were, not realizing that the next time we went to the store, there would be no eggs. We found a blue and green candle shaped like the number one and stuck it into the cake topped with cocoa powder and sprinkles. We tiptoed into the darkened baby den, and softly sang "Happy first-day to you" in the room lit by the single flickering candle.
*
STILL DARK AS WE DRIVE
Lesley Frost
Bethesda MD
Born in 1943
It's 5:45 AM and we stagger out of the apartment with our old people's wheeled shopping cart, thankful for an hour to shop in a freshly sanitized store, before the potentially virus-laden public descends.
It's still dark as we drive and the streets are almost empty. Startled, I see eerie dark figures swathed in reflective stripes dart across the road. Breathe, I think, it's just the construction workers starting their day. The parking lot at the supermarket is already more than half full and it's just 6:00 AM. The senior rush is on. We don gloves and masks and enter the fray to mingle, at a safe distance, with a motley crew of similarly masked bandits and cheerful store clerks.
Happily, the healthy stuff is right inside the door. I stock up on still-green bananas, apples, and blueberries. My husband, partially hidden behind his mask, selects five of the largest potatoes in the bin and vanishes before I can comment. He returns laden with guacamole and salsa.
Managing to bypass the bakery, I fail to register the addition to our cart of four boxes of cookies. Then we start the slalom run along the aisles, maneuvering around other carts, and dodging piles of boxes, confirmation that goods are being unloaded to partially fill gaping shelves. The dairy case has been restocked. Every kind of milk abounds, all is well. But my intent to counter the effects on an enforced sedentary lifestyle is thwarted by two solitary tubs of Greek yogurt, and nothing that's low fat. My husband adds ice cream to the cart.
Sighing, I find acceptable cream cheese and margarine and head to the end of the aisle to literally stop in my tracks. No eggs. Nothing. Nada. "Told you," my husband says, and walks away. "Why?" I ask, even though there's no one around to hear my lament. Last week it was bleach, the week before that, toilet paper. Now eggs! I offer silent prayers to the gods of those valiant feathered ladies, the hens, tell them to push harder, please. I grab the last of the egg substitutes, and my husband reappears having decided that two huge bags of potato chips are a reasonable replacement.
That's enough. We head for the cashier, now barricaded behind a plexiglass screen hanging from the ceiling, and exit the store at 6:30 AM.
Now we have a dilemma. Do we take off the mask and gloves before we get in the car? Or before we enter the apartment? Do we wash them (can we wash them?) every time we come home or do we leave them in our pockets and wait for the virus to die off between uses? My masked husband shrugs and we compromise, I take them off, he leaves them on, and we drive home.
*
MODEL HORSES, SAFE UNDER THE STAIRS
Deborah Watson
Alameda, CA
Born in 1929
In 1941 we lived in Alameda, where there was a huge Naval Air station. We had blackouts, gas rationing, buckets of sand and water in our house. Then came Pearl Harbor.
The day after, on December 8th, our school dismissed all the students to go home. That was an eerie walk home; the town was so quiet and no cars were driving around. I got home and my mother said, "Pack up some things, we're going to Piedmont tonight to sleep!" Alameda was considered a possible target for the Japanese.
I had a precious collection of model horses, so I wrapped them in newspaper, packed them in a box and hid them under the stairs to protect them. We only evacuated for one night. But for the next four years we prepared for the worst.
My grandmother, who lived at the Oakland Hotel, moved in with us. The army had taken converted the hotel into a hospital. She planted a victory garden in our yard, but the vegetables she planted were, to a young teenager, awful! Turnip, rudibackers, chard! We also learned to eat oxtails and tongue. Regular meats were rationed, as was sugar, butter, and of course, gas.
But we survived and were luckier than millions of others in the world.
Now I live alone with my cat, Annie. Friends bring me food and supplies since we are under house arrest (not really). This virus is scarier than the Second World War, and I pray for a vaccine.
*
FEAR AND LOATHING AT THE GROCERY STORE
JoAnn Balingit
Newark, Delaware
Born in 1955
It can't compare to those who have to work in hospitals, but for so many of us, the grocery store is now a place of terror and suspicion. The half-empty shelves look desperate. Keeping a six-foot distance is unrealistic and nerve-wracking, some new sort of impossible line dance.
Yesterday morning I shopped seniors-only hour. Each aisle held only a shopper or two, but the tension in that small store felt fifty times thicker than seven days ago. I grabbed the last bunch of bananas and glanced to see who I might have deprived. I diverted my path to avoid a small, bright-eyed woman bagging potatoes. A man leapt away, startled, when I turned to grab the fridge door. I wanted butter to bake cookies, almost forgot.
Usually friendly, my cashier retreated behind the register each time I leaned toward the belt to dump more items. We both moved too quickly. She sprayed her apron front and mask each time she stepped back to scan. Between every few items, she slathered more hand sanitizer over her blue gloves. I moved away and pretended to read the bulletin board. She pitched frozen fish, a tomato, a bag of flour, strawberries willy-nilly into bags. With a wild-eyed look, she demanded, "What coffee is this?"
My attempt at poker-face failed. Her agitation was contagious. She got behind the register one last time as I swiped my card. "Sorry," she said, holding one shiny palm toward me like a traffic cop. Her body swayed side to side. "I DO NOT want this disease!"
I told her thank you, take care. She didn't respond.
I had tried to act "well." I couldn't help wondering if she was reacting to my Asian face.
Afterward, I sat in my car, breathing to calm myself. Relax shoulders, relax chest. It was 10:00 am. Would she freak out more and more as the day went on? How can she sustain it? How could anyone?
*
THEY RISE LIKE GHOSTS
Margaret Jan Feike
Columbus, OH
Born 1960
Twenty years ago this April, my husband died in his sleep from an undiagnosed heart condition. He was 40.
His death affected me in much the same way this virus is affecting the country: it sickened me, overwhelmed my system, forever changed me. Eventually I recovered but I was never the same.
Neither will the U.S. once we make it to the other side.
I'm glued to CNN all day, and most of the night I feel like I'm watching a greatly sped-up version of the last twenty years of my life as things fell apart. The disbelief, the fear, the confusion, the chaos — they all rise from my past like ghosts and play out on a national scale.
At the start of 2000, my family's financial future resembled the U.S. economy's at the beginning of this year: robust and healthy. Remember the panic Y2K caused? Not for my family; it represented our golden ticket. My husband had scored a major promotion in the personal computer retail business.
"The sky's the limit now, baby," he crowed. I was pregnant with our fourth child.
Four months later the sky caved in.
The April morning I found him dead in our bedroom was the beginning of the end. And although it occurred over years rather than days, my personal collapse was eerily similar to what is happening today. Financial ruin, bankruptcy, foreclosure. Social distancing, as almost everyone I'd known fell away.
Not long ago, I was diagnosed with depression, anxiety, and PTSD. Medication and therapy have done wonders.
But each time I hear Donald Trump speak, I flash back to the inappropriate, occasionally cruel remarks others made to me and my children in the early days following my husband's death: "This will make you all stronger"; "At least you have that new baby to cheer you up"; "Find yourself a rich husband when you get back on your feet."
After listening to him compare the coronavirus to the flu, I keep waiting for him to say, "Get over it already; time to move on."
I heard that one, too.
The battle against this virus is frequently compared to fighting a war, and I suppose the comparison is apt. In the aftermath, there are going to be many walking wounded.
*
I MISS MY LITTLE PROBLEMS
Andrea Carlisle
Portland, OR
Born in 1944
I miss my little problems.
How did my favorite winter cap get so stretched out? Do I need to grow a larger head to wear it again?
Has the sea lion already left our river and returned to the ocean? I only saw his cocoa-colored, big-as-a-basketball head bobbing up outside my riverside door twice this winter.
Can I unclog the sink myself or do I need a plumber?
The otters are back from wherever they go in winter, and here I am on the walkway without my camera.
Why is it impossible to lose one pound, one single, good-for-nothing (my mother's phrase) pound?
I wish popcorn didn't crack old teeth. I love popcorn. I suppose I love old teeth more.
Am I really going to try to read through all the letters I've saved from my five aunts, my parents, various friends, and old professors over the years? How long would that take? But then again, how can I throw them away?
Will the train schedule ever change so that those five blasts don't wake me from a dead sleep at three a.m.?
Is it too cold to go out on the upper deck and wave to the moon before I lay me down to sleep?
*
WHO DESERVES TO LIVE MY LIFE?
Mick Harris
Puyallup, WA
Born in 1954
I don't feel elderly, though I suspect the reality of being older is just around the corner. I am energetic; I do 40 minutes of yoga and walk 4-5 miles every day. I work full-time, albeit from home. I seldom think about my age, until my doctor reminds me of it, or one of my adult children calls and greets me as "Old guy."
Then I hear some fellow from Texas suggests we should be happy to cash it in, and leave the world to those who deserve it.
I wonder: who deserves to live my life? No one can see through my eyes and tell the story of all I see. Only I know my joy at the gift of writing poetry, recently discovered and a balm to my soul. Only I can share in the lives of my three children as they grow older, dream dreams, experience joys and sorrows. If I step off, who is going to tell them that I'm not coming back?
Who will hold my wife's hands, still soft, her eyes green and fluid in the late day sunshine? We still have some time. Maybe it is selfish, but I think the Void can wait. I'll be there soon enough.
*
A VACCINE FOR PANDEMICS
AND OTHER GLOBAL PERILS
Mary Kay Jennings
Houston, TX
Born in 1944
On March 12, three months after the unexpected death of my husband, I was in the early stages of trying to work my way through grief when my son texted me from LA suggesting I stay in the house because of the coronavirus. I had just had lunch with a friend and stopped by my local supermarket in Houston, where I found the zombie apocalypse in full force: no meat; no canned soup, beans, or vegetables; no paper goods of any kind; checkout lines ten deep.
I was shocked, unsettled, and feeling vulnerable — not from fear of the coronavirus so much as from the shoppers' reaction. Selfishness, the most dangerous malady of our time, was on full display.
And this was in the early days. The virus had not been declared a pandemic, and states were not on lockdown. Yet shelves were bare, shoppers eyed their neighbors furtively, and baskets overflowed.
I left the store disheartened and thinking not about my generation with our race riots, moon shots, civil rights and anti-war demonstrations, but about my parents' generation. I was thinking about the Great Depression and the Second World War, hardships Americans faced together. The Vietnam War, Civil Rights, the Gulf Wars, the War in Afghanistan — these were faced by a country divided. Only briefly did we come together in the aftershock of 9/11, but soon the war on terror, like the war on drugs, was someone else's problem.
Most of us, myself included, have never encountered the threat of homelessness or starvation or lost loved ones fighting for freedoms so ubiquitous we seldom give them a thought. We have become soft as a nation, our backbones bent, not straightened by adversity. Over the last half-century, our focus has turned inward, making ourselves the center of our own self-fashioned universes.
However, I think this coronavirus pandemic poses a threat that humans can handle. It presents a unique opportunity to inoculate us against self-centeredness, isolation, the loss of family ties, and camaraderie. This pandemic could bring together communities of all sizes, alert the collective "us" to certain dangers — like pandemics and climate change — that threaten our fragile existence if not faced responsibly.
If we humans are to survive and prosper, we must rediscover the inner strength, the selflessness — the collective responsibility — exhibited by my parents' generation, the ingredients of a permanent vaccine to assure our planet's habitability and our species' survival.
*
AGE SPOTS
Laurie Ann Doyle
Berkeley, CA
Born in 1951
My hands were the first part of my body to look old, a slow but persistent eruption of what my grandmother called "liver spots," some perfect ovals of beige, others brown and jagged islands discoloring my skin. Lately, I've become allergic to soap and red splotches have surfaced, making my hands look diseased.
My 79-year-old friend and I have been driving in separate cars and meeting up to hike in Strawberry Canyon above UC Berkeley. The trail is wide, and at two yards apart we converse easily. I've come to crave these outings, where I can see a three-dimensional human being and hear laughter spilling down the gorge rather than sounding through speakers.
Yesterday, a forty-something with a red bandana tied around his face yelled at us. "Good social distancing!" When I looked uncertain, he shouted again, more emphatically.
"Is he being sarcastic?" I asked my friend.
She didn't think so.
The day before that, I was the one who yelled. Standing at the far edge of the trail, I watched six twenty-somethings — students, I supposed— pass by. Three were leaning on each others' shoulders. "Stay healthy," I shouted. "Stay six feet apart! Young people are dying of this thing!" One stepped away from her friend, another flipped me the bird. I waved my hand, the blemished hand I'd already washed five times that day.
My husband and I live with a twenty-something, our son who's back from college and not terribly pleased about being sequestered with old folks for thirty or more days. Last night we watched him drive off in a Chevy, two buddies squeezed next to him in the front seat. He rolls his eyes when we ask him to wash his hands after he returns. Occasionally he dabs on a little hand sanitizer, and mornings we disinfect everything — the refrigerator handle, doorknobs, the light switch — before he's awake. I remember that feeling, that nothing could hurt me, that my body would always be firm, my skin clear. "Don't trust anyone over thirty," we said, thirty being impossibly far away.
At sixty-nine, I look down at my hands and sometimes hide them away, worried they appear as if I have leprosy or something. What's worse is lately I'm treating everybody — young and old — as if they've got it, too.
*
NOT QUITE ALONE
Linda Loomis
Liverpool, NY
Born in 1943
My husband and I will mark our 55th anniversary as the world emerges from months of fear, loss, and isolation. For most of those years, we've lived a balanced, loving life, one in which he indulged my outgoing nature, and I respected his preference for home and hearth. Then, early in this century, the balance began to shift.
He seemed confused rather than interested when I shared anecdotes about students and colleagues. Afraid he'd arrive too late when picking up grandchildren from school, he'd leave ridiculously early. When I returned from a long-established routine, such as a day on campus, he'd ask me where I'd been. Post-It notes bearing names, appointments, and PINs covered the wall near his desk.
I wonder, now that the Alzheimer's is firmly entrenched, why I didn't pick up on clues? But I brushed away my dread by thinking, "Ah, so this is how retirement is going to go!" Aphasia robbed him of conversation. Confusion took away his capacity to enjoy large gatherings. Fading concentration made it impossible for him to read or follow the plot of a movie.
When the evidence could no longer be denied, I made accommodations to address his needs — a social daycare program once a week, companion care for him when I enjoyed evenings at the symphony.
"I am fine, just fine," I told anyone who expressed concern for me as a caregiver. That was true, right up to March 2020. Now, I'm not fine.
In the quarantine, I am not quite alone. We don't play Scrabble or discuss the daily news briefings from Governor Cuomo. We don't figure out how we'll cope with diminishing retirement savings or confer on a birthday card for his younger sister. We don't plan for a trip once this enforced isolation ends or choose a new color for the dining room walls.
Our extended family Sunday Soup Suppers are taking place on Zoom, and I hang on tightly to friends through iMessage, Facetime, and Facebook. I plan menus based on foods he has enjoyed through the years, and I help him dress in clothes that will be easy to remove by evening when his coordination has completely deserted him. I remind him throughout the day of our relationship and of events in happy days gone by. In the evening, I reassure him of our safety.
"You're retired now. You're 79 years old, and this is our home. I'm your wife, Linda, and we have three grown children. They love you, and our grandchildren love you." I put my hands on his face and turn his head my way. "Look at me," I say. "I'm your wife, and I love you."
He smiles at my bedtime ritual. I remove his glasses and place them in exactly the right spot on his bedside stand, just the way he always did. I help him lift his legs onto the bed, and he pulls the covers up around his head like a toddler settling himself for sleep.
"Okay," I say. "Now, I'm going to turn off the light. In the morning, I'll be here to take care of you."
In the waning hours of the day, forbidden to dash out to the library or meet a friend for coffee or go to a play or concert, I tidy the kitchen, turn on our NPR station, and settle in to read.
Across our world, the coronavirus flourishes, adapts, infects, kills. I worry about everyone. The air feels chilly. The hours pass. I am not quite alone.
*
I CAN'T ANSWER CUOMO'S CALL
Nina Gaby, APRN-PMH, CNS
Brookfield, VT
A month shy of 70 years old
I've been crushing on the Cuomo Brothers, as is much of the country, so when Andrew pleaded for health care workers to come to New York — NOW — and he would return the favor, I lost it. Nothing else yet has made me lose it.
I'm an upstate New Yorker who, during an ill-advised mid-life crisis, uprooted my family to Vermont and now live in a two-centuries-old house across from The Famous Floating Bridge. Isolation is just part of the scenery. But inside, I am still a New Yorker who trained as a psychiatric Clinical Nurse Specialist at a great teaching hospital. My memories of working in the busy Emergency Department thirty years ago are vivid and make up some of my best "life review" moments. I still retain my NY State license, although inactive. In my mind, I can always go back.
These days I work over the computer, in yoga pants and bare feet, while I read of the bravery and intensity of health care workers on the front lines. CNN is on in the background. I can't answer Cuomo's call, I can't even sign up for Vermont's Emergency Health network. Hell, I shouldn't even go to Price Chopper during "senior hour" at 6 a.m.
I'm a month shy of seventy, with an autoimmune situation, as well as a bit of ventricular tachycardia and a teetering A1C, I'm no one's idea of a first (or second, even third) responder. I'm suddenly a liability.
And Andrew, Chris, that's the sheer hell of it.
*
EIGHTY-ONE YEARS OLD? ARE YOU KIDDING?
Michael R. Rosen
New York NY
Born in 1938
What is life if not intervals of joy amidst periods of crisis?
I was born in 1938, before what we then called The War. Of course, from the present vantage point World War II is simply part of a tapestry of violence with interwoven quiescences. My lifetime has seen the Korean War, several Middle Eastern wars in the '40s to '70s, Vietnam (during which I served in the Air Force and then, understanding my error, became a peace marcher), mini-wars in Grenada, Nicaragua, the Twin Towers falling, Iraq, Afghanistan, more Iraq right up to the present. That's been the background music for our world – harsh, dissonant, threatening.
What of the joy? Fun as a kid, fearlessly fighting the battles of World War II in the streets — save when one kid's mother learned Daddy wouldn't be returning. School (although not considered a joy at the time), up through medical school, graduation and marriage (now in its 56th year).
And the education: Learning about differences among my associates in the Air Force. Treating a patient one night and hearing a cheer from the front desk. Going to the desk and seeing a staff sergeant who — in off hours — was a fishing buddy.
"What's the cheering about, Sarge?"
"Sorry, doc. Got carried away. Shouldn't've been so noisy."
"OK, but was it a ballgame?"
"No ballgame. We were cheering because they got the bastard."
"What bastard?"
"They killed that bastard, Bobby Kennedy."
More of an education about my countrymen than anything learned in school.
More joy: Having children, three beautiful daughters and an idyll raising them until the eldest was afflicted with cancer and 8 years later, in 1984, died. Years for the rest of us to recover and function again as a family which thankfully has been close and has seen the arrival of another generation.
When the Twin Towers came down, my wife and I volunteered at an ad hoc clinic at the Chelsea Pier. The night shift. EMTs running the place while we as physicians blessed the work they were doing.
"Hey doc, this ankle looks broken. Maybe send him to Saint Vincent's for X-rays?"
Fingering my stethoscope, scratching my beard, "Yup, good idea."
So it went.
Now, the latest calamity. Figured I'd volunteer again. Could still do triage which I'd learned in the Air Force, or any number of other things. When they realized my age, they looked at me like I was nuts. "Eighty-one years old? Are you kidding?"
How dare you! We're fine. We're strong, not made of tissue paper. We can't serve? Must stay home? Yet if we are afflicted, we may be sacrificed because of insufficient respirators? Or, as a Texas politician recently stated, we elderly should gladly give up our lives to save the economy. The economy? The hell we will. This is about people, man.
So that's the world as I see it. Where did we go wrong? That's above my pay grade, although I've got my opinions. But with the Jewish holiday of Passover coming, it's clear that we're dealing with a doozy of a plague, our president is Pharaoh, and we're in danger of becoming the ancient Egyptians.
*
WE HAVE BECOME A PROBLEM
IN SEARCH OF A SOLUTION
Ann S. Sentilles
Dallas, TX
Born in 1947
"Beware the elderly." Or is it, "Beware, elderly"? Or "Elderly beware"?
In any case, I am increasingly distressed to find myself classified among the "elderly."
Perhaps I am reacting to the "elderly" label self-protectively. It could be that the very idea of a deadly pandemic in my lifetime is so terrifying that I am choosing to focus instead on the term "elderly," and the inexorable vicissitudes of aging it conjures in others and, clearly, in me.
Funny thing is, I felt just as strongly about eschewing "middle-aged" as an identity when I was 45 (which is admittedly just about as middle-aged as one can hope to be). I guess I have this thing about ageism, and the thing about it is, my own response is textbook ageism. At its worst. I make assumptions about what it means to be a certain age and I harbor prejudices against those assumptions without looking beyond them to each person as an individual.
Nevertheless, for healthcare purposes, it is beginning to make sense to come to terms with being "elderly," even when I wish I were not. There are, of course, healthy elderly and frail elderly, folks over 60 who are in shape and folks who are in terrible shape, people who take good care of themselves and those who are not able to, and across all demographics, but especially ours, many who have very legitimately concerning "underlying conditions," all of which make each of us more — or less — vulnerable to disease and viral infections. The basic biological fact I am forcing myself to come to terms with is that my immune system is probably just as flabby as my upper arms, and for the same singular reason — my age.
The shallow, vain part of me is stomping my feet and shouting, "Don't call me old!" But my deeper concern is more philosophical, even existential. If I am, if we are, broadly labeled and officially identified as "elderly," for public health purposes, what does that mean for our access to and our level of care? Might we be triaged, as reportedly happened in Italy, to the end of the line say, for respirators, no matter how sick we become, if someone has tacit permission to calculate that we've lived long enough, or that we don't have enough years left to be worth saving?
We become a problem in search of a solution, an "other" whose worth and value is summarily diminished because of only one identifying factor of who we are, our age. This happens with all "others" who are so classified: the poor, for example, migrants, women, children, racial minorities, gays, and people who are trans. And thus, I resist.
Don't call me elderly. My name is Ann.
*
A JOLT TO THE COLLECTIVE PSYCHE
Constance Hale
Oakland, CA
Born in 1957
When I was 6, I was playing with my brother on the sidewalk of Dunover Court when an older kid ran up and said, gleeful that he knew something we didn't, "President Kennedy was shot!" I couldn't fathom his glee or the gravity of the event. Only later did I see how JFK's death made for a certain kind of seminal moment, one that shuddered through the entire culture, but one we felt individually, intimately, at the same time. In such moments, a jolt registers in the collective psyche, altering our world and our sense of well-being. It fractures something, but it also binds us together.
Years later, I was in graduate school in a seminar at UC Berkeley. It was October 17, 1989, a fall day so lovely that class had been moved outside. It was 5:07 pm. We were sitting at a picnic table in a brick courtyard, winding down. Suddenly, the picnic table seemed to jerk several feet laterally. It was as though we were sitting on a raft on a placid lake when an underwater monster found the chain anchoring us to the bottom and yanked us toward him. For a few elongated seconds, what had been a steady surface seemed to vibrate with danger. Then the doors of the building flew open and students streamed out into the courtyard, white-faced, with stories of how the windows rattled so hard they seemed ready to crash around them. I looked skyward; a thin column of smoke was snaking upward in the west. The Loma Prieta earthquake had struck. The world literally shifted underfoot.
In the weeks following the earthquake, there were moments of mob joy (hundreds of us standing on a dark pier, listening to scattered transistor radios, and a ferry emerges out of the darkness to pick us up) and moments of one-on-one fury (a woman, enraged when I took a parking spot she had wanted, comes up to my car window, screams at me, then breaks into tears when I calmly reply; we hold hands and apologize to each other — not about the parking spot, but about what we are living through). It was a time of huddling with friends through aftershocks, carpooling around the Bay when the bridge fell, and witnessing the kindness of strangers.
On September 11, 2001, my sister called before 6 am to tell me to turn on the TV. A nation watched as airplanes flew into buildings, as people jumped from windows, as pedestrians covered with ash ran across the Brooklyn Bridge. Something was shattered then, along with the World Trade Center: our invulnerability, our sense that life had an order, and our sense that we knew who our enemies were and could keep them at bay. Yet the threat passed, the damage was contained, we united as a country, we rebuilt.
I have been thinking about these moments while sheltering at home and absorbing one headline after another. This particular moment hasn't so much registered as a jolt, but as a gathering storm cloud, a steadily darkening sense of dread. This time, what has been seared into the collective psyche is the sense of an invisible threat that lurks everywhere — including in the people we bump elbows with, break bread with, trust, and love. Also seared in is a loneliness, born of social distancing, when the longing for touch is unbearable and we agonize about loved ones who are also alone. The specter of a crushing death rumbles across the globe. The loss threatens to be massive. It is a burden we all, worldwide, share.
I am also witnessing something that requires unspeakably hard times to have meaning: grace. It arrives on the news that a friend's daughter in New York, after suffering symptoms, in and out, for a month, has survived the virus. On the smile of an elderly neighbor—who did some sewing for me last fall — when I deliver oranges and lemons from my trees. On the tenderness of a nurse caring for a victim. And, just outside the window I've been staring out every day for a month, on the blooming of a Columbine: four purple stars, each with a snow-white face.
*
QUARANTINE WITH THE CHIEF
Lisa K. Friedman
Washington, D.C.
Born in 1960
It took me fifteen days to get over the virus. Fifteen days of isolation and clear soups and painful respiratory exercises. Fifteen days of being miserable and depressed. My first day out, I took a walk and got bitten by a dog. It wasn't enough to be quarantined and full of fear. I had to add a dog bite to the drama?
I hang my elbow in the kitchen sink and let the water flow over the holes. There are two punctures. One is already purple and swelling. The other is just a hole. I dry my arm with paper towels and swipe on some Neosporin before pasting Band-Aids over the holes.
Tom is at his desk in the back bedroom. Since the quarantine, we'd turned the extra room into an office for him, and I work at the kitchen table. Tom is an accountant but he'd really have liked to be a fireman. He was finishing college the year we met. His father's advice came more as an order. You can't raise a family as a fireman, he said, his voice harsh with cigarette smoke. Get trained, get a license. You can climb ladders in your spare time. He owned a four-man accountancy business in a small city in the midwest where Tom and I both went to college. Tom got his CPA the day before our wedding but he took a stand against going to work for – or with – his father.
Tom has been taking care of me these last two weeks. Soup, Tylenol. He put cool washcloths over my forehead when the fever was bad. I don't know who would be more excited that I was feeling better, Tom or me.
"I got bit by a dog!" I say.
I heard his chair squeak. We'd pulled that old chair from the garage. It was on the brink of coming apart. Tom had planned to replace it. I should have replaced it.
"What? Are you okay?" he asks.
"I don't know," I say. "I was so excited to wake up feeling well. I wanted to just take a little walk outside. Get some fresh air."
Tom is great in a crisis. Over the years, we've lost three pregnancies and survived the stillbirth of our full-term son. We'd buried our parents and Tom's brother, who lost a leg to cancer as a boy only to die in a motorcycle accident forty years later.
I tell Tom about the dog walker, the dog, the bite. My words quiver. I hadn't realized until then how upset I was. I tell him the dog was thoroughly vaccinated. That Ms. Hannah offered to share records at the veterinarian who had a home office just up the block.
"Do you need stitches?" Tom asks, quieter now.
I am holding my elbow in front of the mirror, watching the purplish flesh swell. "I'm okay, I think. The last thing I want to do is go to a doctor."
We are all under quarantine. So many people are sick. More are coming down with symptoms every day. Every few hours, our phones sound an alarm from the Emergency Broadcast System. The state of Maryland is closed to all but essential businesses and services. I am one of the lucky ones.
I hear him typing. Tom loves the internet. He's never met a comment or a thought that cannot be enhanced by internet research. "We'll monitor for infection," he says. "And for signs of cellulitis."
Cellulitis? He knows better than to mention something like cellulitis. Especially when I'm already afraid.
I could have walked the twenty paces to the back bedroom, to his temporary office. I could have stood next to him so he could put his arm around my hips. He could scrutinize my wounds, make comforting noises. He'd been making those soft sounds for so many days now. I realized I wanted him to nurse me. I pulled my sleeve over the aching elbow.
I smile to myself. "Grilled cheese okay for lunch, Chief?" I call him Chief. Sometimes when we're fooling around I call him Fireman Tom.
"Sounds good to me," Tom answers quickly. I hear the chair squeak before he disconnects.
With my good arm, I pull out the cheese, the butter, the frying pan. There are only five slices of bread left in the bag. Tom will have to run out for groceries later. I am still not permitted to interact with people, not for fourteen days. One of the slices is falling apart. The crust hangs off limply. I paste it back together with a swipe of butter. I'll eat the broken one. Leave the good one for the Chief.
*
WHO WILL LOOK BEYOND THE AGE ON OUR CHART?
WHO WILL BE OUR VOICE?
Cathy Beres
Evanston, Illinois
Born in 1952
"We're not coming for dinner, Mom. We just don't think it's a good idea." My 36-year old son said this to me by phone on the evening of Saturday, March 14.
"What do you mean?" I asked, incredulously.
"You know, you and Tony are… um, older… and we just want to be careful…"
At first it didn't sink in. I wasn't sure what he was talking about. Who's old? And we're family! It wasn't clear at that point that our governor would soon put an order in place, that we wouldn't be seeing each other for quite some time. On March 14, we were just beginning to social distance.
"But we'll be careful. Of course we will be careful," I said. "We'll douse ourselves in hand sanitizer at the door, take shoes off, sit six feet apart in the living room and I'll put the leaves in the dining room table so we can have distance there, too. It'll be fine! Don't be silly!"
I wanted to see my son and daughter-in-law. A mom never gets to see her grown children enough, it seems, especially sons. I had been looking forward to this date.
"I know, Mom, but I don't think so."
"But Tony and I went to a movie today."
"You what?" my son asked.
Oops, I thought.
"There were four people there," I said. "We wiped everything down, we sanitized our hands. I held my breath through the whole thing."
"Don't do that again, Mom," my son said. "You guys have to be careful."
We didn't do that again. We haven't done anything again. And I haven't seen my son again, either.
But then, nobody has seen anybody.
I'm 67, my partner is 76. We ski, hike, dog-sled, fly fish and practice yoga. I take tap dancing. He works out. He still does real work. We serve at soup kitchens. I tutor kids in need of books and breakfast. He mentors a young man with cerebral palsy. We lead an active life full of family and friends. We are not old!
Yet, apparently, COVID-19 thinks we are. On the one hand, I'm thrilled to be considered old enough to shopsenior hours right now. And stores don't mind doing curbside pick up for us. But the rest of this? Not so much.
We will all be alone in that hospital. And some of us will be old.
Who will look beyond the age on our chart? Who will be our voice?
Who will know that my cat needs her medicine? That my dog wants his walk? That my partner is also alone — waiting, wondering, wishing? That I have not yet held a grandchild to my heart?
*
SUDDENLY I AM ELDERLY
Vicky Henry
Ann Arbor, MI
Born 1947
I had never thought of myself as old, despite the fact that in about three weeks I will be 73. Then COVID-19 arrived, and suddenly I am elderly. Suddenly I am at risk. I am staying in my house.
With the virus struck, our adult daughter was living with us and working as a dietary aide at an assisted living facility. A resident at her facility was the first COVID-19 death in our county. This is when I became elderly.
We told her that she could not continue to work there and risk bringing the virus home. The day the man died, she was asked to step into direct care. We said it was too much of a risk to her health and ours.
When the owner of the care facility didn't want to let her go, I played the elderly card again. The owner agreed. Our daughter came home.
Now my husband, seven years younger than me, shops for us at the special 7 a.m. senior time slot. A younger woman in my book group brings me eggs and peanut butter. Our daughter self-quarantines in our basement and I leave her door at the top of the stairs slightly ajar. We can hear each other. I hope we'll be okay.
The COVID-19 virus has changed our world. We have all grown older.
*
DO NOT DENY WHAT YOU FEEL
Chris Kreussling
Flatbush, NYC
Born in 1958
For the second time in my life, I am at the epicenter of an epidemic.
I moved to NYC, to the East Village, in 1979. Just in time for the AIDS epidemic. We endured as the numbers went from a handful, to scores, hundreds, thousands, hundreds of thousands.
We lived and loved in fear for ourselves, our community, our way of life. We worried about every little cough, every slight fever, every blemish, every lump or swelling, both in ourselves, and others. We lived and loved in anger at the cruelty and incompetence of a federal administration that cared nothing about us, and killed us through their indifference and inaction.
It's all so familiar. It feels the same now, but the pace and scale have been multiplied exponentially.
The NYC Department of Health reported days ago that my Brooklyn neighborhood of Flatbush has the highest positive testing rate for Covid-19 in the city. The epicenter, of the epicenter, of the epicenter of the epidemic is here.
Endurance trauma is real. I survived a dark fifteen years of AIDS as a death sentence. That trauma is reactivated, living in NYC, the middle of the worst of Covid-19. For the moment.
Those of us who have survived past epidemics have experience and knowledge we all need to get through what's coming. This is real. And it's scary. Do not deny what you feel. That's how we get through this: by feeling it. Leave room for yourself and others to feel what they need, to grieve, to rage, to despair.
That's how we keep going: Together.
*
I'M NOT QUITTING NOW
Amy Schneider
Ojai, CA
Born in 1953
Opening up a trunk of toy horses, I chose sixteen that could stand up sturdily, tied a sweet note around their necks and left them as gifts all around my town, in the hiking preserves, and at the beach for children to find. I did this in memory of my daughter; they were her beloved Breyer horses. It was March 2nd, three years since the day she died at the age of 30, and about one week before life, as we knew it, began to change.
Among the millions of thoughts fighting for competition in my overcrowded brain at the time of Sara's death was this one: I was no longer afraid of dying. Sara was my only child, and my husband died in 1994, so I wouldn't be leaving anyone behind to have to learn how to grieve. Deep love equals deep grief. And there wouldn't be anyone that would have to learn to integrate this new hard thing called grief into their life.
That is, as long as my mother died before me. My mom is still alive. She's 95. So I can't die yet.
Five nights after my husband died, my 7-year old daughter asked me, "What will I do when you die?" I answered by tucking her into the tightest, most reassuring hug that I could, and made her a promise that I would take as best care of myself as humanly possible so that I'd live to be a very old lady. So far I've kept my promise, and even though she died before me, I'm not quitting now because of some unthinking politicians. I'm not quitting now because my mom is still alive, and I wouldn't want her to have to suffer her child's death. Because I know grief.
In fact, the thing that's weighed most on my mind in these last several weeks is knowing all of the people in this world that so unexpectedly are going to have to walk down this lane. With all my heart I wish they wouldn't have to. It can be done, and it can be done beautifully, but I truly wish I never had to have learned how.
And about those sixteen horses that trotted out into the world carrying Sara's love and spirit with them… I hope they've brought a smile to the faces of the children who found them, who are playing safely at home in this time when life, as they knew it, is so very different.
*
MY JOB IS TRIAGE. EVERYONE'S JOB IS TRIAGE.
Donna Steiner
Oswego, NY
1959 birth year
I have lupus, am over 60 — check and check. I take a daily dose of a medication that is in short supply ever since Trump claimed it was approved by the FDA to treat Covid-19. I haven't been able to get my prescription refilled. If I have to stop taking the medication, will my immune system go berserk? How much pain will I be in? Will I be at even higher risk?
Twice since the outbreak, I've had symptoms of the virus. Both times the symptoms abated after 48 hours. Allergies? Lupus flare? Just a cold? Who knows.
When I take a walk to get away from the computer screen, I cross the street if I see another person. I don't wait for the 6-foot perimeter; I cross at two blocks' distance. But the other day a young man appeared out of nowhere – he was standing on his porch, not moving, easy to miss. He sneezed into the humid air. I was downwind, maybe 30 feet. How far can the virus fly?
When I bring groceries into the house — food my partner has shopped for, because she does not have a compromised immune system — it takes an hour and a half to clean plastic bottles, metal cans. Is this level of vigilance necessary? Is my safety worth sacrificing my partner's safety as she shops for both of us? What is the difference between risk and at risk and at increased risk?
The college students I teach, like all students, were thrown into the world of online learning with almost no notice. Faculty — accustomed to seeing our students every day, recognizing who's struggling, sharing the intimacy of classroom contact – patched our courses into new formats on the fly.
My students write "my sister is sick and I can't reach her"; "I still have a job cleaning carts at the grocery store"; "my mother died"; "my laptop broke so I'm doing homework on my phone"; "my whole family is out of work"; "I want you to know I'm a good student but I just can't focus."
My job is triage. Everyone's job is triage. (Can we refer to triage if we're not on the front lines of medical care? What's the difference between risk/at risk/at increased risk/in danger?)
I start an online faculty group. Dozens of people join; everyone swaps tips and advice. At the end of the week, I thank those who helped me get my courses running. One by one, women faculty thank others who assisted them. Not a single male faculty member thanks anyone. Do we get to be petty during a pandemic? (Is it petty if it's part of a trend that started long before the virus found its first human host? Is pettiness just a lower form of stress? What does at risk really mean? Are these questions for another day? Do we get another day?)
*
THE DEATH OF EVERYTHING
I EVER LOVED ABOUT THE USA
Ginny Fite
Harpers Ferry, WV
Born in 1945
The day John Kennedy was shot, I was eighteen. My English professor, wearing a suit and black pumps and almost twenty minutes late to class, walked to the podium and quietly told us the news. Her voice quavered. What it must have cost her to be so calm.
I took the train home. Everyone was gathered around the television, unspeaking — rare for a family where each person had at least two opinions about everything. Shock reigned. Mrs. Kennedy's pink suit, the way she crawled out of the back seat of the convertible, watching that over and over, taught me about horror.
We were assaulted by Kennedy's assassination. All of us. Even my father, who wasn't sure about his politics, was affected. But the clearest element in our shock and misery was that we were all in this together—all of us, all Americans. We believed the government would solve it. Johnson was sworn in and even if we didn't trust his politics, the country continued.
This same feeling — that we were all in it together — surged when the Twin Towers were attacked on 9/11. It felt like my entire family had been killed at once, although no one I knew personally died. I grieved for my country, for my fellow citizens. But we expected the government to manage and we continued.
Now, no matter how much I read about the virus and how it operates in the body, I can hardly believe that a microscopic particle can bring about the spectacle of fear, shock, sorrow, and economic disarray that Covid-19 has wrought in two months. My children bring me groceries with bandanas tied around their faces. I wave to my grandson online and chat with my granddaughter. I long to hug someone.
And the government, which managed in other major crises to muddle along, suggests sacrificing the elderly for the sake of the economy. Isn't that euthanasia? Elected "men of God" who previously railed against abortion declare that Grandma should want to die so that the value of their stock portfolios can soar. Who are we as a country that influential people can say some group of citizens is disposable in the service of their greed? No other country has suggested that.
Yesterday we, a country of 340 million, surpassed China, a country of 1.5 billion, in the number of coronavirus cases. Although the pressure in my chest may be a virus scouring my lungs, I think it's grief for the death of everything I ever loved about the USA. I hope there are heroes out there who will find a way to save us. This time, they won't be politicians. They'll be scientists, engineers, bureaucrats, and health professionals. People who can brave the scorn of the well-healed and pompous. Maybe next time we'll listen to them sooner.
*
FAMILY AT GREAT DISTANCE
Brad Anderson
Born 1950
Moorhead, MN
Who would have thought the turn of the new year would eventually bring such uncertainty. Before 2020 we took the pleasures of life for granted. Sure, there were personal tragedies like the deaths of family members over the years. The sadness and tears shed for loyal pets we had to say goodbye to. However, for every sad goodbye, there were other family members still alive to give us comfort. There where new babies being born that entered the family tree.
The saddest thing today about being sheltered at home with my wife is wondering if we will ever see our children or grandchildren again. Will we ever get to socialize with our family like before?
I feel embarrassed that I didn't travel to see family members more often. My wife and I live in a community separate from our children and grandchildren, some at great distances. I try to think positive about seeing everyone again and hugging them for what they all mean to me.
*
WAITING FOR A BACKYARD MONARCH
Joe Penczak
New Jersey
Born in 1959
I was working in Jersey City when the Twin Towers were hit by planes and vividly remember the shock, fear, and uncertainty as that day's events unfolded. Some of the questions then are applicable now. What's next? Will it get worse? How can we be sure that it's over?
I'm 60, able to work from home, and worried that my plan to work a few more years until I can retire and live off of Social Security and my 401k (REALLY worried that it will become another "201k" like it did after 9/11). In the last few years, I've pursued a life-long love of theater and acting by be able to get cast in a lot of plays and films, enough to qualify and join both SAG and Actor's Equity. All of the NYC auditions, and shows, have been canceled or postponed. The thought that I could ease into "retirement" and pursue acting full-time has been turned upside down. Now I have to hope I keep my day job.
In the days that followed 9/11, all air traffic was grounded. After a few days, we all returned to the office to work, or try to. I distinctly remember standing in front of a large, floor-to-ceiling window and looking out over the cloudless, airplane-free sky, and thinking how strange it was, when suddenly, a monarch butterfly flew past the window. I nearly jumped out of my skin. It was the shock of a living creature doing its natural thing, oblivious to the self-inflicted troubles of humanity. It was beautiful.
I wonder if animal life has been affected by this pandemic, if one day the news will be that all the bees are dying off. Meanwhile, I hope to go in my backyard and see a butterfly flit by.
THAT HOPEFUL LOOK OF SIDELINED ENTREATY
Randy Osborne
Atlanta, GA
Born in 1955
When the virus first surfaced and younger people were told — incorrectly, it turned out — they were at less risk, I could feel them scowling at me in the streets (when it was still OK to be in the streets) as if to say, "You're the reason we can't party."
I just turned 65. This means that I've had more than a few years of familiarity with what I think of as "the youthful gaze." This may be akin to "the male gaze" bemoaned by women, though I won't pretend to compare my plight to theirs.
In any case, it's happening more.
At first my strategy was to establish eye contact, smiling. The move only seemed to make matters worse, and often drew a smirk. Did the young person figure I was feeble-minded? Maybe he or she resentfully assumed I was retired (nope), out of the abysmal workforce where others still suffer. I could only guess.
Today I avert my focus, stare at the tops of my shoes, a posture that seems better to befit my age and station. Head down. There's no person in here.
I have three grown kids and the same number of grandchildren. Sometimes in mid-afternoon I am stricken with a sudden sadness that before long I must leave them with the Anthropocene, that they will suffer what's left of our planet without me. My son posted on Instagram an image from our video chat. How odd it was to see on my own face what I'd seen on my elders when I was a boy — that hopeful look of sidelined entreaty. Of absence understood as near at hand.
My partner Joyce and I agreed from the start that we would not become parents together, but recently brought aboard a four-year-old girl. It's a complicated story, as most stories are when probed. What's not complicated, or not yet, is the girl herself, a fiercely cheerful package of delight.
"In your life, have you seen anything like this before?" my son asked, referring to the virus. The only experience that I could remotely compare was the Cuban missile standoff in 1962. I was seven years old that fall, and had only a dim awareness of the situation, filtered through jittery adults. One night I played with friends at Janice Olson's house. See you tomorrow, Janice said when we left. The door closed and I heard behind it, "If there is a tomorrow."
We thought the whole world might blow up. Now, at last, it's blowing up slow.
*
ZERO DARK RONALD AND THE BIKE RIDE TO NOWHERE
Bruce Bortin
Oakland, CA
Born in 1953
Well, this is new. My historical existential dread involved Soviet cruise missiles screaming over my old West Oakland studio space on their way to take out the Naval Air Station down the road. That seemed probable, immediate, and finite. This pandemic, though, it's something else entirely. It's just out there, and there's more of it every day.
Big introvert over here, so social distancing hasn't been a hardship for me. Today it's been 14 days since I was last at my job at a legal services nonprofit on a very gritty block in San Francisco. That 14 days is significant, according to what I'm hearing from the WHO. Gratitude.
I'm hoping, but not expecting, that my luck will hold. I'm playing a 2-part game that goes:
1.When am I going to get it?
and
2. Is it going to kill me?
For extra credit, I linger over the question of how that (#2) might play out. Bonus points for worrying that I've already given it to Mary, my ever-lovin' wife.
Every morning around 3:50 when I wake up to pee, and find myself asymptomatic, it's a blessing. Then I get to experience that again at 6:00 when the cats get me up for breakfast.
We're doing all right. We've got enough space in our apartment that we can get away to another room, and we count ourselves very lucky. We're housed, can afford food. I'm doing as much work from home as our crappy wifi will allow, Mary's about to go out for a walk, and the stupid cats don't even know that anything is up, except for a vague notion that the monkeys really ought to leave for a few hours during their mid-morning/early-to-mid-afternoon nap time. We've got food and TP. I don't think I've seen anybody who was symptomatic. I did see a guy on Jackson Street sanitizing his hands with a half pint of Royal Gate vodka. Oh, and the McDonalds on the corner has gone Zero Dark Ronald. That set me back a bit!
I go out for a bike ride to nowhere every morning. I take along my shopping bag as a pro forma gesture, but I really enjoy just riding. Nope, I don't need to enter that shop after all.
*
SOMETHING IS GAINING ON US
Elinore Standard

Burlington, VT
Born in 1933
I was born in Philadelphia in 1933 and remember a man coming to the door asking for 
food. My young mother put a dish of baked beans into his burlap sack and told him
 that was all she could spare. My father had a good job but was allowed to work 
only three days a week. Now I see people who cannot go to work at all and many
 of them won't be paid. 

I live alone in an apartment at the edge of the University of Vermont campus. I love the
 atmosphere and the energy generated by so many young people. It has been quiet
 for a month. The gothic buildings are dark, the pathways empty. There will be no May
 graduation on the campus green.
Traffic is light. There are parking spaces.

This morning I met my meditation group in a Zoom session. We saw the dear faces 
of our friends. We shared stories about our week and what lies ahead. Most of 
us are old and a little afraid. We understand something is gaining on us. We
 will follow the rules and try to protect each other. Vermonters are tough and
 independent, but we realize we're not immune.
*
BUT NOW
Robert Skollar
New York City, New York
Born in 1949
I open my eyes and all I hear is quiet.
Is it middle of the night? Early Sunday morning? Mid-day Tuesday?
Days, dates and hours have lost their relevancy.
I find myself asleep in the afternoon, wide awake at 3 AM…
But now…
it's all one long day.
I live on NYC's Upper East Side. 3rd floor.
It's loud.
The morning overture begins with garbage trucks, construction work, Ubers, Vias, and the vanishing yellow taxis honking.
Then the Brearly girls start screaming. And I curse them.
But now…
I long to hear those shrill screams.
The world keeps on spinning.
So there is another day to face.
Beginning with me unhappily acknowledging my intense pain.
Chronic bad back.
In the years BC, (Before Coronavirus), there were shots administered by the ever-so-willing Dr. Schottenstein (aka "Dr. Shot-in-the ass").
Now there are no shots, not when I won't leave my house.
So, I must acknowledge and accept the pain that cannot be addressed for months.
But now…
Considering all else, it's merely a "minor annoyance."
I pray.
This is not new.
I pray everyday.
Nothing from a book. Certainly not in Hebrew.
Just talking to God.
First thanks for my blessed life.
Then asking for "stuff".
No material wish list, just health and happiness for my loved ones.
Who gets the "lead ask" is dependant upon the magnitude of the issue
they're currently facing.
But now…
I pray for the world.
Then, to bring some order to a world of chaos… a daily schedule.
Listing anything and everything from "take shower" to "write scene for screenplay" to "watch Better Call Saul."
Hardly my usual schedule.
But now…
there is no "usual".
Next with equal amounts of trepidation, I check the Times' Morning Briefing, my email, my horoscope, and the stock market.
I skim internet articles…
"Ten great lockdown books," "Netflix binges," "Best on-line classes,"
"How to throw a social-distanced Luau."
I applaud those who partake.
But now…
I'm too worried about never seeing my grandchildren again.
Through strange circumstances, and, I believe, God's "master plan,"
my grown kids are living with us during this surreal time.
They are stepping up big-time.
Cautiously optimistic.
Projecting a rational calm.
Believing I am overreacting, but remaining respectful of my beliefs.
My wife fulfills her mom-caretaker role without interruption.
We gather for nightly Jeopardy.
Me? I should be the leader of the family.
But now…
I am the weakest link.
I've lost my usual "half-full" attitude.
I seriously consider the end of the world.
I need to step up my game.
The other day I assessed my life of 70 years…
Pretty damned good!
If I died today, I'd have to say, "I won life."
But now…
I think about Charlie, almost 4, and Wes, just turned 2.
They must have their lives.
Full of all the good, happy days that make life what it is.
And I want to be part of it.
But now…
I just have to wait.
*
A FORCE OUTSIDE MYSELF
Linda Jackson
Cody, WY
Born in 1941
There are two specific and strong feelings I am having in response to the pandemic, but more specifically to the changes that have happened so rapidly in the past 1-2 weeks.
One of the feelings has to do with the realization of the life of privilege that I have led. This is, of course, not the first time I've thought about it, but is the first time I have had to consider, as well as implement, a change of lifestyle dictated by a force outside myself. In just the past two weeks I have had to cancel a major surgery because it was elective, had medical appointments canceled, been unable to buy groceries that heretofore have been so abundant that I am sometimes overwhelmed by the choices, and had to make conscious decisions to not greet friends and acquaintances with a hug! All those things are really insignificant in the grander scheme, which makes me all the more embarrassed that I take it all for granted.
The other thought that keeps coming back to me concerns my wondering how my parents dealt with the major events in their life which were comparable, if not more frightening, to this pandemic. I know my mother lost a sibling to the Spanish flu of 1918. I know that both parents' families struggled in different ways during the Great Depression. I was born one week after the bombing of Pearl Harbor and my father was in the Navy. Because my parents were not the kind of people who shared feelings easily, I never knew if they were scared or lost hope, or if they just kept going one day at a time.
*
NOW, BECAUSE OF MY AGE
Sherry Drobner
El Cerrito, CA
Born in 1955
I never defined myself as elderly, although in my 60s, although retired, although growing gray hairs requiring cover up color every three months or so. My age is a number. Now, my age, in the Spring of Pandemic, is a death verdict, according to news reports. Now, because of my age, I am vulnerable. Now, because of my age, people see me and ask me what I need. Perhaps I was fooling myself, even before the pandemic. No longer am I the do-gooder, the helper, the strong person caring for those who are "vulnerable."
Now I hear politicians tell me that I am expendable, that the economy is more important. The suggestion of senicide is raw and personal and I am enraged.
But while Wall Street tries to put the nails in my coffin, I am inspired by the younger voices that shout out TRASH to those who put profit over people, and the younger voices that articulate care and concern for the grandmother, the uncle, the mother or the father.
And when I make wellness check calls on my neighbors, the 60+ year-olds who live by themselves, they tell me the same thing. They feel like they are being redefined by the pandemic, labeled and categorized and socially reconstructed.
*
MARRIAGE IN THE TIME OF CORONAVIRUS
Ruth Pennebaker
Austin, TX
Born in 1949
My husband of 47 years is an academic psychologist and researcher. One of his areas of greatest interest is disasters. He's studied psychological reactions to Mount St Helens, the 1989 California earthquake, wars, floods, hurricanes, you name it, if it's bad, he's on it.
Being with him is kind of like being married to a first responder – except he does it at a distance. In the days following 9/11, I had to wrap my fingers around his neck and squeeze to get him to detach from his computer screen so he could talk to me, for God's sake. Usually, I had already spent much of the day talking to friends or emailing them about the changes in our lives. But I still had so many important matters I wanted to discuss with my husband. Such as: was the world ending? Would this change us forever? Should I set fire to his PC?
Eighteen years later, it's a new kind of disaster, but in many ways we are the same people we were in 2001: I always want to connect with other people (virtually or otherwise) and he wants to lose himself in his work. You know what? I think it may be time for me to apply a little pressure to his neck.
* * *
It's almost romantic to realize we've been sharing germs for more than 50 years.
* * *
Since this epidemic began, my daughter and I have been emailing each other most days to talk about how we're doing, what we're feeling, what we're thinking and fearing, what we can still laugh at. It's a way of comforting each other but it's also a record of our lives during this crisis – something our descendants might be interested in someday. Who knows?
Anyway, a couple of days ago, I proposed that Pioneer Woman, pictured here, should be our role model. This was appropriate since I was born in Ponca City, Oklahoma, where the statue of Pioneer Woman and her kid is. My husband and I have a replica of the statue in our living room, which he photographed after only a slight amount of nagging on my part.
I quickly came up with all kinds of examples of how Pioneer Woman – who was probably our ancestor! – would tell my daughter and me to get it together and stop whining. After all, PW and her son had probably been rattling around in a covered wagon for weeks or months, battling starvation, heat waves, renegades and outlaws, cactus, rattlesnakes, vultures, vermin, and disease. She wouldn't have much use for 21st-century American women who had climate control, indoor plumbing, washers and dryers, and Netflix – but still managed to whine about how tragic they were going to look in six weeks without the attention of a good hairdresser.
I mean, look at PW! She's stalwart! She wears a bonnet over her bad haircut! She's tough, she's no-nonsense! We needed to channel her, like, immediately!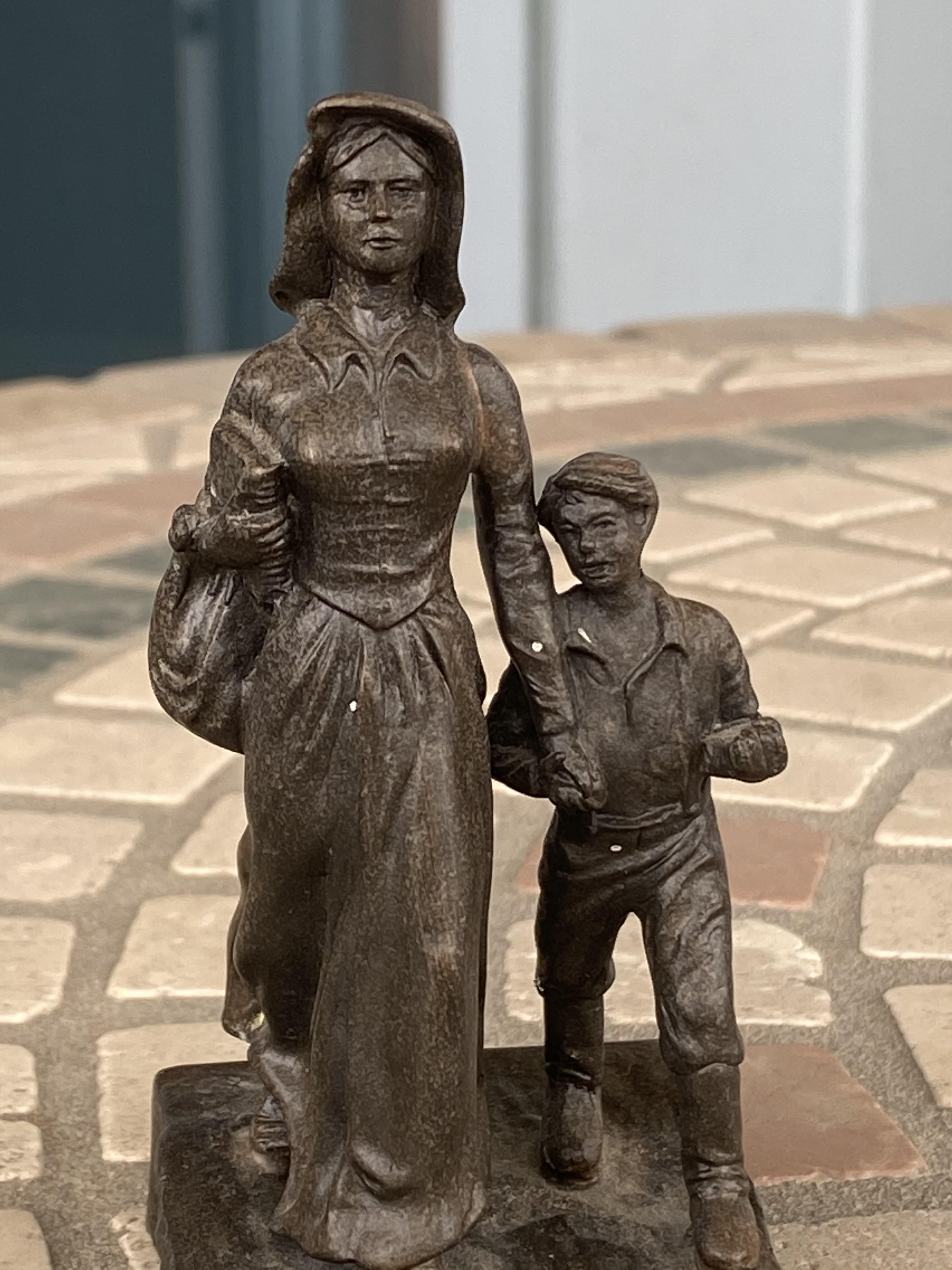 But then, I also realized PW came to Oklahoma to take land away from the Native Americans, whom we also are descended from (my daughter and I are both card-carrying members of the Chickasaw Nation). She was probably — let's face it! — a total Indian-hater and racist. She's clutching a book that may be the Bible, since she strikes me as one of those Old Testament-heavy mothers who torture their kids with stories about Job and hellfire and damnation.
And look at her kid! Isn't he kind of cringing by her side? I bet you money she was also one of those spare the rod and spoil the child types who beat the shit out of her kid when he annoyed her. Also, from the looks of her, she might have been a litterer.
Oh, well. So much for 19th-century role models in the time of coronavirus. I think my daughter and I will probably be sticking with Ruth Bader Ginsburg.
* * *
It's always been a mystery and a fascination to me — this business of who we love and who we cling to over the years. Yesterday was a day when everything unnerved me: our future, our children's and grandchildren's future, the fate of our country and the world. It was all bleak.
"I really believe everything is going to be all right," my husband told me last night. He said this with such confidence that I could almost breathe it in and feel it myself — the way his optimism and buoyancy have always comforted me.
Well, almost always. Like any quality you love most about another person, it's also what drives you crazy about him. That's for another day, though. Last night, it was exactly what I needed and I realized, again, how lucky I have been with him.
*
THE REVIVAL OF THE COMMON GOOD
Janet McNally
Phoenix, AZ
Born in 1943
My 50 years working as a nurse and then a nurse practitioner makes me want to have a more active part in the fight against this invisible enemy. I felt sad when New York State asked for retired health care workers to re-enter the workforce, and I had to reply that I now live 1500 miles away from where I might be needed. I felt frustrated when the hospital where I now volunteer asked those of us over age 60 to stay home.
So I stay home and find patterns for making masks, help search out places to buy masks and gloves, and send cheery notes to others who are alone at home.
I cry for the mom in my neighborhood whose little boy doesn't have other kids to play with because parents know his mother works in a hospital.
I am touched by my neighbors who volunteered to get groceries for me. I am happy to see chalk art on the sidewalks and kind words in emails. These give me hope that we, as a nation, will truly appreciate our responsibility to each other as we face a common challenge.
My dream is that famous persons in sports and film will take a more active role in encouraging people to follow social distancing and other science-based recommendations. I hope that faith communities will emphasize our role in caring for each other. I would love to revive the term "common good." I hope that we can rediscover this truth if only in the simplest of terms.
*
HUDDLED IN OUR HOUSES
Alvan Uhle
Ann Arbor, MI
Born in 1928
I'm terrified right now. I really am, and maybe you all are too.
I've got the wastebasket there now for my New York Times blue wrappers. I don't bring them in. I don't know what good it does. Even touching the paper! I'm so afraid of touching anything now. I wash my hands six, eight times a day, eight or ten times a day.
I've been thinking about Pearl Harbor. I was born in 1928, so I was thirteen at the time. There were similarities between now and then.
Of course I heard the initial broadcast. I was sitting in the kitchen on a Sunday afternoon about 2:00 or 2:30. I had the radio on and I heard it. The Japanese attacked. And of course it was a terrible shock, and as I've said to my son numerous times, we had this terrible feeling that we were going to lose the war. We were losing the war for six months.
But then, in spite of that, in many ways it was not as bad as now. We had rationing, gas rationing, meat rationing, butter, ice cream, anything like that was rationed. You could not get tires for cars.
Ice cream. We had no more ice cream. We had ices, they called them. It was kind of like sorbet, but not really as good as sorbet. No ice cream. So we had things like that, but we still ate very well. And there were still movies, there was still football. Ohio State was still playing football. Life wasn't changed that much.
It was a terrible time, but we weren't afraid for our lives. I mean, otherwise you're still normal. We weren't like we are now, huddled in our houses, you know, fearful for our lives.
*
THAT ODD, UNNERVING SENSE
Mitchell Danielson
Sausalito, CA
Born in 1953
The feeling on the waterfront streets at this time of evening reminds me of two things. That strange lull before late-night anti-war actions in the early '70s when we thought we were revolutionaries.
Then flash forward to central India when martial law (or their version of it) would suddenly hit the streets for a few hours. That odd, unnerving sense that something is going wrong somewhere around you but you don't what it is. The streets would empty out and everyone was instructed to freeze in place. Those incidents would only last a few hours or a day at most.
It does seem like there is a large shift going between the forces of greed and the more hopeful feeling that people are coming to their senses.
*
OUR LIVES ARE SET IN STONE
Marvin Nyman
Chandler, NC
Born in 1945
I am not overly concerned for my generation as our lives are basically set in stone.
My dad grew up during the Great Depression and moved from rental home to rental home when his parents could not pay the rent. They only survived because my grandfather was a moving man and was able to sell used furniture, which provided a few dollars for rent. I feel my dad was forever scarred by that experience.
My mom and her parents were from London and lived through the WWII nightly German bombings; one can only imagine the fears they lived with. In fact, my grandad was permanently injured when part of a building collapsed on him during that time.
Prior generations have survived catastrophes because there were great leaders who inspired their citizens to persevere and fight through the muck. I pray that we have a leader who will be able to mend our current divisions, one who will understand all of our differences and help us understand why we are one! This is not a land of Red or Blue, it cannot be a country with two sides fighting each other; we are the land of the free, one nation, a country of equals.
These few moments, as I have written this note, have given me some peace of thought.
*
AS CAREFUL AS I CAN BE
Teresa Friend
San Leandro, California
Born in 1957
I read the warnings that people over 60 are "vulnerable," and I think, "Oh, but they don't mean ME."
I'm only 62, I'm healthy, I'm not actually vulnerable. But then I see stories in the news of younger people who have succumbed to the virus. The 38-year-old New York principal, the young doctors in China. And just for a moment, I get a little scared.
I am being as careful as I can be. With the exception of early morning walks when I see almost nobody, and a very occasional trip to the grocery store, I am housebound.
But I have a young adult daughter who lives with me who works in the healthcare field, sometimes interacting with patients suspected of having COVID-19. When she gets home from work every day, she showers and puts her clothes in the washing machine. I spray the doorknobs and faucet handles with disinfectant. We converse from an appropriate distance. But I can't be certain that she is not bringing the virus into our house. There is no way to know for sure. So, in some moments, I get scared.
I think about my parents, who lived through the Depression and World War II. I think of my young father, who fought in that war. He had never been outside California, and suddenly he's on a ship headed to Europe. He must have been so scared. My mom, nearly 90 now, reminds me that things have been much worse, for much longer, and that everything will be okay. She does not seem to be scared. And I take a deep breath and get back to work.
- - -
Submission guidelines for
A Force Outside Myself: Citizens Over 60 Speak