Voice of Witness is an oral history nonprofit that advances human rights by amplifying the voices of people impacted by injustice. Vernesia Gordon's excerpt is from Six by Ten: Stories from Solitary edited by Mateo Hoke and Taylor Pendergrass. Order the book here, access corresponding free lesson plans, and learn more about the Voice of Witness book series.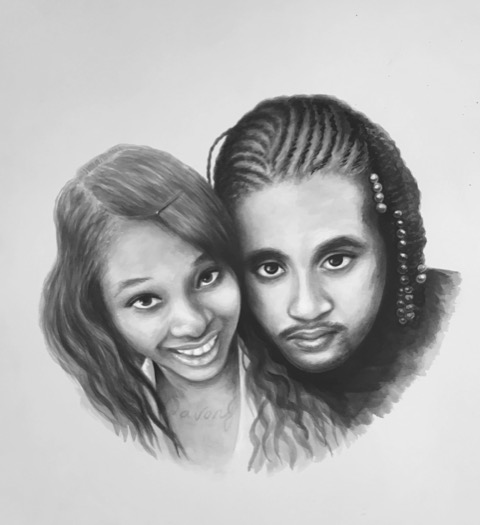 - - -
VERNESIA
GORDON
AGE: 25
BORN IN: Pontiac, Michigan
INTERVIEWED IN: Anchorage, Alaska
- - -
Vernesia Gordon has her hands full. She's a young mom of three and also works full time at an elder care facility. She makes time to talk with us in the evenings while taking care of her small kids and often some of her two brothers' kids as well. She fixes dinner and snacks while disciplining and joking with the kids, and she recounts the love she shared with her fiancé, Davon Mosley. Davon dealt with mental illness for much of his life and was in and out of jails in California before he and Vernesia decided to start their lives anew in Alaska. When we meet Vernesia in Anchorage, she's coming from work, on her way home to take care of the kids. She wears white scrubs with a frog pattern, burgundy glasses, and gold hoop earrings, and her hair is in a single long braid. She says she loves her job but that she's planning to go back to school in order to become a nurse. Before her current job she worked part time at Toys "R" Us while taking phlebotomy classes. Her mom, Khenisia, joins us, telling us she's concerned about her daughter's recent weight loss and that the stress Vernesia carries means she doesn't know how to slow down.
- - -
HIS

EYES

TOLD

ME

SOMETHING

DIFFERENT

ABOUT

HIM

One day in October 2009, I was walking to the apartment complex where my family lived in Bakersfield, and there was a boy leaning over the second-floor balcony of the complex.1 I think he was leaning over trying to see who I was. He leaned so far over he fell off. He literally flipped over the balcony! Yeah, he got my attention.

The next time I saw him I was sitting on the stairs of the complex talking to my brother, and the guy who had fallen off the balcony earlier came down to talk. His name was Davon, and he was friends with my brother. I was seventeen at the time, and he was sixteen. When I first met him I was looking at him thinking, He's so weird.

We just started a conversation and ended up hanging out all week-end. We went to the movies. We walked to the park, and just talked about us and our lives. We ate at the park and stayed until the sun went down, looking at the stars and the moon.

The first thing I liked about Davon was his eyes. His eyes told me something different about him than everybody else's did. When we talked I learned that Davon had bipolar schizophrenia. I believe he was fourteen at the time when he was diagnosed with it. His sickness didn't change anything. I didn't judge him. I just kind of liked him.



HE DIDN'T
SHOW

HE

WAS

SCARED

I was born on August 11, 1992, in Pontiac, Michigan. But my family only lived in Michigan until I was five, and then we moved to Arnold, Pennsylvania, and then New Kingstown, Pennsylvania, for about five years. I don't remember too much about my early childhood, but I remember my mom's family being in Pennsylvania, so we were around her family a lot.

Then when I was close to turning ten, we moved to Lancaster, California. My mom's sister lived out there, so we moved out to be around her. That was 2001. We didn't have much more extended family in California, so it was just me, my mom, and my three brothers, two older, one younger. Even in California we moved around a lot, on almost a yearly basis around Lancaster. I don't know why we were moving around so much — sometimes it was because my brothers would get into fights in school, and my mom would want to get them out of there.

So we were moving around Lancaster, and then my family moved to Bakersfield. This was around the time I was in high school. At that point I was doing well, so I didn't want to move to a new school again. So we worked it out that I would stay with a friend in Lancaster to go to school, then visit my family on weekends and days when I didn't have school.

Eventually I ended up coming back to Bakersfield and staying with my mom. Davon was a big part of the reason why I came back and stayed in Bakersfield. He would always leave school and come home with food. I love to eat, and he knew that, so he would always surprise me with burritos from the Mexican stand down the street. I literally was always at Davon's house. I would go downstairs to my mom's house to change clothes, take showers, stuff like that. We were inseparable until he went to jail. Then when he got out of jail we were inseparable again.

I didn't know if things were serious, but not long after I started staying in Bakersfield, I got pregnant. It caught us by surprise because it was very soon after we met. I missed my menstrual cycle, and Davon and I walked to Walgreens and bought a pregnancy test. Two came in a pack. I took the first one and I set it down, and when the timer went off, I had him read it. And he just stood there like, "You're pregnant." I'm like, "You're lying. Don't lie." I took the second test just to make sure, and it turned out I really was pregnant. That's when my life changed.

It was all a bunch of feelings at once just rushing in. But for the most part, I was really scared. Davon, he was happy about the pregnancy. His mom was happy. His dad, though, would say things like I was just using Davon to get pregnant, to get welfare, that Davon should get a paternity test, those kinds of things. Davon always protected me from his dad though. Davon used to tell me he didn't think his dad loved him.

When Davon was seven his older brother, Carlton Jr., was killed. Carlton Jr. was in a car and he was shot in the head in Bakersfield. I think it was a setup. Davon felt more of a dad connection to Carlton Jr. than he did to his own dad. He took it hard. They were all mixed up in gangs. I think my presence changed Davon in many ways. He used to be out in the street. But Davon slowed down completely to the point to where his parents were like, "You saved our son's life." They used to think Davon could get killed any day. But when me and Davon got together, he never went out. It was always me and Davon together. And when I got pregnant, he became a family man.

My pregnancy was miserable. It was so hot! I was hospitalized because my placenta ruptured. All the complications with the pregnancy were very scary, but Davon was at the hospital the whole time. He spent nights at the hospital, went to school, came right back to the hospital or he would go home, get fresh clothes, and then come right back to the hospital. He was there every day. He probably tried to keep his emotions to himself, like that he was scared or worried for me. He was always there, reassuring me, "It's going to be all right and you're going to be all right. It's nothing to worry about." I believe he was scared because the doctors were saying our son might not make it. I know Davon was scared, but he didn't show it. He kept it to himself.

Davon Jr. was born on August 10, 2010. I was happy, nervous, emotional. But for the most part, I was really scared. When I had my son, he wasn't getting any oxygen. His umbilical cord was tied in a knot. So they had to do an emergency C-section and take him out. The doctors said if he stayed inside any longer, he would have died.

A lot of people put me down, saying, You're not gonna finish school. You're stupid, you shouldn't have the baby right now, you're not even eighteen. I didn't listen to them, and I still have my baby now! I never dropped out of school, I always had straight A's, I always did everything I was supposed to do. Even after I had my son, I still graduated from high school, and I'm going to graduate from college.



WALKING

DOWN

THE

STREET

WITH

AN AX

Davon and I went through a lot together very quickly in our relationship — getting pregnant, having a complicated pregnancy, Davon being a bipolar schizophrenic. So dealing with Davon and his illness, it was stressful, but he was always there for me during my pregnancy. I was always there for him, too, every step of the way.

In the beginning of our relationship, he'd pick and choose when he wanted to take his medication and I had to tell him, "You can't just do that. You have to actually take it every time," but I also understand why he wasn't taking his medicine. It's lithium, and out in Bakersfield it was so hot. Lithium is salt, and it would always make him pass out. He was dehydrated.2 He'd be walking outside and just pass out. He kept constantly passing out.

We would call his probation officer and tell him Davon isn't taking his meds. His probation officer was aware of his illness, but the officer would say, "Oh well, you have to wait until he does something. We can't do anything because he's not doing anything wrong right now." One time Davon was walking down the street with an ax. He was literally just walking down the street with an ax and that's when his dad first called the probation officer, and they were like, "He's not doing anything." He's walking down the street with an ax! What do you mean he's not doing anything? They said we had to wait.

Because of the side effects of lithium, Davon was telling his doctor that he wanted a different kind of medicine. But instead of giving him a different medication, she just took him completely off everything.

Not long after, Davon had an episode. It was September 2011, a little after my son's first birthday. He was arguing with my brother D'Aire and got a machete from under his dad's bed. He was actually just going crazy. He was hitting the walls with his machete. D'Aire's arm got cut really bad. The machete almost hit D'Aire's artery. And my bother Durrell got a cut too trying to calm Davon down.

This is why Davon ended up going to Wasco State Prison — assault with a deadly weapon. I believe he was supposed to get nine years, but the then mayor of Bakersfield intervened and said Davon's probation officer should have done something when our family was calling and asking for help. So Davon was sentenced to two years, and he served fourteen months.



A
FRESH
START
I hardly got along with Davon's parents. I guess his parents didn't like the way I spoke my mind, and I just didn't let them talk to me like they do everyone else. It also seemed like when Davon was away from his parents, he was more calm. It was stress free. My mom had left Bakersfield again, this time moving up to Anchorage, Alaska. Davon and I were living with his brother, right next door to his parents.
So in August 2013, my mom invited us to come up to Anchorage to visit for my birthday. I could be around family, and I could be happy. I wasn't even sure we were going until we bought our tickets like two days before.
Davon and I went up there for a weekend. Unfortunately, Davon's parole officer visited his brother's house to check in on him, and his brother told the officer Davon was in Alaska. Davon wasn't supposed to have left California. So the parole officer put a warrant out for his arrest. All that led to us deciding to stay in Alaska, for a fresh start, and so Davon wouldn't go to jail when we went back. We just stayed. Davon put in job applications and got hired at Toys "R" Us, and that was that. We were staying with my mom, and I was putting in apartment applications.
My second son, Davontae, was born a few months later, on November 29, 2013. Davon was a good dad. He'd hold Davontae, watch TV with him, talk to him, read to him, play video games with him. He'd prop Davontae against a pillow, put a controller on his lap, and Davon would be playing a game as if Davontae was playing with him. He'd be like, "Hey, bug. You see that? We winning." I'd be like, "Shut up." It was cute though.
But it was hard. I had postpartum depression. My mood was all up and down. I was always tired. My mom was saying that I was going through too many emotions at one time and she told me I should go get checked, to make a doctor's appointment and basically see what was going on. The doctor prescribed some medication that wouldn't affect the breast milk because I was breastfeeding at the time.
The medication helped, but my doctor thought we might need couples and individual counseling. Davon and I were on a waiting list to get couples counseling and that's when it started, that's when everything happened.
HIMSELF
AGAIN
In February 2014, Davon had an episode. His dad and I were arguing over the phone and then Davon got on the phone, and either his dad called me a bitch or he called me something that made Davon get mad. He hung up on his dad, and his dad called back. It was going back and forth.
Davon ran to the kitchen and grabbed a knife. I'm not sure why he got the knife, but whenever Davon had an episode, he would go grab a weapon. He jumped over the balcony and basically just stood outside. I guess he was talking to his mom on the phone, and I believe his mom called the hospital and told them what was going on. When they sent officers from the Anchorage Police Department out, they spoke with Davon outside and Davon basically told them that he had a warrant in California. I guess they asked him what was going on and what happened, and Davon told them. The police asked me if Davon was on parole in California, and I said yes. They were like, "Well, he's very forward with us, and he let us know that he had a warrant out for his arrest and he just wants to get help." The police took Davon to Alaska Psychiatric Institute. The police were telling us that they would assign Davon an officer so that if he were to have an episode in the future, that officer would come out and deal with it. That's what they were supposed to do for people with bipolar, schizophrenia, or mental illnesses.
We had been scheduled to have our first couples counseling appointment, but we missed our appointment because Davon was at the psychiatric hospital. He was there for four days. I went to visit him every day. He'd get an hour visit. I'd bring him food and we would talk. He was doing better and back on his medication. I feel like the medication was helping him. He was himself again. The hospital gave him lithium and Seroquel and he was able to take the lithium because Alaska isn't hot like it is in California. So he was actually able to take his medicine without being sick or having any of the side effects that he did in California. When Davon was released from the psych hospital, the police contacted his parole officer and they were told that they could let Davon go, that he could be released to come home.
NEVER
HEARD
FROM
DAVON
AGAIN
I was still struggling with my postpartum issues, but I didn't even really get to deal with my depression because everything happened so fast with Davon.
In March 2014, Davon and his father were fighting again. Davon was telling his dad he didn't want to have anything to do with him. That's when his dad called the police in Anchorage and told them he had a warrant in California. That's when they came and got Davon, and he went to jail.
We were at Motel 6 to have some space from my mom. The kids were sleeping, and we hear a knock at the door, and I go to answer the door. It was the police, and they asked, "Is Davon here?"
They arrested him on the warrant in California. He went to jail on March 16, 2014. When he went to jail, the Anchorage police said the California police have a certain amount of time to decide whether they were going to come get him. After the police left and took Davon, I called his mom, and I told her what happened and that's when she said they had just called the Anchorage police to check on him. They weren't supposed to take him to jail. That's when I told her, "Well, they said you guys called and said he had a warrant."
I think I talked to him once or twice that day. I would ask him every day, "Did you take your medicine?" He said no. He said they still hadn't given it to him in the jail. I had to put a request in. He told me he still didn't have it. And that's when he told me that California had until April 3 to come get him or Alaska had to drop everything and let him go.
While in jail Davon had punched a wall, like a brick wall, and broke his hand. I guess someone in a booking tank with him said something. I'm not even sure what was said, but something was said and instead of hitting the guy, he just hit the wall and he messed his hand up. I'm honestly not sure what really happened to his hand because Davon wasn't taking his medication.
Then I heard from Davon that he'd been put in solitary confinement because he basically told a police officer that he wanted to fight him. Davon was moved to confinement because he had a towel on his head and the officer said to take the towel off his head, and Davon didn't want to. I guess because his hair was wet. So he basically got into a confrontation with the officer and he told the officer that he'd fight him in his cell. He told him he wasn't shit without his badge, and told him to take his badge off and "Let's fight." So the officer had him moved to solitary.
I was able to talk to Davon up until March 20, which is when they put him in solitary. The last time I talked to him I was on my way to church. Davon said he'd been asking for his medication, and they weren't giving it to him. He was talking about becoming a hawk and that he's Lucifer, things like that. That's when you know Davon hit a point where he's really manic, where he's not even Davon anymore. I knew Davon was having an episode. I was scared. And I was upset they weren't giving him his medication.
Davon told me to have a good day at church and he told me to pray for him. Every time before we got off the phone, we always told each other "I love you" and "See you later." We never said, "Bye." We always said, "See you later." And that was our last conversation. I literally never heard from Davon again.
So when I still hadn't heard from him the following day, which was a Monday, I called the jail to see why he wasn't being given his medication. When I called, they said that he couldn't have visits. He couldn't talk on the phone. I asked when he would be able to have visits or talk again, and they basically told me to call every day to see when I could visit. I believe that's when things started spiraling. I called every day, and every day they told me that he couldn't have visits or phone calls.
I
WAKE

UP

AND

I'M AT

THE

JAIL

The jail wasn't supposed to hold him past April 3, but they held him past his extradition time. The court had sent the paperwork to the jail to release him, but the jail said they lost the paperwork. On Friday, April 4, I was headed to the jail to find out what was going on and why he wasn't being released. On our way down to the jail as I was leaving the house, I literally got this energy vibe through my body. I was nervous and I was looking at my mom, and I told her, "Mom, I just got this whole energy jolt from the top of my head all the way down to my toes." I felt cold, like I had a whole energetic chill or something. I don't know. I was throwing up that morning too.

When I got to the jail, all of a sudden the guards at the reception were like, "Oh, he can have a visit." This was at 1:47 p.m. But they told me that the visiting period was full, so I should come back in a couple of hours. The only reason I didn't go back that day was because I didn't have a way to get up to the jail. My mom wasn't back in time to take me during the later visiting hours.

Later that day, I was in my room talking to my little brother and my sister-in-law. My mom's friend had passed away that winter, and we were all talking about how someone could be here and then the next day they could be gone.

During that conversation, Davon's brother called me. He just said, "They got him. He's gone." I was like, "What are you talking about?" And that's when he told me that Davon died, that the Alaska authorities called and told them that they found Davon slumped over in his cell.

This whole time, I kid you not, I'm thinking it's a joke, like he's playing. It's the beginning of April, not April 1, but I'm still thinking he's trying to play an April Fools' joke. I don't know. I just probably wasn't trying to believe what he was telling me, but he was basically like, he's gone. He's dead. I don't know. From the time that I got that phone call, I remember screaming, "You're lying!" I remember falling on my floor. "You're lying. Don't say that. You know that's not true. That's my baby, he can't be gone and stop lying." I remember walking downstairs, going outside, like I guess I was ready to walk to the jail, but that's all I remember. From there everything is a blank. I blacked out, probably for a whole hour.

I wake up and I'm at the jail. My mom, my brothers, my stepdad all took me there while I was blacked out. My pastor met us up there. I remember the officers telling me that he's really gone and that it was from natural causes. I'm thinking, There was nothing wrong with Davon. He's perfectly healthy. How did he die of natural causes? When did he pass away? Because someone told me to come here today for a visit and that Davon was fine.

That same day, I'd been throwing up a lot. My mom asked what was wrong and I'm telling her I don't know. She had seen that I hadn't really been eating and then when I threw up, she wanted to go home and do a pregnancy test. I took the pregnancy test and found out I was pregnant.

Later on I found out from people that were in jail with Davon that they said he was actually talking about having some kind of feeling that I was pregnant. When I found out I was pregnant, it hurt. I was in shock, but when I first found out, I was in the bathroom for at least twenty minutes just crying. It was heartbreaking. It was surprising. The whole thing of me finding out I was pregnant that same day Davon died was very emotional. Very, very emotional. At the same time it was a bittersweet feeling, like he's supposed to be here.



SCREAMING

THAT

IT

HURTS

We weren't getting any answers about what actually happened. I still didn't believe it. I didn't believe it until I saw Davon's body. That was the following Tuesday. Davon died the previous Friday. I later found out that he had passed away between 11 a.m. and noon. Literally, when the jail told me to come back for a visit Davon had already been dead for a couple hours.

Honestly, I don't remember what happened after Davon passed
away. I remember people from the church coming over, bringing food.

My pastor was there. They were going to ship Davon's body to California so he could be identified by his mother, next of kin, but I paid for his mom to come to Anchorage. She came that Monday night and then we went to identify the body together. They were supposed to wait to do the autopsy until she got here to identify him, but they told us that they had done Davon's autopsy without his mom's signature and had identified his body through his fingerprints. Until Tuesday, our knowledge was just that he had died, that he just stopped breathing. We didn't know why he stopped or anything like that.

My mom had had a car accident not long before and she had hired a lawyer who did traffic incidents. When Davon died we called him for help and found out he also specialized in wrongful death lawsuits, so he became our lawyer for this case too. On Tuesday we found out that Davon had died of fourteen bleeding ulcers. We didn't understand how he could possibly get fourteen bleeding ulcers. Our attorney hired another medical examiner to do another autopsy and the examiner said Davon was bleeding internally through his small intestine. Basically he was in a hyper-manic state, which can include high blood pressure. We had to go to the funeral home to see his body, and he had so many marks and bruises all over his body, and I'm like, What the heck? Why is all this on his body? He had really big knots all over his head. He had deep cuts where the handcuffs were. The skin was gone. You could see the white underneath. And you could tell he'd been dragged. He had drag marks from his toes to his knees. He was all scratched up. And on his ankles the cuff marks looked like they would if you dragged a dog.

Either that Wednesday or Thursday after Davon died, I met with my attorney. We started building our case. I had to get my call logs, like all the times Davon and I talked while he was in jail. That's when I wrote down everything that happened from the day that Davon went to jail until the day Davon died. We had a memorial service for Davon here in Anchorage and then when we took his mom back home, she took part of his ashes, and we had another memorial service for him out in California.

We had to keep fighting for more information about what had happened to Davon. A couple people who were in segregation with Davon ended up getting in touch with me through the reporters who wrote about Davon's death. One of the guys told me that Davon was screaming for help all the way up until he died. He was basically just screaming that it hurts, help, I need to go to the hospital. My stomach hurts. They have cameras all throughout the jail and we decided to fight to get the video of his time in jail released.



WHAT

AM I

SUPPOSED

TO

TELL

MY

BABIES

?

I cried the whole month of April, then May, then June. I was emotional. But at the same time I couldn't let myself fall apart because I had the babies. It was very hard. It's gotten a little bit better because I've learned to deal with it through the last several years, but even to this day it's still very hard to deal with.

At the time Davon died, I wasn't working. My second son, Davontae, was four months and Davon was working before he died so I didn't have to. I didn't start working until July of that year. I ended up moving out of my mom's apartment into a place downstairs from her. My brother D'Aire moved in across from me, and my other brother Durrell moved in across from my mom. My mom is able to help out some with taking care of my three kids. I have a good support system here, but it doesn't change the fact that Davon's never coming home and that we will never see him.

After Davon passed away, I was trying to get grief counseling for me and Davon Jr. My son was almost four when Davon passed away and was able to get counseling, but then that stopped last September. He's seven now. I think he still needs counseling because every time March and April come around, he starts acting out. He does things he usually doesn't do. He's been lying a lot and he's not been himself starting in March.

When I found out I was pregnant the day that Davon died, I was like, What am I supposed to tell my babies? That's one of the reasons why I fought so hard. I would have fought hard regardless for Davon, but it was more like when my kids want to know what happened to their dad, I want to have answers for them. I want to be able to explain to my kids why he's not here.



THEY

PEPPER

-

SPRAYED

HIM

WHILE

HE

WAS

NAKED

AND

HAD

HANDCUFFS

ON

We had to wait almost a whole year to see the videos of what happened the day that Davon died. We went to court in June 2014. My attorney was married to a legislator in Anchorage, and they were actually involved in getting the video released. Everyone came together to help because they knew something went wrong. We couldn't pinpoint what happened or anything like that until after we had the videos, but we all knew that something wasn't right. In Davon's case, it seemed like the guards kept him from calling me to tell me he was being beaten and pepper-sprayed.

When we finally got the video, it showed the guards throwing food at Davon through the slot in the door. You see it in the video. They just throw it in there like he's a dog or something. And they pepper-sprayed him through that slot in the door. You see these long shots of pepper spray going in. Then they took him out of one cell and put him in another. The video didn't show anyone beating him, but it does show five officers walking out of his cell, walking down the hallway high-fiving and laughing. When they brought him back he was naked. He was beat, and they just throw him in.

Then they cut his water off, and they pepper-sprayed him while he was naked and had handcuffs on. They pepper-sprayed Davon in two different cells. Each time, they took Davon out and had another prisoner go in and clean the pepper spray off the walls. One of the guys who was in his cell after him got in touch with me after he was released and said that there was so much pepper spray on the walls that he could barely breathe, that he was coughing the entire thirty or forty minutes that he was in there cleaning. The guards said they pepper-sprayed him because he was in a manic state, which he was. I mean, you guys weren't giving him his medication, what do you expect?

In the video you see Davon using the water that was in the toilet to rinse his face after the pepper spray because his water got cut off. You see him walking back and forth in his cell. It gets to the point to where he couldn't even walk to get water. When he was telling them his stomach was hurting, they were throwing his food in, and then it was like he couldn't open his milk carton, he couldn't even hold an apple.

I'm still looking into getting his death certificate changed because he didn't die of natural causes, and on his death certificate it says "natural causes." That's false information, and I've been saying that since the beginning. The Department of Corrections never admitted to anything, but they had to pay our kids $625,000. After attorney fees I think each kid has about $150,000 in a trust.

Honestly, I don't think I would be able to fully get over it or start to heal until someone is actually held responsible. I mean you guys paying my children is still not bringing their dad back. Still not getting justice for their dad. Period. Y'all can have that money back if y'all could bring Davon back, but y'all can't do that, can you? The people who took him need to be held responsible. All those guards walking down the hallway high-fiving and laughing, what kind of disciplinary action is being served to them for what they did? Until they're held responsible, I don't think I will honestly be able to fully heal from them taking Davon.



I
SOCK

HOLES

IN MY

WALL

I know I have major depression problems. I was telling the doctor. And stress. I've lost seventy-eight pounds. I eat like crazy and still don't gain weight. I work a lot and go to school. I don't do anything else. I go to work, come home, cook, go to sleep. I can't be still, I can't be in a place by myself. If it's just me in a room and I'm just sitting there, I'm going to cry. I'll be going crazy to the point I'm crying and I sock holes in my wall. I'm just angry.

Davon was my heart. He was my soulmate. He's always gonna be in my heart, with me. I look at pictures of Davon all the time. His pictures are all over my house. I touch his face, I tell him I love him every day. The kids wake up and tell him, "Good morning." Davon Jr. talks about his dad all the time, says he misses him all the time. I've had conversations with him and he'll say he doesn't like the police, things like that. He doesn't really sleep at night. He'll wake up in the middle of the night crying. Then he'll say he wants his dad. I tell him that his dad is in the sky, that he'll always be with him, that he's always watching over him. He kind of gets the concept of what death is.

We have Davon's ashes in the living room. I have a mantel with Davon's pictures and his ashes. So I try my best to keep Davon Jr. knowing that his dad is here. He'll ask me, "Why did they do that?" And I'm like, "Baby, I don't know." To this day, he'll go up to the fireplace and say, "Daddy, I miss you. Why can't you come home?" It hurts my heart! It hurts because there's nothing I can do to bring his dad back. There are times when I tell Davon Jr. to go talk to his dad and his dad will send him answers in some kind of way. I tell my kids, "Your dad lives through you." I try my best to let my kids know, "Your dad is here and this isn't a choice that your dad is gone." Justice is two now. She is the daughter we had always wanted. That's the way she came. It's like, Davon was gone and then I got her. That's why I named her Justice, for Davon.

- - -

1 Bakersfield is a city of 375,000, located in central California, roughly 120 miles north of Los Angeles.

2 Lithium compounds are psychiatric medications commonly prescribed as a treatment for bipolar disorder. Side effects include increased thirst, dizziness, and fainting, among many others.



- - -

Sign up for the Voice of Witness newsletter and follow VOW on Twitter, Facebook, and LinkedIn.