This piece, selected by Chimamanda Ngozi Adichie for the 2021 O. Henry Prize, originally appeared in McSweeney's 56. To get stories like this on your doorstep four times a year, subscribe to the Quarterly today.
- - -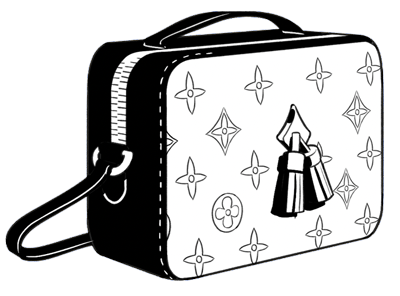 Art by Anuj Shrestha
- - -
1. ME
AND
MUSCLED
MAN
It's exam. Tall thin girls don't show up. I wonder if they are all all right. I ask the course rep where they are. He's busy re-reading his worn-out, photocopied version of Iweka's Introduction to Drama. He doesn't even look at me. I sigh. Prof. Okafor comes in with muscled men. They come with guns and anger. They come with swearwords. They stand us up. They search us. The taller one searches me. He touches my breasts and my eyes bulge. My mouth forms a whaat? He says, "Why is it hard?" He asks, "Do you have expo there?" "No, I don't bring prohibited reading materials into the exam hall," I say. "You can," he says. "I don't see why you should not," he keeps on saying. "Everybody does it. Only, they have protectors. I will be your protector. Give me your phone number and yourself." I hiss. I call him idiot. I call him useless. I call him stupid. I call him a very, very useless man. My voice ascends with each word. He screams at me to shut up. He turns to Prof. Okafor, tells Prof. Okafor, "This girl carry expo oo."
"That's a lie! That's a lie!"
"Fill out the examination malpractice form, first of all," Prof. Okafor says to me.
"Why would I do that? This guy is just lyi—"
"No, no, you will not call this honorable man a liar. Fill this form out, young lady. Fill it!"
I take the malpractice form from where he piled them on the table, write my name, and wonder, Can they do this to tall thin girls? Tall thin girls wearing power as perfume and flipping long, dangling braids or costly wigs, brandishing beauty and snobbery like they are the only humans in this universe. This muscled man and this professor. Can they do this to tall thin girls?
2. ME ON MY
FIRST
DAYS
HERE
I sway my hips past people with my lips slightly parted. I walk past people with grins on their faces, past people with inquisitive looks and no shame as they say, "Hey, fine girl." I say to them with determination that I'm not here to be fine girl and agree with myself: I am not here to be fine girl. I braid my hair in a Ghana weave with black Darling attachments, wear the long skirt Dad bought with the oversize shirt Mum bought. Both of them wiped tears with white handkerchiefs when I pulled out my traveling box. I left them behind with our thin yellow dog, Jack. Jack, with his pendant ears. I wear my mother's cat's-eyes and my pointed nose that everyone believes my father made possible. Dad fills me up with don't forget advice as he drives me to Lagos Park: "Don't forget where you come from." "Don't forget where you're going to." "Don't forget to choose the right company." When my bus pulls away from Enugu, I try everything I can think of to connect where I'm going with where I come from. When I dab my face with the white handkerchief Dad gave me before he swerved off in his car to go home, it is tears I wipe from my eyes. I hope never to forget.
3. I CAN'T BE
TALL
THIN
GIRLS
Three tall thin girls who are colored like sun, who burn through the class, who let out loud clangs of laughter, who put on airs like they are Beyoncé, who say, "Yeah, you guys, what the fuck, yeah, yeah," who wear English like it is a song, who come to class in too few clothes, clothes that look like they'd fit a two-year-old, who wear long hair extensions worth as much as my father's bungalow, who wave their hands and their perfumes waft around and take over the class. These tall thin girls, who are liked by all the boys and all the men in this school, who bad-mouth Prof. Chris and boo Prof. Okafor, who make girls wish to be them. Those tall thin girls who call to me on the Monday of the first week I walk into this new school and say, "That forehead, oh my god, you look like you are Rihanna right now." Those tall thin girls who call to me on the Tuesday of the second week I walk into this new school and say, "Your shirt, girl, your shirt. Mehn, it looks damn so good, really, giirrl." I wear the loose-fitting white shirt Mum bought from her neighbor who sells imported secondhand wears. Those tall thin girls who call to me on the Thursday of the third week I walk into this school. They say, "Your hair, is that natural? The way it falls straight like a river, really, is it natural?" My hair has drunk uncountable cups of cheap relaxer. My hair doesn't fall straight like a river. My hair is not natural.
Now, those compliments have consequences: the urge to constantly google Rihanna. Place her picture side by side with mine. Compare and contrast. The urge to reshape my loose shirts, make them tighter. Starch them. Buy new ones. The urge to cut my hair. Patiently regrow it till it falls like a river. The urge to become tall thin girls, beautiful, effortlessly confident, eager to dole out compliments.
Who wouldn't want to be tall thin girls? Tall thin girls who drive around the school in Venzas and Lexuses; tall thin girls who are gold; tall thin girls who are bold. But I like to think I am not cut out to become tall thin girls. I am the girl who remembers where she is from and where she is going, who chooses who she goes there with. That is what my father has always said to me, and I am the girl who is her father's daughter, so I ignore tall thin girls on the Friday of the fourth week when they say, "We like you. Be us."
Well, I do not completely ignore them. The tallest of them, the one with the face shaped like an egg, skin the color of Angelina Jolie's, looks at me and says, "Heyy, my name is Ella. Can I have your phone number, please?" And my mouth goes to work telling it to her.
4. ME
AND
THE
MIRACLES
TALL
THIN
GIRLS
MAKE
Now it is tears I wipe from my face again. It is holiday, though I am not going home. I am waiting for the school's disciplinary committee on exam misconduct to sit. No one knows when they will, or if they will, and only when they sit will I know if I will be rusticated from here. For now, I do not know. The letter I received many days ago orders me not to travel yet, orders me to stay till my fate is stated. I don't live off campus—only the rich students do that—and the school hostel is closed by management, to be reopened when school resumes in a month's time. So for now, I put up at my friend's house, and don't know where I will go from here. She says she is going to the village to help her mother with farming and trading so they can save for her school fees next session. They will harvest crops and sell vegetables and yams in the open market. She hasn't gone yet. I beg her not to, not to go yet, not until I find somewhere to stay. I like to think she will give me her key when she leaves. She hasn't said so yet. I only hope, keep saying, "Shebi, you'll leave your key for me when leaving, right?" But a daughter not yet free from her mother's loins will wear her mother's pants. So I wasn't surprised when, two days later, the earliest sun not yet blinding the moon, she sprang from her side of the bed and hit my bare shoulders over and over till I stretched and said, "Ah-ah!"
Her mother had called, had said, "It's either I see you here now or you see me there now." So, a girl goes home. She shrugs. I ask for her key. She says nothing. I ask for her key. She says nothing. I ask for her key. She breaks into a story of a young girl like us who made millions last month, just like that. So I pack my stuff as she packs her stuff. I stand by the back door, watch her apply her makeup, rub red lipstick, pencil her brows, wipe off the red lipstick, apply a pink stick, use contour on her face and look extra good. I want to tell her she looks extra good, but I'm not sure I want to talk to her yet. I stand there, watch her drag her Echolac out with lips tightly shut, beads of sweat forming on her forehead, wrinkled lines appearing on her face to form a plea, begging me to help with the heavy box. I press my phone instead because I am not here to help if you are not here to help. Still I stand there, hoping she will say, Here, take my key. Always lock my door o.
"Come out, I need to lock the door o." I grab my handbag and drag my box out by Papa Okey's shop, where she and I stood last night, talking about the things I don't care to remember now. She drags her Echolac to the street, flags a bike, tells the rider, a man in a black jean jacket, that she is going to wherever. They bid whatever whatever price, and the man in the black jean jacket climbs down, helps her pull the Echolac up onto the bike, and they zoom off, leaving me in what I want to assume is an intentionally collected swirl of dust. A mild way of telling me to fuck off.
I stand there for hours, watching everything: hurrying men and women, girls and boys, strangers zapping off in my dream cars—Venza, RX 350, Porsche, Range Rover, honking cars and buses and motorcycles, bus drivers cursing one another while struggling for passengers; everything, indications of people busy and life fleeting. I stand there, by the side, doing nothing. My mum calls. I ignore it. I ignore it because ignoring is what you do when you know why a particular call is coming in and you know you have no answers yet to those variegated wh- questions you are destined to listen to while pressing that phone to your ear. Mum wants to know when I will be home. Who knows?
I lean my box against the peeling wall and walk into Papa Okey's shop, buy airtime, load the fifteen-digit pin into my phone, subscribe for a month's data, and open my WhatsApp. Maybe I can find someone I know who is still around, someone who could save me from sleeping on the street. Maybe. There are tons of new messages, from friends at home, coursemates asking for this textbook or that, men who want, people who claim they care, then these messages from this I-don't-know-whose number. I check the profile picture. My eyes swell! It is Ella! Ella of the tall thin girls. Like, who in the class gets messaged by Ella?
MON

., 2

MAR

.

Hey Bby Gal 11:41 AM
Yeah….. Ella,, here 11:41 AM
Chat me up asaq. 11:50 AM
Asap** 11:51 AM
THU

., 5

MAR

.

Heyyy, 10:15 PM
Your ignoring my chats now or they are just not delivering? That's fucked
up tbh 10:15 PM
This is Ella tho. Don't be a bitch, yeah? 10:15 PM
FRIDAY
Hey!!!!! 10:17 PM
You don't remember me or what? Gal. It's Ella. Ella! 10:27 PM
Audrey's friend. Queen's friend. Ella! Ella!!! 10:28 PM
Are you really ignoring my text 10:28 PM
YESTERDAY
Babes, 10:01 AM
I called you. You didn't pick. 10:01 AM
TODAY
Someone just told me the issue you had with Prof Okafor. 12:05 AM
Call me ASAP. We can help you deal. 12:05 AM
THIS

SENDER

IS

NOT

IN

YOUR

CONTACTS




BLOCK

REPORT

ADD

TO

CONTACTS

Ella! 10:20 AM
I just saw your profile picture now! 10:20 AM
Ella! Queen + Audrey's friend? 11:07 AM
Jesus Jesus! I am so oo sorry! Like how can I ignore you? 11:07 AM
I am so so sorry, ppleaad 11:07 AM
Please*** Biko 11:07 AM
I didn't have data,, haven't been here for ages now. 11:08 AM
Hello Ella, are you there? 11:08 AM