This week McSweeney's is proud to release This Bridge Will Not Be Gray, the true story of the building of the Golden Gate Bridge and, in particular, why it is orange. With a story by Dave Eggers that has been called "instantly engrossing" (Publishers Weekly), This Bridge features Bay Area artist Tucker Nichols, whose book Crabtree was published by McSweeney's in 2013. For This Bridge, Nichols chose to work in the unique medium of construction paper cut-outs. He recently sat down with McSweeney's Art Director Dan McKinley to discuss that decision as well as the process of making the book.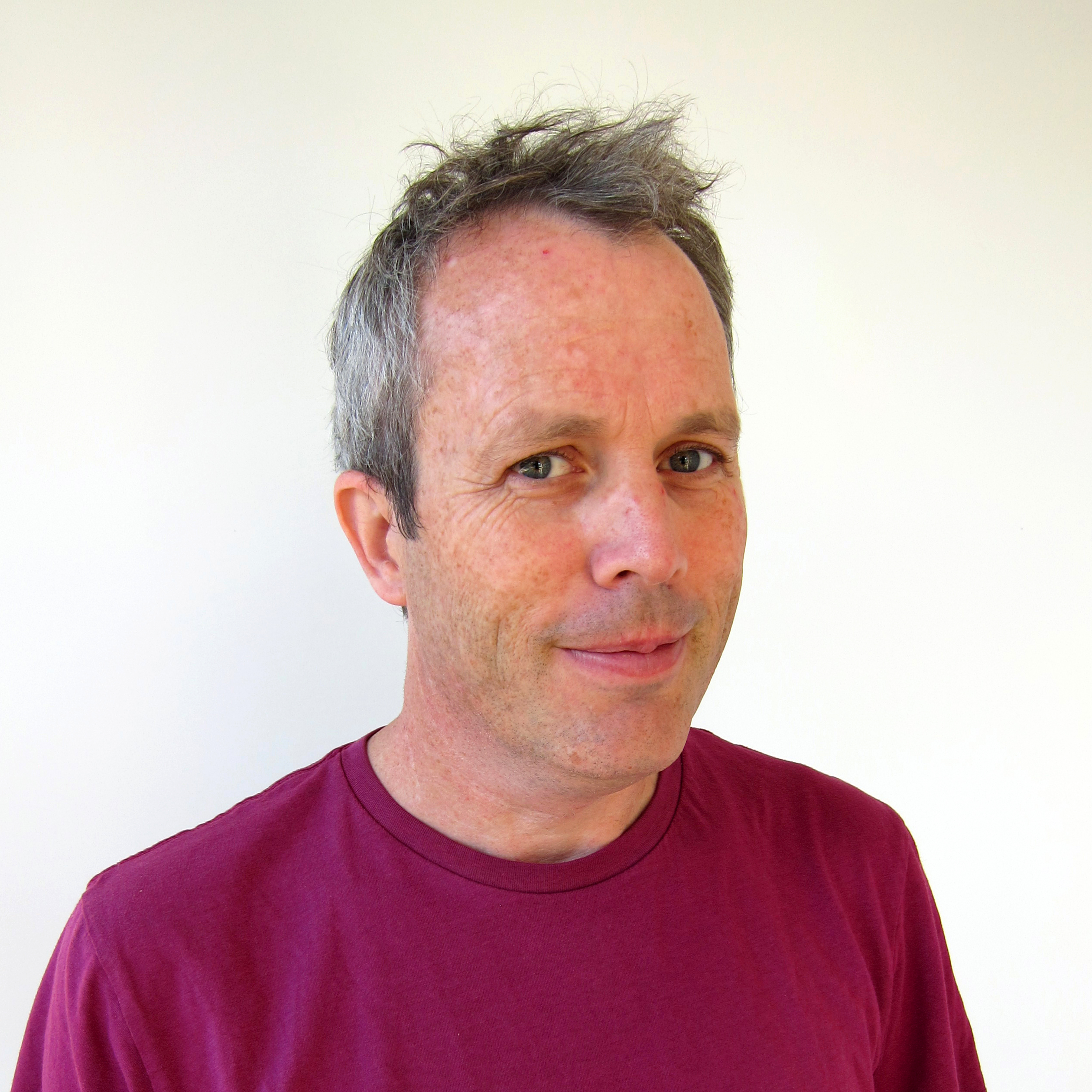 This Bridge Will Not Be Gray is now available from the McSweeney's Store and at fine independent bookstores everywhere.
- - -
Where did the idea of using paper cut-outs for Bridge come from?
When I first read the story, I had it in my mind that it would be really simple to cut out the shapes from colored paper instead of drawing the scenes. I wanted to actually make something with my hands, something physical even if it was totally flat. And in keeping with the theme of serendipity in the story, I wanted to start with available materials in my studio. Mostly though I just thought it would be easy. But I hadn't accounted for managing all of the bits of paper, of trying to keep them all together for different scenes over the months of shaping the book, and then arranging them for the final photo shoot. It would have been a great time to hire a very organized assistant, but I prefer to work alone. Oh well, in the end we herded all the bits together and got it done.
- - -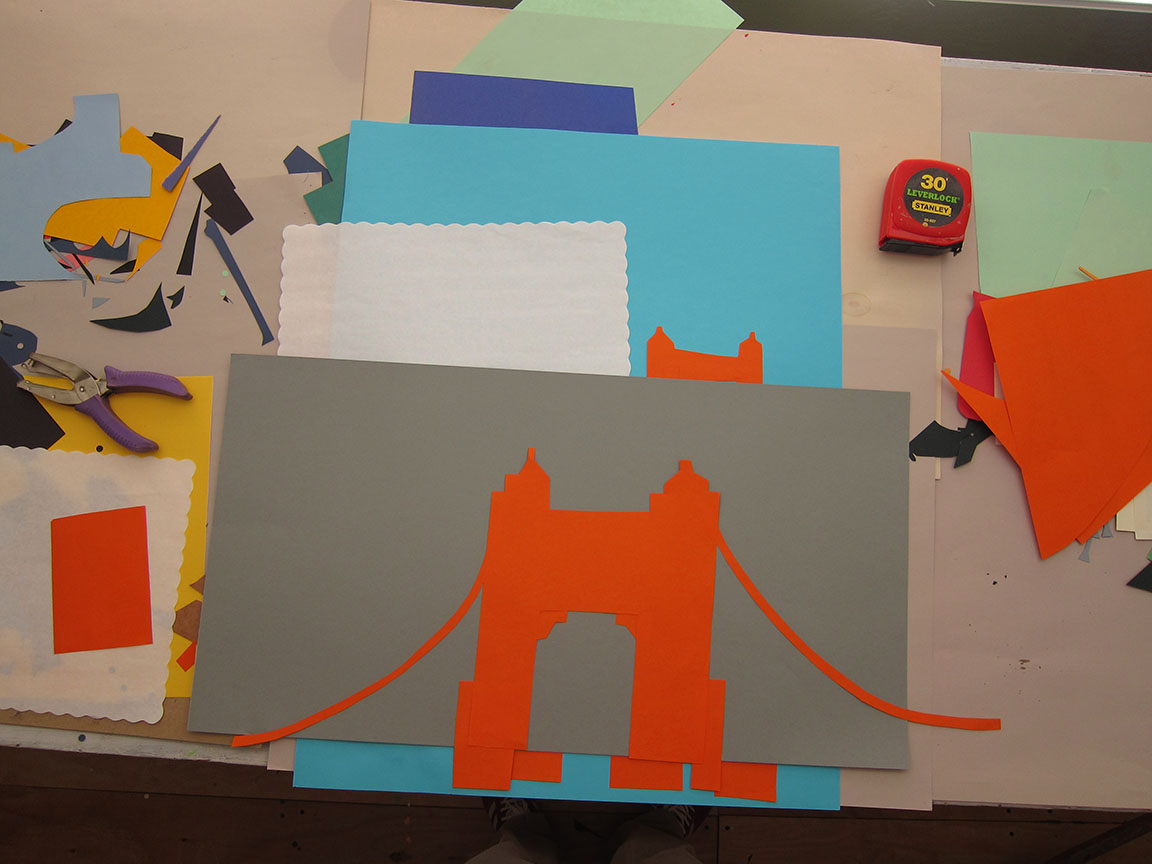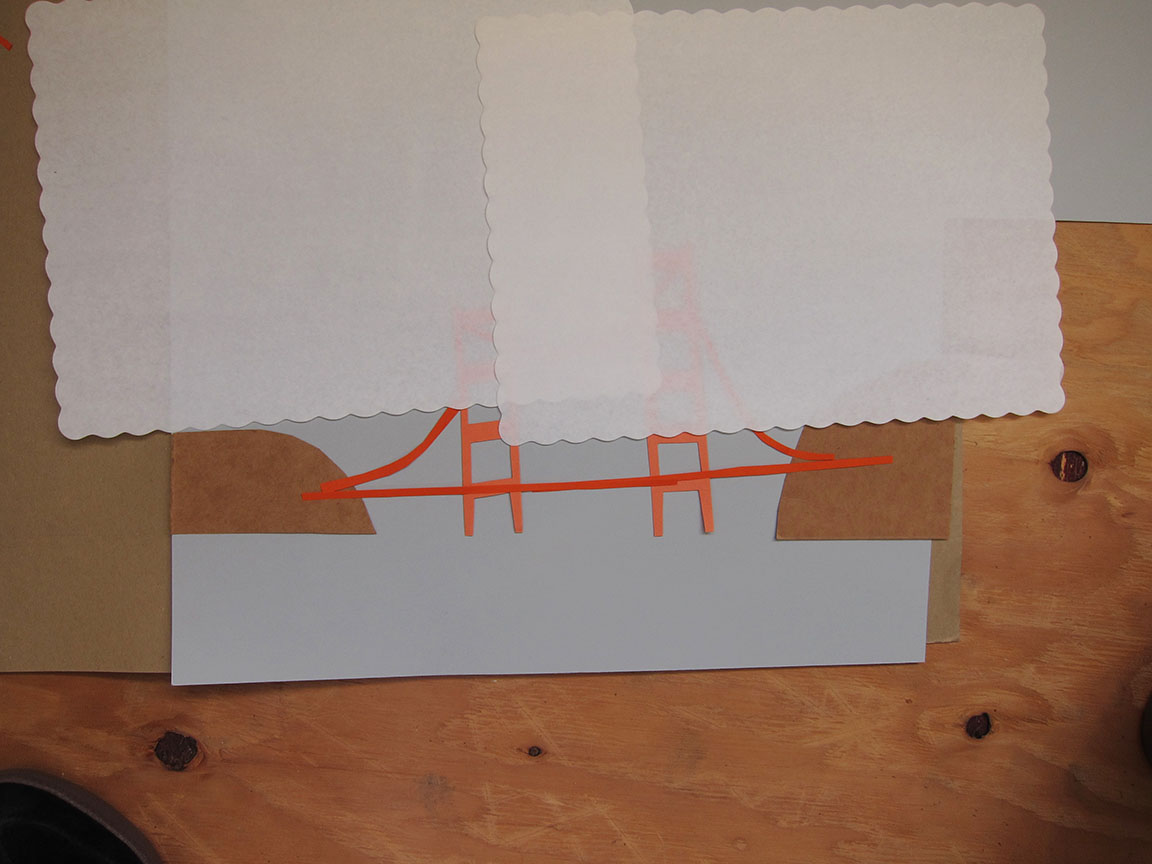 - - -
Is there a particular section of the book where the art came about because of that serendipity?
Mostly it's just inherent to making scenes from scraps of paper: try this one here, or maybe flip it upside down, hey that looks just right even though I cut it for something else. A few specific places come to mind, like using the punched holes from the eyes of the figures for added details to the spread of tools, or for flowers on the bushes on a spread toward the end. The fog draped over the bridge was made from a pile of scalloped diner placemats I've had for years.
- - -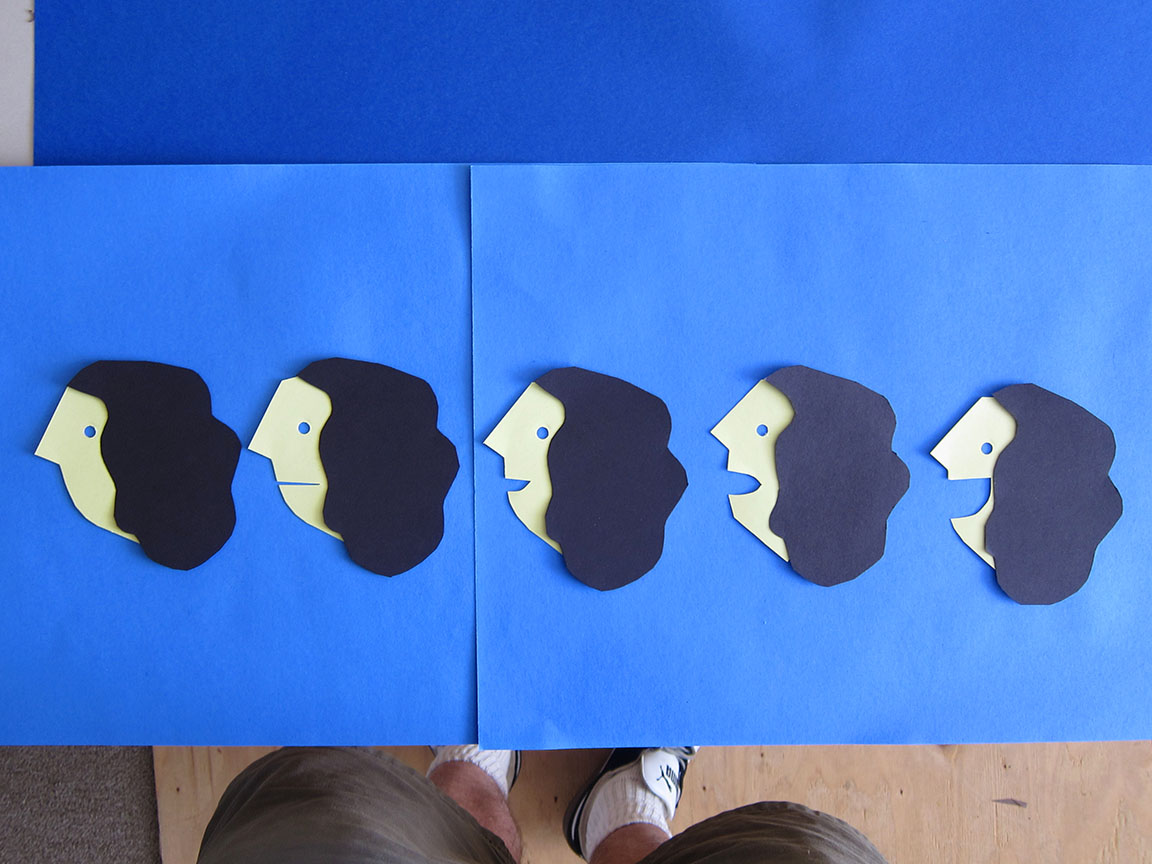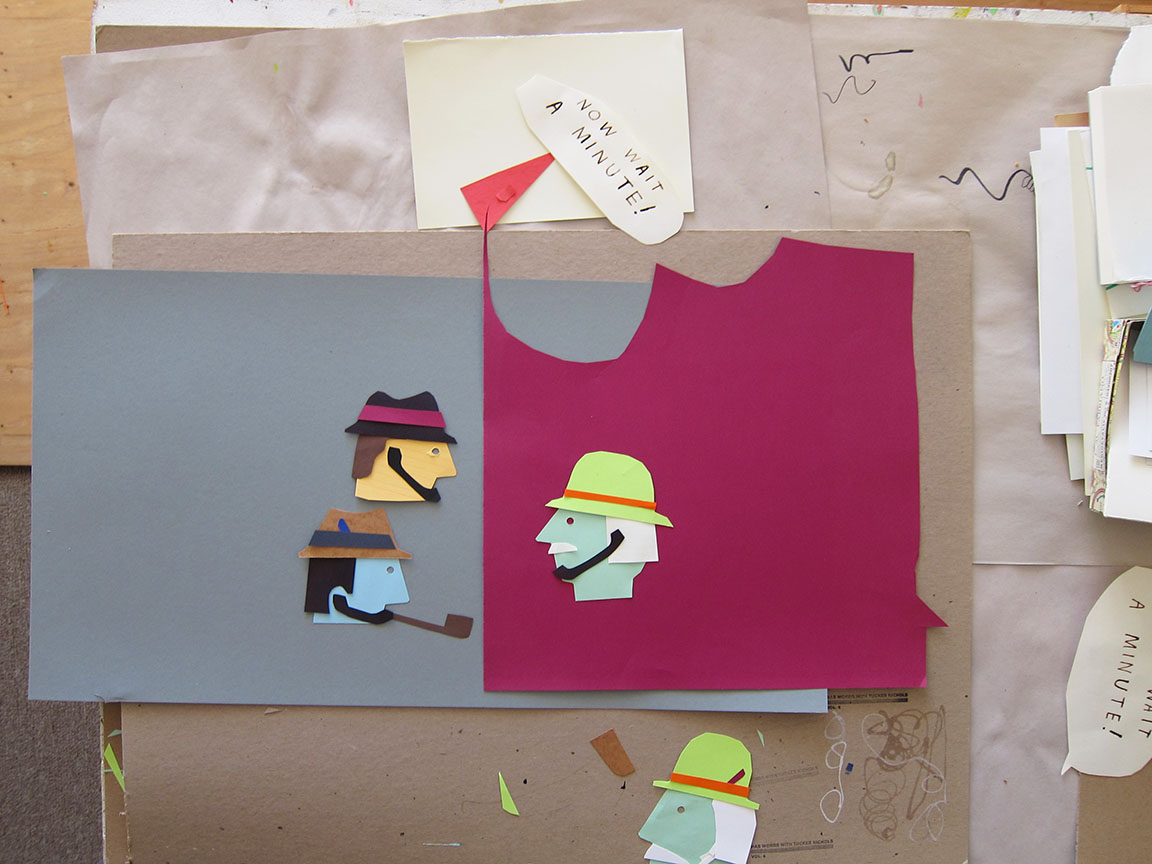 - - -
In your illustrations and paintings I know you don't do human figures, but in Bridge you do. How did you approach making them? Was it a challenge?
How to treat the humans in the story was tricky at frst because I hadn't developed a public-facing vocabulary for making people. I've been drawing faces since I was a kid, but I hadn't pushed that process through the grinder to really make it feel of a piece with everything else yet. But that's what projects are for really, to work out ways of doing things in response to new problems. So I did what I do with everything, just try to make the most stripped down version I could get away with and still have it feel alive to me. Early versions of the people look like something I would have done in middle school. I'm fine with my kindergarten look, but middle school is super awkward. Eventually they lost their torsos and hands and became floating heads because that's all they needed to be. Realism has never really been my thing.
- - -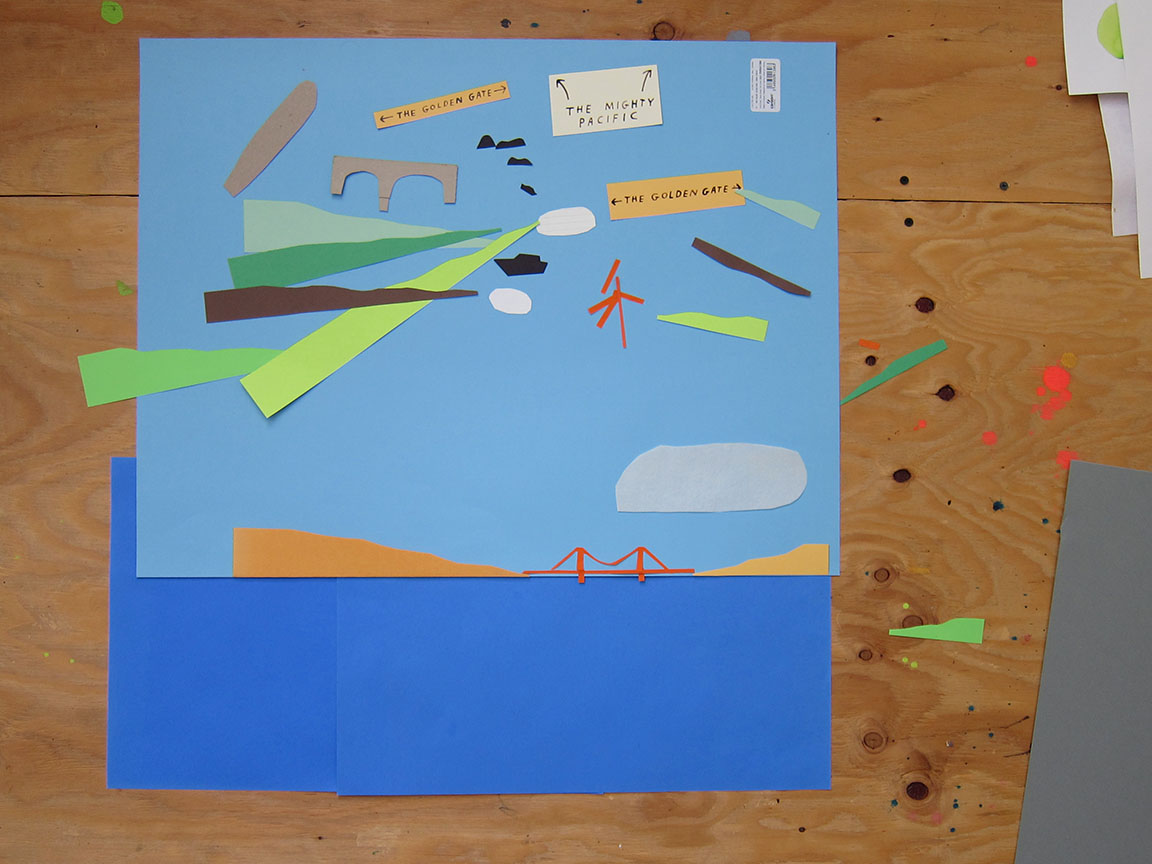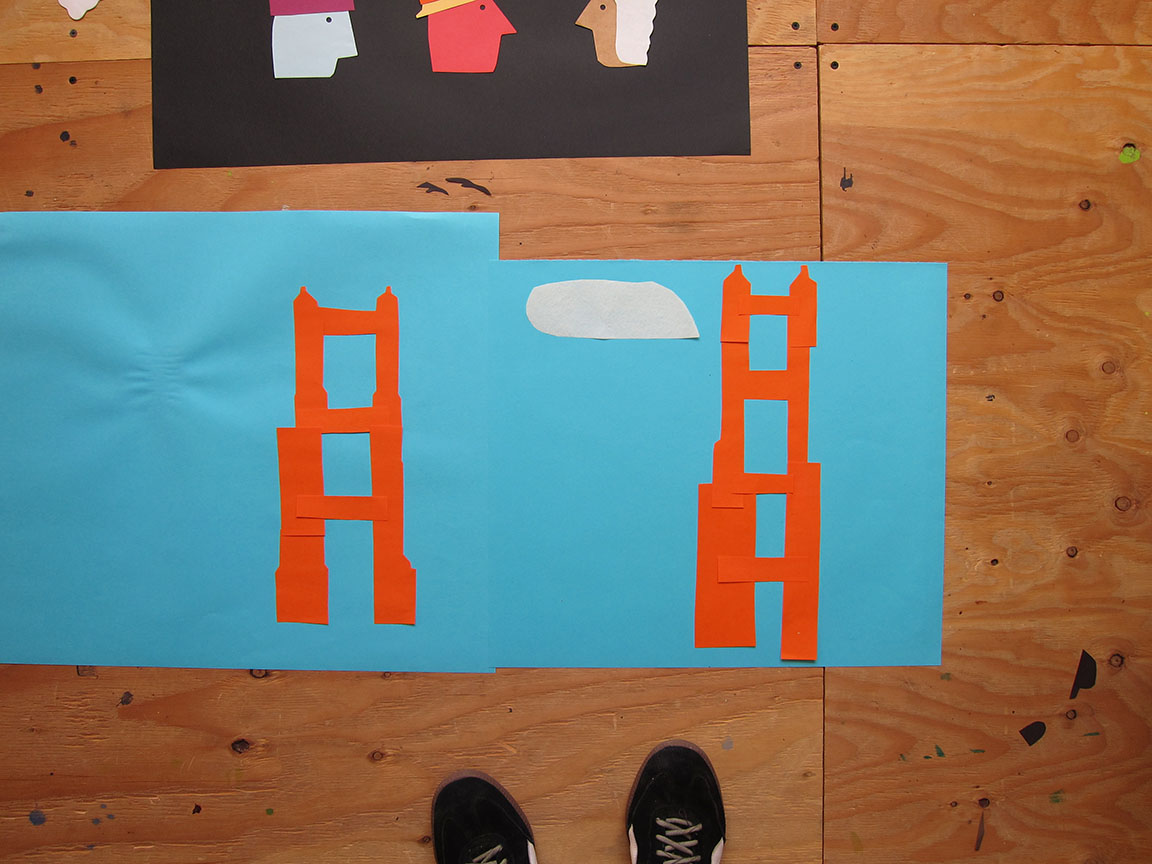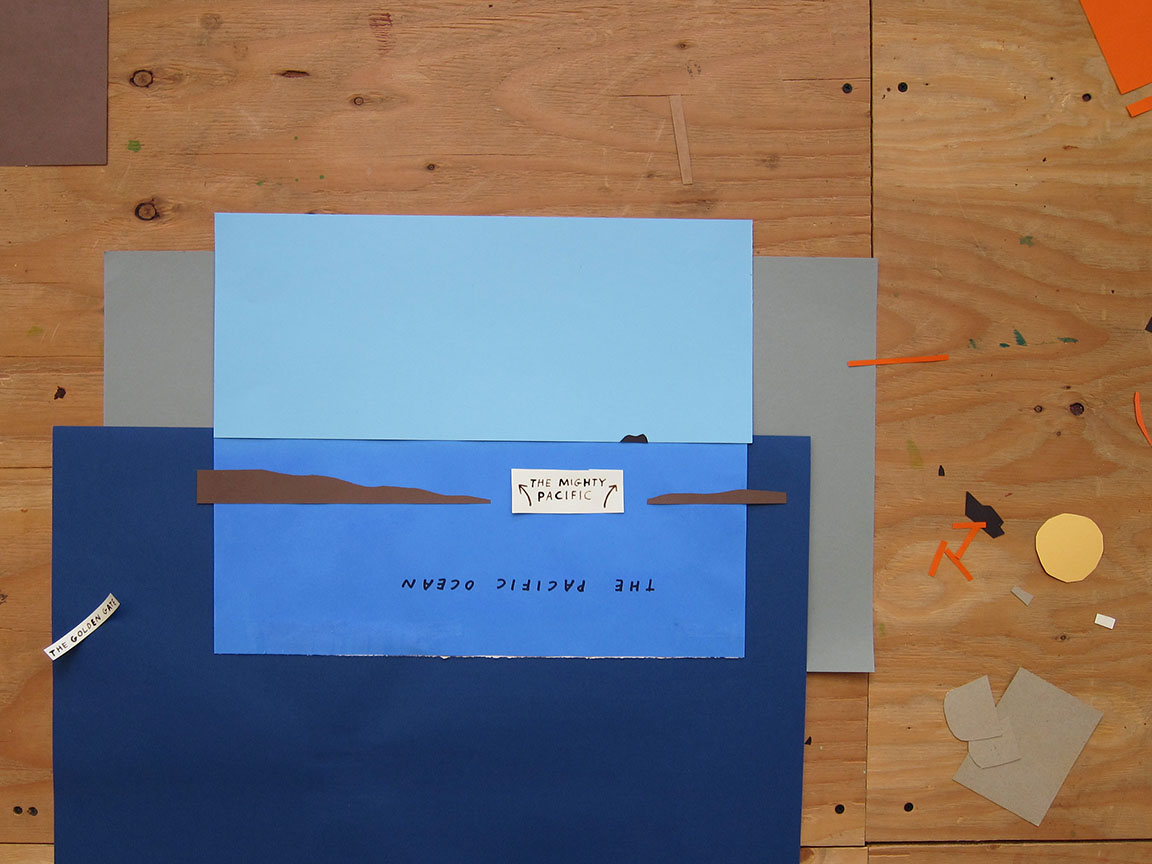 - - -
One of the magical things about the GGB is how it changes depending on the weather, the angle, or the time of day, and I feel like you do a great job of capturing that in the book. Do you have a favorite view of the bridge—in real life and in the book?
Yeah, we all talked about how the bridge is actually so much about the place in relation to the bridge. That location is so dynamic. Sometimes everything looks like a silver curtain, and other times it's all saturated like in a vacation postcard. When I started working on the book, my studio was in the Marin Headlands, so I spent a lot of time looking back at the bridge from the Pacific. But I also love the view when you approach it from Marin and it appears framed in the dome of the Waldo Tunnel, usually in silhouette. And then of course how it pops its head out from the Richmond when you least expect it, like a friendly dinosaur peeking over the trees and buildings. It's almost like a sacred mountain. Nobody gets tired of looking at it.
- - -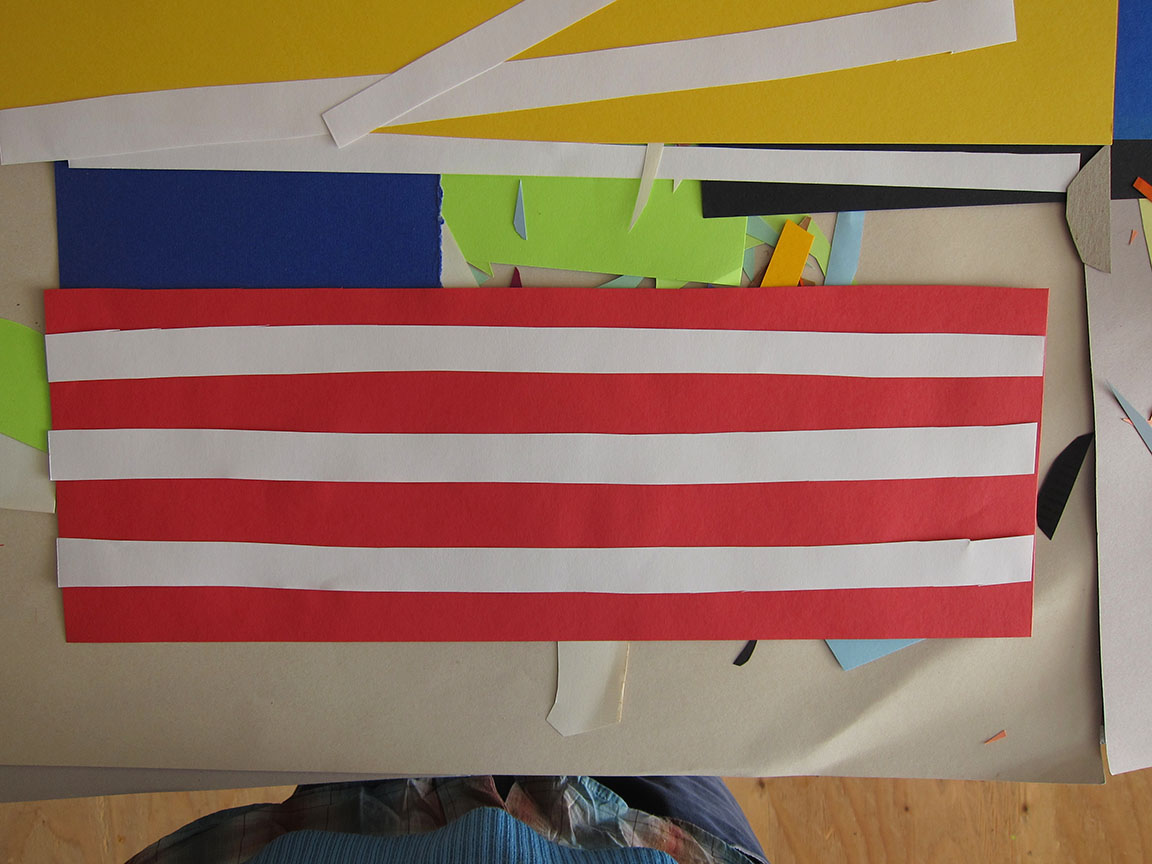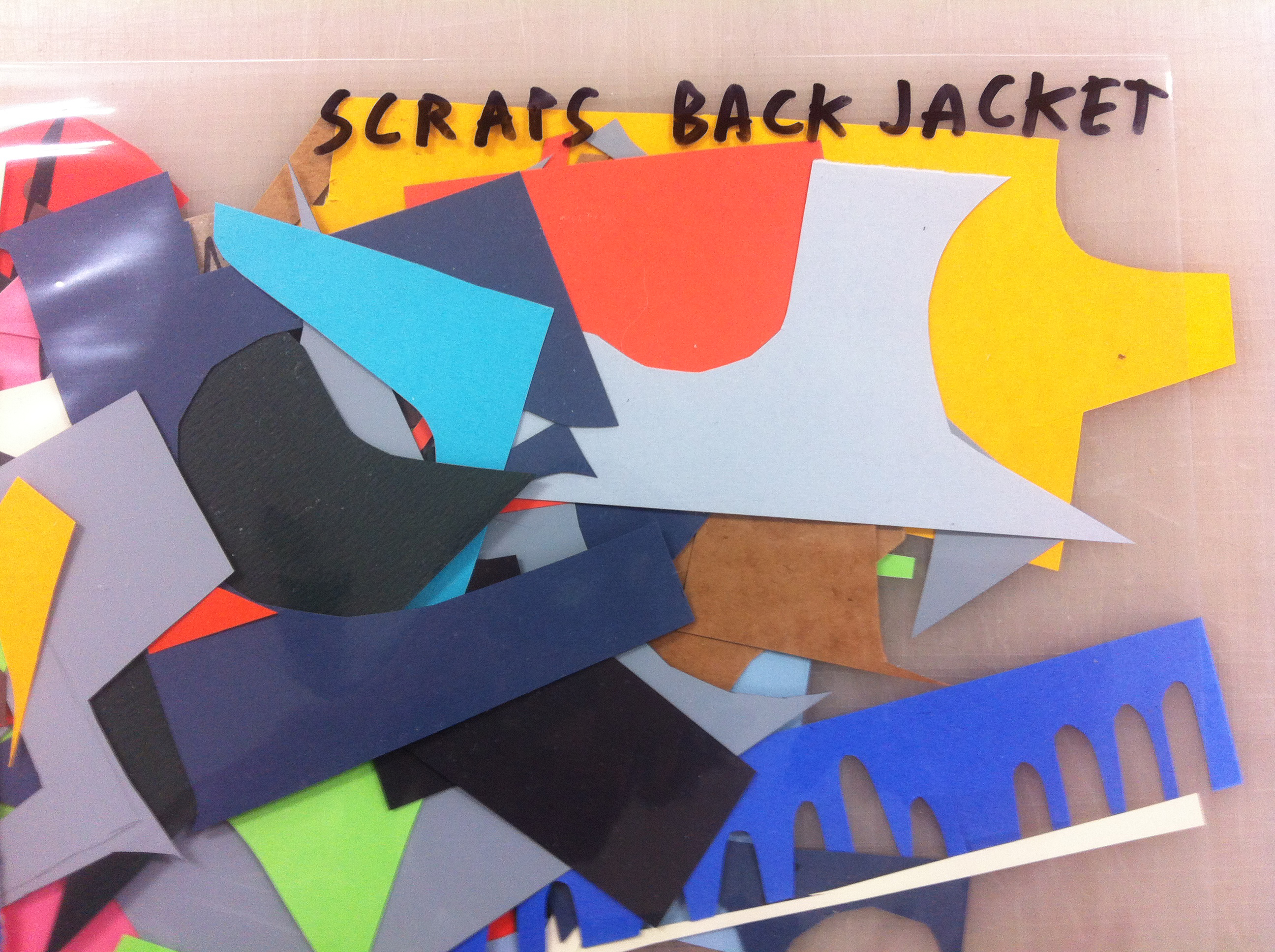 - - -
Any lessons you took away from the experience of making this book? Were you already aware of the story of how the bridge's color came to be? Will you never look at the bridge the same way again?
I did know the story, although not as fleshed out as Dave wrote it up. And I loved telling it to anyone who would listen. It's still hard for me to believe, actually. As a parent, I'm tired of kids' books that have a lesson embedded in them. But when the lesson is to embrace serendipity on a large scale, even to fight for it, it's hard to not feel inspired. Outside of that, the big lesson for me is that when one of your favorite writers asks if you want to collaborate on a book about one of your favorite things to look at, say yes.
- - -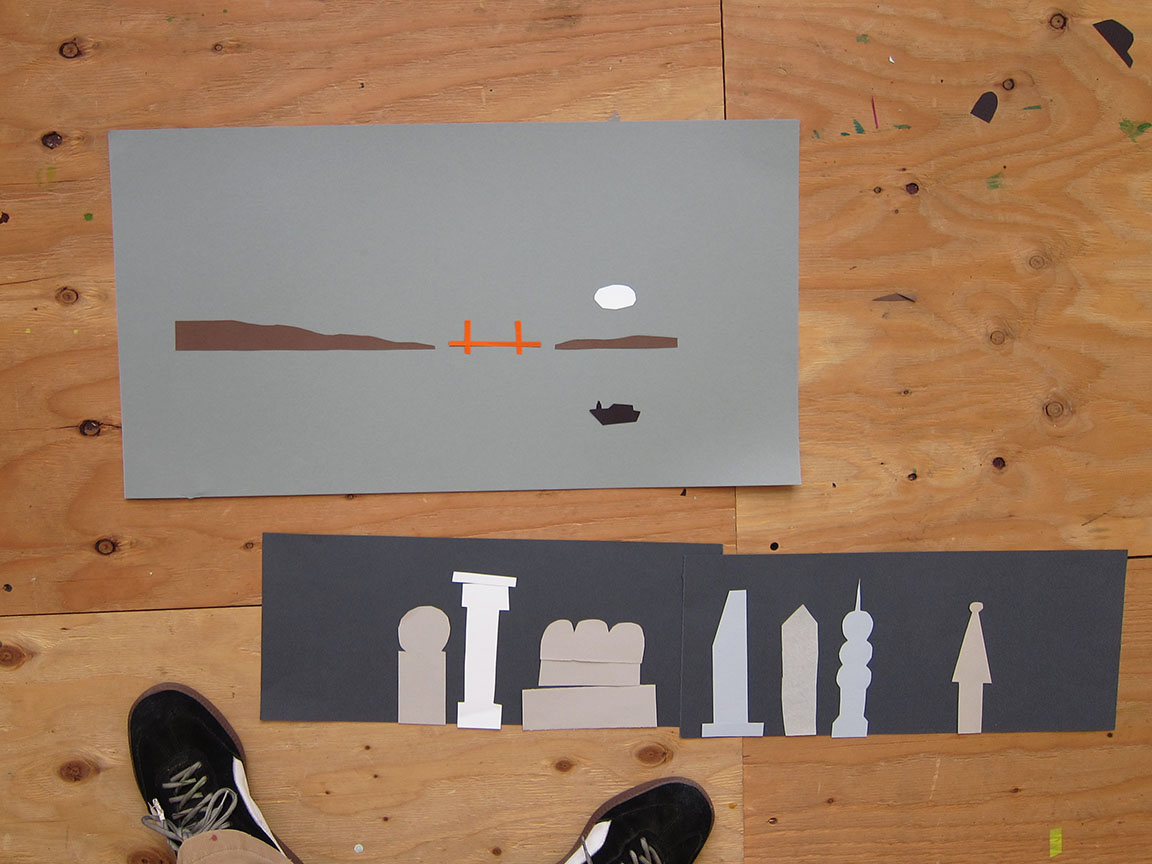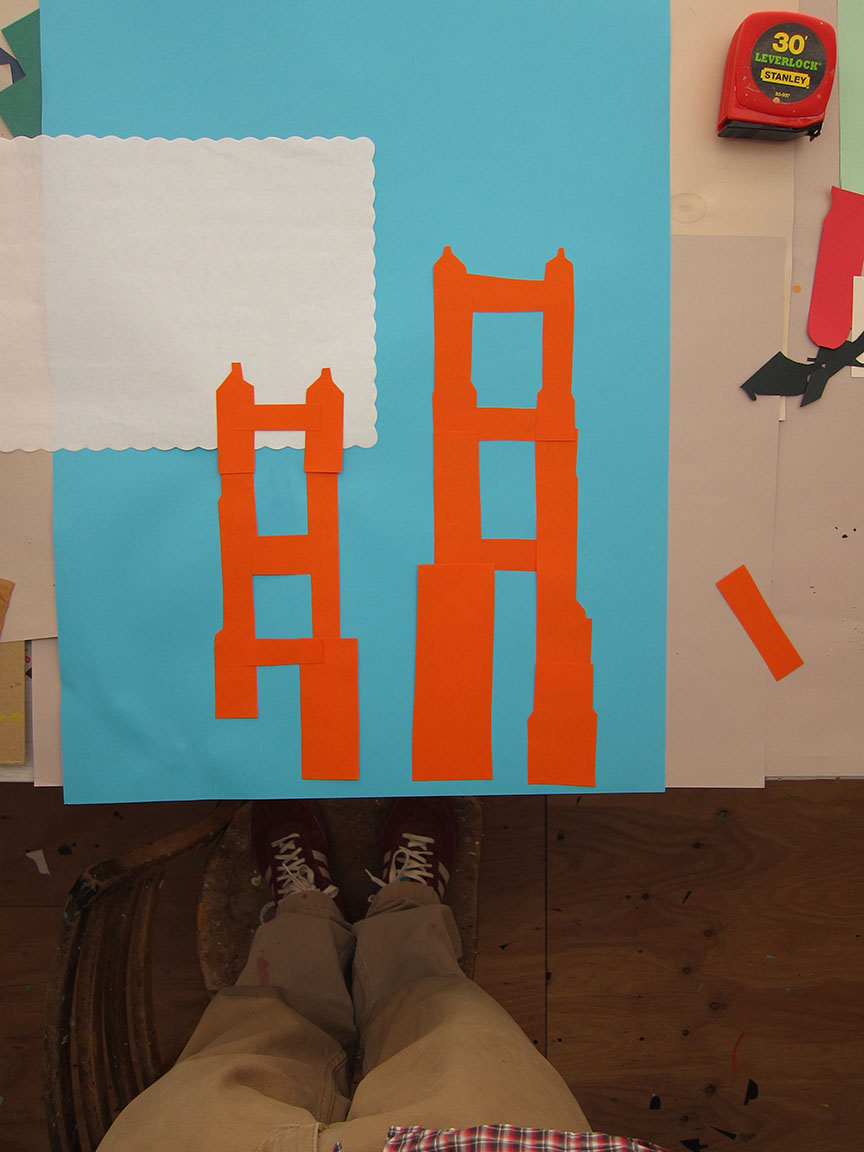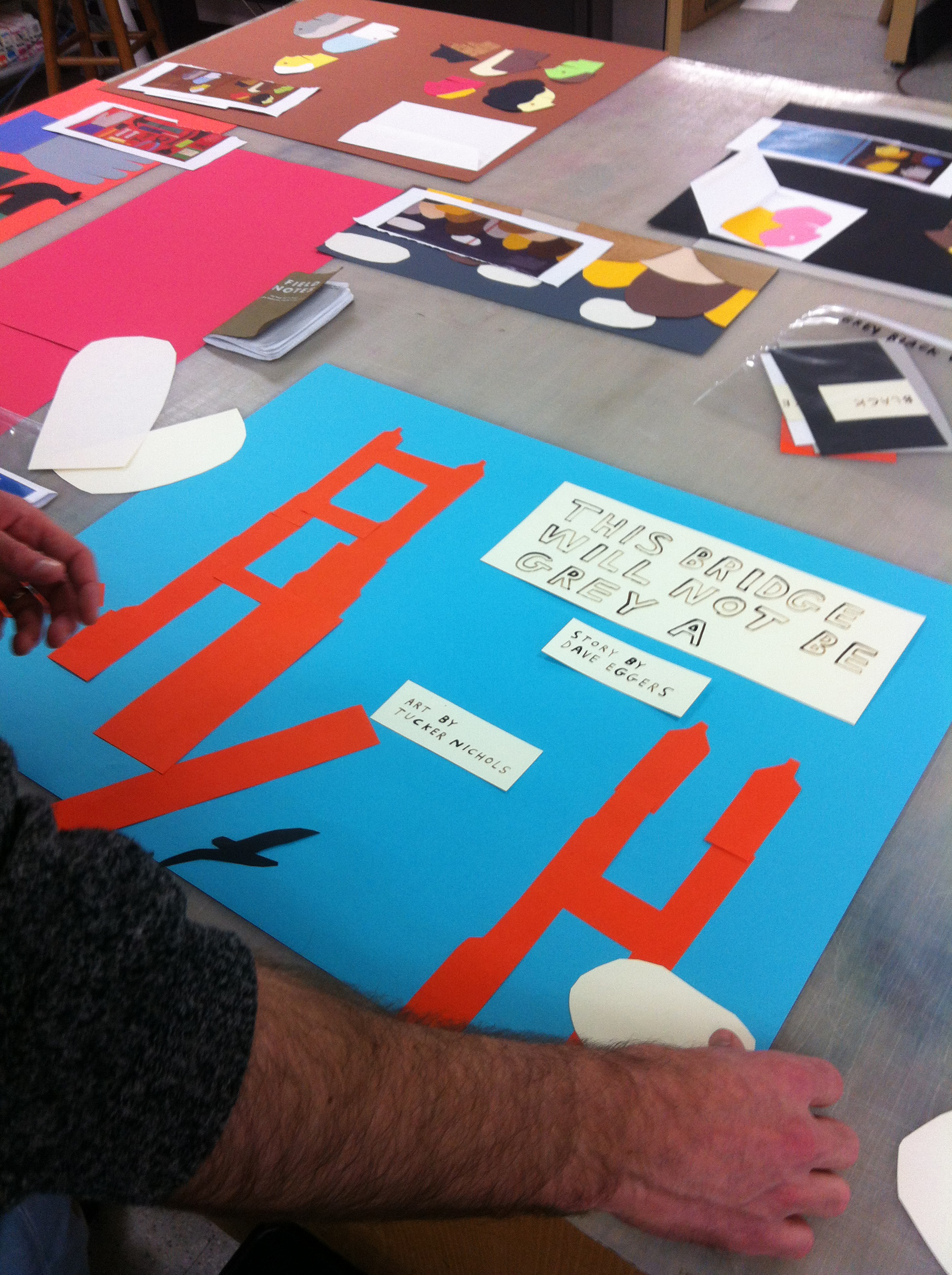 - - -
You spent many months storyboarding the book in your studio before it actually came time to do the official photoshoot of the cut-outs. Once the photo studio was booked and it came time to make final decisions for the layout, did anything change?
There were plenty of last minute maneuvers under the camera when we shot the final layouts. Those were surprisingly long days, and it was tempting to just push through each one in the interest of getting through the material. But I also knew this was the last chance to make them better, so I did fiddle a bit. Fortunately I had you, Sunra and the good people at Electric Works to help keep everything moving along.
- - -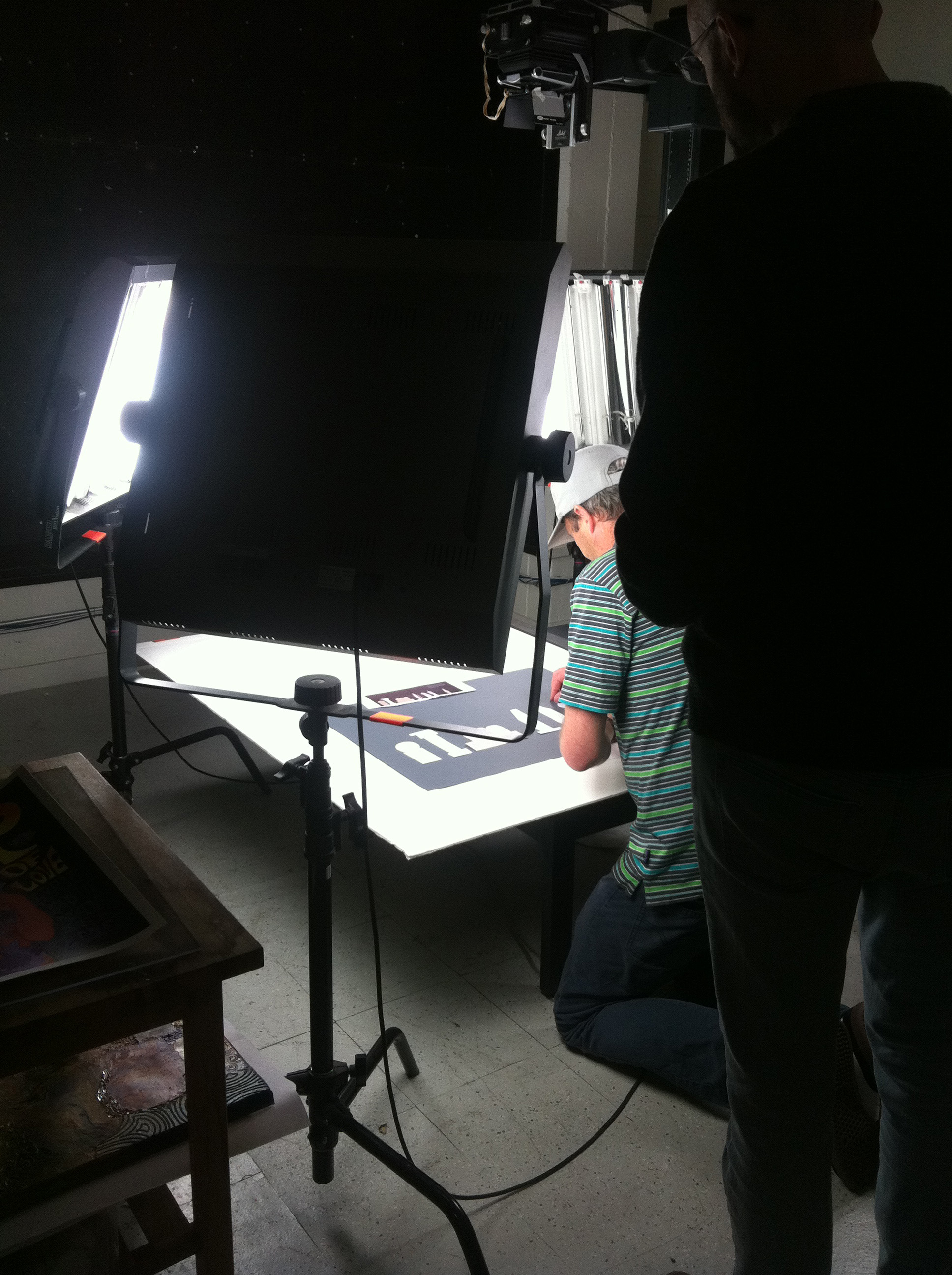 This Bridge Will Not Be Gray was recently named one of the best books of 2015 by Publishers Weekly. It is now available from the McSweeney's Store and at fine independent bookstores everywhere.
Behind the scenes photos by Tucker Nichols and Sunra Thompson. Nichols photo by Lisa M. Hamilton.