Contest Winner No. 29.
Submitted, without comment,
by Vero Testa of Brown University
- - -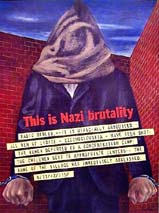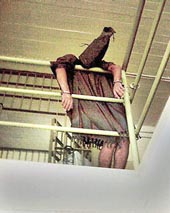 - - -
Weschler Responds.
- - -
Yes, indeed: that is an unsettling juxtaposition.
On the left, Ben Shahn's World War II–era poster decrying the complete destruction of the Czechoslovakian village of Lidice (all the men, close to 200, killed; all the women sent to concentration camps; and all the children given over to SS families to be Germanized) in retaliation for the assassination (entirely unrelated) of the regional Nazi commander.
And then, on the right, one Abdou Hussain Saad Faleh, another apparent innocent bystander, swept up by American forces in response to attacks on allied forces in Baghdad, delivered to the Abu Ghraib prison, where he was subjected to horrendous treatment. The Criminal Investigative Division had instructed guards there to soften him up: "Keep him awake, do anything short of killing him"—instructions that the guards in turn took to implementing with exemplary zeal. Before this photo was taken, on November 3, 2003, he'd been kept awake for 48 hours straight (standard operating procedure on Tier 1A). The next night, this same fellow, known as "Gilligan" among the guards, was forced atop a rickety box, wired up, and then made to stand in the now legendary pose, arms extended. (See my commentary on Convergence No. 13.) Sometime thereafter, oops, he was cleared of all involvement and released. Ah, well, never mind.
Now, of course, no one is saying that the U.S. in Iraq is behaving with the same depraved vindictiveness as the Nazis displayed in Lidice (this isn't My Lai, after all); though countless innocent bystanders have been swept up in American raids and some have indeed been killed. The more unsettling aspect of this juxtaposition, however, is how it highlights the way that over the past several years official American policy, with relatively little public revulsion (or, at any rate, any legislative repudiation), has, step by step, taken on aspects of policies of regimes we once considered our most diametrically opposed enemies—way, way beyond the pale.
Speaking of juxtapositions, think about the way that pair lines up with the following, received here at Convergence Central just around the same time.
- - -
Contest Winner No. 30.
Submitted, without comment,
by Lauren Redniss of New York City
- - -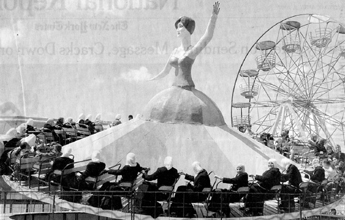 Veiled Palestinian women at an amusement park.

The Ku Klux Klan at a Ferris wheel.
- - -
Weschler Responds.
- - -
This one is just too goofily delicious in its own right to risk overfreighting with any too weighty commentary. The Palestinian women in all their properly veiled finery being whirled about by this spaghetti-strapped Siren of Liberty … and then, well, what's there to say? Except perhaps, What on earth is that?
Well, it turns out—leave it to the Web these days to resolve all such riddles—that what we are witnessing here is:
Members of Cañon City Klan No. 21 pose on and around the ferris wheel at the site of a carnival at 8th and Greenwood in Cañon City, Colorado. Klan members were invited by W.H. Forsythe, owner of the outfit and a klansman from Fort Collins, to don their gowns and pose for a group portrait.
One contributor to a website where this image was being anatomized, a certain self-styled Mr. "Badfrog," noted that
The 1920's were years when American and European civilization was moving from an agrarian society to a technological society. The KKK positioned themselves as a conservative agrarian pro-American movement, anti-Jew, anti-Catholic, anti-black, anti-immigrant, and drew from the same disaffected "fascist 15%" group as the Nazis in Germany and the Fascists in Italy, and the Islamist groups of today. There were similar groups in Britain and France, and Japan, and Spain erupted in civil war. The KKK had no connection to the KKK from the US Civil War, who were similar to the dead end Baathists in today's Iraq. They were also very different from today's KKK which is basically a catchall for people too goofy to join the militias. The KKK of the 20's controlled several states, their second largest population was in Colorado. (I am a Coloradan, I was intrigued when I saw that figure, and did a college paper on it. For the record, I have zero liking for this group in any of its incarnations.) Several state governors, congressmen, and mayors were avowed members, and many more were openly sympathetic, as was about 15% of the Americans public. Today, the Islamic world is convulsing in change, and that same 15% of moslems is openly sympathetic. The Klan was brought down in 1932 by a particularly nasty sex scandal that shocked all America, and especially the conservatives that were its mainstay. If not for that, the US might have been far more sympathetic to the Nazis and Fascists, and the history of WWII might have been very different. We are seeing the beginnings of such groups today in those countries in Europe where the Moslem immigrants are most populous. It's about to be a very interesting quarter century.
Doubtlessly so. I only leave off hoping that the late Philip Guston got a chance to see this photo before he died. He was in any case certainly channeling its disquietingly antic spirit in much of his later work. Viz: