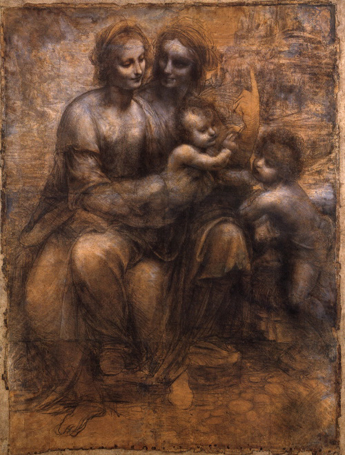 Leonardo da Vinci, cartoon of The Virgin and Child
With St. Anne and St. John the Baptist (c. 1499–1500)
On a recent visit to the National Gallery in London, I was struck speechless, as one is wont to be, happening upon the great Leonardo cartoon of The Virgin and Child With St. Anne and St. John the Baptist a drawing I've always somehow prized more than the painting it eventually led to, and, for that matter, more than just about any other drawing I can think of. After having spent several minutes in its thrall—especially, for some reason this time around, in thrall to the play of lines and forms, of charcoal and chalk, in the area around the intermeshing laps of the Virgin and the Saint—I gradually pulled away.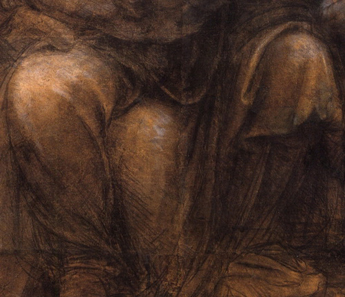 And, pulling away, I found myself thinking about Duchamp's Nude Descending a Staircase, which, I'd be the first to grant, even for someone as loose-synapsed as me, seems a bit of a stretch.
Later that afternoon, couched in a nearby café, I returned wonderingly to that strange splay of associations, and I suddenly realized what had been transpiring. For, the evening before, I'd happened to be browsing (or is the right word "grazing"?) around Geoff Manaugh's splendid BLDGBLOG website, when I happened upon an entry on the genius contemporary Russian photographer Alexey Titarenko, a name previously unknown to me (which surely says more about me than him). One picture in particular had been haunting me since, a time-lapse smear of a crowd scene from his City of Shadows series (1992–94):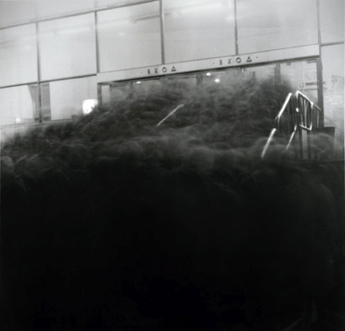 Talk about the pencil of nature! The way people swarming over entry stairs themselves take on the aspect of a repeatedly scrumbled and endlessly worked-over drawing, the drawing, say, of an intermeshing pair of laps. I doubt Titarenko was himself referencing da Vinci's drawing (even though another rhyme comes with the four Cyrillic letters above the entry door in his photo, which recall the four figures in the da Vinci drawing: the two women and the two infants, with St. Anne's hand, like the triangle in the photo, pointing upward). If anything, he was likely riffing off of Eisenstein's Odessa Steps.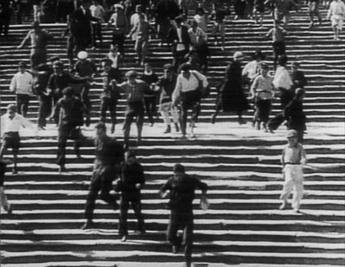 A still from the Odessa Steps sequence in
Sergei Eisenstein's 1925 film Battleship Potemkin
But if you want to see how I'd gotten from da Vinci to Duchamp, consider a couple of other images from Titarenko's City of Shadows series. I've included them below, creating the entire series of associations: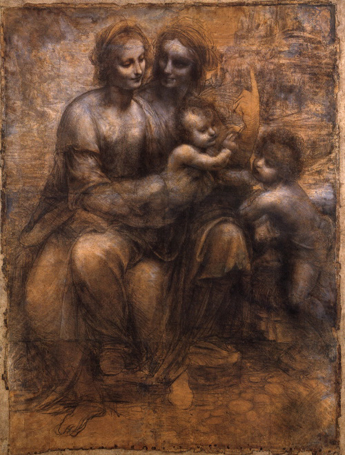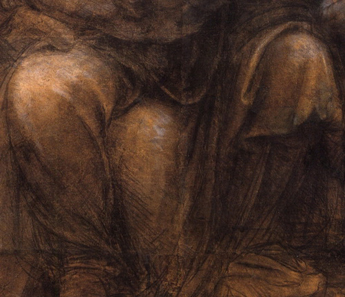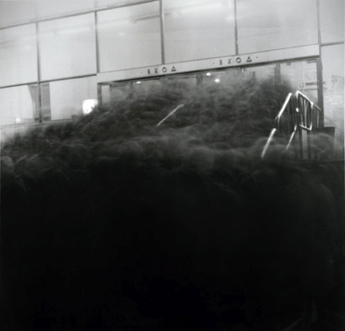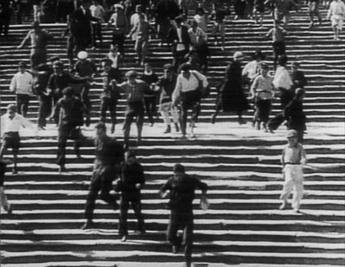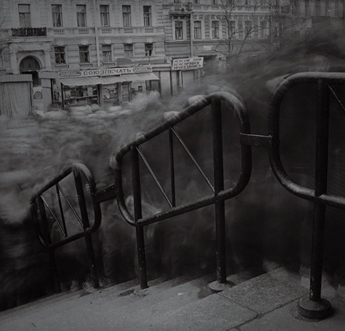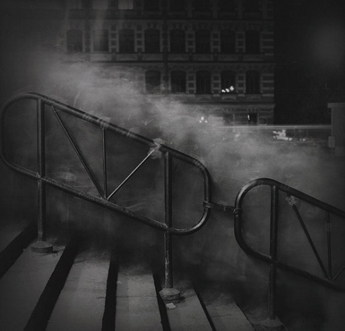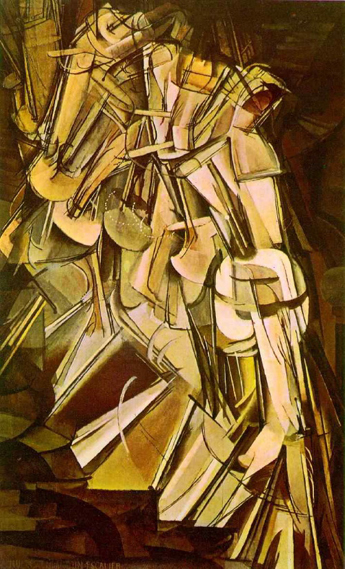 Marcel Duchamp, Nude Descending a Staircase, No. 2 (1912)
- - -
For more on Alexey Titarenko, visit his website at www.alexeytitarenko.com.