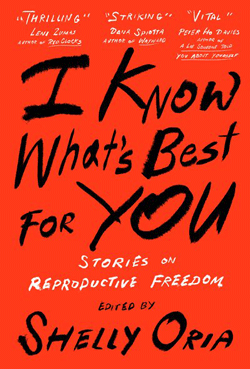 - - -
Today we are kicking off a new project. Every week we will be running supplemental pieces to I Know What's Best for You: Stories on Reproductive Freedom, an intersectional collection of essays, fiction, poems, plays, and more, that explores the crisis of reproductive rights in the United States. The book's international supplement features sixteen additional works by contributors from around the globe. First, an essay by the book's editor, Shelly Oria, about why she decided to put together a supplement to go along with the book.
- - -
Studying economics in high school (Tel Aviv, ca. 1996), I remember feeling mildly devastated by the "transformation curve." Essentially, my teacher said, trying to explain the concept of opportunity cost (and possibly philosophizing about life in the process), every choice we make is an infinite number of choices forgone. It made me sad, hearing this, and not only because I was seventeen and believed sadness made my poems better. I knew my teacher was right, that this model I was staring at captured some core, tragic truth.
When I started putting together what would become I Know What's Best for You: Stories on Reproductive Freedom, I didn't know that the book would arrive in the world weeks before a Supreme Court decision expected to overturn Roe v. Wade, but I did know that access to abortion had been systematically restricted in many states, that reproductive freedom in America was in a state of crisis. And so, curating the book as a response to that crisis—inviting US-based writers and artists, asking them to consider the emergency we're in—seemed the obvious, essential choice.
And yet I kept feeling the weight of choices forgone. I kept imagining a book that spotlighted the reality of reproductive freedom in other parts of the world. And that book felt important too. As an American of dual citizenship, I've always been acutely aware of how self-focused we are, how self-focused our news is, how much more outward-facing conversations tend to be in other countries. Beyond that, when it comes to literature, it seems we are often othering even American writers whose heritage is too dominant, too accented, too close-to-the-surface to be considered suitable for mass consumption, and certainly international literature—anything that requires translation in order to reach American readers—is often ignored. And then: something was happening around the world with reproductive freedom—some countries legalizing or decriminalizing abortion, others making it less accessible. In 2021 alone, Mexico decriminalized abortion, Thailand legalized first-trimester abortions, China vowed to reduce abortions, and Poland passed a near-total ban. I couldn't shake the wish to reach writers and artists in those countries and invite them to share their perspectives.
When months passed and I still couldn't shake that thought, I decided to discuss it on a Zoom call, because one of the best things about McSweeney's is that Amanda Uhle is its publisher, and one of the best things about Amanda Uhle is that when I say something like, Hey, could we maybe make another book as part of the reproductive freedom book? So we can also feature voices from around the globe?, she is likely to say, Tell me more, and then say, Yes.
The result of that exchange is I Know What's Best for You All Over the World, the book's international, digital supplement. It's as multigenre as the book itself—stories, essays, poems, a comic, a theater piece, and photographs—and it features contributors from Argentina, Poland, China, Palestine, Mexico, Ireland, Greece, India, Cameroon, Brazil, and more. I'm eternally grateful to all the good souls in literary communities around the world who showed this project such generosity by connecting me to artists, writers, and translators. The original works featured here have taught me so much while also offering such pleasure, and whenever I experience them all together, I feel like I'm traveling to different parts of the world all at once, at record-breaking speed. I hope you'll feel the same.
And as for my seventeen-year-old self, what she didn't yet know was that true devastation isn't so much the choices forgone, but the ones we're never given, and the ones taken away.
I Know What's Best for You All Over the World is for anyone fighting for choice, for access, for reproductive justice and freedom.
- - -
Shelly Oria is the author of New York 1, Tel Aviv 0 (Farrar, Straus and Giroux, 2014) and the editor of Indelible in the Hippocampus: Writings from the MeToo Movement (McSweeney's, 2019), as well as the forthcoming I Know What's Best for You: Stories on Reproductive Freedom (McSweeney's, 2022). Her fiction has appeared in the Paris Review and on Selected Shorts at Symphony Space, received a number of awards, and been translated into several languages.
- - -
See in our store
Order I Know What's Best for You: Stories on Reproductive Freedom and receive the book's international supplement I Know What's Best for You All Over the World free as an ebook.