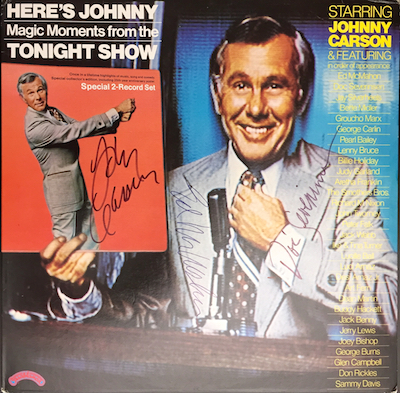 - - -
Saying goodbye to someone after they've been a consistent presence in your life is a powerful experience. It's rare, but occasionally a finale of a beloved TV show can achieve that same level of profundity. A couple of weeks ago, I attended one of the last tapings of David Letterman's show. His one and only guest was Steve Martin. As the two luminaries sat reminiscing about their thirty-plus year association, an avalanche of emotion came over me. This was truly the end of an era in a way that I haven't felt since Johnny Carson stepped down as the host of The Tonight Show 23 years ago this month… and the likes of which we'll never see again.
I'd guess that every late night host of today would probably say that Dave was their inspiration. But Dave's idol was Johnny. They had a lot in common. Both men came from sturdy, stoic Midwestern stock, embodying urbane sophistication in combination with a kind of heartland everyman accessibility. But they also were very different. Letterman's appeal has always been as a curmudgeonly, anti-establishment revolutionary who made being perennially uncomfortable funny. On the other hand, Johnny was the very personification of show business cool. Hip, smart, easygoing cool—and seemingly eternally comfortable.
By the time I was born in the late 1960s, Johnny was already an institution. Although he inherited the Tonight Show franchise from Steve Allen and Jack Paar, Johnny made it his own and remained essentially unchallenged for thirty years. Back then there were no late night wars. There was Johnny, and then there was everyone else who foolishly tried to beat him… and failed. His absolute late night supremacy never came into question.
Johnny Carson made growing up as an insomniac kid in the 1970s bearable. Actually, he made it kind of thrilling. My bedtime came and went and, more often than not, my dad surrendered to the forces of nature, knowing that Johnny's gravitational pull would lure me out to the living room so that father and son could spend ninety minutes with Johnny, Ed and Doc. (Yes, back then the show was an hour-and-a-half!) It was my window into show business. It was where I learned what a stand-up comedian even was. I'm not sure how many eight year olds were wrapping oversized t-shirts around their heads and doing Carnac routines at their parents' parties back then, but I can't have been the only one.
In 1984, I set about to produce a one-hour documentary about the late comedian Jack Benny on the 10th anniversary of his passing. As a 15-year-old, I partnered up with another aspiring producer friend who was a bit older and heading off to film school and who, more importantly, could drive. (Incidentally that friend, David M. Latt, is now a busy working producer; you have him to thank for the Sharknado franchise.) We began seeking interviews with everyone associated with Jack Benny's radio and TV shows, running all over Southern California that summer with our rented video equipment. At the time, Fred DeCordova was the Executive Producer of The Tonight Show, but he had begun his career on The Jack Benny Show. In fact, that was probably why Johnny hired DeCordova. You see, where Dave's greatest hero was Johnny; Johnny's had been Jack Benny.
Despite our youth and the amateur nature of our production, DeCordova granted us an interview in his office at NBC in Burbank. It was my first time ever in the building and I drank in every detail, including and especially the corkboard behind DeCordova's desk festooned with index cards bearing the names of upcoming Tonight Show guests. DeCordova was extremely affable and a master raconteur. (He would later serve as the model for Rip Torn's character "Artie" on HBO's Larry Sanders Show.) After the documentary was completed, I ran around town hand delivering VHS copies to everyone who had graciously participated. When I returned to The Tonight Show office in Burbank with the tape in my hand, I had a surprise waiting for me. DeCordova asked if I would like to meet Johnny.
Sitting in his office dressed like he'd just stepped off a tennis court, I remember being struck as he looked up from his newspaper and met my gaze. At first, his face seemed serious and distant, but when DeCordova reminded him that I was "the kid making the movie about Jack" a light turned on behind his eyes and he let loose about a half-million bucks of his million dollar smile. He asked why a kid my age was interested in Jack Benny and then he just listened. Intently. I'll never forget having Johnny Carson's undivided attention. It was in that moment that I saw what so many of Johnny's guests said of him. He had a curious mind and was a great listener. At the end of the brief visit, he pulled a book off of his shelf written by George Burns, who had been Benny's closest friend. Benny had written the foreward to the book and Johnny asked if I'd like to borrow it. Then he shook my hand and wished me well with my project. As I made my exit, I felt like I was floating about four feet above my body and, in my head, I could hear Doc Severinsen's band playing me off.
In the years that followed, I began writing jokes for a number of comedians who appeared on The Tonight Show. I would often accompany them to the tapings, which were always charged with an almost indescribable electricity. And when I would hear that big, generous laugh come blasting out of Johnny in reaction to a joke I had written, every fiber of my being came alive. Afterwards, there might be a quick hello in the hallway outside of a dressing room. But Johnny didn't linger. My sense is that he wasn't one to hang out much. All the lore seems to support that he was a very shy, private man. However when his final guests Robin Williams and Bette Midler bid him farewell, and when Johnny, in turn, said his final goodnight to us all, the emotions were very public and very real. For him and for us. But then he just went away. The man who put America to bed every night for three decades decided that he was done and we never saw him again.
Which brings me back to Letterman. As he is rounding third and heading for home, I can't help but suspect that Dave might pull a Carson on us. He'll finish his run, say farewell, turn off the lights and make us miss him all the more by leaving us only the vapor trail of his brilliant body of work and never looking back. I sure hope I'm wrong. Because just like Johnny, Dave will be irreplaceable.