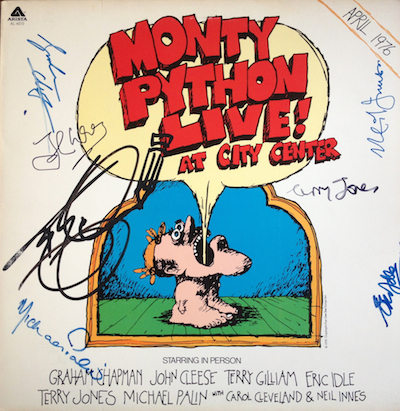 - - -
Monty Python has always been like a secret handshake to me. They're a litmus test. A filter I use to pick the people in my life. I knew my wife was "the one" when we decided that Life of Brian would be our Christmas movie.
Back in 1980, when I was 11 years old, I had all of Python's albums. I'd seen their movies and had watched all of Flying Circus on KCET, LA's local PBS station. So when they came to town to play the Hollywood Bowl, I took one of my fellow comedy nerd weirdo preteen friends—and a Python LP—hoping for autographs. The cover of Live at City Center had lots of white space for signatures, and featured the same cast as the show at the Bowl (the six guys plus Neil Innes and Carol Cleveland).
The show was glorious. My heart raced as John Cleese and Terry Jones came into the audience to do their "Albatross" routine. After the show, I waited with a cluster of other fans by the stage door. Michael Palin, Graham Chapman and Neil Innes were the first ones out. They were kind and lovely, signing autographs and greeting the enthusiastic mob with only slight incredulity. By the time Terry Jones emerged, I had somehow lost my pen. Fortunately, another fan lent me his. Unfortunately, my mom was waiting for us in the parking lot and I had to leave before I could get the rest. It would be many years until I would revisit my quest to complete the set.
In the late '90s, while working for the American arm of a British TV company, I became friendly with a veteran UK exec named Humphrey Barclay, who had worked with all the Pythons in their pre-Python years. Legend had it that he even helped introduce the Oxford and Cambridge contingencies to one another. He asked if I'd be interested in developing a show with Cleese. Struggling to maintain my cool, my voice raised two octaves with an overly emphatic "YES." All my interactions with Cleese were over the phone, as he would be writing the script from across the pond. Sadly, the project never moved forward beyond the script. His signature was still missing on my LP. Wanting to maintain a professional façade, I never mentioned it to him.
A few years later, my path crossed with Eric Idle. He had just produced a sequel to The Rutles, his brilliant send-up of the Beatles. I was now working at Studios USA and brought a screener to Doug Herzog, then running USA Network. Best known as one of the major architects of Comedy Central, Doug is also a big Python fan. While he enjoyed the project, Doug felt it wasn't quite right for USA. Eric was appreciative of my efforts on his behalf and we made a date for lunch near my office where I asked him to sign my City Center and Rutles LPs. Shortly thereafter, Eric enjoyed the success of his smash Broadway musical Spamalot, and the Mother's Day matinee tickets he arranged for my mom and me remains one of my fondest Broadway memories.
In 2009, I came down with swine flu while I was back in New York producing the series Gravity for Starz. Sick on the couch for days in my Upper West Side sublet, I watched the great multi-part documentary, Monty Python: Almost The Truth (The Lawyer's Cut), which aired on IFC. I binge-watched it all and determined to try to work with the channel. I went in to pitch them a show and they offered me a job heading development of original programming.
Monty Python was a touchstone; their humor helped us define IFC's programming philosophy. Our original series should be smart and silly, just like Python. The secret handshake would be performed again and again in conversations with the teams that brought forth shows like Portlandia, Comedy Bang! Bang! and especially with Bob Odenkirk and The Birthday Boys.
Earlier this year I was having dinner with the documentary filmmaker Morgan Spurlock. He too is in the cult of Python and planned to take his entire family to the UK to attend the reunion show at the O2 arena. Spurlock was aware that I was still missing Gilliam and Cleese from the set and offered to take my LP with him to finish what I had started. I was touched but didn't want to impose, so I didn't follow up. Surprise: Morgan texted me from the airport en route to London, imploring me to ship the album to him there. He didn't need to offer a third time. A few days after I sent him the LP I got another text: "One down." He sent a picture of Terry Gilliam's signature on the cover. He also sent a photo of his young son, Laken, across a dinner table from Gilliam, doing the famous bridge scene from Holy Grail. At age seven, this kid knew the secret handshake. That's solid parenting in my book. Morgan said that when Gilliam saw the album bearing Graham Chapman's signature, he remarked, "Wow, he got the dead guy." One left to go.
When the LP returned, the set was complete. Apparently Gilliam's daughter helped get Cleese to sign it. When I saw the album, I cried. 34 years in the making. The grail was mine.
P.S. If anyone has a line on Carol Cleveland, there's still room on the cover for her signature. I'm just saying.