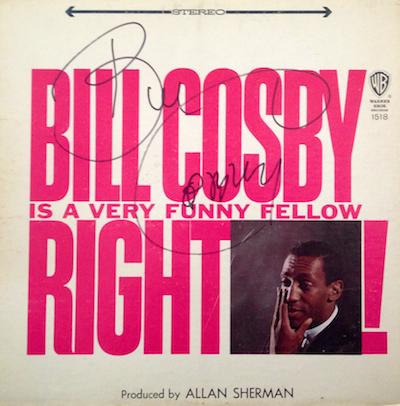 - - -
I can't remember a time when I wasn't a Bill Cosby fan. From Fat Albert on Saturday mornings, to his stand up LPs (which I used to check out from the library before I could buy them), to his concert film Himself, to The Cosby Show, and beyond… he's always been a part of my life. But that's just his work. In the handful of times I've gotten to spend with Bill Cosby in person, he's touched me in even more significant ways.
I first met Bill in my early days of doing stand up. I was still a teenager when I performed at the Riviera Hotel in Las Vegas. That week, Bill was at Caesar's Palace doing a double bill with Sammy Davis Jr. The Cosby Show was at its height of popularity and yet Bill was kind and generous with his time, offering counsel to a young comedian who was thrilled to get to sit at the feet of the master.
One piece of advice of his that both surprised and resonated with me was, "If you try to please everyone, you will please no one." The most universally beloved comedian was telling me not to pander, to not worry about the people who don't get it. In retrospect, that made great sense coming from Bill. His work was always a reflection of his true self. All the greats have that at their core. Authenticity. But Bill was the first comedian to look me in the eyes and deliver that essential truth.
About fifteen years later, I was attending a charity function and Bill was the evening's entertainment. I went over to him to say hello and mentioned that I had bought tickets for his show at the Cerritos Performing Arts Center on Father's Day as a gift for my dad. Impishly, Bill asked if I had paid full price for the tickets. When I told him that indeed I had, he invited me to bring my family to visit with him backstage before the show.
Now the scene backstage at most shows is usually chaotic. Clusters of people waiting to see the performer, usually getting nothing more than a quick hello, a handshake, and maybe a hurried exchange while eager onlookers jockey for position to be next. I was nervous about bringing my dad into that situation as he had been in failing health. But when we got to the venue and knocked on the stage door, it was eerily quiet. It even occurred to me that we might have the wrong date, time or theater. My mom, my dad, my wife and I were ushered to a large sitting room and told that Bill would be right in. The four of us sat alone, waiting, slightly incredulous to be given this space all to ourselves. And then in he came. Dressed casually in sweatpants, he pulled up a chair and parked himself in between my dad and me.
Knowing that Bill was a lifelong cigar smoker, I brought him one of the best smokes from my humidor. He gratefully declined the gift informing me that he had recently quit the habit. He did show me how to feel the wrapper on the cigar as a measure of its quality. He took two fingers and stroked the back of my hand to demonstrate. Cheekily, I made eyes at him. Without missing a beat, he turned to my wife and asked her if she "knew about this." My wife told him she did and Bill let out a deep and and appreciative laugh.
Bill had been sitting with us for quite a while and show time drew near. Feeling self-conscious about how much of his exclusive attention we were taking, my mom asked if Bill needed some time to get ready for the show. Bill scoffed. He said he didn't need to prepare. Bill wound up spending over an hour with us, giving very special attention to my dad, soliciting stories from him about his time in the service during WWII. Bill patted my dad's leg and said, "Kids today need to talk to a man like you to better understand what makes this such a great country." I looked over at my mom and tears were running down her cheeks. From that day forward, whenever my Dad saw him on TV, he'd shush everyone in the room, boasting proudly "that's my friend, Bill". And to her dying day, my Mom had the picture of our family with Bill from that evening as the desktop photo on her computer.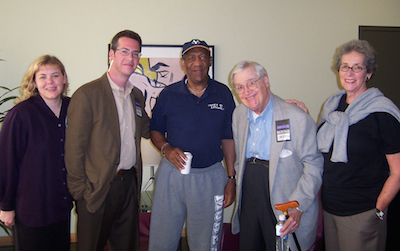 A few years ago, I went with my friend Morgan Murphy to see Bill at Lincoln Center. We went backstage after the show and, filled with emotion, I gushed to Bill just how much that evening had meant to my family and me. He just smiled that trademark smile and said, "Well all right!" His impact on comedy is immeasurable. But his imprint on my life is indelible.