Our crack team of aspiring high school-aged music journalists — for this interview, that included Zoe G, Brianna O, Cassie R, and Imaan Y — met with The Hotelier's bassist and lead singer Christian Holden on Sunday afternoon at Pitchfork Music Festival. These creative writing students channeled their musical knowledge and interviewing skills during the following on-the-spot Q&A with the Massachusetts rock frontman, who downplays his incredible guitar-playing ability but admits he's pretty good at poker.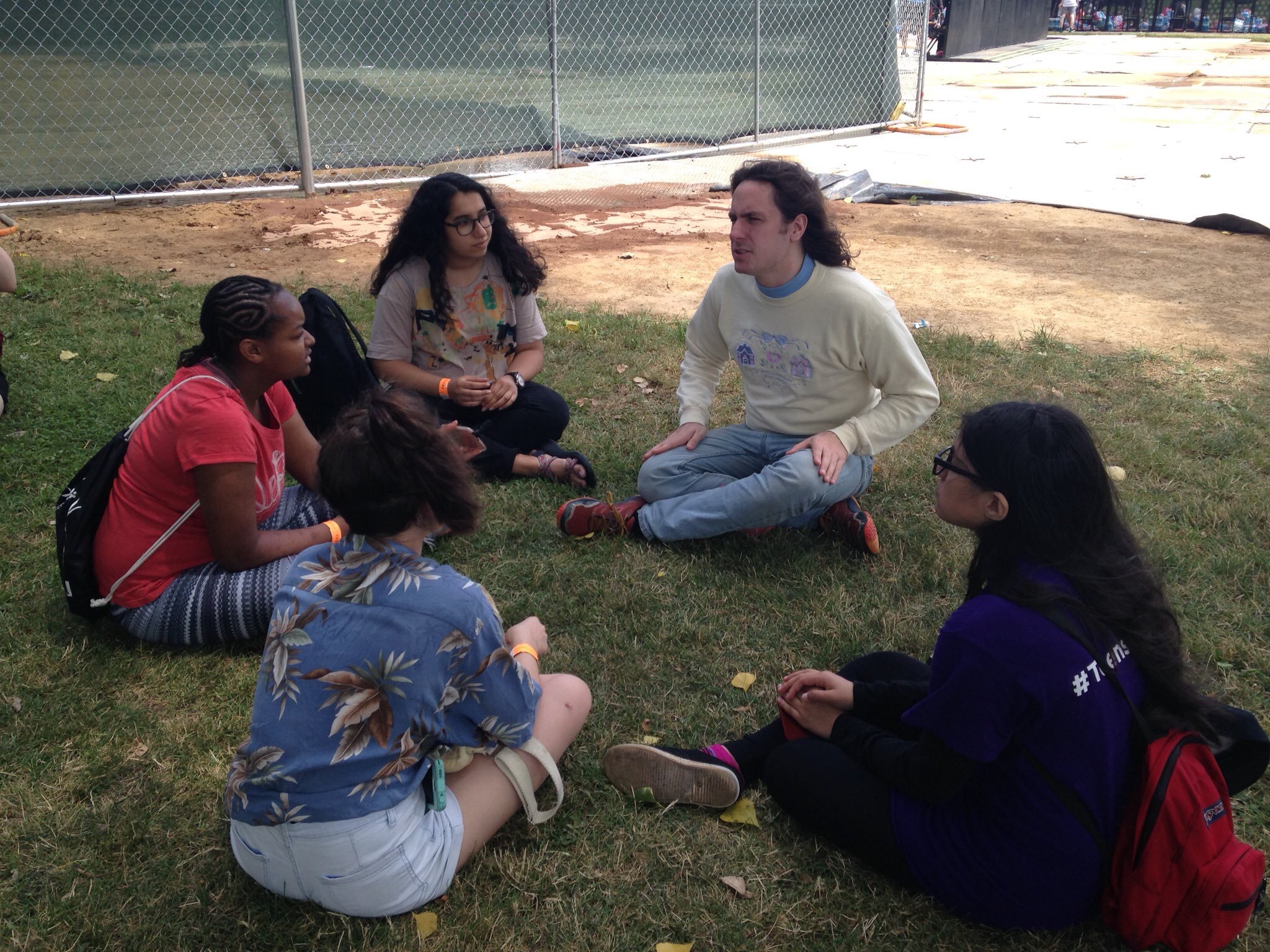 Originating from Worcester, Massachusetts, The Hotelier is best described as a rock band — to classify them in any other way would seem completely arbitrary. Christian Holden, the lead singer and bassist of the band, was kind enough to answer the questions of a few nervous high schoolers until they felt comfortable enough to have a genuine conversation with him about his interest in music and poker. The other band members (Chris Hoffman on guitar and vocals and Sam Frederick on drums) did not meet the high schoolers but are surely nice guys as well. Together, they recently released their sophomore album Goodness, which is as raw as freshly-butchered meat. — Imaan Y
- - -
826CHI: Is this your first time at Pitchfork?
CHRISTIAN HOLDEN: Yeah, I have never come here before, even as an attendee, so this is my first time.
826CHI: How about Chicago? Have you been to Chicago before?
CHRISTIAN: We've played in Chicago a couple of times. We've played our own shows, like at Beat Kitchen and Subterranean, but we've also played Riot Fest and that was in Chicago. I think that was in 2014, maybe? So yeah, we've played here a couple of times.
826CHI: What's your favorite type of venue to play?
CHRISTIAN: Um, full ones, you know? [Laughs] If you're playing at a very large venue and there's no one there, you feel pretty bad. If you're playing at a small venue and it's packed it almost always feels good no matter where you are, so, yeah. Full ones.
826CHI: Is there anything that you do to prepare for a show? Anything special you guys eat or any other traditions you practice?
CHRISTIAN: We're learning. I feel that on this tour, we fall into these patterns where we're all just playing our instruments and not really focusing on the chemistry that we can have with one another while we're performing, and that plays into how well we perform. We'll just sit and read together as a way to center ourselves and feel vulnerable around each other and, you know, let our guard down for a second so that we can go out on stage and perform and feel good with one another. So that's what we've been trying out, as of recently.
826CHI: We should have asked you this at the beginning, but what role do you play in the band? What do you do?
CHRISTIAN: Oh, I play bass and I sing.
826CHI: How did you get into bass?
CHRISTIAN: Everyone else was better than me at guitar, so there's been a couple of guitar switches — of people who played guitar and aren't in the band anymore. But I think at every single phase of it, it's just been that everyone else is better than me at guitar so I just decided [on bass]. I liked playing bass and singing, and my muscle memory was all ready to do that from trying to play guitar and singing, so, I think that's the best I can do for now.
826CHI: If you weren't in music, what would you be doing right now?
CHRISTIAN: I recently developed a very strong obsession with poker, so on days off we've been going to casinos and playing poker. I'm studying the game as well, reading a lot of books on it. I never went to college, so my brain sort of desires something to study intensely and dedicate my whole mind to. And I really like tabletop board games, so this has been a new interest of this year. So, poker I guess? That's probably what I'd be doing if I wasn't doing this right now. Probably what I'll be doing next week when I'm not doing this.
826CHI: What song has the most meaning to you?
CHRISTIAN: Probably "Soft Animal." I have this belief that everybody is made up of multiple people and everyone has a bunch of selves within them. This song is about trying to find a piece of yourself that is formative and guarded, trying to find it and interact with it. I feel like the song tackles a subject that is really vague and through writing I was able to make it a little bit more clear.
826CHI: So with a song like that, do the lyrics come more naturally to you at first? Or does it start with the music?
CHRISTIAN: For most of the songs that I write, I write music first. I think that something I have skill in is structuring a song. Like, finding where the song should dip and where it should get big and where it should get small. And I feel like that maps out an arc for the narrative to go, so then I can match lyrics to the music and it can be one cohesive thing. To me, writing occurs later, so everything's more cohesive.
826CHI: Going back to your interest in poker: would you ever want to be in a poker tournament on ESPN? Do you watch that?
CHRISTIAN: Yeah, I do. It'd be cool. If I could do it and do it well, then I would. I'd like to get good first, 'cause I don't want to be on TV and then do something stupid and have the whole world see me.
826CHI: What's your biggest musical influence?
CHRISTIAN: I've been super lucky to have been able to meet lots of musicians that are making really good music now, and I don't necessarily have to pick out a musician I've never met as a hero. I've got a lot of people who I play with — such as, you know, Noel'le who's in the band, Loone, that we were just on tour with, or Oliver, who plays in Bellows who we just toured with, and my friend Michelle, who plays in Japanese Breakfast. Japanese Breakfast is her new project, but she was [also] in a band called Little Big League. And my friend Chad, who plays in Emperor X. I've been surrounded by really good musicians, luckily, for so much of our life as a band.
826CHI: Do you take inspiration from your friends or people you know?
CHRISTIAN: Yeah, mostly from my own life. I try not to live too much outside my own life.
826CHI: Are there any particular acts that you're looking forward to seeing here at Pitchfork this weekend?
CHRISTIAN: I really want to see Blood Orange. I think that the cool thing about being in a festival like this is that I get to see acts that are making important music in worlds that are not just rock music. Otherwise I wouldn't get to interact with them the same way that I do when just Hotelier's playing. So seeing Blood Orange, who is very recognizable as a solid R&B act and really important right now, is really cool. That's the main one. We'll play right before Empress Of, who is also a really cool R&B singer, and I'm excited to watch that. Otherwise, I'm just floating around.
826CHI: Has music always been a part of your life?
CHRISTIAN: When I was younger, I used to listen to a lot of music and it was always a really individualistic experience for me. I would put on headphones and just listen in my room. I didn't really listen to music with people, I always listened by myself and that's how I learned to understand music. I watched a lot of musicians perform on big stages when I was younger. It was always such a powerful experience to go to a show and watch a band in a room full of people who know the words and are singing along with you. That was something that couldn't not be romanticized and I just fell in love with it. When I started writing music on my own, I wanted to make music and play it for lots of people to enjoy and have the same experience that I did.
826CHI: Who were your favorite musicians as a kid?
CHRISTIAN: There were a lot of different phases of it, but there was this band called The Used that I liked a lot when I was growing up. They're really funny now but they have two great records that, if you look back at, are still really, really well arranged and are still just such solid records. I like Tegan and Sara a lot, I like Rilo Kiley which is Jenny Lewis — she plays as Jenny Lewis now, for the most part. There were just so many bands, and they were all rock bands. I liked Michael Jackson a lot when I was really young, but other than that, in my life it's been mostly rock bands.
826CHI: You're from Massachusetts, right?
CHRISTIAN: Yep.
826CHI: Were there any local bands that you really liked?
CHRISTIAN: Yeah. At the time there was a strong scene of bands in Massachusetts. There were shows going on all the time that were just locals, which I don't see too much anymore. It happens, but not in the same way. There was a writer named Dom Mallory, who was in a bunch of different bands. He was most notably in this hardcore band called Last Lights. I've never been too into hardcore, but the way that he wrote songs… his lyrics were on such a different level than what everyone else was doing that he set a standard for what was "good art" in that world. Looking back, he's such an important, influential person for all the work that people would later make for that world — he was such a strong songwriter. So I think Last Lights would probably be the biggest influence from that world.
826CHI: How do you feel about current-era music, like rap and all that?
CHRISTIAN: I wouldn't necessarily say that rap is "current-era music" any more than stuff that's been around for a while — it's still developing and it's still growing new things from its roots. I feel popular mainstream music is interesting in that there are people still making very trivial work and also people in the mainstream that are making very cool and interesting work. I think people talk about Carly Rae Jepsen's record as a modern record that has a lot of cool things going on with it, same with Rihanna's newest record. It's interesting how, in the early 2000s, mainstream music was not all that developed… but now there are artists making really, really great work in the mainstream. I think that's cool.