Our crack team of aspiring high school-aged music journalists – for this interview, that included Gus, CJ, Kacie, and Mercury – met with fun-loving band NE-HI at the 2017 Pitchfork Music Festival. These creative-writing students channeled their musical know-how and interview skills into the following on-the-spot Q&A with NE-HI, a local-Chicago band that knows how to rock, how to roll, and how to effectively sort themselves into the appropriate Harry Potter House.
- - -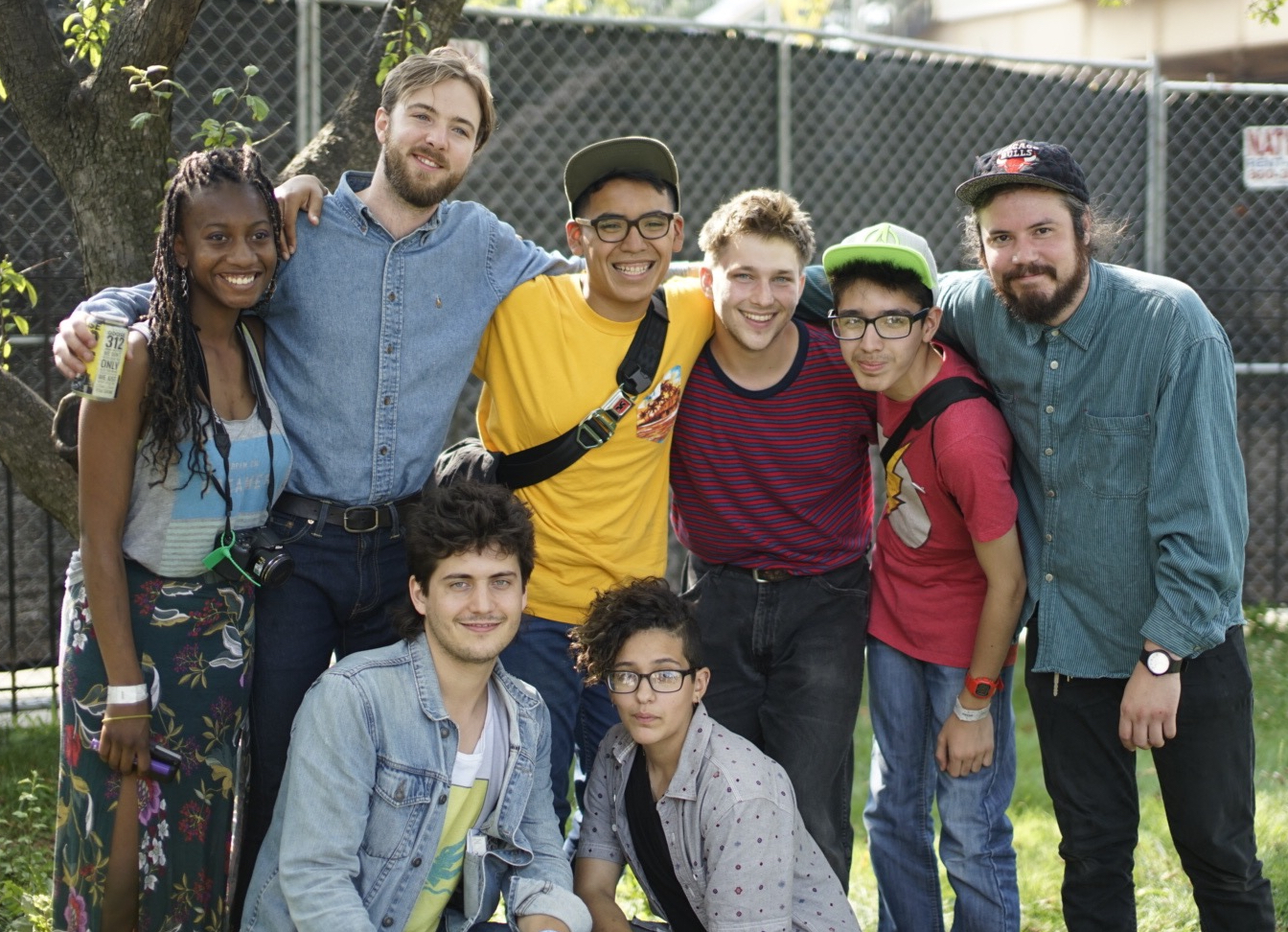 - - -
NE-HI are like the brothers that you never had. Their backstory is simple: a Harry Potter premiere. Yes, that's what actually happened! Well, just Alex and Jason met there. They sat in front of a group of women that literally spent the entire movie crying. The members of NE-HI have so much love and passion for each other. It's a spectacular scene: they rock, they jump, and they spread their energy among their audience! They have fun just hanging out with each other… even if they sometimes get a little out of hand. — Gus
- - -
JAMES WEIR: I'm James from NE-HI. I play base.
MIKEY WELLS: I'm Mikey, I play guitar in NE-HI.
JASON BALLA: I'm Jason. I play guitar.
ALEX OTAKE: I'm Alex, and I play drums.
CJ [826CHI]: All right. So NE-HI, I know you're local from Chicago. How does it feel to perform at Pitchfork and to the crowds of Chicagoans out here today?
JAMES: It's the best! It's the best. We've been looking forward to this for a minute. We were on a really long tour, and we had some time off and [we've] really just been practicing, getting ready for this. It's the best!
JASON: It's always good to be home because y'all are the best crowd. No one does it like us. No one does it like our city. People have fun actually, which is tight.
ALEX: We've just seen so many great bands the past few days, so many friends that are making really, really amazing music in this city, and it's a great place to be… creating music.
JASON: Yeah. And a lot of really cool people are playing today from Chicago, from a lot of different kinds of crews. It's nice that we can all have this common bond, or whatever.
CJ [826CHI]: Okay, why the name NE-HI? Who came up with this?
JAMES: Next question. [laughs]
KACIE [826CHI]: What's your why? What do you want to achieve every time you go out there on that stage and perform?
JAMES: Just like makin'… just trying your best to make the crowd feel you. Even as cheesy as that sounds, just givin' it all you've got. Yeah, I don't know. Just trying to put on a good show.
MIKEY: I plan on… like, if you can make somebody listening feel how you felt growing up… and [if] you see a band or hear a band and that pumps you up and you're like, "Oh, I want to do that! Or I can do that!" That's what it's all about to me –– if other people [are] diggin' it and are like, "Oh, that makes me want to form a band, or write some songs, or sing, or play an instrument, or something."
JASON: Yeah, it's definitely the mode of communication that makes the most sense for me. I've been interested in sharing joy with folks, and it's pretty cool to make an environment where everyone can feel open and good and free and… just have fun… with something that maybe has a little more substance than something else you might consume or choose as your entertainment.
ALEX: I agree with everything they all said. [laughs] No, I'm serious! I'm just gonna say that on a personal level it's also extremely cathartic to play live music and it also helps you to deal with personal… stuff. You get to let all of yourself go.
JAMES: Because he plays drums, so he gets to… it's one opportunity where it's actually okay to hit something.
ALEX: Yeah I just… smash 'em. [laughs] I'm not that angry at all.
CJ [826CHI]: Okay, going back to music: what's your creative process when you're making a new song together?
JAMES: I think that it depends on the song. We all come with ideas and then we all kinda jam it out and it's all pretty collaborative. Even if it's one person with an idea, we're all jammin' out. We all put our work into it.
JASON: You find one little idea and [then] we all start chasing that until it becomes something a little more concrete. And maybe someone can see down the path a little bit further and then that's where the shape of a song comes from. Someone being like, "Okay, yeah, I see what's here, and I can also see that I can come to this place right here," and then the pieces just fall into place.
KACIE [826CHI]: How did you guys meet?
ALEX: Um… me and Jason met at a Harry Potter premiere.
CJ [826CHI]: No way.
KACIE [826CHI]: Are you serious?
ALEX: Way.
JASON: Part 1, Seven.
CJ [826CHI]: That's why you guys are so awesome.
JASON: There was a group of women behind us that cried the entire movie.
ALEX: Sobbing for like . . . two and a half hours straight. [laughs]
MIKEY: We met at Hogwarts… we were all in different houses. And then we banded together––
JAMES: Despite our differences.
KACIE [826CHI]: What house do each of y'all belong to?
NE-HI: Slytherin. [all laugh]
MIKEY: I lived in Hagrid's cabin. I was the custodian. I was hanging out with Filch in like, the boiler room. [laughs]
KACIE [826CHI]: Growing up, what sort of music did you guys listen to?
JAMES: I was lucky enough… I had a cousin who was in bands who was four years older than me. So I got into music when I was like, fourteen, fifteen. He turned me onto The Smiths and Joy Division and New Order… like post-punk stuff. That was the kinda stuff that really made me passionate about tunes.
MIKEY: Mostly radio. I grew up in a smaller town, actually –– not Chicago. So classic rock kinda stuff, then I got into punk music and that was kinda… my own world.
JASON: I listened to Queen. And then I listened to pop-punk music. And then I was lucky to have someone in my life like James also had. When I was really young they showed me really cool, art-weirdo music that was happening in Chicago at the time. I threw all the other stuff out except for Queen and then I kept going.
ALEX: Uh… you didn't throw all of it out. [laughs] I had a really great musical upbringing with my parents. They had a great taste in music so I just listened to a lot of stuff that they were listening to in the '80s when they were younger, a lot of Echo & the Bunnymen and a lot of post-punk Bowie, Fleetwood Mac… yeah.
KACIE [826CHI]: As a band, what do you guys think is the biggest obstacle you've come up against?
ALEX: Recording our last record.
JAMES: … Or just being on the road. We get along really well, but sometimes being on the road is… sometimes shit just doesn't go right.
JASON: And that's stressful.
ALEX: And sometimes you sleep in the van and it's 97 degrees outside and you wake up and just yell at each other for no reason. [laughs]
MIKEY: Air conditioning. That was the thing that saved the band.
KACIE [826CHI]: It was really great getting to talk to you guys.
ALEX: Thank you so much!
- - -
826CHI's latest publication, And The Rest Is Noise, is a collection of interviews, photographs, and musings from 826CHI's annual Pitchfork Music Writing Workshop. 826CHI's Teen Press Corps –– comprised of four of Chicago's up-and-coming music and culture critics –– took the 2017 Pitchfork festival by storm with cameras and notebooks in hand. These young, burgeoning music journalists had the opportunity to talk with a wide array of artists, such as Angel Olsen, American Football, and Kweku Collins, about everything from political engagement and artistic inspiration to temporary veganism and the secret behind the perfect pair of vintage pants.