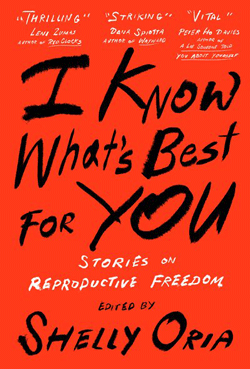 I Know What's Best for You: Stories on Reproductive Freedom, edited by Shelly Oria, is a multigenre anthology with a focus on the crisis of reproductive rights in the United States. The book's international supplement features sixteen additional works of fiction, nonfiction, and art by contributors from around the globe. Order the book, and receive the supplement, I Know What's Best for You All Over the World, free as an e-book. Editor and author Shelly Oria will be touring through the summer of 2022, joined by contributors to the book as well as many other writers and artists.
- - -
The Biting Point
by Sharlene Teo
Essay
Singapore and England

Walking back from the hospital on a sunless afternoon, you feel the new emptiness emanating from between your legs down to the tips of your toes. For five years you've lived with a small T-shaped plastic and copper device inside you, which prevented pregnancy without incident. Lately, however, as the device neared its expiration date, you started to experience cramping and visceral nightmares of it rusting within your uterus. "Breathe out sharply," instructed the nurse in a lilting voice. "There we go. Done." When she asked whether you wanted the IUD replaced, you paused and shook your head. If you have a baby next year (uncharacteristically, almost miraculously!) it will be classified as a geriatric pregnancy. In another five years you'll be forty. You remember turning twenty-one in a rented fuchsia room in Coventry, receiving a bouquet and a balloon sent by your parents in Singapore. Reading the card—You've got so much ahead of you, baby girl!—and crying. Slant of sunlight across a flimsy shoe rack crowded with Primark ballet flats and Thai knock-off Converse, that mauve carpet studded with cigarette burns. It feels as clear as last week. And yet—
- - -
Back in your twenties you were only politely acquainted with soul-bruising hangovers, and you and your closest friends scoffed at marriage and pregnancy. Those conventional markers of adulthood seemed primed for older and more financially competent people. Pressure felt far off, muffled from paycheck to paycheck. Every weekend was another party. Every mirror held no real worry. Every night you docked in charmed sleep until the polyphonic alarm. Month after month you bled gratefully, vividly, sometimes leaving dark islands on your mattress. You were never alone for long. Lovers came and went, from intimacy to idiolect, in-jokes to barbed retorts. Now you leave greater and greater gaps between relationships, both out of choice and no choice. Sometimes solitude is welcome, playful, illuminating. At other times, it's unbearable. You've started seeing a succession of endings as a pattern of interpersonal failure, aware of the self-fulfilling prophecy and yet—
- - -
Unless you're hurting, really badly, you often try to forget you even have a body, let alone a soul. Is this human nature or your own dissociative instinct? You don't know. "I don't know" is the most common phrase the immaculately coiffed actors utter across all seven seasons of Mad Men, what you've deemed Essential Lockdown Viewing during the first eight months of 2020, the loneliest of your life. You're not alone in this. COVID has us all by the scruff of our necks, and not everyone has survived. You are lucky, so lucky, you know. As far as bodies go, everything—touch wood—seems to be working fine. There's an Akhil Sharma quote you keep returning to every year: You think of your toe only when you stub it. What if, after having taken your own fertility for granted for years, you can't even bear children? You ponder the chilling, punitive irony of that. Living alone in strict lockdown, sexual choice morphs into speculative fiction. Smug accounts of socially distanced dates and chaste Zoom romances in the media make you want to hurl. From long-ago biology lessons you recall binary fission, that phenomenon of asexual reproduction: one organism splitting into two. Mother bacteria and daughter bacteria: eerie, identical. Pre-pandemic, you drowned out the ticking of your biological clock with bright colors, noise. You spent time with unsuitable people you couldn't remotely imagine having a child with, and it didn't seem to matter, all that time kissed away. Now, almost two years later, you think of time not so much as lost but hermetically sealed within the confines of your apartment; breath and bread and body growing stale.
- - -
There comes a point in your midthirties when your inward chuckling at millennial memes curdles into something else. Your parents have retired and softened at the edges. Something to do with less rushing around, less always having to provide. These days it feels easier to love them without reservation and more frightening and plausible to imagine losing them. Your aunts and uncles share health scares over the family WhatsApp group. They've stopped asking when you'll get married and have children. You are deeply ashamed when you can't understand most of what they type in long blocks of Mandarin. You have primary school proficiency. Your older brother and sister are freshly in their forties, but in your head they are forever teenagers, enviable and mysterious, sniping sarcastically over the dining table. You'll always be the youngest to them, always be one another's early witnesses, even if you barely speak. You tell yourself that if they have children or you have babies of your own, perhaps a new family member will magically return the three of you to that old, bickering intimacy, born from sharing the backseat of a car, going over the same bumps in the road.
- - -
Over drinks, you tell a friend that "cheugy" is a capitalist media construct shaming millennials into accepting that they are no longer the most desirable consumer demographic. Your friend rolls her eyes and says that sounds like dialogue out of Girls or Sex and the City. Someday soon these references will be totally obsolete. You think of that long, scary week in university when all your housemates had gone away and you were truly on your own for the first time all year. Your period was late, your relationship over: for days, you feared the worst. You weren't ready for consequences and big decisions. Wringing your hands in the dim light of that stuffy fuchsia bedroom, you watched countless episodes of Sex and the City and the US Office like a typical millennial, even though back in 2008 "millennial" wasn't a popular term quite yet. Your period finally arrived with all the fanfare and panicked relief of the very first menses. The more time passes, the less an unplanned pregnancy feels like the end of the world. Fun and family need not be mutually exclusive. Other people can raise little children and have pets and captain their fun, full lives at the same time. Instagram says so. It must be true. Two of your good friends gave birth this year. Not just a life event but a profound new way of living, to have carried and guided another body into the world. It's a lot. It's still more than you can imagine.
- - -
Your friends seem to fall into two clear camps around wanting to have children: "yes" (happy but exhausted, hands always full) and "hell no" (happy but exhausted, hands always full). It feels immature and isolating to be undecided. Where do you sit, with your "I don't know"? Tick-tock goes the clock with the dog face in your living room, where you do most of your worrying. Watching the Alien movies through your hands as a kid: wombs and mucus, the monstrous feminine. Bellies distending. The surgical steel of a spaceship. In Rosemary's Baby, Mia Farrow frets under her stylish pixie cut, spooked and vulnerable in the subterranean grandeur of her movie set. Arnold Schwarzenegger frowns quizzically and cradles his suited stomach in Junior. In Pan's Labyrinth, an enchanted mandrake root in the shape of a baby wriggles in a bowl of milk. It survives on drops of blood. In fairy tales babies are stolen and magicked away, bartered for fortune, swapped at birth. You live beside a primary school; at lunchtime the children flood the playground, shrieking. They sound delighted to be alive. Unironically jazzed about everything. Days fold into thin blue evenings; televisions flicker on in the block of the flats opposite.
- - -
Growing up in the nineties and noughties, you remember Singaporean government campaigns around family planning, the fear of overcrowding a small island. Sex-education classes preached abstinence through bad acting: a Chinese actress and actor make doe eyes at each other. He puts on Amelie, yawns and stretches his arm around her: kissing, they disappear behind the sofa. The suggestion of legs moving. Nine months later, she's carrying a baby and looking regretful. As a child, you didn't think about the laws around reproductive freedom. It didn't occur to you to pay attention. You were ambiently aware of the profound conservatism around you, the privileging of heterosexual marriage, the disapproval around premarital sex. But you didn't realize egg freezing for nonmedical reasons was and still is banned. In 2019, the National Council of Churches in Singapore called egg freezing a "profoundly selfish act because it sees career as more important than the interest and welfare of the child" and allowing it would have "profound social implications"; for example, encouraging same-sex couples and single women to have children. In 2020, Singapore's fertility rate hit an all-time low and the People's Action Party Women's Wing and Young PAP are advocating for a review of current policy to permit social egg freezing "within the confines of marriage."1 You are appalled by this but have lived away for so long you don't feel you have anything meaningful or substantive to say about it. You've internalized a voice in your head that tells you you're too Westernized, too liberal, to really understand what it's like to live in your home country anymore, you're too scared to be angry about it.
- - -
The older one gets the more one has to really want a child in order to bring it into the world. There's IVF and its extortionate costs, injections. Freezing your eggs is expensive as well, renewing them every year like a library membership. Borrowed time. You've never asked your parents why they decided to make you exist, six years after your siblings. It's just what people did in the late eighties. With the generational shift comes the illusion of choice, but the societal pressure to procreate hasn't truly abated. We all want to feel useful. We all don't want to die alone. We all want to be more than fleetingly remembered.
Is a life unwitnessed just as full and rich a life? You don't know. Tides and periods are the effort of the moon. Our bodies swell or shrink or harden based on what we put in our mouths and put ourselves through. Bodies are both deeply funny and gravely serious. Something foreign in the skin, a lump or a mole, could be a warning or mean nothing. Some people believe toxic feelings metastasize into disease. Other people believe in magic water. Some days you feel as though your brain is dissolving. Other days slip down as easily as ice cream. You remember learning how to drive in Norwich a whole decade ago, how you kept stalling the car every time a dog appeared on the road. Half-listening as the instructor explained something about the biting point, something about clutch control, something about checking mirrors. Looking straight ahead, fretful and tense, you never finished your lessons.
- - -
1 https://www.channelnewsasia.com/singapore/in-focus-social-egg-freezing-women-2137286
- - -
Sharlene Teo is a Singapore-born, London-based author whose debut novel, Ponti, won the inaugural Deborah Rogers Writer's Award. Her writing has appeared in publications such as Granta, Vogue, and the Guardian.
- - -
See in our store
Order I Know What's Best for You: Stories on Reproductive Freedom and receive the book's international supplement, I Know What's Best for You All Over the World, free as an e-book.