Download Wajahat Ali's The Domestic Crusaders
The tenth anniversary edition of Wajahat Ali's The Domestic Crusaders is out now, featuring a new foreword by Hasan Minhaj and an introduction by Ishmael Reed!
The Domestic Crusaders focuses on a day in the life of a modern, Muslim Pakistani-American family of six eclectic, unique members, who convene at the family house to celebrate the 21st birthday of the youngest child. With a background of 9-11 and the scapegoating of Muslim Americans, the tensions and sparks fly among the three generations, culminating in an intense family battle as each "crusader" struggles to assert and impose their respective voices and opinions, while still attempting to maintain and understand the unifying thread that makes them part of the same family.

You can purchase the new edition here, or download the original free of charge here.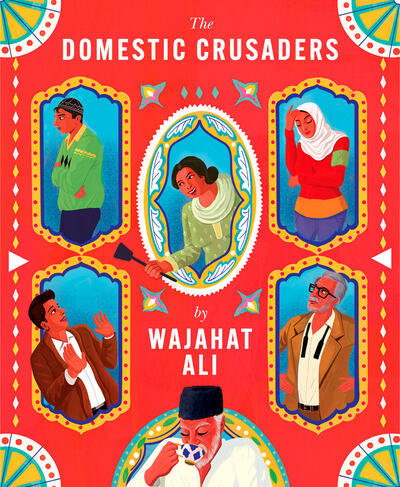 To read about Wajahat Ali and the thriving Bay Area Muslim arts scene, check out this New York Times piece.
Praise for The Domestic Crusaders:
"This play is brilliant. Moving. Shapely. Clever. Funny."
—Toni Morrison


"Wajahat Ali is writing about contemporary and essential matters, a source not only of laughter but, more importantly, of understanding."
—Yann Martel, author of Life of Pi


"The Domestic Crusaders is exactly the sort of theater we need today. The gulf that separates cultures must be bridged and Art is one of our best hopes."
—Emma Thompson


"At an age when American pop culture too often reduced Muslims and South Asians in America to harmful stereotypes, Wajahat's work stands apart by being 'ordinary.' He invites us into the home of an ordinary Muslim Pakistani American family where readers of any background will recognize complicated, universal family dynamics—from how we gather around the kitchen table to how parents just don't understand. But the conversations and struggles of this typical family are wound up in global events bigger than any of us, hitting important, emotional, and nuanced subjects too often missing from the discourse. A decade after its initial release, Wajahat's work is still relevant as ever."
—Meena Harris, founder of the Phenomenal Woman Action Campaign


"Smart, funny, and heartfelt, The Domestic Crusaders is a relentless and very personal examination of a deeply confusing time."
—Mohsin Hamid, author of Exit West


"Honest and wrenching, charming and real, The Domestic Crusaders gives us a glimpse into the life of a Pakistani family, and all the beauty and ugliness therein: from deep love and faith to abhorrent prejudice and self-hatred, offering a picture that is hilarious, unsettling, and eye-opening, all at once."
—Sabaa Tahir, author of An Ember in the Ashes


"In the tradition of great American family dramas like A Raisin in the Sun and August: Osage County, Wajahat Ali's The Domestic Crusaders is a harrowing and hilarious play about three generations gathering under one roof. As tender as it is tough, the play explores the tensions and struggles within a Pakistani family and what it means to be Muslim in America. Aspiration slams against expectation; tradition wrestles with assimilation; and secrets bore their way to the surface. Set in the wake of 9/11, The Domestic Crusaders manages to feel bracingly relevant and more necessary than ever."
—David Lindsay-Abaire, author of Fuddy Meers and other plays


"The Domestic Crusaders is a story about a family, but it is much more than a story about a family. Every character captures the psyche, the baggage, the impulses, the hopes, and the fears of the South Asian American Muslim community. I recognize thousands of my family and friends in each of these characters, and it is truly remarkable that Wajahat Ali has been able to capture such wide-ranging, and often contradictory, personalities and perspectives in a matter of two acts. He also deftly uses humor to cushion tough discussions on civil rights, faith, history, belonging, and yes, even fat shaming, a most persistent part of our culture. The Domestic Crusaders will make you laugh, but when your laughter fades, you'll be left with lessons on what 9/11 and the years subsequent did to the identity and aspirations of an entire community. I can't help but wonder where all these characters are today, and who and what they've become in the years since. I hope Ali one day reveals this to us."
—Rabia Chaudry, attorney and author of Adnan's Story


"From the deft irony of its title to the tender pain of its ending, The Domestic Crusaders is a moving story of one Pakistani family in America. But it's more than that. By engaging us in the family's conflicts, loves, fears, and secrets, the play dissolves the easy assumptions and prejudices of the post-9/11 West. Touching; funny; important."
—Harriett Gilbert, BBC World Service


"A multi-generational romp through the dynamics of family relationships and post-9/11 America. The characters in Wajahat Ali's funny and biting play spare no one from their sharp barbs—including fellow Muslims. The Domestic Crusaders is what all high art aspires to do—spotlight complicated truths (and contradictions) without offering easy answers. Tension overlaps with comic relief. American pop culture intermingles with Pakistani traditions replanted in the United States. The Domestic Crusaders is a universal story about people whose dreams have carried them to a point of no return. They can't go back to their lives before 9/11. There is only now. Watching them deal with it is to be spellbound from start to finish."
—Jon Curiel, San Francisco Chronicle


"Domestic Crusaders is more than just a work of entertainment. It is also Ali's response to the treatment of Muslims received in the aftermath of the terrorist attacks of September 11… it is compelling drama, and there is intergenerational conflict, humor, prejudice, and a dark family secret. The characters, in other words, are not paragons of virtue, which is intentional."
—Ellis Cose, Newsweek


"Consider The Domestic Crusaders an introduction to a new American Muslim cool—sharp and ironic, funny and deep, running intellectual circles around the idiotic platitudes of bigotry."
—The Accidental Theologist