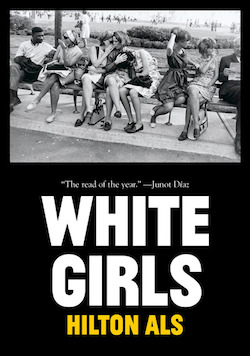 - - -
White Girls, Hilton Als's first book since The Women fourteen years ago, finds one of the New Yorker's boldest cultural critics deftly weaving together his brilliant analyses of literature, art, and music with fearless insights on race, gender, and history. The result is an extraordinary, complex portrait of "white girls," as Als dubs them—an expansive but precise category that encompasses figures as diverse as Truman Capote and Louise Brooks, Malcolm X and Flannery O'Connor. In pieces that hairpin between critique and meditation, fiction and non-fiction, high culture and low, the theoretical and the deeply personal, Als presents a stunning portrait of a writer by way of his subjects, and an invaluable guide to the culture of our time.
Today we offer an excerpt from White Girls. To purchase the book, please visit our store.
- - -
I loved looking at him. I loved listening to him. In 1999 he said about me to me: "You have infant schema. Children and animals will always love you." In 2000 he said: "The downside about what you've written is the special pleading angle. You're not greater than the subject." In 2001 he said: "Are we codependent? Beyond." He also said: "I don't care." In fact, "I don't care" was his most frequently spoken phrase. That was the worst kiss ever, I don't care. I'm so glad you like my pictures, maybe the world at large will never see them, I don't care. From 1999 on I wondered how I could make him care. I saw our twinship dissolving in words I could not control, words that stressed SL's Billie Holiday, don't-careish attitude, even as my I stressed itself on page after page. Neither of us could stop himself: by 2002 we were breaking out of our we casing through an explosion of self-expression, and the disavowal of self-expression the world would not look at his pictures, and his love, the world, would see me no matter how much I tried to hide in my universe of stage sets and the crud behind it. I would not leave him, and yet he felt I had already left him, the words were going out into the world more and more frequently from 2003 on, even as I loved SL's pictures, body, and voice, more than my words, and always more and more; but that wasn't the point, the attention I received wasn't happening to him, and in any case, SL implied, as our talk went on, even as it dried up, that, as an unreconstructed seventies lesbian, the commercial world of magazines and praise was corrupt, why would I want any part of that, why care, I don't care.
Blame it on capitalism. Despite SL's Laura Nyro–like abhorrence of business and his utterly touching and captivating struggle with modesty, he tied himself up—as he tied himself up in a Comme des Garçons shirt, or lovely turban—in a debate about the meaning of his I, the ego as a form of aggression. He would not put that fellow— his I—forward; he gave SL the spiritual creeps. And yet there was his I, who was a superior artist, and art must be seen for it to matter to other people. In any case, what colored person has ever handled attention well? For years there was no Michelle Obama. And the colored people we saw become famous—Jean-Michel Basquiat and the like—could not reconcile all that love with their former degradation. I could not handle the attention I received for my writing; it was not separate from SL's relative invisibility on the art market. Despite the fact that SL always married stars who knew he was a star, the world can absorb only the obvious, and for whatever reason I was more obvious to the world at that time than my twin, the same as me, only different.
SL's struggle for recognition became my own. I didn't mind. In fact, I loved the process. It all felt like an Earth, Wind & Fire song, full of effort and hope. One helps, and there is sometimes less of oneself, or one's I in the effort. SL and I were comrades, we would get through it, the world would love him as much as I did. But the world would not. Once, after we became friends and SL moved on from the weekly where we met to a magazine that was part of a big, lady-centered corporation—they published magazines whose major themes were weddings, eyebrows, and the like—SL would describe how few black men worked there, and how they never talked to one another. Some time later, I got a job at the same company—by then, SL had quit to pursue his own work—and as he waited in the lobby for me one day, SL looked on as I talked to two black men who worked in fashion. As we walked away, SL exclaimed: "Oh, my God, when I saw that, I couldn't believe the building didn't explode!" Presumably the city's cultural life—which, after 1980 or so, was dominated by white female gallerists, curators, critics, and the like—would have exploded if it had accepted SL's photographs and video work along with my praise, and that is how they treated him: as being too much. In 2001 his pictures were too much. In 2002 his appearance was too much. In 2003 his morals showed people up too much. Where was this man of high principles supposed to fit in the highly unprincipled worlds of art and fashion that he aspired to and disdained, a world where success was based as much on personality, body type, and eye color as it was on any recognizable skill (sometimes more so)? And by aspiring to those worlds, was SL not returning to Europe in a way, hankering to love that which he could not be, which is to say a white woman?
Since I have always preferred to live in the next generation of hope, it was the children of those art-world ladies who worried me. Living in their male-identified world of having it all, the mothers who toiled in the corridors of photography and literature and the like couldn't be bothered with feminism because what is feminism but humanism; they didn't want their children—particularly their girl children—to make the mistake they'd made at Brown or Yale or Berkeley or whatever, which is to say believing feminism and thus humanism had any value at all, and would get them anywhere in this stinking world. So they let their daughters say whatever they wanted under the guise of free "self-expression," but what amused those mothers—the same mothers who would not mother SL's longed-for career—was listening to, and watching, their daughters' aggression. One such little girl told me that if I shaved my beard, I'd look like CeeLo Green. Another little girl told her mother that she didn't like the way I smelled. Another asked how I could be happy, considering that I looked like a gay Unabomber? These were the children of the mothers SL longed to kiss, and protect, even as my wounds would not heal and shall never heal because now I have the hatred of a white woman and if SL doesn't think his unconditional love of them and ultimately wary love of me didn't contribute to the immense loss of our love, he's crazy.