Susan Straight's Between Heaven and Here was inspired by the people and places of Riverside, California, Susan's long-time home. Here, Susan explains some of the real-life stories behind the novel, accompanied by images from the photographer Douglas McCulloh (douglasmcculloh.com).
- - -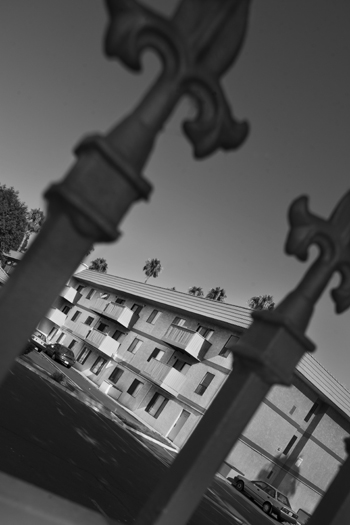 I have a handmade book on my desk, where I write. Six little pumpkins sitting on the fence—one fell off and how many left? My middle daughter made it in kindergarten. Her name is printed carefully on the back. She wrote those letters fifteen years ago.
This is the month, when the leaves turn lime and gold in September, that I met Deon. On Mondays I volunteered in my daughter's classroom. My job was to help with scissors and glue, making a "book" of jack o-lanterns. Five little pumpkins sitting on a fence—one fell off and how many left?
Deon became my charge because I tied his shoes and talked to him. His sneakers were dusty hand-me-downs the size of bread loaves on his small feet. Kindergarten seemed exhausting to him. All the listening, and gluing, and reading—he would listen if he sat on my lap.
One afternoon I walked him to the parking lot with a bag of used shoes. His grandfather was there—an elderly man with fingers thin and dark as licorice. He said his daughter lived in an apartment building three blocks from my house —down the arroyo.
During recess a few weeks later, Deon kept tugging at the waistband of his jeans. I asked if he had to use the bathroom, but he shook his head. He lifted his striped polo shirt absentmindedly to scratch, and I saw burns on his lower belly.
I almost threw up.
"Hey, little man, let's go inside and put some cream on that ouchie," I said, trying to keep my voice casual. "Does it hurt?"
My daughter and her friends came running up to say, "Why is Deon going in?"
"He's got an ouchie."
Inside the nurse's office, he said, "A pot of soup fell on me." When she unsnapped his jeans, there were round pink burns like rosettes lower down. That was not soup. That was cigarettes. I had seen those burns on friends and strangers. You can't mistake those puckered flowers.
"You can go now," the nurse said, and she twirled him away by his narrow shoulders.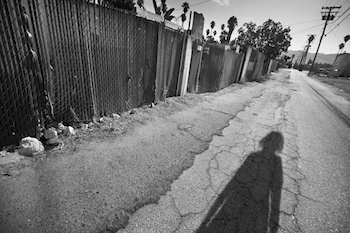 Child Protective Services was called. His grandfather said it was soup. His mother said it was soup. Deon said it was soup.
I met his mother in October, in the parking lot. She was about my age, and she looked vaguely familiar—had we seen each other in school, at a football game or a dance? She smiled at me gently and said, "You gave him all those shoes?" I said I had ten nephews around his age. I said it was hard to see Deon in pain after the spilled soup. She smiled again and said, "I don't know how it happened."
In November, I took her a frozen turkey, clothes, and books. At the blue-stucco apartment, Deon was on the second floor balcony. He opened the door. His mother sat stiff on the couch, with the same smile. Two men sat in chairs, assessing me and my daughter. The living room was nearly bare. I put the bag on the formica counter, and she got up so we could talk briefly about turkeys.
After the holiday, Deon didn't come back to school. We never saw him again.
He would be twenty-one now. My daughter is twenty-one. She read the pumpkin book, and then the snowflake book, and in spring, the daisy book. How many petals are left on the daisy? She went to college.
Every day I drive past that apartment—I don't even know if he's still alive, or if that's him hanging out at the complex across the street from his old house, leaning off the balconies, watching me drive my youngest daughter to school.
All I did was give his mother a frozen turkey, which she looked at as if it was space debris. The utter ridiculousness of a gift requiring defrosting, cleaning, stuffing, and roasting for hours hadn't occurred to me. I have never brought anyone a frozen turkey since. I give cooked hams.
All I did was imagine him. I wrote a novel about a boy punished for not smiling at a stranger in an apartment, about his beautiful mother who didn't know the cigarette had happened. I did not write the truth. I invented a man, and the burns were on the boy's back because I couldn't bear to think that someone could look at a boy's face while that happened.
I would cry some nights and think, "What good is it to write him?" I didn't save anyone. Even to write this feels selfish. His mother was like some of my childhood friends—beautiful and gently vacant and always apologetic. I rarely saw the men, the ones who make the rosette burns and the snapped-twig wristbones.
Last week, someone asked me if writing about a child is like an exorcism. No—that means a spirit is cast out and sent away, right? I still think of this boy all the time. Someone else asked if it was a way of honoring him. No—he would never know he was in a book, and he still has the scars. Maybe it's only remembrance, private when we write the paragraphs, but public when the story is printed and held in a hand.
Readers have written me letters and emails. "Your book made me cry. I cried when he talked about his scars. I cried looking at my son in his crib."
And my daughter called me one night three years ago—it was the first time she'd read one of my books. "You made me cry," she said. "I guess you're right—that's your job. That's a terrible job to have." Then she hung up.
Last week she was home. She told me with some heat that she didn't remember the burns. Of course she didn't. I never told her, back then—how could I say that a boy who sat next to her had been tortured and scarred? They were both six years old.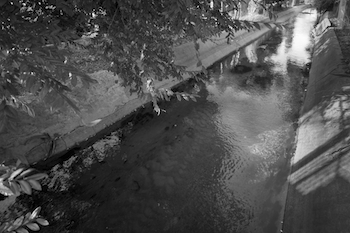 Why do we write fiction? Who do we try to immortalize? I sit on my porch in the dark and write a character like him. I write by hand. This is my notebook. This is Deon's name, written fifteen years ago. This is where I wrote this story.
Story keeps us around the kitchen table, around the fire, it keeps us in the yard late at night, it keeps us at the bar when we should be going home. It keeps us human.
I got a letter recently from a woman who'd read the novel. Her only daughter died of cancer at twenty. She gave my own daughters the timeless dresses of that ballet dancer girl. She said my book made her cry. I sat on my bed and thought about Deon, about a lot of the children I've known. I didn't cry. I just saw all their faces and hands and knees and the parts in their hair and their braids and even their teeth, and I remembered a lot of what they said, in great detail and as if they were still here.