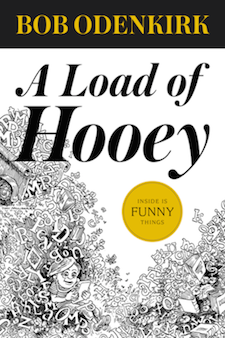 - - -
A Load of Hooey, Bob Odenkirk's debut collection of funny things in book form, is now just twelve days away — and today, to herald it, we bring you a soul-baring conversation between Mr. Odenkirk and Eric Hoffman and Gary Rudoren, the authors of the genre-defining Comedy by the Numbers. You can preorder Hooey here, and/or you can order the Load of Comedy Bundle to receive Hooey and Comedy By the Numbers. Also, in the coming weeks — if you live in Albuquerque or Seattle or LA or one of several other places — you'll be able to catch Mr. Odenkirk on tour, as well. Don't miss this one!
- - -
Mr. Odenkirk, you've put together a real pile of pages here. Professional congratulations to you! It's rare that we see so many great Comedy Numbers in one location—everything from a #24 (Funny Cursing) to a #130 (Subtlety/Understatement). They're all here! Is there a number you haven't done yet?
I would say "69," but only to get a laugh from certain less-than-savory readers in attendance. I try to use all the numbers when making comic expression—after all, comedy is math, and math is one of the building blocks of numbers, and vice versa, ad infinitum, etc.
Will comedy ever make a comeback?
Comedy has had its day, and what a day it was—a taste of everything from Foster Brooks to Dean Martin! If you put all comedy end-to-end and watched it without stopping, you would find literally hundreds of things to laugh at (852, to be exact). Nowadays, though, with singing contests and modern warfare, comedy must take a "backseat" to some pretty wild "frontseat" drivers in the "car" of entertainment we all call "showbiz."
Who is your comedy muse—and do you text her often?
Frangella the Italian pimpernel. She is a talking flower I purchased from a hippie at a roadside apple stand. She won't shut up, but she inspires my greatest comic confections.
If you were going to steal a comedy idea from someone, who would that be? (We promise not to tell.)
The Three Stooges.
Were you named after Bob Newhart or Bob of Bob & Ray?
Bob Gable, Clark Gable's dunderheaded cousin and background artist extraordinaire.
Have you been contacted by the lawyers representing the producers of the XXX-rated film A Load of Hooey for copyright infringement?
Twice. I have been successfully sued and am no longer liquid.
Your book includes many helpful unabridged quotations that act as inspirational hors d'oeuvres to the book-meal the reader is eating. How was it working with such other esteemed authors as Thomas Aquinas, Socrates, and Coco Chanel?
Aquinas was a dream—chatty, warm, convivial (and a dainty eater). Socrates was too touchy-feely—had his hands all over me. And Coco Chanel was exactly what you'd expect—a bloated bag of poison.
- - -
You can read the first short interview with Bob here.