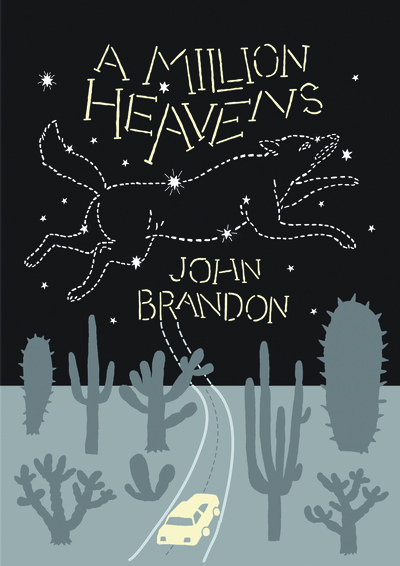 - - -
On the top floor of a small hospital, an unlikely piano prodigy lies in a coma, attended to by his gruff, helpless father. Outside the clinic, a motley vigil assembles beneath a reluctant New Mexico winter—strangers in search of answers, a brush with the mystical, or just an escape. To some the boy is a novelty, to others a religion. Just beyond this ragtag circle roams a disconsolate wolf on his nightly rounds, protecting and threatening, learning too much. And above them all, a would-be angel sits captive in a holding cell of the afterlife, finishing the work he began on earth, writing the songs that could free him. This unlikely assortment—a small-town mayor, a vengeful guitarist, all the unseen desert lives—unites to weave a persistently hopeful story of improbable communion.
Upon the release of John Brandon's last novel, Citrus County, the New York Times declared that he "joins the ranks of writers like Denis Johnson, Joy Williams, Mary Robison and Tom Drury." Now, with A Million Heavens, Brandon brings his deadpan humor and hard-won empathy to a new realm of gritty surrealism—a surprising and exciting turn from one of the best young novelists of our time.
Today we offer an excerpt from the book. To purchase A Million Heavens, please visit our store.
- - -
DANNIE
She was up early, making breakfast for Arn, frying a pound of bacon and cutting up fruit. She had coffee brewing and she was going to put out an expensive bar of chocolate. The sliding door stood wide open, dry air washing in. Soon light would pour over the horizon and find dannie's balcony. The sun would arrive after the dawn was long done, dopey, drifting upward like a child's balloon.
dannie had moved to New Mexico about a year ago. She had lived in Los Angeles and now she lived in a town called Lofte in the middle of a desert basin, on a road once known as the Turquoise Trail, in the condo of a trucker. The condo was full of the trucker's belongings—books about addiction, auto racing memorabilia. The trucker was around fifty, dannie gathered from the pictures on the walls. The condo had a bunch of magnifying glasses and pairs of binoculars and a telescope. The telescope had been out on the balcony when dannie had moved in and she'd left it out there, slumping toward the scruffy fairways of the golf course that bor- dered the condo complex. The course was out of business and full of rabbit holes. dannie sometimes gazed at the sky, but often she zeroed in on aban- doned golf balls and read the tiny print on them, the handwritten initials.
dannie had come to New Mexico after her divorce was final. She didn't know whether to feel sensible or insane. She'd come to the desert planning to stay a month and return to California recharged, but a month had passed and then eleven more had slipped away and dannie couldn't bring herself to go back to her old life. Her old life wasn't there anymore. She had a job she could do anywhere and a balcony to linger on and she was getting enough sleep, which all seemed sensible, but she was doing one thing in particular that a sensible woman did not do: she was trying to get impregnated by some young kid she barely knew. She'd gone off the pill and she hadn't told Arn. She'd met this guy two months ago and he was practically a teenager and now they were living together and she was trying to conceive his child. Of course, it didn't ever have to be his child. If dannie got pregnant and didn't want Arn to know anything about it, she could always break up with him and leave the area. She doubted Arn was attached to her. He was dazzled because she was older, but he wasn't attached. He did whatever dannie told him to do, but there wasn't much he'd do without being told. He would rub her feet for a full hour if she told him to. He was attending a vigil with dannie for a boy genius who'd fallen into a coma, spending one of the two nights off work he had each week in a parking lot because dannie had told him she wanted company, because she couldn't stand to lose a night with him. dannie couldn't tell what Arn thought of the vigils and she wasn't going to ask. There was no talking at the vigils, and talking about them on some mundane Thursday afternoon wasn't something dannie was going to do. Arn didn't like for anyone to be upset, and if he quit, he knew, dannie would be upset. He would probably attend every vigil till kingdom come rather than get into an argument.
dannie pulled the last of the bacon out of the pan and rested the strips on top of the others, a paper towel layered in between. She got syrup and ketchup out. What Arn did was put the bacon in the middle and put a saucer of syrup on one side and a saucer of ketchup on the other and alternate strip for strip. Arn struck dannie as a carrier of desirable sperm not because he had lots of dazzling positive attributes, but because he had no negative ones. dannie had come to believe it was more important to not be an asshole than it was to set the world on fire. Arn wasn't stubborn, moody, jealous, fickle.
It was a few minutes till six. dannie missed Arn in an embarrassing way, the way teenage girls and old women missed men. Lately she'd been breaking down crying at songs on the radio. And she craved gossip all of a sudden, something she had no dependable way to get because she no longer had any friends. She'd had friends in L.A. but she hadn't spoken to any of them since moving to New Mexico. She wasn't angry with them, hadn't gotten into a spat or anything. She'd simply stopped calling them back or answering their e-mails. She'd opened a new e-mail account and had stopped checking her old one. dannie had felt powerful and brisk, be- ing able to stop friendships in their tracks like that. She'd isolated herself, had broken ties with L.A. Now, she knew, she was approaching the point of no return. If she didn't get in touch with her friends to let them know she'd met a twenty-year-old kid and was trying to get knocked up, she'd never be close to any of them again.
She knew she was not going to call them. Something was wrong with her. She was going to let her friendships dry up and blow off. She was going to stand by and allow that to happen.
- - -
To purchase A Million Heavens, please visit our store.