This week, our beloved authors are wielding their words in order to ease your shopping indecision—yep, it's Authors' Choice Week! Every day we'll be running an article on the Tendency, in which a McSweeney's contributor highlights their favorite McSweeney's items. And to top it all off, we're taking their picks and turning them into deals-of-the-day at the McSweeney's Store. We encourage online window shopping, if only just to behold these once-in-a-lifetime deals.
Today, December 13th, Rebecca Lindenberg, author of Love, an Index is doing the holiday shopping for you. And we've got the editors of Believer chiming in, too. There is so much advice contained in the text below, you will not be overwhelmed by the options, you will be overcome by the warm feeling of having made some solid decisions. Here are today's McSweeney's Store picks, starting with Rebecca Lindenberg:
YOU CAN FIND MOST OF THESE ITEMS FOR 50% THEIR COVER PRICES AT THE McSWEENEY'S STORE TODAY AND TODAY ONLY!
- - -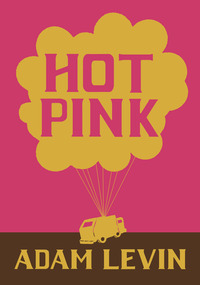 by Adam Levin
I heard Adam Levin read from Hot Pink, his splendid short-story collection, in Chicago in the spring. So of course I had to have the book, which is the perfect marriage of zany wit and genuine insight. Levin's stories vibrate on a high frequency – with one speaker's anxiety about how he'll be perceived because of the unfortunate jeans that misrepresent the actual appearance of his girlfriend (welcome, new word: "overpuss"), another character's tremulous eagerness and confused misreadings of what exactly are those inimitable mannerisms that make a person cool, and a father character who talks that way because "that is how a schmuck talks". Writer George Saunders once described good fiction as "life, plus ten percent". Well, Hot Pink is not how a schmuck talks. It is life, plus ten percent.
- - -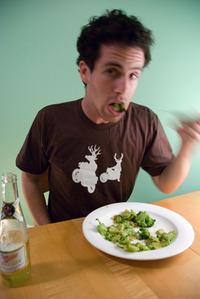 by Toph Eggers
Ditch the sleigh. This is not your mom's reindeer sweater. But it is a pretty rad alternative.
- - -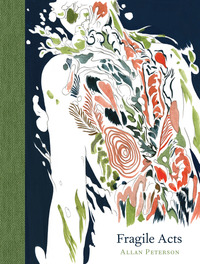 by Allan Peterson
I thought being published as the inaugural author in the new McSweeney's Poetry Series was an honor. But to that huge, humbling distinction McSweeney's then added this one: I get to be published in the company of Allan Peterson, whose book Fragile Acts is a marvel of mindful observation, keen insight, uncanny imagery, and what Ezra Pound called "the dance of the intellect among words." Allan writes, "We could see how many pot shots had missed the moon,/ heard how many frogs made the sound of water for the lake/ We saw the sign of cupped hands, the hearth stones/ the three-starred belt, the sword of Orion containing a galaxy." In a way, each of these poems contains its own remarkable galaxy—and with characteristic humility, Allan has sort of hidden one of my very favorites at the end, in the "Acknowledgments" section, which begins, "I'd like to thank the bird that was not one/ but a reflection from the glass door opening outward" and goes on to thank "jellyfish ascending with a pulsing motion/ that soothed me, being such a pushover for love." I am a pushover for love. And I am a total pushover for Allan Peterson.
- - -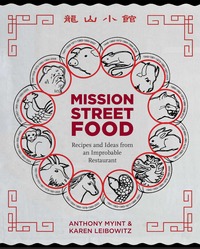 by Anthony Myint and Karen Leibowitz
Admit it: Nothing is better than food. And if you love food, you love the food in San Francisco. And if you love the food in San Francisco, you are probably (if you are like me) especially fond of the food in the Mission District. And in the Mission there is a couple on a mission, and that's sort of what Mission Street Food is about. It's about this little hidey-hole of an improvised restaurant where Anthony Myint and Karen Liebowitz are cooking up delicious mischief. But even the Man wants a helping. If you thought that the Slow Food movement was getting, you know, slow, or if you thought you couldn't make delicious Salt and Pepper Shrimp in curried pork fat at home, or if you are a little tired of cookbooks that handle their recipes and their readers with kid-gloves, or if you just like a good read about and including food—or if you know someone who does—the combination of narratives, manifestoes, comic-book-style recipes, and photos (including helpful, alarming photos of what it looks like when you're doing it wrong) will help you make this a delicious and sustainable holiday.
- - -
And now from the editors of The Believer…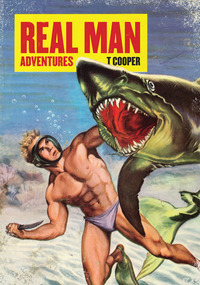 T Cooper
Back in February 2011 we published T Cooper's "So There's This Man," an essay so raw, so funny, so sweet and balls-out and angry and full of love that we couldn't get it of our heads. Luckily it came to be germ of a whole book, Real Man Adventures, which on top of being an assumption-shattering and radically honest and occasionally very funny account of T's female-to-male transition also sports a cover featuring a be-Speedo'd snorkeler punching a shark in the face.
- - -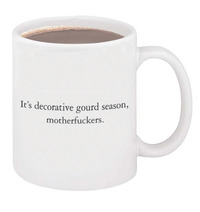 by Colin Nissan
We swear a lot, and we fucking love seasonal decorations.
- - -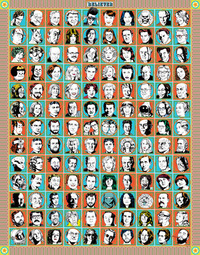 by Charles Burns
Wouldn't you like to have Kafka & friends gaze longingly at you while you make your bed, do your laundry, or prepare tofu scramble? If so, we recommend purchasing our Believer Faces Poster featuring 130 famous faces drawn by Charles Burns, who we've been proud to call our cover artist since our inaugural issue.
- - -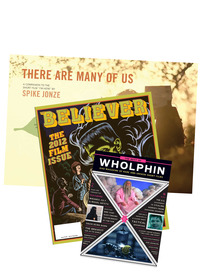 Featuring Spike Jonze's There Are Many of Us, Wholphin, and The Believer 2012 Film Issue
At $199,950 less than film school, this bundle is a bargain. Perfect for cinephiles and aspirants alike.