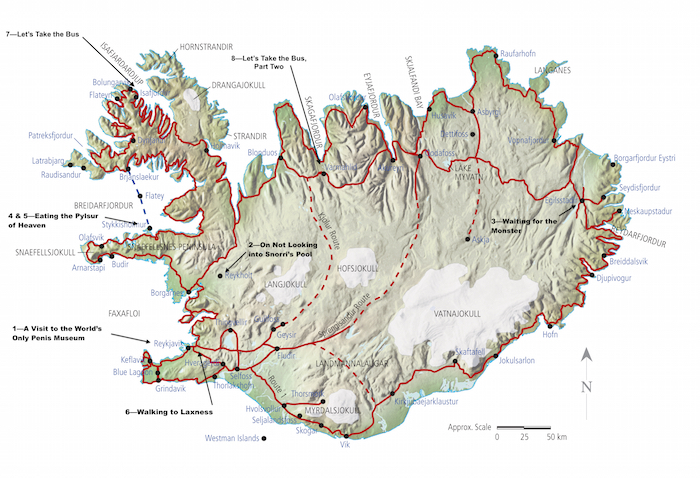 - - -
[Read Part One here.]
- - -
Well, that was a rough day for all of us, that bus route from Brjanslaekur to Isafjordur with the Neatnik driver, but another hard day was ahead, another bus ride that would take Scott and me to the outer limits of human endurance. We made our long walk into the wild Hornstrandir, recovered for a day in Isafjordur, a day in which news came in from Scott's wife back home in Oregon that their young daughter was in general defiance of parental authority. She was living in the middle of those yeasty years when the body is a riotous cacophony. Or a cacophonous riot. (It's a matter of personal preference which way to put it.) Either way, under such conditions, parental authority is what you're going to defy. But little Scott could do from our position so far off in barren wind-swept lands, just a wee shy of the Arctic Circle. He bore that troubling news like a champ on our route from Isafjordur to nearby Sudavik (the first ten-kilometers we walked; the second, a friendly motorist gave us a ride) to have a look at the Arctic Fox Center, where there were no arctic foxes but rather people who like arctic foxes, and a café where I enjoyed a coffee and a portion of rhubarb cake before we caught the bus to Akureyri, the centerpiece of human life in the north of Iceland.
From Sudavik, Akureyri is due east, but we would have to ride the bus south, to Borgarnes where we had already been, and then transfer to another bus to take us north and east on the Ring Road. Our route was shaped like a check mark, and a long one at that. We would not get in until near midnight, at which point we would still have to find the city campground, set camp, cook dinner, and then have a little nip of something to take off the edge before we could rest. And so you see what I mean about trains (see "Taking the Bus, Part One"). If we were riding the rails all this way, it would be a genuine pleasure, walking about from one car to another, looking out various windows onto the wild lands, then sitting in the dining car, dining, and having a little nip of something to take off the edge. But, alas, Iceland has no trains.
Despite what Ester Rut Unnsteinsdottir, head of research at the Arctic Fox Center, had told us in the café—"People don't come to Iceland for sun; they come for other reasons."—on that day, we had the sun, and gloriously so. She also told us a dead orca had washed up on the beach not far from where we had camped in the Hornstradir, but that the foxes had to wait for it to rot before they could eat it, as their little teeth were no match for its tough hide. Well then, the bus pulled in, and we hopped on in the spirit of innocence and adventure, our packs well-provisioned with stove and stove fuel, cookable food, water, spirits, and a few tasty sweet granola bars which Scott called "snacky food."
The route out of the Westfjords followed the shoreline of a series of fjords off Isafjardardjup, in and out, out and in, like tracing the outline of the fingers on your hand, the way you must have done in grade school to draw a turkey on Thanksgiving. A young French couple, our only company, she a quiet beauty with her dark perfect skin and her really nice backpack, and he, a rugged, modestly handsome fellow, if not a bit on the small side, and wiry like a climber, who smoked each time we made a stop. We rode it out, all of it, and whatever the tedium of such a road, that sun coming off the palace of the waters, that blue sky and those long slips of blue inlet and outlet to the sea, the rolling soporific solipsism of the ululation of the road: now that made the day a day to build other days upon, as McCarthy said.
Our driver picked up a plump button of a girl along our route, who took the jump seat next to him, that little seat in front of the great eye of the windshield reserved for tour guides who offer history and jokes to passengers. She spoke only to him, however, and in Icelandic, a long and uninterrupted string of words entirely unintelligible to me. Perhaps it was for the best, she talking on the way she did, with all that warm sun striking our driver in the chest, as it would have been difficult to stay awake, something Scott and I wrestled with, nodding off from time to time.
But this is the not driver about which this story is. He is approaching, even now. Just you wait.
Near 8:00 pm, we reached Borgarnes. Our driver showed us to the next bus, the bus now headed on to Akureyri, a distance of over 300 kilometers. We had already come nearly 400 kilometers, and we were pretty tired of the bus. Not to mention that it seemed our drivers fashioned a deception so we would over-pay. We bought three tickets: from Sudavik to Holmavik, 5,500 krona ($41); from Holmavik to Borgarnes, 5,500 krona ($41); and from Borgarnes to Akuyeri, 10,400 krona ($77), for a total of 21,400 krona ($159). The bus from Holmavik to Borgarnes stopped in Bifrost, a good 30 kilometers from Borgarnes, where we might have jumped off, had a little rest, and caught the bus to Akureyi, thereby saving us a good hour of bussing, and 60 kilometers of bus fare. It had all unfolded behind us though, too late to do anything about, and a little steamed by this realization, we boarded for our final leg of the journey.
The French couple boarded with us, but then stepped off at Hvammstangi on the Vatnsnes Peninsula, probably for seal watching at Hindisvik, nearby which is a sea stack that according to nearly everyone is actually a petrified troll. The troll, as the story goes, was so preoccupied in its mission to destroy a local monastery (trolls are notably not Christianized, the only holdouts from the Viking world), it didn't notice the rising sun, which turned it into stone. There is a lot of this going around in Iceland. Everywhere you look your eyes fall upon a rock that was once a troll, which begs the question: how do so many trolls get caught this way? You would think after so many centuries, they would develop better timing.
I think it has something to do with the way light works in the northern latitudes, which changes seasonally, instead of daily. Iceland is situated between 64° and 66° north latitude, and instead of a daily cycle of night and day, you have a seasonal cycle of dark winters and light summers. At the height of summer in Iceland, from about mid-May until mid-July, the sun rises at about 4:00 am, and sets about 11:00 pm, but it does not get dark. To get dark, the sun must drop below 18° of the horizon, and during those months at this latitude, it does not drop below 6°. The light at this angle is known as civil twilight, characterized by an absence of shadows, and only slightly muted vision. You do not feast your eyes, but you feast on all the other senses of the body—sound, smell, touch, and maybe even taste—as you walk the border country between dark and light, between what is and what is not, between this world and the other. Twilight bends perception, and is sometimes call sweet light, or the blue hour.
If I were a troll (which I am not), I would prefer to do my work (like destroying monasteries, breaking into liquor stores, and driving hapless travelers to their doom on buses) during the long summer twilight. It's warmer than winter, and the sun is down, but there is still plenty of light. The danger is that it is so light, you hardly notice when the sun comes up. I can imagine a troll engaged with his work getting caught by the sun, because the quality of light hardly changes from one moment to the next. So this is how it must happen for trolls, and it really is a pity too. It's a wonder any of them make it past those teen angst years without being turned to stone.
So as twilight approached, the French couple stepped off the bus, leaving only Scott and me to make the rest of the trip to Akureyri.
"Hey, hey," Scott said. "Is this dude driving with his eyes closed?"
"You know," I said. "I was just noticing that myself."
"Sure as hell looks like it," Scott said.
Our driver—who we only later came to call The Sleeping Giant—was a giant of a man. In my notebook, I took down all his qualities: an older gentleman, maybe late 60s to mid-70s; tall, perhaps 6' 4"; large liquid belly spilling over his suspendered black polyester trousers, one suspender clip dis-engaged at the back, and his pants drooping on that side. His hair, grey, thinning, and neatly combed, so that you could see the comb-teeth in it. His long, spacious cheeks and his tired eyes made him look sad. When we made the scheduled stops at various petro stations, he smoked a cigarette outside. From the bus window, I could see that his fly was down.
"Yeah," Scott said, as the bus went down on the road. "This dude is nodding off. Look at him."
"God-damn," I said. "That's not good."
"It's not good at all," Scott said.
We moved to the front seats for a better look. We watched as the lids of our driver's eyes drooped and shuttered, and then slammed shut, and opened again in alarm, as he drew his big hand down over his face and breathed heavily and loudly in a sigh. He had entered that stage when the mind convinces the brain that driving with your eyes closed is a good idea.
As the main route around Iceland, the Ring Road is generally well maintained, but it doesn't have much of a shoulder. And in many places, it's humped up into a hillock off the land, like driving down a few hundred kilometers of continuous molehills. Even crossing a long flat, the road is a good fifty feet off the surface, with big transport trucks coming on at delivery speed, the wind of them shuttering the bus in going by. So head-on with one of those suckers is a problem, and if we went off the road, we'd really go off, flying out into empty space and then dropping like a pheasant plugged by a scatter of buckshot.
"God-damn. There he goes again. His eyes are closed, man. And I'm not ready to die."
"No. Me neither," I said.
"Maybe we should bail at the next stop," Scott said. "Get on a different bus."
"Or just stop for the night, wherever we are. Where are we, anyway?"
We pulled into another petro station, and The Sleeping Giant went inside.
"Oh good," Scott said. "He's getting coffee."
He stood in line a moment, paced about, and came away with nothing.
"Nope," I said. "He gave it up."
"God damn," Scott said, as we pulled back onto the road.
"Shit man. Look at him," Scott said, a few minutes later. "This dude is sleeping. We gotta get off this bus."
"Hey," I said to the driver. "Is this next town worth stopping at?"
Our driver didn't move, didn't look back, or even acknowledge that I had spoken to him.
"Hey," I said, leaning forward this time. "Hello? How about this next town?"
He woke then and turned toward me.
"Any idea about this next town?" I said.
He shrugged and looked back to the road.
"I don't think he speaks any English," Scott said. "Damn. Why don't these drivers speak English? Everybody else in Iceland does?"
"I'm moving up into the shotgun seat," I said.
I did so, and our driver looked over me.
"So do you speak any English?" I asked him.
He shook his head and shrugged.
"We need to have a pretty loud conversation," I said to Scott. "About anything. Keep this dude awake before he kills us."
"Yeah," Scott said, upping the volume. "BEFORE HE KILLS US. WE GOTTA TALK REAL LOUD, ELSE THIS GUY'S GONNA FALL ASLEEP AGAIN. AND KILL US."
"WHY DON'T YOU LOOK IN THE GUIDEBOOK AT THE NEXT TOWN," I said. "MAYBE WE CAN GET OFF THERE, AND FIND A CAMPSITE."
"YEAH," Scott said. "I AM LOOKING RIGHT NOW. DON'T LET THIS DUDE FALL ASLEEP. I MEAN, THIS SHIT IS SERIOUS. THIS DUDE MIGHT KILL US BY DRIVING HIS BUS OFF THE ROAD."
"NO SHIT, BRO. AND I DON'T WANT TO GET DEAD."
"Yeah," Scott said. "Me neither. I got shit to do."
Not a week before, I had read Bill and Dave's Cocktail Hour, a blog by writers Bill Roorbach and David Gessner. It was "Bad Advice Wednesday," and the subject and title of Gessner's post was "Try Not to Die." It begins like this: "It's hard to type when you're dead." And a few paragraphs later, Gessner wisely concludes: "staying alive is a pretty key aspect of the writing life." This made a lot of practical sense to me, and as I wasn't ready to let go of my writing life just yet, it also made practical sense to get off the bus.
"Yeah," I said. "Let's bail. Let's get the fuck off this bus."
"TALK LOUD," Scott said. "LET'S KEEP THIS GUY AWAKE UNTIL WE CAN BAIL."
"WHAT'S THE NEXT TOWN?" I said.
"SOME BACKWATER CALLED VARMAHLID. DOESN'T LOOK LIKE MUCH, BUT IT DOES HAVE A CAMPSITE. AND IT ALSO HAS A TOWN POOL. WE CAN GET A SHOWER IN THE MORNING. EVEN BETTER, IT WILL KEEP US FROM GETTING DEAD."
"How far is it?" I said.
"IT'S NOT FAR," Scott said. "Like maybe 20 minutes."
"VARMAHLID! VARMAHLID!" I said. "Stop in VARMAHLID?"
Our driver nodded his head.
When the bus pulled in, we got off, and went straight to the hotel bar. It was near midnight, and the staff had gathered in the main dining room for a party. Food and drinks for everyone.
"We're not open much longer," the bartender told us. "And the kitchen is already closed."
"That's quite all right," Scott said. "We just want a beer."
"Just a beer," she said. "I can do that." She was arranging a huge tray of drinks for the staff. "That's twenty-three," she said. "I just made twenty-three margaritas!"
"Just a beer for us," Scott said. "We were on a bus to Akureyri, but we got off here because our driver was falling asleep. We decided we didn't want to die."
"Oh dear!" the bartender said. "Well, you do need a beer then."
"Do you have Black Death?" Scott asked.
"You mean Brennivin?" she asked.
"No, the beer," Scott said. "We drank it in Stykkisholmur. Good stuff. And an appropriate beer for tonight."
"No," she said. "How about Einstok? I have the white and the pale."
"That will do," Scott said. "I'll take the white."
"A white for me too," I said.
She popped off the caps and handed them over. "Here you are," she said. "Enjoy the rest of your lives."
- - -
Next up: Let's Take the Bus, Part Three: Hofn to Reykjavik: The Mariner.