Last week I was wandering in a Paris public library (in rue Sorbier, 20th arrondissement). I seized from the shelf a little book about Marcel Proust, something like a guide for young readers (by Karen Haddad-Wotling, 1992). When I took it, the book opened by chance at this page: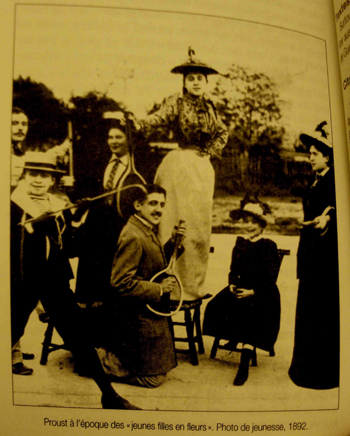 The caption tells us that, at the time of this picture, Proust was writing the second volume of his seven-volume masterwork, A la recherche du temps perdu ("In search of lost time"). But it's not clear if the caption means that what is pictured here is a moment of Proust's life at the time when he was living what he will remember and wrote in his life-long book, or if the photo was taken during the period he was writing it. In fact, in the photo he is literally "in the shadow of young girls in flower", as the title of his second volume.
But this is not important, now. What struck me was the resemblance between Proust's position (with that racket in his hands) and an excited rock guitarist, maybe during a solo. Just an example: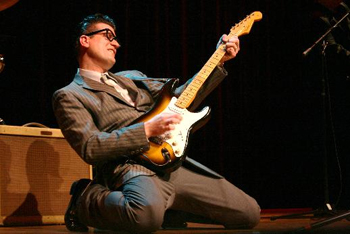 I found the idea quite funny, but nothing more. I put the book back on the shelf and I continued my wondering around in the library.
A couple of days later, I thought again about that first-level convergence and suddenly a movie came to my mind. It's movie about time, the idea of time, the possibility to travel inside the time. Proust did it writing about memory, the souvenir etc., but in that movie the actors do that with their entire body, not only their remembering. Back to the Future!
The movie (Robert Zemeckis, 1985) is a cult, for my generation. One of its most famous scenes is when Michael J. Fox starts playing guitar and singing during his future parents' college party. He astonishes all the dancers and other musicians with an early interpretation of Johnny B. Goode, anthem of a musical genre still unknown at the time, the rock n' roll.
Here is a still from the movie: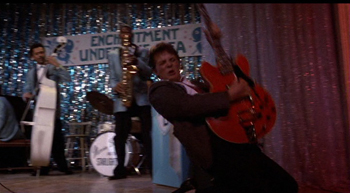 Now look at the two guitarists: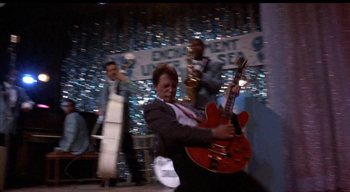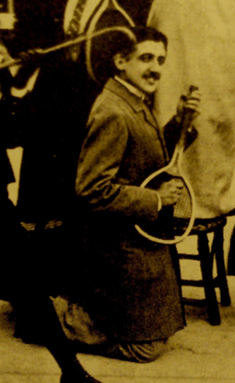 What is the difference between them? I asked myself.
Both of them struggle with time, both of them go back in their past, both of them had to fight to elaborate the events of their or their families' past life. Of course, Proust didn't have to catch a lighting with his futuristic car, neither did Michael J. Fox need a madéleine dipped in his cup of tea in order to start these adventures. My impression is that, however, there's no difference between the two: first of all, both are examples of the fact that remembering the past means modifying it, even if they do all the possible to avoid it. Secondly, both of them show that a good rock solo can help in doing that.
- - -
Weschler Responds.
- - -
I like this one a lot, partly because it brings me back to a mystery at the heart of Back to the Future, which, coming out in 1985, transported its main character, played by Michael J Fox, back thirty years, to 1955, where he indeed proceeded to rock out the senior prom to the strains of "Johnny B. Goode," a classic which wasn't in fact going to be released by its actual author, Chuck Berry, for another three years, in 1958. Though now that I did a little wiki-research on the matter, it turns out that Chuck Berry wrote the song three years before he recorded it, which is to say, in 1955—maybe, for that matter, he just happened to be there in the audience that chronobiotic night, hovering in Michael J. Fox's ecstatic transport for himself.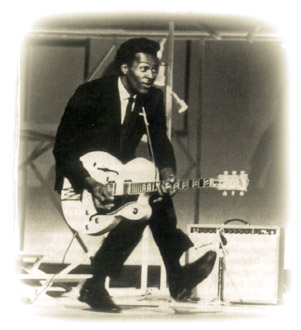 I don't know that I myself would ever have made Signore Aluni's associative leap to Proust, but now that he's blazed the trail, it seems patently evident, especially when you consider the Berry song's autobiographically tinged lyrics:
Deep down Louisiana close to New Orleans
Way back up in the woods among the evergreens
There stood a log cabin made of earth and wood
Where lived a country boy named Johnny B. Goode
Who never ever learned to read or write so well
But he could play the guitar just like a ringing a bell
Go go
Go Johnny go
Go
Go Johnny go
Go
Go Johnny go
Go
Go Johnny go
Go
Johnny B. Goode
He used to carry his guitar in a gunny sack
Go sit beneath the tree by the railroad track
Oh, the engineers would see him sitting in the shade
Strumming with the rhythm that the drivers made
People passing by they would stop and say
Oh my that little country boy could play
Go go
Go Johnny go
Go
Go Johnny go
Go
Go Johnny go
Go
Go Johnny go
Go
Johnny B. Goode
His mother told him "Someday you will be a man,
And you will be the leader of a big old band.
Many people coming from miles around
To hear you play your music when the sun go down
Maybe someday your name will be in lights
Saying Johnny B. Goode tonight.
Talk about the remembrance of things past: in the shade, if not of young girls in bloom, at least of trees by the tracks of passing locomotives. And just as Proust chose to cloak the homosexual taproots of many of the remembrances in his masterful meditation in more conventionally acceptable heterosexual garb, so Chuck Berry subsequently revealed that he'd originally cast his song's young protagonist as "a little colored boy," changing it to "country boy" at the last minute so as to render the song more palatable to the conventional radio audiences of his time—the kind of song, that is, that the likes of Michael J. Fox (and countless others, including of course Elvis Presley) could blithely co-opt for endless cover versions.
- - -
My other main association, however, as it happens, goes to another madeleine-obsessed Italian I happened to encounter several years ago while paying a visit on the David Wilson's Museum of Jurassic Technology, the subject, several months earlier, of my then-latest book Mr Wilson's Cabinet of Wonder.
It occurs to me that I ought to say something here about the Museum of Jurassic Technology, for the benefit of those who haven't ever read the book, or maybe even for some of those who have, because the place really does exist. Several of the book's reviewers, at the time of its publication in 1995, indicated that they'd thought I was making the whole place up and had even gone so far as to call Information in L.A. to confirm its reality (though why they imagined that, had I been making the place up from scratch, I wouldn't have had the wit to place a listing for my fictional creation with Directory Assistance in L.A., I'll never know). (Which reminds me about the single coolest review the book ever got, which wasn't even published in any journal, but instead took the form of this guy who went to visit the Museum one day about six months after the book's publication: He spent about two hours puttering around the Jurassic's labyrinthine back halls before re-emerging at the front desk where he hesitantly asked the fellow seated there, "Excuse me, but are you either David Wilson or Lawrence Weschler?" Informed by the sitter in question that he was indeed David Wilson, the visitor leaned in confidentially before triumphantly declaring, sotto voce, "Come on, tell me the truth, does that guy Weschler really exist?")
Where was I? Oh, yeah, the Museum of Jurassic Technology in Culver City, halfway between downtown L.A. and Venice Beach, a place that really does exist (go ahead: call Information; you'll see), a deceptively diminutive little storefront operation that specializes in the breathtakingly lovely and loving display of some of the most astoundingly incredible material you'll ever encounter—incredible because, as it happens, some of it may not be entirely true. Or not. You can't be sure. There's this sense of slippage: horned humans, pronged ants, mice on toast, micro-miniature painted renditions of Snow White and all seven of her dwarfs strung out along the shaft of a needle, the medicinal uses of urine—an entire hall given over to an exhibition on the career of Geoffrey Sonnabend, an American neuropsychiatrist who, during the 1930s, in despair over the collapse of his researches into memory pathways in carp, suffered a complete nervous breakdown and was shipped off by his mother to a spa near Iguazu Falls, in the Mesopotamian region of Latin America, which is where, one night, he happened to attend a recital of German lieder by Madelena Delani, the famed Romanian chanteuse, most famous perhaps for the fact that she suffered from Korsakov's syndrome, a condition which had ravaged all her long and short-term memory with the exception of the memory of music itself, a condition which imparted a "uniquely plaintive air" (New York Times) to her haunted and haunting singing; after which he (Sonnabend) spent a shatteringly insomniac night across which he came up with an entirely new theory of memory, a theory it would take him the whole next decade to elaborate into the three-volume masterwork in which he argued that memory itself is essentially an illusion which we all throw in front of ourselves to disguise from ourselves the fact that we've in fact forgotten everything, a theory which has in the meantime proved particularly intriguing owing to the fact that no sooner had it finally been put to paper than its author himself seemed to fall into complete oblivion, that is until his recent resurrection there in the halls of the Jurassic itself.
You know, that sort of thing.
- - -
So, anyway, Wilson and I were sitting there one day whiling away the time at the front desk when the mailman delivered a mysterious little package covered over with myriad colorful stamps from Italy. Inside, without any cover letter, was a beautifully produced little hardcover book, just published by Rizzoli, Un Cosi bel Posti, by one Fabrizio Rondolino, a narrative which apparently (neither of us could actually read Italian) purported to relate the love story of Geoffrey Sonnabend and Madelena Delani—the conceit being that every time they courted each other to bed, Madelena woke up the next morning having no idea who Geoffrey was and the courtship had to begin all over again. Though as mystified as I was, Wilson hardly seemed the least bit upset by this sudden appropriation of his creation. On the contrary, he seemed entirely pleased by this confirmation of the palpable reality of these individuals whose existence heretofore had seemed entirely confined to the halls of his emporium.
Later that evening, I myself was dumbfounded to recall an incident that had taken place about nine months earlier, around the time of my own book's publication. Shortly before that date, I'd been approached by the radio producer David Isay to see whether Wilson and I would be willing to collaborate with him on a half-hour audio version of my little narrative—completely re-reported for radio, to be broadcast on NPR's All Things Considered. We'd all agreed, and there had ensued several days worth of surreptitious taping at the museum, eventually yielding over forty hours of overheard conversations among and with visitors to the Jurassic, which, following another several month's editing, had eventually yielded the finished documentary.
And what I suddenly remembered that evening was how the documentary had included a passage where I intoned on how people came from all over the world to visit the Museum's many exhibits, as, for example, in this instance—and here the sound of a doorbell bubbled up from behind my narration, followed by that of a young man with a foreign accent launching into a series of queries—"this fellow here who'd come all the way from Rome, Italy, to pursue his researches on the career of Geoffrey Sonnabend, an American neuropsychiatrist who, back in the thirties"—and so forth. Listeners were then invited to listen in as the fellow indicated to Wilson how much trouble he'd been having tracking down Sonnabend's three volumes ("Yeah," Wilson said, "those books are quite hard to find"), whereupon he asked Wilson whether he himself happened to have the books there at the Museum, and Wilson sighed that no, as it happened, he didn't ("They're really really hard to find," he assured the young man), at which point the young man shrugged audibly and proceeded on into the museum's back halls.
A few days later, when I got back to New York, I called up Isay, went over, and we foraged around for the original tape of that overheard conversation, and indeed, fiddling with the dials, sharpening the sound, we were able to make out the fellow's self-introduction: "Hello, my name is Fabrizio Rondolino and I've come here from Rome, Italy, and I'm especially interested in…" and so forth. Incredibly, of all the days we could have chosen to tape there at the museum, we'd managed to pick the one on which occurred the sole ever meeting between David Wilson and Fabrizio Rondolino—and the amazing thing, listening once more to the whole conversation, was how neither of them had broken irony the entire time. They'd both gone on as if theirs were the most common-sensical sort of conversation to be having.
- - -
Anyway, so a few months after that I wrote up the story of Mr. Rondolino and his visit and its subsequent literary progeny for a column in the LA Times Book Review and thought nothing much more about it till a few years later, in 2004, when I was visiting the Museum of Jurassic of Technology once again and happened to notice, across the street, a movie billboard advertising the forthcoming Adam Sandler/Drew Barrymore vehicle, 50 First Dates, with the tagline "Imagine having to win over the girl of your dreams… every friggin' day."
"What the frig!?" I remember thinking.