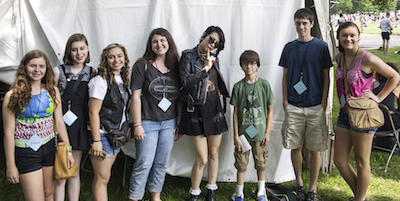 - - -
Our crack team of aspiring high school-aged music journalists—for this interview, that included Cristina Cass, Tricia Crimmins, David Kennedy, Kalina Gac, Caley Griebenow, Lucie McKnight and Eli Tecktiel—met with Dee Dee from the Dum Dum girls on Saturday afternoon. These creative writing students channeled their musical knowledge and interviewing skills during the following on-the-spot Q&A with the singer in the media tent, where she talked about what it took to overcome her own fear and doubt and become a musician.
- - -
826 CHICAGO: Do you like performing indoors or outdoors?
DEE DEE: In the past we've said indoors. When we started, it made more sense to us and to anyone watching to be in a small crowd. But there's something special being able to play for a much larger audience. Sometimes the elements really line up beautifully. If you've ever played a show as the sun sets on the ocean, you know it's the best.
826 CHICAGO: Have you played other festivals before?
DEE DEE: Yeah. I was actually just referring to a show we played in Portugal called Primavera. We haven't played Pitchfork before but we did play Lollapalooza two years ago and we played Coachella this year. So, yeah, a fair share. I guess it's sort of the end goal to be asked to play festivals
826 CHICAGO: So you've played in Spain before, how is it?
DEE DEE: It's very cool. It's arguably the best part about playing in a band, the opportunity to tour the world. It's interesting that there's a pretty significant difference between what it's like touring in the States versus in most of Western Europe. It's a little more artist-friendly over there, I would say, but I guess you'd have to talk to European bands that come here. Maybe they would have the opposite opinion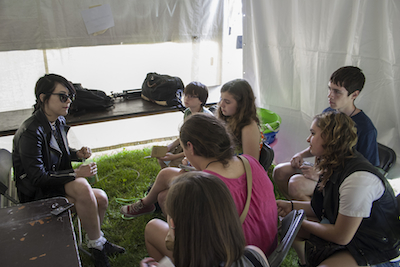 826 CHICAGO: What has been your favorite venue that you've played at?
DEE DEE: There's a lot. Sometimes it has more to do with the audience or the context than the actual venue. I really like the Great American Music Hall in San Francisco. I grew up going to shows there and it's a beautiful theater, but again, that one for me was maybe a bit more nostalgic than anything else. It's a great sounding room, but it's a room that I used to exist in only as a fan, so making that crossover and then performing there it felt like an accomplishment
826 CHICAGO: I read a bio on you that said you started out making bedroom recordings; did they actually take place in a bedroom? What was that like?
DEE DEE: Yes, I've made many a bedroom recording. All the first releases from the Dum Dum Girls, even the first full-length record. I use the term bedroom loosely. I lived in a studio, in a living room that had a murphy bed so it's also a living room recording. It's great. I'm a pretty quiet person generally. I get all my extroverted energy out on stage and otherwise, I'm a wallflower. I had a lot of time on my hands, and I was by myself all the time, so I would get home from work that would be where I was the next six hours, recording by myself, isolated.
826 CHICAGO: Did you produce all by yourself?
DEE DEE: Yeah, which is why it probably sounds the worst of all the Dum Dum Girls' releases, but maybe the most charming. When I first started this project it was me learning guitar, how to write songs. The whole learning process was captured on record, for better or for worse. Now I work with producers. I worked with a pretty consistent team for about five records, this kinda old New York legend Richard Gottehrer. You should look him up. You'll probably recognize at least two bands he's worked with in the past, like the Supremes or the Ronnettes.
826 CHICAGO: Where did the name of the band originate?
DEE DEE: Well I was sitting in the apartment and was looking at records and started to record songs and I was going to make a MySpace page. It was 2008, and you can't make a Myspace page without a name. I didn't really have anything in mind, it's hard naming a band. I was just looking at my records just trying to come up with ideas and I saw this record called Dum Dum and I thought, "I like how that sounds," and more importantly how it looks. Maybe it could be some play off backup harmony. Then I was reminded of an Iggy Pop song called "Dum Dum Boys" and my husband actually said, "You should just change it and call it Dum Dum Girls," then said, "Oh wait, no, I'm gonna call my band that." But then he forgot about it, so the next day or two I claimed it.
826 CHICAGO: If you could go back to your 18-year-old self, what piece of advice would you give her?
DEE DEE: Let's see, 18, first year of college. I tend to believe that you learn from mistakes. There's no other way to learn, at least for me. Maybe I'm stubborn, but all my mistakes have been valuable. I would say, try harder sooner. It took me a long time to sort of fix the discrepancy between what I wanted to do and what I knew I was meant to do and actually doing it. It took me many years and I wish I realized the only thing stopping me was myself. If I had realized that earlier I'd have been a more productive human.
826 CHICAGO: Did you ever plan on being anything else besides a musician?
DEE DEE: I don't know how much I planned to be a musician. I didn't really feel, in a dramatic way, that I had any other choice. From a very young age I felt I was intended to do this, but I had pretty debilitating stage fright and terrible self-confidence. You know, none of the things that help you pursue anything that involves risk. So I focused a lot on writing and reading books instead of cultivating friendships. I studied literature in college and thought I'd go into publishing or writing, but at some point, I finally started singing with the band and I just knew. I failed for many, many many years before I had any success, so I guess I was hardheaded.
826 CHICAGO: If you could have a collaboration song with any of your musical influences, who would it be?
DEE DEE: Lou Reed; he's on my short list of my favorite artists. In addition to being musically gifted and a great performer, he's one of those people who when you read their lyrics, you know they're standalone poems. He's one of my favorite songwriters and a lot of it has to do with the content of his art. He was an amazing writer.
- - -
Photos by Zach Duffy