The night Paul proposed, we were coming off a forty-day fast. Not the Moses kind where you eat rainbows and your face shines. You start by cutting out desserts, then red meat, then quail eggs, and by the end, you are sipping on Gatorade, sniffing out wild berries, and wondering if you should convert to a religion with more feast days.
When I see pictures from that night of a gaunt Paul down on one knee, it's pretty clear what drove him to propose: an electrolyte imbalance.
He had spent those forty days praying for guidance. I'm sure God, in typical God style, said something profound and mysterious, like: "Son, consider the fields and the seasons of harvest. I clothe the lilies of the valley. Jesus wept. Protect yourself at all times. L'eggo my Eggo."
Poor Paul, with his body beginning to eat its own lean muscle, had to do something. He drove to Ohio (this was, of course, before Skype) to ask for my parents' blessing. But I'm the youngest of three girls, so he had to fart unicorns on pogo sticks before they (my parents, not the unicorns) said OK.
He came to my room on the Lawn a week later with the perfect decoy: two greasy, brown-paper sacks from Five Guys Burgers and Fries. It almost worked too well. I was so distracted by the gorgeous double stack that I refused to follow him outside to the Rotunda when his "engagement elf" friend knocked. This is no time to see who is at the door! That's what the dry erase board is for. As Paul threw me over his back, I grabbed one last handful of Cajun fries.
Some people claim I said "yes" to Paul and then finished my burger before calling family and friends. Those people are probably liars and should be immediately punched in the face.
We married nine months later in August 2005 and settled in the DC Metro area for the next six years. From time to time, we would ask each other, "Do you think we could ever retire in Charlottesville?"
"Maybe," I'd say. Charlottesville is no place to shop (our mall is straight out of a Debbie Gibson video), but I figured by 65, I'd be ordering all my scarves, jeans, and dickeys from the Chico's catalog anyway. Also, at the time, we were cool with the whole Northern Virginia grind—working as educators, going to grad school, and selling our souls to pay for an overpriced townhome.
Now I realize the metro area was often a place of unhealthy striving for me. I wasn't just the proverbial hamster on the wheel, running to catch up with the Joneses. I was Hammy, one of my childhood pet hamsters, who got out of his cage and burned his feet in the furnace. Maybe it was my age or the competitive culture of the area, or both—but I had this idea in my head that I had to be successful. I didn't want to be a Ph.D. or a lawyer or work on the Hill. In fact, I didn't know what I wanted to be, except for Awesome and Not a Failure. I needed a good word to fill in the blank: Hi, I'm Taylor, and I'm a ______.
Just like Hammy, I was the one holding my feet to the fire by convincing myself I wasn't living up to the silly "Most Likely to Succeed" superlatives from high school. Unlike Hammy, I rarely smelled like urine and fur.
I came closest to filling in that blank with the word "journalist" a few years ago. Through a great friend and mentor, I had made my way into one of the great journalism palaces of the city. I had a solid internship that would lead to a full-time job. Then I could tell folks, "Yep, I work at ______ in the city. The hours are crazy, but I love it."
Problem was I didn't love it. I loved getting to know people, but every time an assignment came my way, I panicked. I felt sick walking to my computer each morning, hoping there'd be no breaking news—no news at all—and I could just transcribe or run errands. Coffee anyone? Really, I don't mind walking. I brought leg warmers.
My beloved grad school advisor said it best during one of our why-did-I-have-to-be-born-a-creative-type talks: "You want to be a journalist—with an anxiety disorder?" He wasn't doubting my ability, but he had worked as a journalist for decades and recently read my thesis on life with Generalized Anxiety Disorder. It didn't mean I couldn't be Awesome. But he was right; spontaneous deadlines were not my friends. The same work that gave my journalist friends an adrenaline rush threatened to deplete my sanity.
It wasn't for me, and I was dreading taking a job I was already dreading. And then I was pregnant. So I sort of slid backward out of the opportunity, citing my pregnancy and round-the-clock morning sickness, which were both valid, but never telling the whole truth: barring a miracle (and would it even be a miracle?) this career would never be right for me.
But something else was. Eliot Mae was born December 1, 2010 in Arlington, Virginia. After the first few sleepless months, I started to love staying home with her. We took naps together and filmed home videos we hoped would make it onto Ellen. There was the one of my foot interviewing Eliot in a terrible British accent. Oh, and the one where I convict her in the High Court of Exersaucers of pooping.
I was walking on water as a stay-at-home, but every now and then, my eyes would drift to shore, and I would lose focus and start to sink. Growing up, when my parents told me that with a good education, I could be anyone, do anything, a stay-at-home mom never made my list. Kids and a husband could come down the road, but first, the Awesome Career. Family would sort of just come alongside me. Make life sweeter. I wouldn't build a life around my family.
To be fair, my inner voice wasn't the only sound I needed to quiet.
The summer after Eliot was born, Paul accepted his current job as assistant professor at UVA, and we left Northern Virginia for Charlottesville. At one of the first events we attended on Grounds, a woman asked me, "So are you just a mom?"
She didn't mean it, except she sorta did. She hadn't been just a mom; she had worked and been a mom. It was simple math. I was less than.
Filling in that blank with "mom" wouldn't do. Not if others could be "mom" and _____. We were told as UVA students that we were among the brightest, most talented, hardest workers. We were reminded of our SAT scores, fellowships, and honors. We were not reminded of love, relationships, and children.
- - -
Last month, we returned to the Lawn—the place where he proposed and where I walked in my cap and gown. I've always considered it the heart of Grounds and a sweet cache of my favorite moments at the university. This time there were no proud parents or commencement speakers or engagement-night onlookers. It was just us and the kids, and we met up with an artistic fourth-year student and her camera.
You would expect family photographs to reflect a story you already know. You know your legs are skinny or one tooth is crooked or your left side stands out as your best side. I know Paul's face, could trace its shape in the dark. I know Eliot is shy but has a certain love for the camera. And I know Tophs smiles with his entire face so that you're not sure whether to focus on his round eyes getting smaller or his round dimple getting bigger.
But these photos are telling me a story. They are a frame ahead, confirming what I'm only starting to feel is the truth of my life.
This picture tells of seven years spent making a marriage. Not one that is better than theirs or worse than yours. Just one that is ours.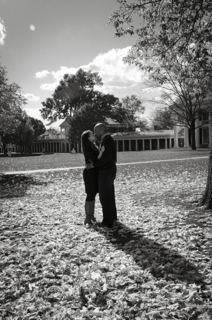 I love that geographically, Paul and I are back where we started, though I don't love the term "full circle" because I think we have more to do, more places to go. Is there a "fuller circle"? And somehow "back" isn't the right word, either. Really we are seeing UVA again. We are bringing our memories, our changed perspectives.
This photo confirms that we are doing family. You don't pick up a family along the way or throw a baby in your briefcase. You juggle, adjust, readjust, and pray for the strength not to drop everything all at once.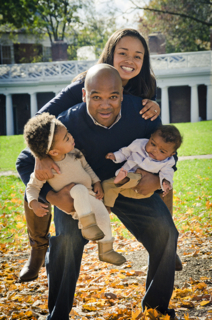 And as self-conscious and critical as I can be, this might be my favorite shot. The four of us are sitting on the stairs Paul and I climbed the night he proposed. It's been eight years and life is more hectic and my hair isn't perfect and Tophs looks like he's pooping. My eyes are closed, and we don't know where the fuller circle goes from here or if I will fill in a blank with "author" or "speaker" or "flamethrower."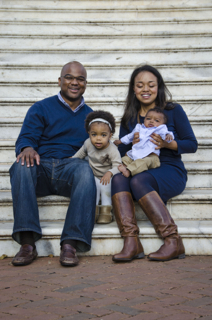 But here, in this moment, I am Wife and Mom and Perfectly Me.