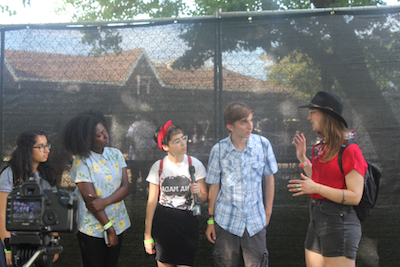 - - -
Our squad of aspiring high school-aged music journalists—for this interview, Avery Panganiban, Ryan Wangman, Makele Clemmons, and Imaan Yousuf—spoke with Kate Grube, frontwoman of Chicago emo darlings Kittyhawk. They talked Kendrick Lamar's songwriting, Swedish ice skating, and loving the Midwest.
- - -
826 CHICAGO: Hi, it's great to meet you. I was just wondering: can you tell us about some of the things you're working on right now?
KATE: Yeah, sure. So I'm on the wardrobe department of this great film called Southside With You, so that's kind of what I do when I'm not playing music. My band, Kittyhawk, has been writing some new songs. We went to Europe in January, which is just the most exciting thing I've ever done, ever. So now, since we've been back for a little while, we're just getting back in the swing of doing some playing regularly, meeting some new people.
826 CHICAGO: Could you tell us some of your musical influences?
KATE: Sure. Musically, I think there are a lot of things that influence us. Definitely a lot of bands from the late '90s in the Midwest, like Lana Maria or Braid. I think we pull a lot of influences from those early emo bands. But, I mean, otherwise I think that lyrically I'm really just so into Kendrick Lamar right now. And figuring out any way to translate that into anything that I do is just… you know… just maybe having a great sense of the rhythm of words, and sounds, and saying something really important and meaningful, and also making it fun with a rhythm you can dance to.
826 CHICAGO: Who here at Pitchfork are you most excited to see? Why did you come here today?
KATE: Yeah! Well, so Courtney [Barnett]'s playing right now, or just finished right now, and it's so incredible to see her play. She's got such a good energy, her band has such a wonderful time. When they're playing you feel like you just wanna jump up there and be like, "Hey, if we could just hang out for like ten minutes, I know that you wouldn't wanna stop hanging out with me." You know, just make great friends. The Julie Ruin, I saw them just a little bit ago. Kathleen Hanna has been a huge influence on the way that I view the music scene and independent scenes, and just being part of a community that really cares about other people. And making your band and your songs more than just songs that you wrote, but making it a collaborative piece among everybody in your community.
826 CHICAGO: So, at what age did you start getting to music, or, more like your style of music? When did you realize that this was what you were really interested in?
KATE: Well, so when I was a kid, my dad, my dad is a professional piano player. He's very accomplished, he plays the blues piano. When I was a kid, my parents would take me to piano lessons. And… I don't know… it just, it just didn't really click for me, maybe. It felt like something they were asking me to do. I'd go to my lesson. I was always, like, ten minutes late because I would drag my feet the whole time, it was really difficult to get me to practice. And then, I think when I was in middle school, I started listening to Ben Kweller a lot. I don't know if you guys like that guy, but he has a couple really great songs that are written on the piano, and one day I just …kind of… went back to it and played an open mic at the Old Town School of Folk Music on Armitage and met some people, joined a band, and then, you know, it just sort of happened. It was like, "Wait a minute!" And then, of course, like, all the regret comes in, of like, "Why didn't I pay attention in my lessons!?" So you start learning your instrument over again at 13, or something.
826 CHICAGO: You mentioned a European Tour. Do you have any favorite cities or tour memories?
KATE: Oh man! Where do I start? Okay, well, I'm trying to find my favorite one. I think there's just maybe something about being with six of your friends crammed in a little van going all over, playing a new place every night, often new languages every couple days. There's just kind of like that cool human bonding thing that happens. But, I really loved Sweden. We played in Stockholm at, I think like, a cultural center. We played there. After the show it was super cold and they had this little ice rink set up, and everybody went out and all skated around in our shoes, and we did ice stars. Everybody dragged everybody around, and I think it was just a great moment. We had so many days, like, that day my keyboard was broken, we had to take it to the Nord factory to get it repaired. I dropped my cell phone out of our van and it got run over, like, just coming off of the highway into Stockholm. We were super late for the show because of those things. I think I had been, like, waiting for a check to clear that I didn't have yet. You know… it just, like, was one of those days where everything happens all at once. And we played, and then just being on the ice after the show just felt like such a great relief.
826 CHICAGO: How do you think that being in Chicago affects your music style?
KATE: No matter where you are, you're always going to be influenced by other bands from the area. It's hard to say, since I feel like a lot of the bands that, at least Kittyhawk is influenced by, are regional, it's hard to say whether or not we would have become who we were without being here. But I think being in the city of Chicago, there's such a great mix of all different kinds of genres and all different kinds of things, and then there's that thing I love about the Midwest, that just kind of like, Midwest values. Like being excited to meet other people, and being friendly and encouraging, yea. That's what I like about it here.
826 CHICAGO: Okay, well, it was a pleasure to meet you, thank you for your time.
KATE: It was a pleasure to be meet you too! Can we bring it in for a second?
EVERYONE: 1… 2… 3… Midwest!