For starters, take a look at this incredible video from Canadian master Mark Lewis, recently posted on the New York Times' website. Relax: it's a nice slow burn of a piece and well worth the four minutes: Algonquin Park, Early March by Mark Lewis.
So what have we got here?
As I say, a simple clean transit from Kazimir Malevich (1879-1935) to Pieter Breugel (1525-1569) in under five minutes.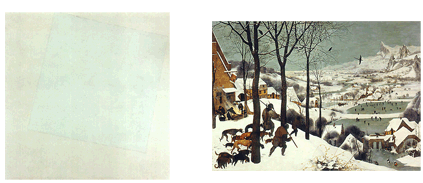 Left: Malevich's White on White (1913)
Breugel's Hunters in the Snow (1565)
Which may in turn help account for this pair of self portraits (otherwise somewhat mysterious on the part of the consummate modernist Malevich):