Ever wish someone would do your holiday shopping for you? Ever wish that someone had great taste and a sharp sense of humor? Well, friend, for the second week in our Advent Calendar, some of our finest McSweeney's Tendency staff and contributors are telling you exactly what to buy. AND we're giving away The Best of McSweeney's Internet Tendency with the featured bundles and books of the day. Happy gift-giving!
- - -

Fever Chart by Bill Cotter
One of my favorite books of all time is Frederick Exley's A Fan's Notes, a hilarious and tragic account of a drunk with a New York Giants obsession. I did not think I would ever read another book that did what A Fan's Notes did to me until former McSweeney's editor Eli Horowitz sent me an electronic manuscript copy of Bill Cotter's Fever Chart. Reading the novel was like being introduced all over again to one of your first loves. Cotter's narrator, the unstable and lovesick Jerome Coe, is wonderful company. I bought about a dozen copies of this as gifts the year it was released.
Half a Life by Darin Strauss
The true story of the aftermath of a car accident involving the author that has haunted him ever since. It's both an affecting memoir and an interrogation of what it means to write about our pasts and our presents. I burned through it in a sitting, and sat around the rest of the day thinking about it afterwards. The hardcover edition is also amazingly handsome.
The Best of McSweeney's Internet Tendency
I'm one of the names on the cover, but all credit for this volume goes to our contributors, not just the ones in the book, but everyone who cares enough to send their submissions our way. It's a testament to your talents that even on the tenth or twentieth reading, these pieces make me laugh out loud. The hardest part of the putting together the book was narrowing the list. We could've filled three volumes. Great as a gift for the Internet Tendency ignorant.
- - -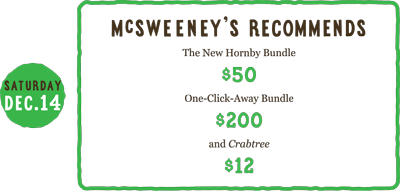 I know it's weird. How can we choose just one of our favorite books when we love them all equally and in different ways? That's like having a favorite child and then admitting it publicly. We don't pick favorites here at the McSweeney's HQ. It's in our employee handbook, which is tattooed onto our souls, which is a metaphor for how deeply entrenched in our minds that belief is, because its actually tattooed onto our shins. We do, however, pick A+ gifts that we'd be remiss to not tell you about.
- Our first pick is The Hornby Bundle, our two newest, greatest, most hilarious, most genius Nick Hornby books, adorably paired up together: Ten Years in the Tub and Songbook. In one of them, Nick Hornby gives you a decade's worth of reading recommendations in the loving way that only Nick Hornby can. The other one is the closest you can get to a literary mixtape, a book of Nick's heartwarming essays about his favorite songs. We won't tell you which is which! You'll have to buy the bundle to find out.
- Next up, we recommend the One-Click Away Bundle. C'mon! This one's the best deal in town. The best deal in the county, even. This one's got something for everyone: a planner for your organized friend, a picture book about a sloth who wins a shopping spree for a lil' kid, poetry for your sensitive buddy, a cookbook for the foodie in your life, collections of the very best things we've put in print and online, EVER. And it's one click away! There's the added bonus that this one qualifies for FREE SHIPPING and if you call us up and order over the phone WE WILL GIFT WRAP your order and send it to the correct address, and we might even craft the cutest handwritten Christmas card on your/your giftee's behalf. Call in if you want it! 415-642-5605.
- And finally, Crabtree. The amazing Nichols brothers did it again! A brand new picture book about a man named Alfred Crabtree, searching for his lost teeth among his uniquely organized items. In the words of one savvy 4-year-old named Raif, "It's is mostly a book that you just look at, but you can look at it a lot." We couldn't have put it better, Raif.
- - -

Bat's Okay T-Shirt
You'll be a big hit if you wander up to a child wearing one of these. They'll be charmed and/or pleasantly dazzled by the shirt. Of course, it helps if you have a prior relationship with the child, or at the very least are a friend of a friend. Otherwise, it could be kind of weird. What were you thinking wandering up to a small child you don't know, anyway? Why are you even at this Gymboree? You played this all wrong. Oh well. The Bat's Okay T-shirt is still an artistic, playful delight.
The Best of McSweeney's Internet Tendency
To be honest I don't know much about this book, but I understand one of its editors is fair-to-middling in the looks department and spends most of his days in his pajamas, checking his email. So, what the heck, right? Take a flyer on the thing.
The Emily Dickinson Reader
As poets who have submitted their poetry to the Tendency can attest, I am a complete and total dullard when it comes to understanding poems and poetry and poem-like thingies. That's why we don't really run poetry on the site (like we state in our submission guidelines), yet poets continue to try and force their probably well written and very powerful sestinas, cinquains, and limericks down my throat, as if they will somehow enlighten and distract me from checking my email all day long. Guys, I like to check email. I just do. You and your heartbreaking poems won't change me. Anyway, apparently Emily Dickinson was a very famous poet. This book deconstructs her poems and helps simpletons like me understand the true essence of what she was trying to say, especially in regards to bees, sex, and zombies.
- - -
For your friend who is always going on and on about, "Life's too short" (like they spend 30 minutes moaning that they'll never have time to find the perfect love, discover a new insect species, or master the banjo), give them a hint with The Emily Dickinson Reader by Paul Legault, which whittles ED poems down to one-liners. It's a slim volume, which makes it easy to slip under someone's door on Christmas Eve and then run away.
For your friend who is always saying "I love looking at all the box cake mix in the grocery store!" get Timothy McSweeney's Issue 4, a box of books in flavors like Haruki Murakami and George Saunders. Your pal can read the books and use the box for something else, like a place to whisper secrets or store frosting. Also, the circa 2000 box-cover illustration features a red robin, a nice reminder of the pre-avian iconography overload era before "Put a Bird On It" and Twitter ruined birds.
For your friend who is always asking, "Do you have eye drops? I just finished binge-watching that hit TV drama, House of Cards," get The Complete Wholphin Bundle featuring short films by Steven Soderbergh, Errol Morris, Gus Van Sant, Natalie Portman, Jonathan Demme, Dave Eggers, and Joseph Gordon-Levitt. So good, so intense, so pithy that just an hour of viewing is more than enough to stimulate and satisfy the mind and heart while leaving the blood vessels of the eyes unmolested.
- - -

1. What is the What: The incredible story of Valentino Achak Deng, whose escape from violence, famine, disease, and despair in war-torn Sudan I can completely relate to because of my tumultuous upbringing in the dangerous, middle class suburb of Buffalo Grove, IL.
2. The Best of the Internet Tendency Bundle: These classic pieces are meant to be enjoyed over and over, like your favorite pair of jeans or that piece of gum that you keep saving and putting back in your mouth even though you know it's disgusting. The accompanying mug makes a wonderful wedding gift.
- - -

Items You Should Buy From The McSweeney's Store Described As Real Estate On Craigslist
A Million Heavens by John Brandon
SURREAL AND ENGROSSING!!!! MAKE THESE 337 PAGES YOURS TODAY — WOLF ON COVER — REHABBED KITCHEN — WILL GO FAST!!!!!!
Lost Sloth by J. Otto Seibold
NO FEE WOW! IMAGINATIVE CHILDREN'S BOOK !!!!!! GREAT ART/COMPLEX THEMES/NEW TILE IN COMMUNAL BATHROOM !!!!!!!!
The Motherfucking Decorative Gourd Mug
((((( STOP DRINKING OUT OF YOUR HANDS!!!!!! ))))) THIS COMICAL MUG IS PRICED TO MOVE!!!!!! CLICK FOR PICS OF CHARMINGLY-RUGGED VINTAGE FLOORS!!!!!!
- - -

For more Hungover Bear and Friends,
you can catch up on Ali Fitzgerald's column here.