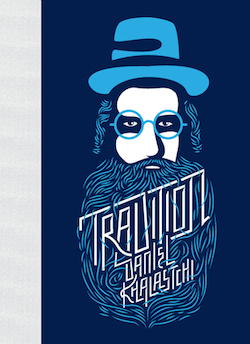 - - -
The wildly imaginative poems in Daniel Khalastchi's Tradition bring to life a speaker struggling to find balance between familial pressure and personal identity, religious faith and recognition of the world's calamities. An Iraqi Jewish American, Khalastchi's much-anticipated follow-up to his award-winning debut is a surreal cri de Coeur — a collection of visionary, funny-serious poems with a dark edge.
Khalastchi, a graduate of the Iowa Writers' Workshop, is the author of Manoleria , winner of the Tupelo Press First Book Prize. His poems have appeared in publications such as Colorado Review, Denver Quarterly, Fence, Iowa Review, jubilat, 1913: A Journal of Forms, and Best American Experimental Writing 2014. A former fellow at the Fine Arts Work Center in Provincetown, Khalastchi is currently the associate director of the University of Iowa's Frank N. Magid Center for Undergraduate Writing. He lives in Iowa City and is the co-founder and managing editor of Rescue Press.
Khalastchi recently spoke with McSweeney's editors Dominic Luxford and Jesse Nathan about Tradition, the ninth collection in the McSweeney's Poetry Series.
- - -
McSWEENEY'S: What was the genesis of this book?
DANIEL KHALASTCHI: Tradition was written in response to my own concerns/fears about marriage and the various complications that come with inter-faith relationships. When I began this project, I had been dating a woman for a little over three years. Though we came from similar backgrounds (we both grew up in the Midwest, attended the same universities, and were pursuing the same career), my partner and I had one major difference: I was Jewish, and she was not.
As our relationship progressed, I became hyper aware of the not-so-subtle difficulties my living situation/romantic choices were causing my family. My father — an Iraqi-born Jew who was forced to flee his homeland due to religious persecution — had never been shy about his desire for me to marry a believer of the faith, and during this time, whenever I visited or spoke with him on the phone, his emphasis on tradition was palpable. I had an ever-present awareness of his escape narrative, and I found myself lost in thought over what he was forced to leave (his home, his family) and what saved him (the Jewish state). As if out of nowhere, large questions of history, faith, and communal/familial acceptance began to whirl in my head, causing many restless nights of sleep and problems in my relationship. I found myself struggling to come to terms with my own beliefs and values, and this led me (as things often do) to poetry.
McSWEENEY'S: What is your greatest fear as a writer?
KHALASTCHI: My greatest fear as a writer is that I'll stop giving myself the opportunity to fail. I worry — perhaps like all artists — that over time I'll fall into the trappings of a given aesthetic or begin making the same stale moves ad infinitum. While I don't believe a writer should run away from his/her strengths or obsessions, if we aren't challenging ourselves and risking instability each time we approach the blank page, maybe we shouldn't be picking up the pen in the first place. I'm not suggesting this creative spirit will always lead to the best work, or the most successful work, or the work that finds the most readers and wins the most prizes. That said, I'd personally rather engage with poetry that stands on the proverbial ledge, and I hope — over the course of my career — I am able to produce work that wobbles and shakes, unsure of its footing while stepping off the edge.
McSWEENEY'S: What is your editing process like?
KHALASTCHI: To my mind, the best editorial assistant we have is time. Most of the poems in Tradition were written over the course of an elastic seven-month period, and once the initial drafts were completed, I let the collective book sit for nearly a year before attempting to rework it. For me, that's the only way to do it — distance provides a writer with the opportunity to reenter the work with fresh eyes and allows them to see more clearly what's working and what isn't.
Oftentimes — in order to make sure I was staying true to the rhythms and emotional tones of the poems — I made audio recordings of myself reading various line edits and drafts, then listened back while taking long walks around my neighborhood in Iowa City. I simply let the words play like music, keeping an open ear to anything that sounded out of tune or off-key; I think (in the end) this helped with cohesion and flow, but I'll let the reader be the judge of that.
McSWEENEY'S: What do you consider your main non-literary influences as a writer?
KHALASTCHI: While all types of art inspire me, my main influence as a writer is music. During the writing and editing of Tradition, I spent a lot of time studying the rapper Nas' debut album, Illmatic, analyzing how each track remained unique and of its own narrative self while simultaneously contributing to a cohesive larger collection that maintained a consistent sound, energy, and emotional base. While I am in no way saying Tradition is equivalent to Illmatic, Nas' lyrical dexterity and his ability to unpack detailed, cinematic stories that push away from simple telling and avoid expected word choice were constantly on my mind while crafting this book.
There were also films and filmmakers that influenced Tradition (the Coen brothers' A Serious Man, the video work of Jason Livingston, etc.) as well as other musicians (Bruce Springsteen, Stevie Nicks, etc.), but in terms of sound, breath control, storytelling, and rhythm, the greatest "non-literary" influence would have to be Nas. Though, for the record, I consider him a poet and (in many ways) very literary.
McSWEENEY'S: What makes you happy?
KHALASTCHI: Right now, I'm sitting in the café at Prairie Lights bookstore in Iowa City, drinking an Americano, sharing my workspace with the most beautiful and intelligent writer, editor, and community leader I know. Every so often, when I look across the table at her, I am reminded that not everything is terrible and that things have a way of working themselves out. Coming from an all-too-often pessimistic person, I'd say this makes me happy.
- - -