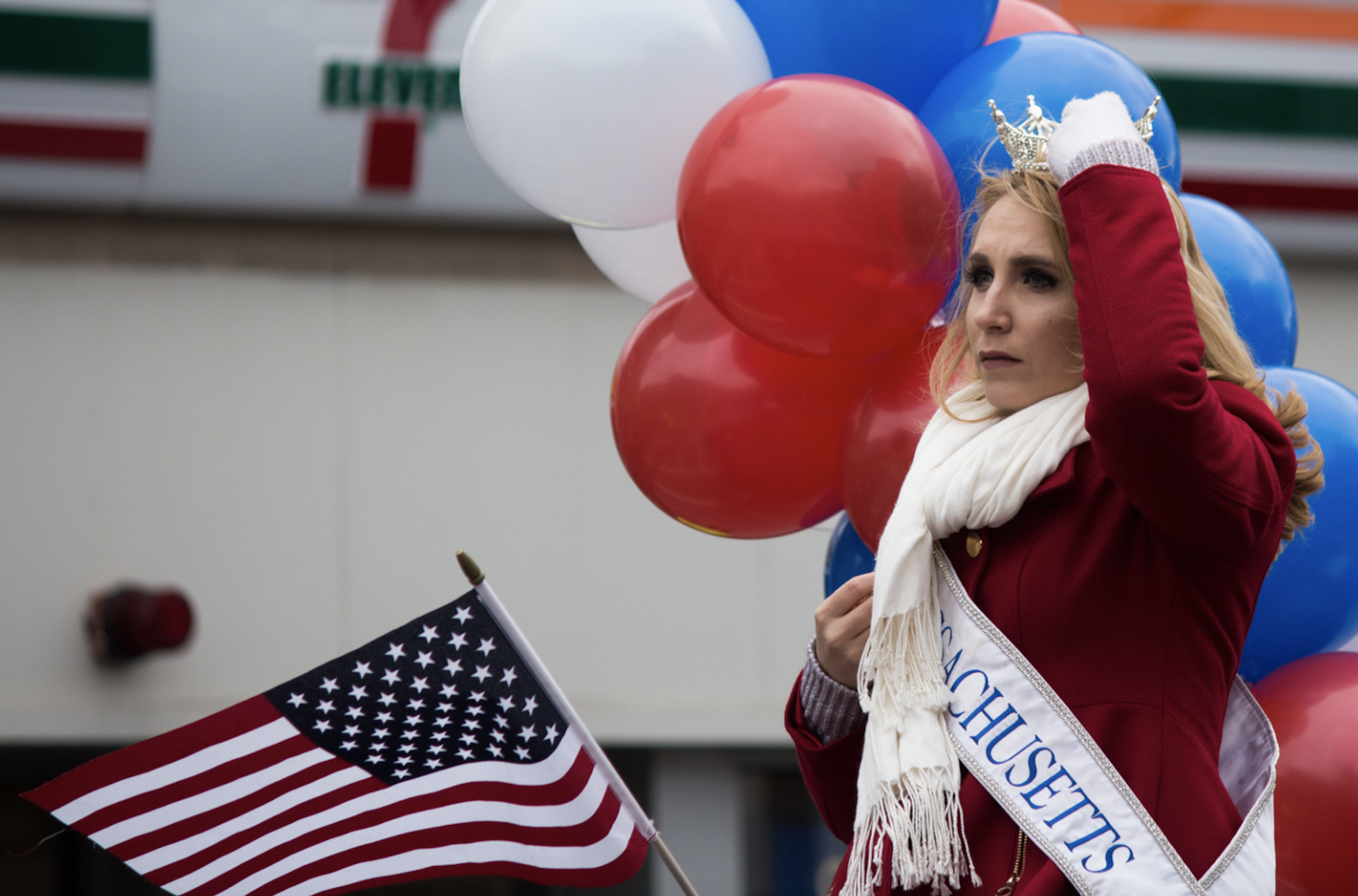 - - -
Q: How did you get involved in the Miss America organization?
A: I was in college and I was working in a music store. A customer confused me with another girl in the area who competed in pageants. I laughed it off — it's not really my personality, and it didn't seem like something I would ever be involved in.
But I did a little research and found out that Miss America is actually the largest scholarship provider for women in the world. I was in college at the time, so I thought, "Maybe I can make some scholarship money."
Q: How did you learn what to do?
A: This sounds so nerdy, but I bought a book about competing in pageants. I read it while I was on the treadmill.
Q: How far did you go in the competition?
A: First I was Miss Cambridge, which was the city I was living in, just north of Boston. From there I went on to win the state title, Miss Massachusetts, and then I went on to compete in Miss America.
Q: Wow. Did you meet Donald Trump?
A: That is a frequently asked question. There are two major pageant systems in the US. One is Miss America, and one is Miss USA. Miss USA goes on to compete in Miss Universe, and that was briefly owned by Donald Trump. But Miss America has never had an association with him.
Q: What was your first competition like?
A: I was horrified. My parents thought I was absolutely out of my mind — that it was the dumbest idea ever. My friends were also very confused and questioning my sanity.
But life is too short to not at least try something. It's another experience, it's another thing to talk about, why not.
In the beginning, I had no idea what the hell I was doing. I had never picked up a hair curler in my life. I was good at talking to people and playing the piano, and according to the numbers I read, those made up seventy percent of your score.
So there was a bit of a learning curve with the makeup, hair, and gown sort of stuff. But I've been playing piano since I was four and I thought it would be a cool opportunity to play classical music.
Q: What kind of questions did they ask you during the competitions?
A: They can ask you anything, like politics, news, Miss America history… It's like a job interview. The main thing you do as a title holder is interact with people, so if you can't talk in complete sentences, it doesn't matter how well you look on stage or twirling your baton or whatever.
When I won the state competition, they asked me how I felt about legalizing marijuana. Most people would've taken the safe route, but I went off on this tangent about why people should be allowed to smoke pot. I walked off stage and I didn't know if I just blew it or if it went really well.
That was the question I wound up winning with. And Massachusetts legalized recreational marijuana less than a year later, so I'm not saying I had anything to do with it, but…
Q: How old were you when you did this?
A: I was 20. It was 2015 when I was in the local competition, and 2016 for Miss America.
Q: How did you feel about being on stage in a bathing suit?
A: At the beginning, I was super-uncomfortable. It felt weird, and I told myself I could never do it.
Eventually, when I was on the live show in front of millions of people, I was able to do it, and it's a pretty empowering thing, when I look back on it. It was something that made me step outside my comfort zone.
When I was involved, the competition included talent, evening gown, swimsuit, and an onstage question. But Miss America got rid of the swimsuit portion about a year ago.
Q: How did you feel about that?
A: A lot of the organizers were like, "In light of the Me Too movement…" but I say that's bullshit. In 2019, can't a woman be comfortable in her our own skin and walk around in a bathing suit but simultaneously be talented and smart? Just because a woman is proud of her body and what she worked for doesn't mean that she should be sexualized by men without an invitation. I didn't like their reasoning. I think it's an empowering thing.
It's controversial though — everyone feels differently about it. I just think that walking around in a bathing suit doesn't take away from my intelligence or achievements or talent. So much of the world thinks that if you're pretty, then you can't be smart, and I hate that.
Q: What else would you like people to know about Miss America?
A: So many people have seen Toddlers & Tiaras or these YouTube videos of girls falling down the stairs in evening gowns, but there are a lot of opportunities that come from it. A lot of it is public speaking, we do a lot of charity work — it's like a training camp, like for running for public office. They actually refer to it as a year of service.
There are a lot of stereotypes about pageants and the type of women who compete in this sort of thing, so anything you want to ask, I'd rather address it and change people's minds.
Q: When you won Miss Massachusetts, what did it feel like?
A: It was unreal. It was really exciting. My mom was crying, and it made me cry.
Q: And what was the Miss America contest like?
A: They start out with fifty-two contestants — from all the states, Washington, D.C., and Puerto Rico. They narrow it down to fifteen finalists who compete on TV, and I was one of those finalists.
It's in Atlantic City, where it started in the 1920s as a bathing suit contest to get tourists to stay for the week after Labor Day.
You have two weeks of rehearsals, and you're under surveillance the whole time. We couldn't even leave our rooms to get ice at the end of the hallway. By the TV portion of the competition, I was exhausted.
Q: Did they ask you a hard question?
A: The question I got was pretty easy; it was regarding the music education projects I did in schools all over Massachusetts.
Q: Can I ask about the pay?
A: At the state level, the winner gets a $12,500 scholarship, plus you can win additional awards for community service, for talent, different stuff like that. Even the girls who don't win walk away with some money to put toward school.
It's open to ages 18 to 24 and most of the women are in college or grad school. One of the previous winners was pursuing her master's in public health. The year before that was a Harvard dental student. These are very high-achieving women, very academically-oriented women.
Q: Do you ever rub it in your friends' faces? Like I'm Miss Massachusetts, treat me with respect.
A: No, it's the total opposite. My friends would drop it in a bar to try to get us free drinks, or they would tell absolute strangers. My friends were very proud. Even now, after a few drinks, my friends will bring it up…
Q: Do you have any regrets that you did this?
A: Absolutely none. It was truly a life-changing experience. That sounds so cliché, but I met so many people, had so many unique opportunities. I'm very glad I did it.
Q: And you know how to use curlers now?
A: I can do it while driving. Definitely.