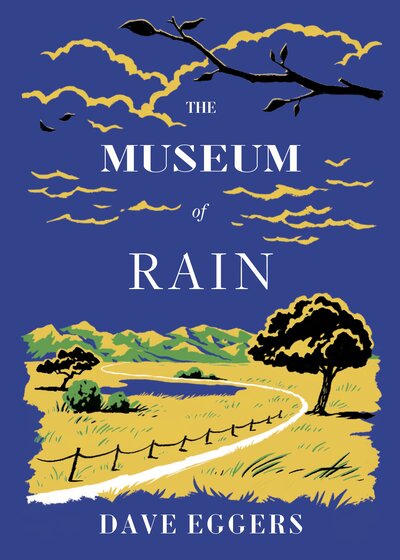 - - -
Dave Eggers's new short story, The Museum of Rain is a testament to family, a ballad to leisurely walking in nature, and a reflection on the origin of ideas. Its protagonist, Oisín Mahoney, is an American Army vet in his 70s who is asked to lead a group of young grand-nieces and grand-nephews on a short journey through the hills of California's Central Coast. Walking toward a setting sun, their destination is a place called the Museum of Rain, which may or may not still exist, and whose origin and meaning are elusive to all.
Late this summer, McSweeney's is publishing the story as a pocket-sized hardcover with an original cover illustration by Angel Chang, as well as an e-book available in the coming weeks. This is a Q&A between us and Dave, who we work with, so expect a very hard-hitting series of questions.
- - -
McSWEENEY'S: Where did this story come from?
DAVE EGGERS: The words "Museum of Rain" popped into my head about fifteen years ago, and for a long while, I didn't know exactly what to do with them. I worked on a few different iterations of the idea over the years, and about a year ago I finally wrote this story.
McSWYS: The story starts at the Mahoney family reunion, where many generations have gathered in California's Central Coast. Oisín is asked to come up with an activity for about a dozen kids, most of whom he doesn't know well, or at all. His attitude toward the kids could be described as somewhere between wry and ornery.
DE: At the beginning, he dreads the whole project. Among the family, Oisín is seen as a loner and a bit of a slacker, so they nominate him to take care of all the reunion's kids for a day. Oisín was a camp counselor back in the day, so he does know how to entertain a disparate group of kids. But he assumes children have changed, so he expects them to drive him batty. Soon, though, he's pleasantly surprised that kids are still kids. If you ask them to hunt for walking sticks, or encourage them to eat fennel and mustard grass and rosemary from along the path, and that they can stop anytime they feel like it and inspect rocks and look for coyotes and kick a cow pie, they'll be into it. Kids in nature will always embrace it if you give them the chance. They quickly revert to their animal core.
McSWYS: One of the kids, Rebecca, especially endears himself to Oisín.
DE: Oisín gives her a task early on, and she leaps at the chance. She sees herself a bit like a general's aide-de-camp. So many kids are like that — they want to be given responsibility, to be entrusted with something, to be taken seriously. There's a purity of purpose to Rebecca that is true in most kids, and Oisín and Rebecca form a quick and profound bond. She also gets his jokes.
McSWYS: What about the other kids? Are these based on kids you know?
DE: No. But I've been coaching softball and baseball for years, and I have a sense of how kid-group dynamics work. When there's purpose and momentum, there's no limit to the cohesion and esprit de corps possible. It's beautiful.
McSWYS: The Museum of Rain is a kind of exhibit that, long ago, Oisín set up in the hills of the California coast. The kids haven't seen it yet, and Oisín dreads going to it. Why?
DE: Oisín lives alone in the mountains of Idaho. Though he grew up in California, he hasn't been back much. And he's afraid of being confronted by evidence of his own age and decay. It's like visiting a childhood treehouse — usually they've fallen to depressing disrepair, just moss and rotting wood. And because Oisín has no kids, no close relatives, the stakes are a bit higher for him. He's confronted by the question of what it is that he's leaving behind.
McSWYS: We're publishing this as a standalone story in hardcover form. Let's talk about how that came about.
DE: This kind of thing has been done here and there by other publishers, and I always find it a welcome surprise. I collect books of odd shapes and sizes, including some tiny books of poetry City Lights has put out over the years — they're about as big as matchboxes. Angel Chang made a beautiful cover for The Museum of Rain, and the printing, by Freisen's in Canada, turned out perfectly. It's just a wonderful object — skinny and unassuming. The story is only about 5000 words, so it can be read on a subway ride, or in a nice soak in the tub. I like to think there's room for something like this — a short story published on its own, a small thing you could put in your back pocket.
McSWYS: If you were wearing pants with oversized back pockets.
DE: Right. If your pockets are four inches by six inches, you're all set.
McSWYS: Anything else to add?
DE: Just that this story is very personal to me. It bounced around in my head for so many years, and I'm very happy that it's out now. I remember when I finished it, I thought, Well, that about sums it up for me. That's the last short story I'll ever write.
McSWYS: Is this the last short story you'll ever write?
DE: I don't think so, but for a few weeks, this story was the last story.
- - -
Preorder The Museum of Rain