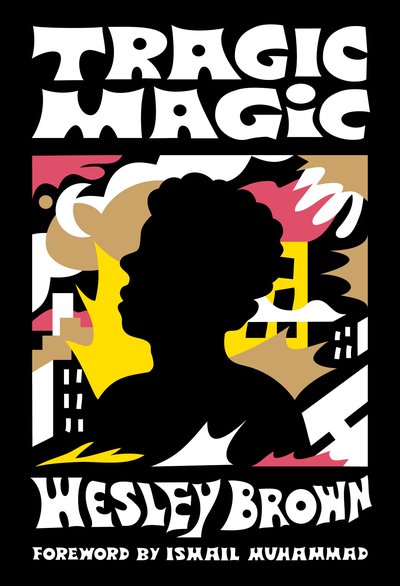 - - -
Wesley Brown's 1978 novel, Tragic Magic, edited by Toni Morrison, is the first novel in McSweeney's Of the Diaspora series, edited by Erica Vital-Lazare. The series also includes 1983's Praisesong for the Widow by Paule Marshall and a new work, a collaboration between essayist Aisha Sabatini Sloan and her father, Newsweek photojournalist Lester Sloan. Their book of photos and dialogue, Captioning the Archives, arrives in August.
Kirkus calls Tragic Magic "a prescient ancestor to today's insurgent, boundary-breaching African American fiction… deserves rediscovery by a new generation of readers curious about where an earlier generation of Black protest came from and how they came through its challenges." Vital-Lazare spoke with Brown about the novel.
- - -
ERICA VITAL-LAZARE: Tragic Magic was originally published in 1978. What was the first release like for you? Can you describe a bit of what was going on personally as a first-time author and politically as a Black man in America? What's different now and what is magically or tragically the same?
WESLEY BROWN: Having my first novel published by Random House was, obviously, an amazing experience, not only to be published by such a prestigious company but to have had Toni Morrison as my editor. At the time, I was teaching literature and composition in the SEEK Program at Hunter College. Politically, the country was reeling from the blows to its exalted sense of itself in the aftermath of Watergate and the end of the war in Vietnam. And instead of coming to terms with the systemic inequalities raised during the 1960s and early 1970s, there was an escape into the non-stop frenzy of the disco craze and movies set in other galaxies such as the Star Wars saga. Of course, the later advent of the internet provided us with instantaneous access to one another, but did not necessarily advance genuine communication. What didn't change was the continued mass incarceration of people of color, and the unending killings of Black people by the police — which the emergence of hip hop gave powerful voice to in the late 1970s and early 1980s. However, I'm heartened by the spirit of the 1960s being carried on by the current generation of Black women and men in the Black Lives Matter movement.
EVL: Protagonist Melvin Ellington recounts with admiration Ella Fitzgerald's shameless leaping of lyrics into scatting, and later there's a passage describing the audacity of Miles Davis playing with his back to the audience. What is Melvin meant to learn about himself through jazz and its performance?
WB: Melvin sees the possibilities for his own self-discovery through jazz artists like Ella Fitzgerald and Miles Davis, who taught him that he didn't have to follow some already established way of living in the world but could improvise, taking what was considered a given and creating a path for himself as an individual that was unpredictable and full of risks.
EVL: Melvin has long held a torch for Alice, who he describes as "foxy as ever but her fineness had lost its wild abandon" and also waxes poetic about the beauty of a man in the communal shower in prison. What rules around masculinity were you challenging? How do you address scenes and language that now seem problematic?
WB: Melvin is struggling with received notions of what it means to be a man and how that informs his relationships with the women in the novel. Even when Melvin attempts to live down to the bravado of masculinity, his modesty undermines the effort. And when Melvin's eyes linger on a man in the prison shower, he doesn't consciously consider what might be suggested by the attraction but whether he will be caught staring. As far as scenes and language in the novel that seem more problematic now than when it was first published in 1978, I feel that what is problematic about Melvin and other characters is part but not all of the truth of their lives. Novelist Flannery O'Connor once wrote that one of the requirements of fiction is the examination of what we lack as human beings. Melvin does challenge the bragging rights that are assumed to come with manhood, but he is still implicated in them. I remember reading that democracy is something that a nation must always be doing. This is true for Melvin as well, since he is not or ever will be a done deal.
EVL: Toward the end of the novel, Melvin's haplessness almost gets him killed. As he lies possibly dying, the men he'd known in prison come to him in a dream and tell him to imagine himself, his face in particular, as an egg. "Only thing is you can't let folks get too close cause the slightest bump will crack your shell…" Similarly, there's a moment in Song of Solomon when a lighthearted exchange between a radicalized Guitar and the more privileged Milkman Dead about whether or not a Black man can be an egg turns serious. Guitar, seeming to capitulate, says, "Then somebody got to bust your shell." Like the age-old adage, what came first? Your egg-imagery or Morrison's, and what does the egg for these Black lives signify?
WB: As far as the use of the egg metaphor, I defer to Toni Morrison. Its meaning for Black people might be that the variety of ways eggs are made relates to an essay by Ralph Ellison where he describes his experience seeing a Black man in Harlem, disrupting the run of the mill codes of dress, wearing black riding boots, tan-colored britches down to the knee, a multi-colored dashiki, a black Homburg tilted at an angle above a huge Afro and carrying a riding crop. Ellison referred to this bodacious spectacle of style as an example of an integrated personality, and Zora Neale Hurston defined as the "will to adorn" that she believed was a basic characteristic of African American life.
EVL: Who are the current Melvin Ellingtons? Were they marching during the American Spring of 2020, posting videos to Tiktok, earning graduate degrees? And what music are they listening to?
WB: I believe the current Melvin Ellingtons have a much more confident sense of themselves than my protagonist — which is as it should be. They would include activists and scholars such as Stacey Abrams, Brittany Packnett Cunningham, Deray McKesson, Alicia Garza, Eddie Glaude, and Brittney Cooper. As to what music they might be listening to, I'm not up on much contemporary popular music. What I can offer are artists, both iconic and not as well known, that I would hope speak to them in this moment: Nina Simone, Bill Withers, Abbey Lincoln, Sweet Honey in the Rock, Miles Davis, Cecele McLoren Salvant, Oscar Brown Jr, Cassandra Wilson, Andy Bey, Carmen McRae, Rene Marie to name a few.
- - -
Preorder Wesley Brown's Tragic Magic.