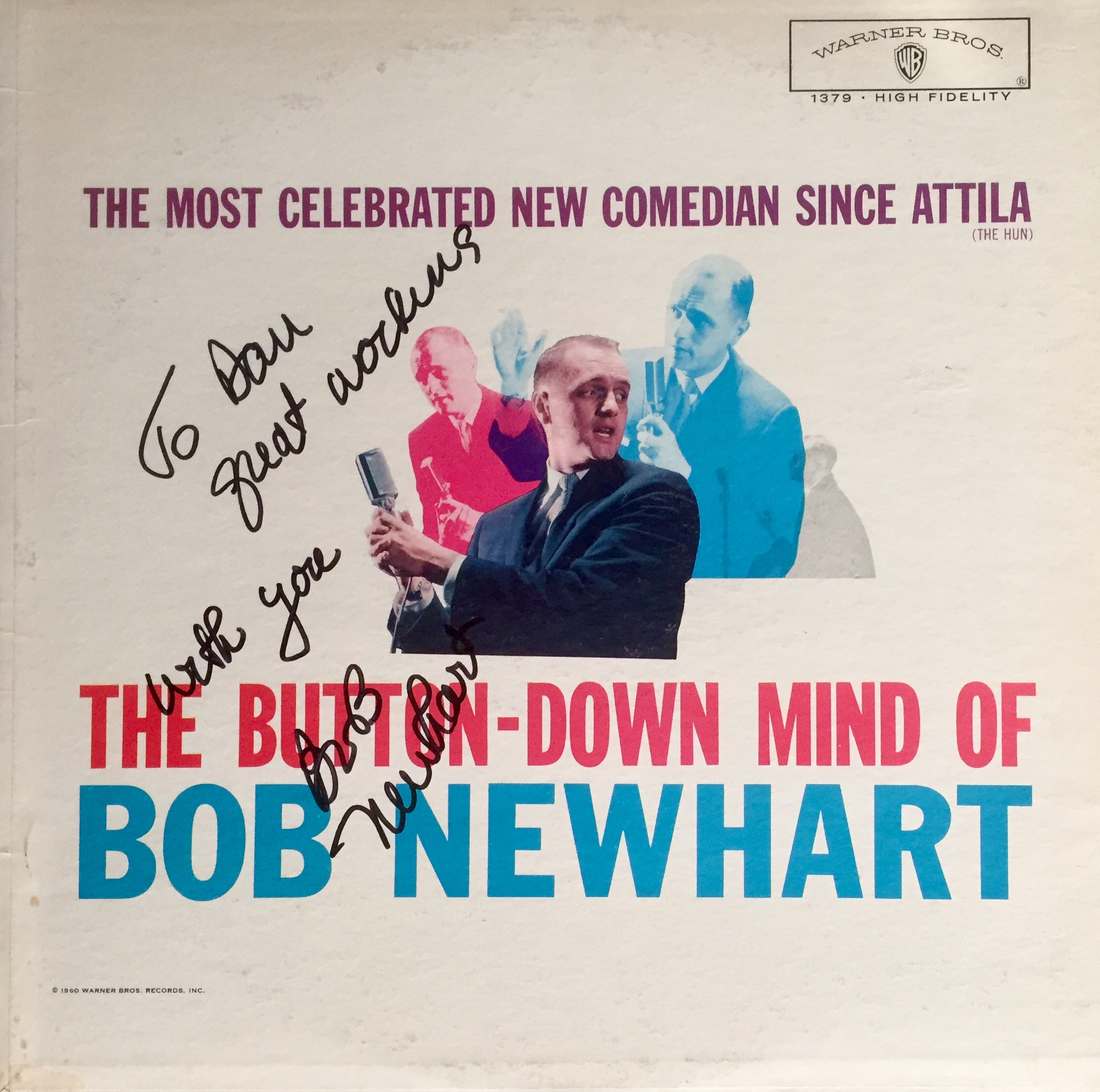 - - -
There is a popular belief that all comedians have an origin story that comes from being an outsider. They are Jewish or black or gay or struggle with mental illness or addiction or the pain of an unhappy childhood… or some combination of two or more of those ingredients. But that's not necessarily true. OK, maybe it's mostly true. That might cover around seventy percent of all comedians. Possibly eighty percent. Alright, ninety-six percent. But then there is Bob Newhart.
George Robert Newhart was born 90 years ago today to a loving, close-knit, Catholic family in Oak Park, Illinois. He attended Loyola University in Chicago. His background was about as middle American as it got: middle-class in the Midwest. But somehow he came out funny. In his own quiet, unassuming way, Bob Newhart is just staggeringly funny.
As I have written and spoken about many times before, growing up in Los Angeles in the 1970s, I attended school with the children of many of the biggest celebrities of the era. Joan Rivers' daughter. Carol Burnett's daughters. Don Rickles' kids. And Bob Newhart's kids. And even though I grew up watching all of these comedy stars on TV, I came to see them as regular people. Normal parents just like my parents. And no one seemed more normal than Mr. Newhart. His vibe and his energy felt more like the accountant he had once been in his pre-comedy days. He had an air of being at ease that made you immediately comfortable around him. And in retrospect, that was always the key to his appeal as a comedian and an actor.
In 2001, I had the great honor of interviewing Mr. Newhart for the Television Academy's then-fledgling oral history project now known as The Interviews. Recorded over two separate days, Mr. Newhart was as kind and as gracious as ever, indulging my fascination with his beginnings that led to the recording of his first landmark comedy LP, The Button Down Mind of Bob Newhart. It still boggles my mind that he was signed to Warner Brothers Records on the strength of a tape of three routines only to be thrust in front of a nightclub audience for the very first time in his life in order to record the album. An album that would then go on to reside at the top of the Billboard charts for months, sell over a million copies and ultimately earn him the Grammy for Album of the Year in 1961. The first of only two times that a comedy album would win the top prize at the Grammys.
From that moment on, Bob Newhart has been an American institution. He has starred in two of the all-time classic sitcoms and has remained a fixture on TV, in movies, and on stage ever since. Mr. Newhart recently declared that even as his 90th birthday was approaching that he has no intention of ever retiring. So what is it that drives him? My best guess is the least exciting theory possible. He loves what he does. He loves making people laugh. He is happy making others happy. But now more than ever, I think that he is exactly the kind of comfort food we need.