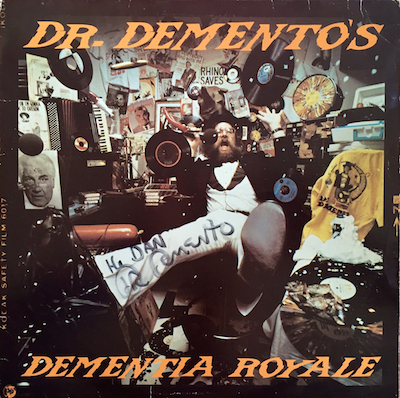 - - -
Whenever I am asked how I first got started in entertainment, I say two things. First, being born and raised in LA, I had geography on my side. Even though my family had no connection to the business, it was everywhere all around me. It all seemed normal. Attainable. Second, and more specifically, there was the Doctor Demento Show.
Back in the 1970s, radio was a powerful medium. Not the center of the media universe the way it was in the pre-television 1930s and '40s, it had since morphed into a free-form playground of discovery. Sure, AM radio felt stuck in the formats of the past, but in the '70s FM radio was where it was all happening. And while somber-voiced DJs were exploring the far reaches of contemporary music, Dr. Demento was an island unto himself. Gleefully presenting comedy and novelty recordings old and new with an exuberant squeal, he was a curator of the curious. A scholar of the silly. A purveyor of the perverse. He spun scratchy 78s from the very beginning of recorded sound to the best of the newest generation of hilarious hopefuls. From 6-10 pm every Sunday night on KMET-FM, Demento introduced me to the acrobatic virtuosity of Spike Jones, the Yiddish-infused parodies of Allan Sherman, the literate satirical songs of Tom Lehrer, the counter-culture comedy of Cheech and Chong, the mind-expanding work of Frank Zappa and an array of otherwise little-to-never before exposed oddballs including an architecture student from Cal Poly San Luis Obispo who called himself "Weird Al" Yankovic. For those four hours every week, my radio transformed into Lewis Carroll's looking glass. I was Alice, the show was Wonderland, and Dr. Demento was the Mad Hatter, hosting a tea party of the wildest characters I'd ever encountered. It was a unique and wondrous world he created and trust me when I tell you that by the late '70s, there was no Demento fan who had plunged deeper down that rabbit hole than me.
On May 18th 1980, Dr. Demento broadcast his show live from the legendary Tower Records on the Sunset Strip. In hindsight, I can't believe that my parents were comfortable dropping me off and leaving me for all four hours, but I'm so thankful that they did. There I met the good Doctor, many members of the Demento supporting cast and recording artists who regularly appeared on the show. As a precocious 11-year-old, I somehow managed to make enough of an impression that Demento put me on the air! Fantasy and reality crashed together and, in that moment, I became emboldened… determined that theirs was a club I wanted to join. I spent that summer building and packing boxes on the loading dock at my mom's clothing manufacturing company in downtown LA to earn enough money to press five hundred copies of my first 7" single.
On October 5th 1980, the Doctor did another live show, this time at the LA County Fair in Pomona. Although it was my father's birthday, my parents schlepped me out there, this time at Demento's invitation as he promised to premiere "Dan's Song" from my record and have me back on as a guest. If the first time was a gateway drug, this was the hard stuff. And just a few weeks later, "Dan's Song" made its debut at number nine on the Dr. Demento Top 10. I was just shy of my twelfth birthday. I can't remember what I did or received for my actual birthday, but I'm sure it was nothing more thrilling than that.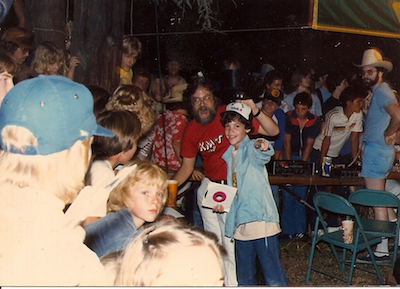 Over the next year and a half, "Dan's Song" found it's way into the Top 10 another five or six times. The song was a basic progression of chords with simplistic lyrics that relied on the titillation of near profanity, a la the Demento standard "Shaving Cream" by Benny Bell. Hardly artful, but kids my age seemed to dig it. I felt like I was in the club and, as such, I kept knocking on the clubhouse door, incessantly calling the KMET request line to talk to all my new friends. But the truth was that I was just a pesky kid, a groupie that got to sit in with the band. And although the Dr. Demento Show was a showcase for novelty records, the novelty of my precociousness had worn thin. I was just too young to understand it. So two years later when I made another record, the Doctor didn't play any of the tracks on the show. Dispirited, I packed away all the unsold copies of that second record and drifted back into the background, remaining a fan… but nothing more. KMET went off the air in the late 1980s and by that time, I had moved on to making films, working as a studio intern at Paramount Pictures, writing and performing stand up comedy, and attending film school at USC.
I didn't have any further contact with Demento until we reconnected a few years ago via social media. His radio show had since enjoyed long runs on other stations in LA, in national syndication, finally migrating to cyberspace on DrDemento.com. Now, as a grown-up and a professional working in media, I finally felt comfortable to re-engage with this mythological figure from my youth and offered to help promote his ongoing good work. I facilitated an appearance for him on my friend Chris Hardwick's Nerdist podcast. Like me, Chris had grown up as a huge Demento geek and was only too happy to oblige. Chris generously resolved to set the date for when I would be able to attend the taping. And on the day, Chris decided that I should participate in the conversation. It was a warm, wonderful hour-long exchange with a man I regarded as my first great teacher… a singular and significant influence… whom I hadn't seen for thirty years.
During the podcast, the tale of "Dan's Song" came up and Chris became insistent that he wanted to include it. Still filled with self-consciousness about my youthful unbridled lack of restraint, I feigned inability to provide it. Undaunted, Chris was able to obtain it directly from Demento who unearthed it from his archives in what I can only imagine was a near archeological undertaking. Eliciting chagrin and nostalgia in equal measure, it played as a surrealistic coda to the podcast. A few weeks later, I was listening to the Dr. Demento Show online when the Doctor began speaking fondly of our Nerdist reunion. And then, out of the blue, he introduced a recording he'd made of a video I'd posted on You Tube of my then five-year-old daughter Abby singing. My heart swelled. The circle was complete in the loveliest and most poetic way imaginable.
Looking back and reflecting on my hyperactive pre-teen self, my head starts to shake and my face involuntarily begins to contort into a wince retroactively. But I'm grateful that my childish conduct didn't get me chased out of the room right away. The brief indulgences I enjoyed from Dr. Demento and his crew gave me enough fuel to drive myself forward. And the education I received through the speakers of my stereo all those years ago remains a definitional part of who I am down to a molecular level to this day. True to Demento's trademark sign off, I have always remembered to stay demented. And I always will.