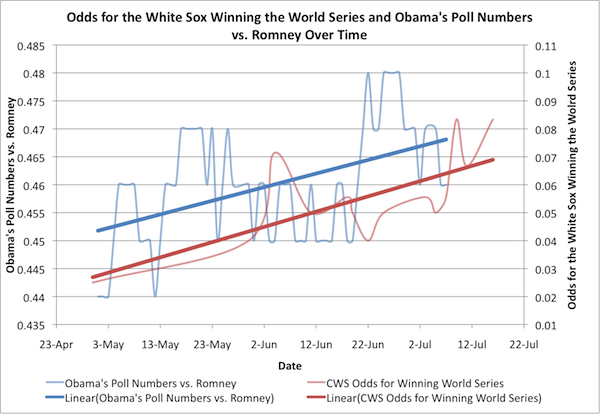 - - -
Previously in this column, I floated the idea that the Chicago Cubs could meaningfully influence the 2012 presidential election in Barack Obama's favor by simply winning more games and thus lowering the unemployment rate. Whether out of spite for a President with allegiance to the ball club on the South Side of town or perhaps due to simple ineptitude, the Cubs did not sustain their short-lived momentum, and the employment picture has therefore remained abysmally bleak. Fortunately for Obama, the other professional baseball team in city has taken up his cause. Though not initially considered a playoff contender, the Chicago White Sox are playing surprisingly well and now find themselves at the top of the AL Central. And while President Obama is still mired in a hotly contested election, his poll numbers against Mitt Romney have been propped up in recent months by the White Sox's unexpected success. As close as the upcoming election is sure to be, Obama's White Sox advantage may just propel him into a second term as the President of the United States of America.
Both the White Sox and Barack Obama had a rough start to the summer. In May, the White Sox were the unfortunate owners of a winning percentage as low as .433 and a home record that was even worse than that. While first year manager Robin Ventura and his team languished in the doldrums of the AL Central, Obama's poll numbers against Mitt Romney subsequently tumbled to a year-low of 44%. Since that time, however, the Sox have learned to close out tough games and have ridden several hot streaks on their way to earning first place in the division. Las Vegas has taken the White Sox's meteoric rise into account and duly increased the odds for the team winning the World Series from 1/40 in the beginning of May to 1/12 in July. That's a threefold increase. And Obama's poll numbers? Up three points to 47%.
If there is such a tight link between the White Sox's success and Obama's rise in the polls, then why is there such a wild enthusiasm gap between White Sox fans and Obama fans? Ask a White Sox fan how they feel about the direction of their team, and they'll probably say they're feeling pretty good. Ask a Barack Obama fan how they feel about the direction of their team, however, and you're likely to get a very different answer. The dichotomous demeanors of these two fan bases is ultimately reflected in the relevant statistics: reinvigorated White Sox fans have increased median attendance at U.S. Cellular Field from 20,167 people in April/May to 30,282 people in June/July. Compare that to the 20% decline between 2008 and 2012 in the number of 18- to 29-year-olds who are planning to vote in the next presidential election. If you're Barack Obama, these young voters are critical to your reelection aspirations, and their growing disillusionment is a disturbing trend; sure, the kids like you, but they might not be motivated enough to get out there and vote for you!
The question, of course, is why does such a large enthusiasm gap exist between a baseball team that has a 1/12 shot of winning the World Series and an incumbent president who has better than a 2/3 shot at retaining the office1? The answer is simple: expectations. Going into the 2012 season, White Sox captain Paul Konerko deftly stated, "This can be a very successful year without making the playoffs." After a disappointing 2011 season, Paulie's guarded optimism perfectly set fan expectations at a reasonable level. Compare Konerko's statement to these lines from Obama's inaugural address:
The state of the economy calls for action, bold and swift, and we will act – not only to create new jobs, but to lay a new foundation for growth. We will build the roads and bridges, the electric grids and digital lines that feed our commerce and bind us together. We will restore science to its rightful place, and wield technology's wonders to raise health care's quality and lower its cost. We will harness the sun and the winds and the soil to fuel our cars and run our factories. And we will transform our schools and colleges and universities to meet the demands of a new age. All this we can do. And all this we will do.
Whew. That sets the bar a little high, don't you think? Perhaps Obama should have added a Konerko-esque realistic-expectations-setting qualifier to the end of his address and said something to the effect of, "But, of course, my term in office can be very successful even if that stuff doesn't happen."
The White Sox are improving against divisional rivals and Barack Obama's poll numbers are improving against Mitt Romney as a result. This correlation leads one to believe that a White Sox playoff run would bode very well for Obama's reelection bid. And if the Sox get to the World Series? Well, you can bet that Obama's campaign staff will have their fingers crossed throughout October. However, the White Sox can only carry Obama so far—he must take it upon himself to boost the level of fan enthusiasm for his campaign. How? Might I suggest replacing Vice President Biden with first baseman Paul Konerko? After all, Konerko is second on the White Sox franchise's all-time homerun list and has also keenly demonstrated that rare quality of under-promising and over-delivering. Such a pivotal switch is likely to be, as they say, a home run.
- - -
Sources
Five Thirty Eight blog. New York Times, 16 Jul. 2012. Web. 16 Jul. 2012.
Election 2012 Trial Heat: Obama vs. Romney. Gallop, nd. Web. 16 Jul. 2012. .
Jones, Jeffrey. Young U.S. Voters' Turnout Intentions Lagging. Gallop, 13 Jul. 2012 Gallop. Web. 16 Jul 2012..
Baseball Futures. Scores and Odds, 16 Jul. 2012. Web. 16 Jul. 2012..
2012 Chicago White Sox. Baseball-Reference.com, nd. Web. 16 Jul. 2012.