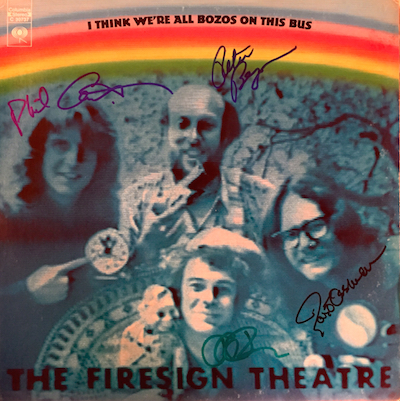 - - -
Like all great works of art, comedy albums are time capsules. They exist frozen in time, a reflection of that which came before and a projection of things to come. But for me, they are also snapshots of where I was in my life and my development when they first came into my consciousness. The ones that made me laugh remain near and dear to my heart. The ones that challenged me and opened my eyes to what was possible continue to inspire me. And I would file the work of the quartet known as The Firesign Theatre under "all of the above." When I first stumbled across their work as an impressionable pre-teen, it blew my mind. Weird, wacky and wonderful, it was unlike anything I had ever heard. So original. So unexpected. The Firesign Theatre taught me that comedy could go in any direction. And that it should. They also showed me that it was possible to be silly and smart at the same time. A quality I value greatly to this day. But first, a bit of historical context.
In their heyday, radio comedy and drama programs often led to the medium being described as "the theater of the mind." From roughly the late 1920s to the mid-1950s, radio was king. Then television came bursting onto the scene and brought an end to the golden age of radio. So by the time comedy LPs came into being in the 1950s, the audio only format didn't often aspire to it's fullest and most fanciful potential. Generally those first long-playing 33-1/3 RPM releases were vérité documents of comedians performing their routines live in front of nightclub audiences. Sure, a few albums came out that harkened back to the great scripted radio comedies of the bygone era. Stan Freberg Presents The United States of America Volume 1 and The First Family, starring Vaughn Meader as JFK, are both classics. But then at the intersection of the counterculture of the 1960s and the rock music sonic tapestries of the Beatles and the Beach Boys, there was a renaissance of mind-expanding, extravagantly produced comedy albums that were as artistic, ambitious, satirical and surreal as anything you might see on Adult Swim today. And it all started with The Firesign Theatre.
Beginning their careers (naturally) in radio, Phil Austin, Peter Bergman, Philip Proctor and David Ossman pioneered a style of comedy on vinyl that in part owed its inspiration to the radio work of The Goons in the UK a decade earlier. With their first four classic LPs released in the late '60s and early '70s, the Firesigns heralded in a generation of masterfully crafted comedy albums that later included the works of Monty Python, The Credibility Gap, the National Lampoon and Cheech and Chong. The Firesign Theatre satirized everything from game shows as in their macabre classic "Beat The Reaper" to the noir detective genre in all of the brilliant "Nick Danger: Third Eye" pieces. These albums were as if the formats of old time radio had never died but rather continued to grow and evolve with the sensibilities of the times and then were shoved into a meat grinder and finely seasoned with subversiveness and a generous dash of mind altering chemicals.
A few years ago, my path happened to cross with founding Firesigner Philip Proctor. A sweet, wonderful man, Phil was beyond gracious about my rabid fandom of his work on those historic albums. When I asked if he would be kind enough to sign one, he volunteered to ship ALL of my LPs around the country to have all four members autograph them for me. At first, I felt sheepish about the imposition, but nonetheless, I packed eight LPs into a box and sent them off to Phil. For the next several weeks, I got email updates from him, following the progress of the project with the status and whereabouts of my LPs. Occasionally, a photo would be attached to one of the emails with a Firesign member sitting at a table, Sharpie in hand, signing my beloved album covers. I felt like a little kid with the Santa tracker app. A few weeks later, the box arrived at my house and it was like Christmas morning. I tore it open and gazed lovingly at each and every signed cover. I re-listened to all of those albums for the rest of that day, indulging in a glorious comedy nerd Firesignathon binge.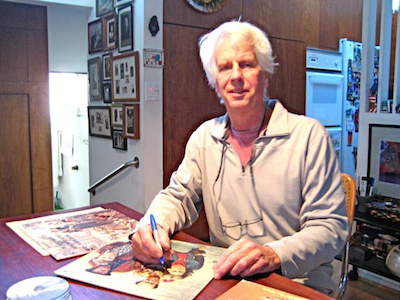 Phil Austin signing Dan's LPs.
In 2011, Phil invited me to a reunion performance of the four Firesigns but it would have meant traveling a great distance to attend. So regrettably, I declined, assuming I would have another chance sometime down the road. But it was not to be. The following year, Peter Bergman passed away. The Firesign Theatre was no more. This past weekend, I learned that Phil Austin joined Bergman in the hereafter. Both gone too young. Too soon. Ironically, they were unable to beat the reaper. I never met either of them, but I remain grateful for their generosity and dazzled by their madness, with their album covers adorning my wall and their work forever in my consciousness.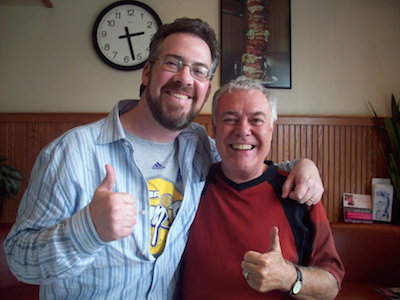 Dan with Philip Proctor.