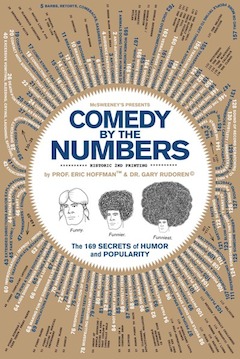 - - -
Comedy By The Numbers is perfect for people who are funny and for those who aren't funny—thus it is marketable to 100% of the population. As we all know, true creativity comes from simple formulas and the memorization of data. This new bible makes the secrets of comedy accessible, not only to those funny few among us, but also to those who might not have the ability or talent to be funny. One no longer need worry about originality—just find the right comedy number and apply as needed… and then you're on your way to POPULARITYVILLE!© Comedy By The Numbers is a NEARLY comprehensive list of all comedy characters, bits, scenarios, sketches, skits, shtick, and much more. (We say "nearly" because we want to leave room for Volume 2.) Includes special hints, tips, and unboring comedy history. Comedy By The Numbers is the brainchild of Prof. Eric Hoffman (Mr. Show) & Dr. Gary Rudoren (Annoyance Theatre) AND features loads of comedy fun facts that you can memorize and use to impress people at parties!
To celebrate the 7th anniversary of Comedy By The Numbers' release, we're featuring an excerpt from its pages today. To buy the book, please visit our store.
- - -
WHY

THIS

BOOK

IS

IMPORTANT


TO

YOU

AND

YOUR

LIFE

.

"There are lots of comedy books out there—what will yours do for me? Me! Me!" — You

Look, we don't want to waste your time. If you find some other book that you think is somehow "better" than our woefully-underpriced-for-its-life-altering-value book, then by all means, call us up and we'll go out for coffee or something to discuss it – but for now, check out how handy this book can be!

Just look at these scientifically proven practical applications using COMEDY BY THE NUMBERS©…
When writing a screenplay:
1. Devise an interesting plot.
2. Develop characters that are organic to the context and serve the story.
3. Write a main part for an actor who is perceived as popular.
4. Remember that people love breasts.
5. Add bits from Comedy By The Numbers ©.
When writing a stage play:
1. Select a moral imperative that you know will change your audiences' lives.
2. Conceive of characters to support your point of view, preferably British.
3. Inject an overwhelming metaphor.
4. If you want to make it a funny, cast Nathan Lane ©.
5. Add bits from Comedy By The Numbers ©.
When writing a stand-up comedy act:
1. Try to be the audience's best friend (i.e; ask; "how are you doin' tonight?").
2. Purge your background for irony (i.e., let's say you're Jewish (87% of stand-ups are), but your dad had a Hitler mustache).
3. Make observations about yourself and those around you that you believe are universal to the human condition.
4. If you are fat, talk about that.
5. Add bits from Comedy By The Numbers ©.
When writing a situation comedy for television:
1. Place your characters in an environment that 36% of the viewers can relate to.
2. Don't be afraid of stereotypical characters or tired old plot devices.
3. Make all your characters caustic and hateful, except for the one's that are hot or ditsy.
4. Add bits from Comedy By The Numbers ©—avg. 50 / per 22-minute episode.
When at a party with people that you want to like you:
1. Hover on the edge of a conversation between two 'cool' people as if you're part of their 'posse'.
2. Talk about how much money you have on you at any given moment.
3. Drop the names of celebrities who gave you an add on MySpace.
4. Add bits from Comedy By The Numbers ©—including old comedy album lines.
- - -
TIP

!
SO
YOU

SAY

YOU

WANT

16

MINUTES


OF FAME…

THEN

READ

THIS

!

Very often you are one bit away from hilarity for all of God's green eternity and you don't even know it! Real actors and comedians struggle to find their "hook"©—you know, the one thing they become known for—forever! Below is a list of character types—along with bits, props and physical abnormalities, that when used correctly, will scream; "G-d, I'm Funny!"

The list is interchangeable… let us know how it goes!

• President / lazy eye
• Nurse / faint 'Hitler' mustache
• Policeman / one tooth
• Gynecologist / inappropriate wig
• Priest / incontinence
• Teacher / fake scars
• Lawyer / soiled pants
• Plumber / 'kick me' sign
• Rabbi / oversized yarmulke
• News anchor / unkempt mole
• Bank Teller / beer hat
• Chef / peeling flesh
• Door to door salesman / agoraphobia
• Accountant / huge sweat stains
• Indian / eating disorder
• Waiter / fused nostrils
• IRS agent / "Breast Inspector" ball cap
• Dictator / noticeable body odor
• General / flipper arms

- - -
WAIT

, DON'T

LEAVE

THE

BATHROOM

!


EXTRA

SPECIAL

END

OF

THE

BOOK

BONUS

FOR

YOU

!
COMEDY

TEST

–

SAMPLER

!

Now that you've learned EVERYTHING THERE IS TO KNOW ABOUT COMEDY (barring a sequel), it's time to test how much you've retained.

SCORE:
100% – See you at the Friar's Club.
99 to 76% – Role in Christopher Guest movie.
75 to 51% – Sitcom star with your name in title.
50 to 26% – SNL slot awaits
25 to 0% – Please, won't you read the book again?

Let's begin!©
1. Subtlety does not work with:
A) dick jokes
B) shit jokes
C) nag jokes
D) jokes
2. You've written a joke that is only "borderline funny."
In performance, which one will help
"knock it out of the park"?
A) shouting
B) turn it into a catchphrase
C) excessive vomiting
D) delivered by precocious child
E) drop trou and reveal underwear
3. A president who mispronounces words and can't form sentences is an example of what kind of comedy?
A) political humor
B) "someone where they shouldn't be" routine
C) anti-comedy
D) "the elderly and their foibles" humor
A) scare comedy
4. The "sound of a record scratching to a halt" wasn't funny the first time it was used, and it still isn't funny.
True or false?
5. Using the rules of anti-comedy, which is the best way to "deconstruct" the following bit?
You're brandishing a bucket which the audience believes is filled with water. You then throw its contents at the audience—but instead of water the bucket is really filled with:
A) confetti
B) shit
C) bourbon
D) miniature buckets
E) bottles of water
F) cassettes of Abbott & Costello's "Who's On First?"
G) videos of a Harlem Globetrotters game
6. In a comedy script, which of the following sound effect words would you use to describe a fart noise?
List them in order of preference:
A) POOT!
B) FLOOP!
C) BZZZZZZZ!
D) NIXON!
E) SSSHIT!
F) BLAP!
G) MAGAZINE!
H) FFFFFFF!
I) PWEET!
J) HUMPHRIES!
K) THORNT!
L) POP!
7. The perfect "capper" to a chase sequence is:
A) animal double take
B) drunk looks at his bottle and throws it away (gives up booze for life)
C) the gangsters chasing you explode
D) hide in costume shop/re-emerge in "Swiss Miss" get-up
E) all of the above
F) none of the above
G) some of the above
H) one or two of the above
I) none of the above, but something below
- - -
To purchase Comedy By The Numbers, please visit our store.