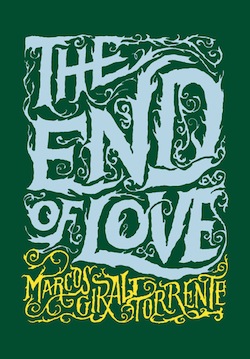 - - -
In this quartet of mesmerizing stories, Marcos Giralt Torrente (translated by Katherine Silver) explores the confounding, double-edged promise of love. Each finds a man carefully churning over his past, trying to fathom how the distance between people can become suddenly unbridgeable. Two tourists visit a remote island off the coast of Africa and are undone by a disconcerting encounter with another couple. A young man, enchanted by his bohemian cousin and her husband, watches them fall into a state of resentful dependence over the course of decades. A chaste but all-consuming love affair between a troubled boy and a wealthy but equally troubled girl leaves a scar that never heals. The son of divorced parents tries in vain to reunite them before realizing why he is wrong to do so. In The End of Love, Giralt Torrente forges discomfiting and gripping dramas from the small but consequential misunderstandings that shape our lives.
Today we offer a selection from the book's penultimate story, "Joanna." To purchase The End of Love, please visit our store.
- - -
Joanna. I have talked about myself not because I believe that the information is pertinent to understanding what I plan to tell but rather to better delineate the contrast between us. Starting with her name, and continuing with the straw hat that protected her very white skin from the sun, everything about Joanna was striking and different. Never, not in a hundred years, would we have had the opportunity to meet anywhere except El Escorial in the summer, and even there it could have easily not happened if Joanna, in her feminine and delicate way, had not also been a loner and immature and someone who sought out spots to hide similar to those I frequented. Now perhaps it would be different, but in that era (I'm talking about the beginning of the 1970s), kids our age, and especially girls, still respected the same restrictions on relationships as their parents. We belonged to two worlds destined never to meet: she, to the wealthiest vacationers, those who retained a certain air of the ancien régime in their extravagant habits, and felt entitled to look down on others with more recently acquired fortunes; and I with the stigma of my family history weighing me down—I don't know whose world I belonged to, if not those whom everybody ignored, who didn't fit in even with the gangs of local ne 'er-do-wells.
Later I would discover that in her own way, she was also a misfit, an odd fish, but one indication of the distance that I assumed to exist between Joanna and me, and of my reservations and prejudices, is that before we finally met I saw her on two consecutive afternoons in the gardens of the Casita del Príncipe and on both occasions and even though I couldn't take my eyes off her (such was her magnetism), even though we were the only ones there so early in the afternoon, and even though both of us were carrying a book, I fled, feeling like an intruder. And the third time would have been the same if she had not seen me first. It happened at the same time of day in La Herrería, an oak grove where Philip II had had a chair carved into a rock so he could sit and watch the monastery being built. I had nonchalantly taken possession of the royal seat and was absorbed in the pages of a novel when I was startled by a voice behind me.
"What are you reading?"
Joanna was looking at me and smiling, holding a book at her side as if it were a handbag. It was obvious she had had the same idea as me and was amused to find her place occupied by another reader.
"Oh, nothing, a book," I answered, still rattled by the surprise, as two tiny drops of sweat formed at the corners of her mouth.
"I can see that," she said, "but what book?"
At first, her tone of voice made me think that I was not a complete stranger, that she had probably noticed me before, but I soon realized this was not the case. That initial self-confidence, which immediately shortened the distance between us, constituted an essential feature of her personality as much as the timid silence into which she sometimes retreated. Joanna moved between these two extremes. It could almost be said that her self-confidence formed part of her social training, was the rudimentary element of her class position, and the muteness, the fluster that paralyzed her at times, the melancholy, were reflections of the fears she harbored inside. This is not, in fact, a conclusion I reached at that moment nor in the abundance of time we began to share that summer. It occurs to me now, as I make an effort to remember. At the time, I thought those changes mirrored her mood swings. It was not difficult to be led astray in this respect, for Joanna did not behave the same way with everybody. It was with those closest to her, especially her family, that she often became irascible and, without any apparent reason, stopped talking. As she came to trust me more and more, she would take one or another liberty, but until we finally parted I always considered it my fault for having brought up a subject she didn't want to talk about or having done something she interpreted as a betrayal.
Be that as it may, any shadow of unhappiness remained far away that afternoon we met.
The first thing we did was set about the task of getting to know each other. We both liked to read and were confirmed loners, but besides this, an abyss separated us. Whereas I had only ever been in Madrid and El Escorial, Joanna was already a consummate traveler. She was born in Martinique, her French father a native of the island and her mother Spanish; she had lived in New York, and when her parents separated, she had come to live with her mother in Europe, first in Provence, where she had spent two years, and finally in Madrid. She had a brother three years older than her who studied at the Sorbonne, and this is why she traveled frequently with her mother to Paris. She also often went to London, because her mother liked English shops. This was her first summer in Spain, and she did not know if it would be her last. With her mother, she told me, one never knew. The house in El Escorial where they were staying, a mansion with gardens in the aristocratic neighborhood of El Plantel, had belonged to her maternal grandparents, but her mother found it run-down and uncomfortable. She ticked off all these facts without a trace of presumptuousness—if anything, embarrassment—as if her nomadic life weighed heavily on her, and as if the uncertainty of not knowing what her mother's capricious character had in store for her made her uncomfortable. I listened to her with envy, not understanding her distress, and with a certain amount of anticipatory heartbreak, for she forced me to think of her as an ephemeral presence before she actually was. She forced me to acknowledge that one day she would disappear—I had no taste for unexpected disappearances, having suffered too many. I think that therein resided one of the peculiarities of the friendship we were forging: from the beginning we lived each moment knowing it was fleeting. We never had a future. Joanna did not think about it, and I, who would have liked for us to have one, attempted to vaccinate myself against any illusion that would cause me to relive past traumas. The other peculiarity, not so unusual in that era, was how naïve we were. I was absolutely dazzled, bewildered, crazy about her, but it never occurred to me that we could do anything but take walks, sit side by side, and read or talk for hours on end. Sometimes the physical distance between us was so small that a touch or a glance would make us blush; but at other times, carried away by the excitement of being together, Joanna would flirt emphatically. These excesses brought in their wake long bouts of penitential restraint, and I preferred to avoid them. She would become very serious, as if she had done some- thing wrong, and for an interminable stretch I would grow frightened, certain that she was considering not seeing me anymore.
One of our favorite pastimes was to describe houses we would have in the future, flats in the city or country homes, in precise details that were sometimes so preposterous we were obliged to pick up paper and pencil and draw them. In addition, every day we chose one house in town that stood out for some reason, or simply because we liked it, and we played at imagining what it was like inside. Even the least adept fans of psychology would point out that this obsession with houses revealed our unhappiness in our respective family situations and our desire to escape, and surely they would be right, but it seemed to us as natural a pastime as any other, as it also was to enumerate, after our walks, all the people we had come across, describing in detail how they were dressed; or to play a game of catastrophes that consisted of imag- ining one happening in a specific place—a museum, a zoo, a library, a city, anywhere—and deciding which painting, animal, monument, which book we would rescue first. Thanks to this game I discovered a few things about Joanna that she would probably never have revealed in cold blood, like the day she confessed to me that if a fire broke out in her house, she would save her old nanny, who had been with her since she was in Martinique, before her mother. Now I would be shocked to hear something of the sort, but said by Joanna that summer, with her lily-white skin and that sweetness in her voice and, it was not only acceptable but even natural.
Everything about Joanna seemed natural: what she said, what she did, what she noticed, her slight French accent, the strange words she used. What was unnatural was not being with her. What was unnat- ural was the life I had left behind and that I would unfortunately have to return to.
Every evening, before separating, we would choose a starting point for our walk the following morning and agree to meet there. We did not need to make arrangements for the afternoon. After lunch, we returned to where we had separated at noon. Joanna's schedule was not as strict as mine, and at the end of the day I was sad to leave her, knowing that it was my fault alone that we could not prolong our time together. On one occasion, I attempted to soften up my grandmother, and thinking that this would make it easier for me to win her over, I asked for permission to eat dinner at Joanna's house. Her response was disheartening.
"What business do you have in the house of people of their caliber? All they'll do is laugh at you. You shouldn't spend so much time with that girl. One must know one 's station in life."
I suppose she already knew that on many afternoons, when we grew tired of walking around, Joanna would invite me to her house, and this was her way of letting me know that she knew and did not approve.
- - -
Marcos Giralt Torrente was born in Madrid in 1968. He was writer-in-residence at the Spanish Academy in Rome, the Künstlerhaus Schloss Wiepersdorf, and the University of Aberdeen, and was part of the Berlin Artists-in-Residence Programme in 2002–2003. He is the recipient of several distinguished awards, most importantly the Spanish National Book Award in 2011. His works have been translated into French, German, Greek, Italian, Korean and Portuguese.
Katherine Silver's most recent translations of contemporary literature in Spanish include works by Daniel Sada, César Aira, and Horacio Castellanos Moya. She is also the codirector of the Banff International Literary Translation Centre.