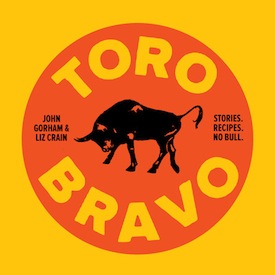 - - -
At the heart of Portland's red-hot food scene is Toro Bravo, a Spanish-inspired restaurant whose small plates have attracted critical praise and a fiercely loyal fan base. But to call Toro Bravo a "Spanish restaurant" doesn't begin to tell the whole story. At Toro Bravo, each dish reflects a time, a place, a moment. For chef John Gorham, it's personal. Gorham's the sort of guy who'd get his sous chef's name tattooed on his backside; the sort of guy who'll order rum shots for the table after you don't believe you can ingest a single thing more. Most important, Gorham believes that there's more to food than mere sustenance. The Toro Bravo cookbook tells that story: from Gorham's birth to a fourteen-year-old mother who struggled—all her life—with drug addiction, to time spent in his grandfather's crab-shack dance club, to formative visits to Spain, to becoming a father, to opening a restaurant. It's about the power of passion, relentlessness, and, of course, food.
The Toro Bravo cookbook also includes 95 of the restaurant's recipes, adapted for the home kitchen, from simple salads to homemade chorizo, along with an array of techniques that will appeal to both the home chef as well as the most seasoned, forearm-burned cook. You'll want to cook these recipes. And you'll want to share what you've made with the people who mean the most to you.
Today we offer a recipe from the book. To order Toro Bravo, please visit our store.
- - -
Bacon-Wrapped Dates
Makes 12 Dates
- - -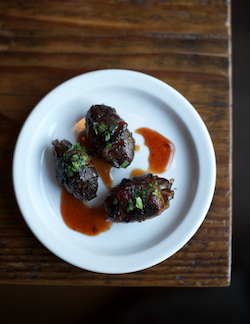 - - -
12 Medjool dates

12 salted Marcona almonds
1⁄4 cup local wild honey

1⁄2 tablespoon pimentón (any smoked, sweet Spanish paprika; we use Pimentón de la Vera Dulce from Viridian Farms)

1 tablespoon lemon juice

1 tablespoon hot water
6 slices Nueske's bacon or another double Applewood-smoked bacon, thinly sliced1
The first time I had bacon-wrapped dates was in Barcelona, where they were stuffed with cheese. At Toro, we wrap dates in bacon, iron the bacon jackets on, and serve them in a honey sauce that makes a sort of sandwich—so that you get sweetness on both sides of the bacon, along with layers of flavor: acidity from the lemon, and compelling smokiness from the pimentón.
We thought it would be clever to put the pit back in, in a sense. There's a salted almond in the middle of each date that's the same shape and size as the pit. It's a nice surprise. Every now and again people think that the almond is the pit and they'll leave it on the plate, but most of the time they understand what's up. There've been maybe three times in the history of the restaurant that a cook has accidentally left the pit in. Each time that's happened I've gone apeshit and made the guilty cook dissect every single date he or she has prepped.
I think we might sell more dates than any restaurant on the West Coast. It's crazy what we go through. When we first opened no sup
plier could keep up with us, so we kept switching sources and the quality fluctuated. It's taken several years, but we finally have a farm that keeps us supplied with delicious, beautiful, well-packed Medjool dates. When shopping for dates, you're looking for ones that are soft to the touch. When you split them open to get the pit out they shouldn't crack and they should be pliable and open easily. You don't want dry dates—they're hard and mealy. You also don't want them packed too moistly because mold can then become an issue.
I like to buy my dates with the pits still in them. As soon as you open a date up and remove its pit, the clock starts ticking. Opening the date means allowing air to get at the flesh; the date immediately begins to dry.
NOTE: Good-quality dates are excellent fuel straight up when you're cooking on the line, especially at that part of the night when you feel your blood sugar dropping. Dates go straight to the blood and spike you up quickly.
1. Pit the dates and stuff each one with a Marcona almond.
2. Whisk the honey, pimentón, lemon juice, and hot water together to incorporate and then keep this sauce warm.
3. Wrap each date with a half slice of bacon cut on a bias. You want enough bacon so that it slightly overlaps about a quarter inch but not so much that it will be flabby and won't sear up well.
A typical slice of bacon is long enough to cover two dates. If the bacon isn't cut 50/50 on the bias, you won't have enough coverage for the two dates. As soon as the bacon hits the griddle it shrinks a little bit and comes undone; that's why the right amount of overlap is crucial.
4. Cook the bacon-wrapped dates over medium-high heat in a large cast- iron or nonstick pan, starting with the flap sides down to seal the bacon. Be careful not to crowd them. Cook them until the bacon is crisp and well browned all the way around.
We sear our bacon-wrapped dates until they're dark on all sides but shy of burnt. Wrap one date in bacon for a test run, cook it, and see how it turns out. It might take a few tries before you get the cut, overlap, and thinness of your bacon just right. By cooking
a trial date you'll also get to see how much your bacon shrinks as it cooks.
5. Drizzle the dates with the honey sauce. Eat.
- - -
1 We like the straight-forward flavor of Nueske's for these dates. Since we slice the bacon very thin we want a big Applewood-smoked flavor that holds up to the sticky sweet flavor of the date. Nueske's is hot smoked and has a huge smoke flavor. Thinly slice your own bacon for this or go to your butcher and have them do it for you right off a slab. Pre-sliced and packaged bacon is going to be too thick.