The caddies, in so far as we carry the golf clubs, are paid to be mules. In so far as we search for lost golf balls, hounds.
When a player hits a bad shot, he knows it, and usually turns his head away in disgusted shame as the ball flies off towards a grove of trees or a stretch of prairie. The caddies are the ones who have to stare at his error and remember where to find his mistake.
The long prairie grass is also called "the shit," "the stuff," and "the junk."
"Is it in the shit?" is a common question from an anxious golfer.
Some of the older caddies pride themselves on how many rounds they can go without losing a golf ball. Some boast they can go a whole year and only lose one, two balls tops.
In the official USGA rules of golf, Rule 27-1 says that a golfer, his teammate and caddies get five minutes to find a lost ball. If it's not found by then, the golfer has to go back to where he played the original shot, take a one stroke penalty, and play a new ball.
A good caddie will have a line on where the errant ball flew. He'll follow that line into the woods or the long grass, as if being towed on a rope. If he doesn't come upon the ball with his first pass, he'll then turn around and retrace his steps, and as he turns back, the stress doubles, too.
It could be that the ball is lodged into the base of a plant, or has settled in a hole. Or it could be that the caddie has misjudged the ball's trajectory and he's not even close to where it is.
When the others see a caddie craning his neck and peering into the grass, they know a ball is missing and that help is needed.
If a caddie's not sure where the ball is, he'll equivocate and hesitate, giving sweepingly vague indications with his hands and arms about where the ball was headed.
Some of the golfers have search strategies—making the other players and caddies form into lines and arcs, covering the most area possible in systematic waves and organized sweeps.
"Let's take another pass," is the refrain to keep looking.
One of the members, Mr. Fritz, is a Civil War reenactor and shouts infantry commands to direct the search party. One of the club's elderly members, Mr. Simic—a man who only knows how to drive from his house to the golf course and back—will come out in a cart when he sees a group searching in the long grass. He takes out a flashlight, despite it being daytime, and says it'll help to find the real thing.
Since our club has few trees, most scenes of looking for golf balls takes place in high grass, in foxtail, little bluestem, and fescue, like this: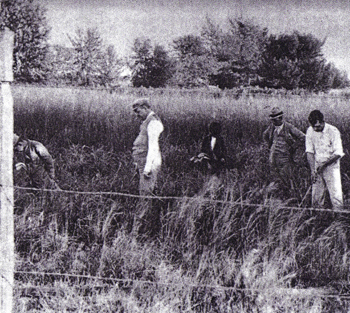 This photo was taken in 1894 and shows the posture particular to the golf ball search party—everyone scattered, their heads down like an aimless group of Charlie Browns.
If you were to write a short story then, in the 1890s, about such a moment, you could've written a terse little thing in the style of Chekhov or Ambrose Bierce, about a party of masters and servants, men and boys, who'd stopped their forward progress and were wandering through grass up to their waists, squinting at the ground, trying to find something.
Maybe it would take place on a hazy, humid summer day, and everyone's thirsty for water and the seeds from the grass were getting into everyone's shoes, pricking their feet and ankles. And as they wandered around in lopsided, crisscrossing loops—as if orbiting some mysterious star that's gravity was irregular or that's location kept changing—some of the men and the boys would begin daydreaming, imagining what they'd be doing that evening or what they'd rather be doing instead of idly trudging in circles.
But some of the other men and boys would be taking the search very seriously, very much wanting to recover this hardened little sphere of gutta-percha so that the game could resume. They would resent the other golfers and caddies for not trying as hard, for being lazy, and would say something curt and mean in order to fan away their vapors of fantasy.
What if you stalked about searching, not for the golf ball, but for what the golf ball means? Could you find what these golfers and caddies are really, truly looking for?
Could you find it in a few thorough sweeps through all the shit, stuff, and junk that obscure our purposes and hide our reasons?
Let's take a pass:
Surly said nothing feels more absurd, nothing makes his skin ripple with alienation like stomping around in the long grass, looking for a lost ball. It's bad enough these men want to spend three or four hours playing a game—instead of doing something serious—but that the game gets held up, stopped, because you can't find the ball you're playing the game with? This is a job? This is leisure and fun? To bend over and rummage through ornamental grasses, looking for a numbered, manufactured, store-bought pellet of synthetic rubber? Surly says, "Looking for a golf ball is as stupid as waiting for Godot."
Let's take another pass:
Was it just buried gold that the gringos were really looking for in The Treasure of the Sierra Madre?
Was it just a stolen letter that Monsieur G- and Dupin were really looking for in The Purloined Letter?
Was it just the Ark of the Covenant that Indiana Jones and the Nazis were really looking for in Raiders of the Lost Ark?
Let's take another pass:
An obituary from the April 26, 1904 New York Times:
Gutta-percha balls are obsolete now. If you searched for them, you'd only find them in museums.
Let's take another pass:
Mr. Ray makes a tip deduction when a caddie loses a ball. For each one, he subtracts $3.50 from the tip. He insists that it's not really about the money, but the principle.
Let's take another pass:
When the prairie grasses are burned in the autumn, hundreds of golf balls emerge in the ashes. JSam collects, washes, and donates them to a junior golf program for underprivileged kids. She wrote an article for the Looper about how much history you find in these golf balls. Jenny then turned that article into a long essay for Teen Ink magazine. She said when you first go out to the fields after the burn—when things are still smoldering and there's a haze in the air—it's like each white ball is a dense egg of history. Each one got there for a reason. Each one was lost in some specific moment, some morning or afternoon or evening. To see them all at once is to see a hundred lives—of caddies and players—orbiting around all those forgotten balls.
Many of the balls are stamped with the initials of the players or marked with their signature of colored dots. You might find the ball of a member who's died, or who's left the club. Once she found the ball of a member who only used golf balls stamped with the number five, to stand for his wife, their three kids, and himself. But now he's divorced and his kids live in Colorado with their mom.
It might seem trivial or silly—since this is just a game, and a rich man's game at this golf club—but golf matters to a lot of these men, it's the most fun many of them have, the most relaxed or worked up they feel. It is as important to them as fishing or chess or long walks in the woods are to others.
To gather all those golf balls, wash off the mud and ashes, and give them to someone else, is to let this inanimate thing have more history and life drawn towards it—even if it's a tiny history of which only God keeps the final tally.
Let's take one last pass:
Mr. Webb was on the first tee during the Member-Guest tournament. He hit his tee shot way right, into the junk. The players and caddies fanned out and searched, without luck.
Mr. Webb had to jog back to the tee, with his driver, to take a penalty and play a new ball. He hit his tee shot way right, once again, to where his group was standing. Mr. Webb and all the players and caddies on the tee box screamed, "Fore!"
The group towards which the golf ball was flying immediately covered their heads and grimaced, a portrait of fright like in a Lorado Taft sculpture. No one was hit and the second ball was found. Mr. Webb and his partner lost that opening hole, and Mr. Webb lost his composure for the rest of the front nine.
After the round, Bill Murray revealed to his brother Joe that Mr. Webb's ball hadn't been lost. Rather, Bill Murray, who was caddying for Mr. Webb, found the ball but secretly picked it up and pocketed it, in order to embarrass Mr. Webb and make him jog back to the first tee in front of dozens of other players on the first day of the summer's biggest social event.
He did this because he felt Mr. Webb had insulted him the week before, on the sixth hole, after tossing his seven-iron into the rough, thus making Bill go walk and pick it up, after Bill had found Mr. Webb's very errant tee shot in a dense tangle of foxtail.
Bill told his brother that there's some limits to what a caddie should and shouldn't have to do, and that he's not his golfer's fucking pet.