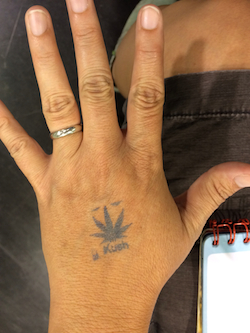 - - -
First impressions of the Kush Expo, billed as "the world's biggest Medical Marijuana Mega Show!" are signs outside the sterile convention center warning NO DABBING.
"What's dabbing?" my companion and I ask each other. There are signs at almost every entrance and I wonder how long we can go without asking someone what dabbing means, or if the answer will present itself once we enter the convention.
The long walk from the parking structure to the convention doors reveals expo-goers who are, by Los Angeles event standards, quite racially and age diverse. There are a number of people, who I might call "dudes," as in "this event is pretty dude-heavy," and they wear uniforms of Slayer and Red Hot Chili Pepper T-shirts and flat brim baseball caps. There are elders pushing other elders in wheelchairs, and everyone is smiling.
Upon entering the convention center, we stop at a booth to retrieve our tickets. The booth is staffed by three women who appear to be convention center employees. They immediately get surrounded by a crowd of people in board shorts, dyed black hair, and tattoos in abundance. The line forming at their booth is shapeless like an amoeba.
We cross through the turnstile and enter the expo. It's loud, sometimes downright raucous, as we slowly move up and down the green-carpeted aisles peering at the offerings on the green textile-covered tables booth by booth. Among the vendors and the crowd, there's a panoply of big gold jewelry, tight-fitting dresses sprinkled with marijuana leaf patterns, and a lot of bikinis. One woman working a booth wears a white lab coat over her crop top and jeans. A tent is set up among the booths where doctors are seeing patients hoping to obtain or renew their prescriptions. One elevated booth becomes a focal point when the inhabitants grab a microphone and start catalyzing the crowd into a mild frenzy, throwing T-shirts, stickers and I'm not sure what else. The main DJ at the stage plays over the minor DJ's that play at booths, a musical war of reggae, songs with "Mary Jane" in the lyrics, and rap. There are a lot of puns working for our attention among the banners and T-shirts for sale. 4:19 COLLECTIVE and THE DUDE LIFESTYLE stand out. A young man walks by with a T-shirt that reads, IT'S NOT GONNA SUCK IT SELF [sic].
Only two venders accost us at this event. One is an elderly Asian woman, who eats with one hand and uses her other to beckon us to her booth of hippie leggings and jewelry. The second is an elderly white man, who looks like he's set up a small window in an oversized booth. He plainly beckons my companion directly, insisting she come up and speak to him. When we gather around his small carved-out spot, I see the board game he has in front of him. It's hard to hear him explain the rules of the game, so I try to comprehend the handwritten rules he lays out next to the board. The game is Trade Bank, and he encourages my companion to play. After a few moments where no one is understanding each other and we are not understanding the game, we politely take leave and continue making our way in-between strolling "420 Girlz"—who also appear on calendars and posters for sale—and all manner of other expo-goers.
References to dabbing are bountiful on banners, T-shirts, and products. We admire a number of booths with outrageous looking equipment all meant for the art or sport of dabbing, which we learn from a friendly vendor means heating a dose of concentrate on a hot surface. We see blowtorches and a variety of glass bongs meant for dabbing. Like a number of newbies to this field, my companion and I make a quick comparison to freebasing, though we realize this is exactly not how the vendors would describe it to us.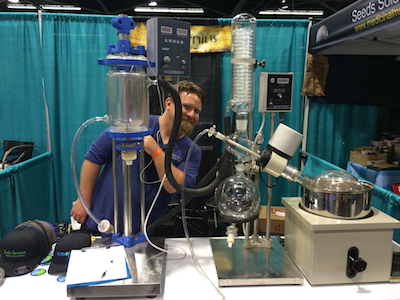 When we make our way to the other side of the booths and behind the stage, we realize that the expo itself actually takes up less than a quarter of the entire convention center space. We sit at a table so I can write notes and I pick up a flyer (among many flyers strewn across all the tables) that tells me that with a fifty dollar purchase from a particular Orange County collective I can also claim my catered dinner for two between five and ten p.m. that day only, right at the convention.
The back doors to the convention hall open onto hot cement and a special tent for those who brought their prescription and identification so they may medicate on-site. It's brutally hot out. I watch the security patiently check each person at the entrance to the open tents and it looks and sounds like a very lively afternoon party.
We had allotted ourselves nearly three hours to wander what I imagined being an enormous convention hall but we've already walked the aisles twice and spent time talking with a few vendors after only two hours. As we leave I realize we are going to miss the Kush Cup Awards ceremony and the performance of Kush Expo girls the following night.
Meanwhile, in our neck of the woods, the inaugural Boyle Heights Medical Marijuana Farmers Market opened the same Fourth of July weekend, and we considered visiting, but did not, imagining we'd try it another weekend. At the time of this writing, the farmers market lasted one more weekend until it was shut down by a Los Angeles Superior Court judge's restraining order citing non-compliance with Proposition D's legal parameters for the sale of medical marijuana. A hearing is scheduled for August 6th.