The Young Authors Greenhouse in Louisville, a youth writing center based on the 826 Valencia model, needs your help. The founders, including Jim James, Jeannette Bahouth, and Hannah Rose Neuhauser, will be writing a regular column here, telling the story of the center as they get ready for their winter 2018/19 opening. In the meantime, you can donate here. — Dave Eggers
- - -
Jim James
I had my mind blown the first time I entered 826 Valencia in San Francisco—a beautifully stocked pirate supply store cleverly used as a front behind which to hide the kids tutoring center haha. I bought several glass eyeballs and thumbed through the beautiful books written by the kids tutored there. I decided I wanted to see an 826 in Louisville. With funds for the arts and creativity constantly being cut, I just really believe kids need as much encouragement and enthusiasm behind being creative and weird as possible—and I saw how wonderfully that seemed to be working at 826 in San Fran. So one day, I saw that 826 Main St in Louisville was for sale and I emailed Dave Eggers saying—"Hey, let's make this 826 happen in Louisville!"
Dave Eggers
Maybe twelve years ago, I was in Louisville, and my old pal ZZ Packer and I were doing a visit to a middle school. ZZ is from Louisville, and we had a great visit to this classroom, and because ZZ had been giving talks and fundraisers for 826 in San Francisco for years, we got to talking about the possibility of someday there being an 826 in Louisville. It was just a vague idea until Jim emailed that day with the news that 826 Main Street in Louisville was for rent. That seemed like a sign.
Jim James
So a friend of mine, Elizabeth Mays, and I formed a team and started trying to make things happen. But things REALLY began to take shape once Jeanette and Hannah Rose entered the picture.
Jeannette Bahouth
We've been invited to write our story, the real one, the raw I-haven't-slept-since-I-can't-even-count-how-many-weeks/months story, but we're-going-to-make-it-work story. And, alas, it is working. We've been asked to write about the beginning moments when we decided to start an offbeat writing and tutoring center in Louisville Kentucky, and, for me, that beginning was December 2016 on a road trip back from Oklahoma City.
The kids (I have three but had two at the time, pregnant with the third) were asleep in the back of our Ford Edge allowing my husband, Waleed, and I the luxury of having a deep conversation about a need for more empathy in our country and a place where the most vulnerable and often unheard people, especially young people, in our society were given a platform to speak. I talked about starting something, a small publishing press, perhaps, that only published people 18 or younger. I wanted young writers to have access to the process in radical, authentic ways. I remembered being that age and writing. I remembered how writing brought a sense of understanding during the toughest years of my young life. What would I have wanted as an adolescent girl? And how can I offer that to other young people?
That's when Waleed mentioned 826michigan's Robot Repair Shop. He wandered into the store during a work trip the month prior, enticed by signs promising to sell robot souls. Don't they publish student writing?
There are few times in my life when moments are as clear and resonate as that moment on a road trip with my husband. Yes! The feeling was magnetic. Yes! That's it. That's what we're going to do.
I started searching for more information about 826 and learned about the many tutoring and writing centers they inspired in cities worldwide. It was a feeling of mania, excitement, and clarity. It seemed possible. I had to go to San Francisco and learn more… but I was three months pregnant. Am I crazy? My husband, the love of my life, encouraged me, just go.
I did. When I came back, I couldn't stop talking about the tutoring and writing center we needed in Louisville, and it needed to be now. As I grew larger, waist rounding each month of my pregnancy, so did my enthusiasm. I knew others had to share the same enthusiasm and feeling of urgency—who shared my dream—and I was introduced to one, Hannah Rose Neuhauser.
Hannah Rose Neuhauser
If you were to rewind my story to the very beginning, it would be when I packed up a barely-kicking-Volvo's worth of belongings and drove from Kentucky to Michigan. I had never been there, knew nobody, and didn't have a job–but I had an internship at 826michigan. Friends and family were confused—so you're going to teach creative writing in a robot store and not get paid? In retrospect, their confusion was warranted—it was a wild leap, but I landed in a place devoted to empowering and motivating students to thrive creatively and academically. I learned how to create inclusive spaces, the power of watching students see their work in print, how to make any holiday song robot-themed, and how many fleece-lined tights I had to wear in the middle of a Michigan winter (the answer is four—it's absurd). My internship turned into a two-year AmeriCorps VISTA position. When my service ended, I moved back home to Louisville and took a job teaching second-grade, but at the back of my head was a constant, nagging thought: We need an organization like 826 here in Louisville.
Dave Eggers came to Louisville right after the presidential election and did a talk with Jim James of My Morning Jacket, a benefit for Teach Kentucky. I was feeling bleak. Helpless. Exhausted. Dave and Jim talked about the importance of writing and amplifying underrepresented voices. Particularly now. And I thought, Okay, we REALLY need an organization like 826 here. THIS is the answer.
I was waiting to hear back from MFA programs and grappling with the question of every twenty-something-year-old, "What's next?" One night, a friend said, "I know someone who wants to start an 826-like organization." I immediately said, "I need to have a meeting with this person like tomorrow."
Jeannette Bahouth and I met and had the same vision. We wanted to see a space in Louisville for students to be validated and encouraged, to feel safe and included, and to be imaginative and weird. We started meeting and planning. And then I got the very perplexing news that I had gotten into grad school.
A day before I had to let schools know, I emailed Jeannette a long-winded, heart-pour that basically said, "This is what I want to do and I'm going to say no to grad schools if we are going to make this thing really happen."
Jeannette was all in. We hit the ground running and we haven't stopped since. It feels like an aligning of the stars, a shiny new constellation.
OUR
TEAM
GREW
One night, Amanda Uhle, now CEO of The Hawkins Project, former executive director of 826michigan, called Hannah Rose and said, "Hey, do you know Elizabeth Mays? She's also trying to start a writing and tutoring organization. She's friends with Jim James who wants to get this thing off the ground."
Elizabeth had helped plan the event with Dave and Jim in November and, as we learned, had organized a local committee more than five years ago with the hope of bringing an 826-inspired organization to Louisville. After the event with Dave and Jim, people started to contact her about the possibility of having one in our city. They thought it was happening, so she started testing the waters again and called Amanda.
Soon after, Elizabeth and Jim joined our scrappy team and started championing our work. Together, we created a buzz.
YOUNG
AUTHORS
BOOK
PROJECT
Jeannette's friend, Jennifer Wade-Hesse, taught at Olmsted Academy South, the only all-girls public school in Louisville, KY. When Jeannette told Jennifer what her plans were, Jenn said, "Well you have to come to my school first."
And so we did. In August 2017, we started our first program at Olmsted Academy South. Jennifer welcomed us into the classroom. Three days a week, for a whole semester, we brought in a team of volunteers to encourage students to write under Hannah Rose's gentle guidance.
After a few weeks, we noticed that students in this project became increasingly confident and proud of their work. They articulated their feelings in smart, thoughtful ways. And because we believe that students should see and hear their words beyond the classroom, we will be publishing a collection of the work from this project very soon!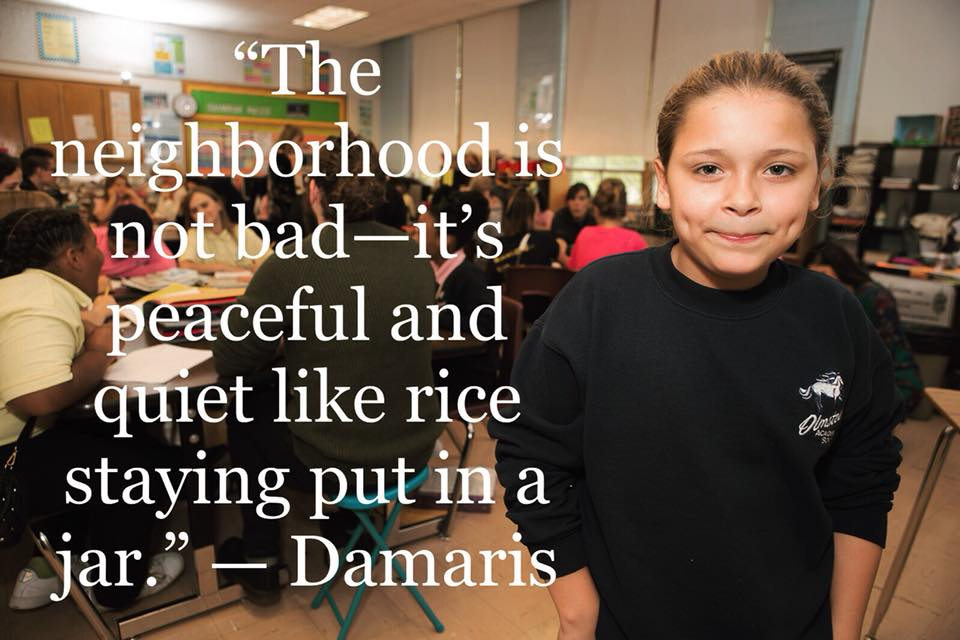 Photo courtesy of John Fitzgerald
OUR
VERY
OWN
SPACE
All along, our dream was to have our own space. We looked for a place near schools where students were performing below grade level. We wanted to serve diverse groups of people and support parents who wanted after-school options for their children. And because our model mirrors that of 826, we hoped our location would have foot traffic so our wacky retail shop would beckon unassuming wanderers through its doors.
When a local developer heard about our plans, he wanted to get involved. He suggested we move into the Anchor Building, an old Salvation Army's Boys & Girls Club located in the Portland neighborhood in west Louisville. The building was in need of repair and built like a fortress—stout with brick exterior, cinder block interior, and slits for windows—but it cradled memories from local basketball legends who once played in its gym. Residents were fond of it and devastated when it closed in 2011 during the recession.
Portland is minutes from downtown, easy to access for volunteers and tourists, and within a mile of three schools. Plus, a new energy pulsed through the neighborhood—nonprofits and artists started moving in around the Anchor Building, leading Portland's resurgence.
We hadn't imagined we would have a space of our own after only one year. But here we were. We couldn't say no. Our new friends and supporters set to work on transforming a dark purple, cinder block cave into something bright and open.
THE
OPPOSITE
SHOP
We had many a long conversation and asked questions such as, What about a gnome store? What about a Dragon Hatchery? What about Mythical Creature Pet Store? What about a Toadstool Architecture Firm? (Which, let us tell you, gets funny looks from everyone in coffee shops just trying to study or have normal conversations about the weather or whatnot.)
But we felt stuck. Nothing seemed quite right. We seemed trapped in the enchanted forest idea and unable to get out. Then, Dave Eggers called and said, "You all need to think weirder. I've had this idea for about sixteen years…" We braced ourselves. "Imagine a set of identical twins who fight about everything. They've inherited a store from their parents, but can't agree on what to sell. So they split the store down the middle and have two radically different stores on either side." We looked at each other. It was brilliant. It was weird. It was probably achievable.
We thought about what those two stores would be and we decided: Airship Emporium & Sea Monster Research Lab. That's not the final title of course, but the idea is that one twin loves stuff like zeppelins and ballooning, and the other is drawn to the sea, in a Captain Nemo-era sort of way. The store will be split right down the middle, like siblings would split a bedroom or the backseat of a station wagon. And the two stores will co-exist but in a constantly (and comically) bickering sort of way. Jim came up with the idea of calling it The Opposite Shop, which we love.
NOW
We have an empty shell of a space and a blueprint. That's it. We need dreamers and doers to make The Opposite Shop a reality. Behind the store, we also need to create a magical space for students, volunteers, parents, guardians, and teachers to learn and grow together. A space with color, texture, and warmth. A space that is brave, safe, and welcoming.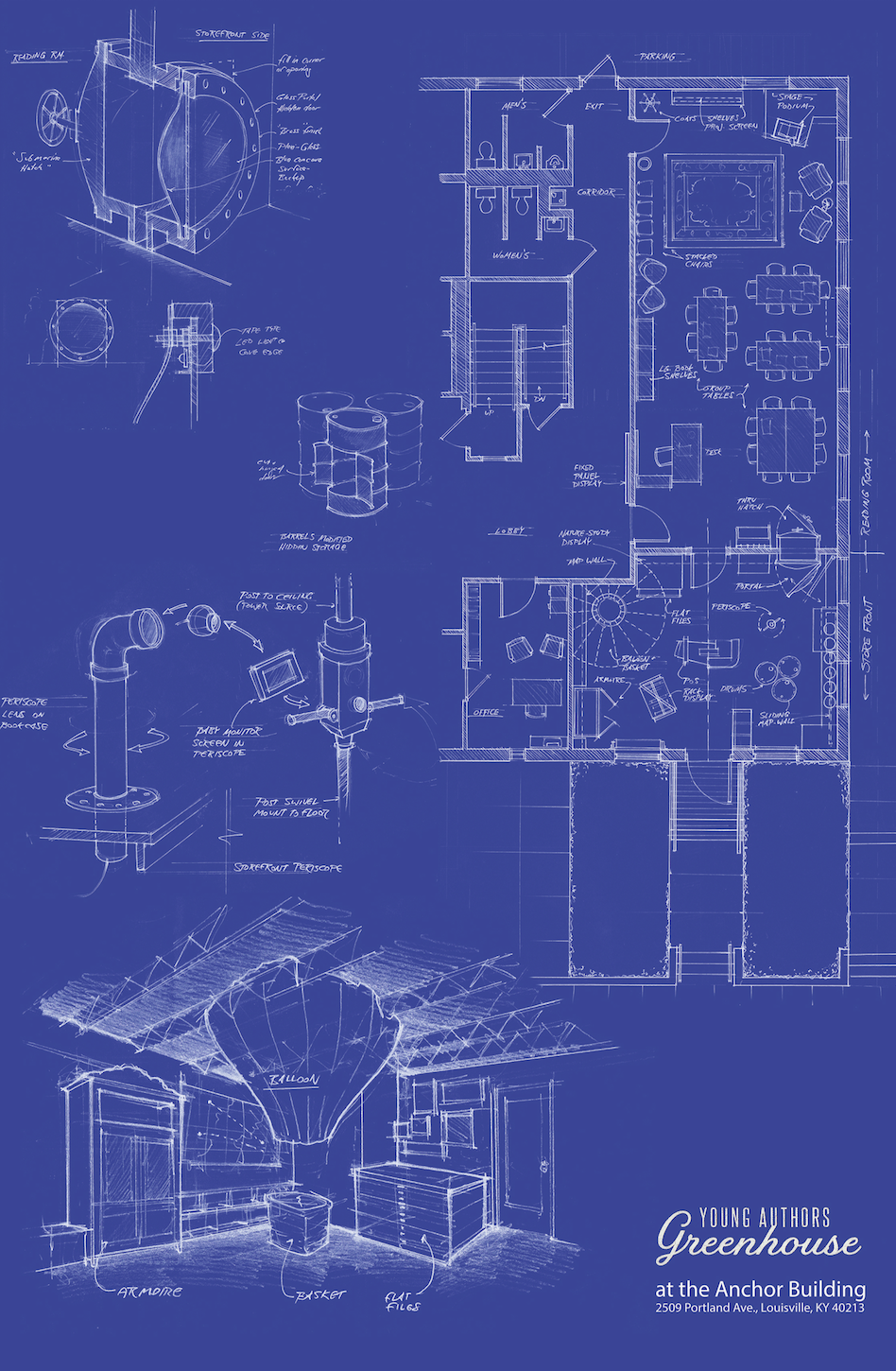 Created by Jonathan Brannon
- - -