Our crack team of aspiring high school-aged music journalists — for this interview, that included Gus, CJ, Kacie, and Mercury — met with Closed Sessions' WebsterX at the 2017 Pitchfork Music Festival. These creative-writing students channeled their musical know-how and interview skills into the following on-the-spot Q&A with WebsterX, a Wisconsin-based rapper bringing attention back to Milwaukee and young people everywhere.
- - -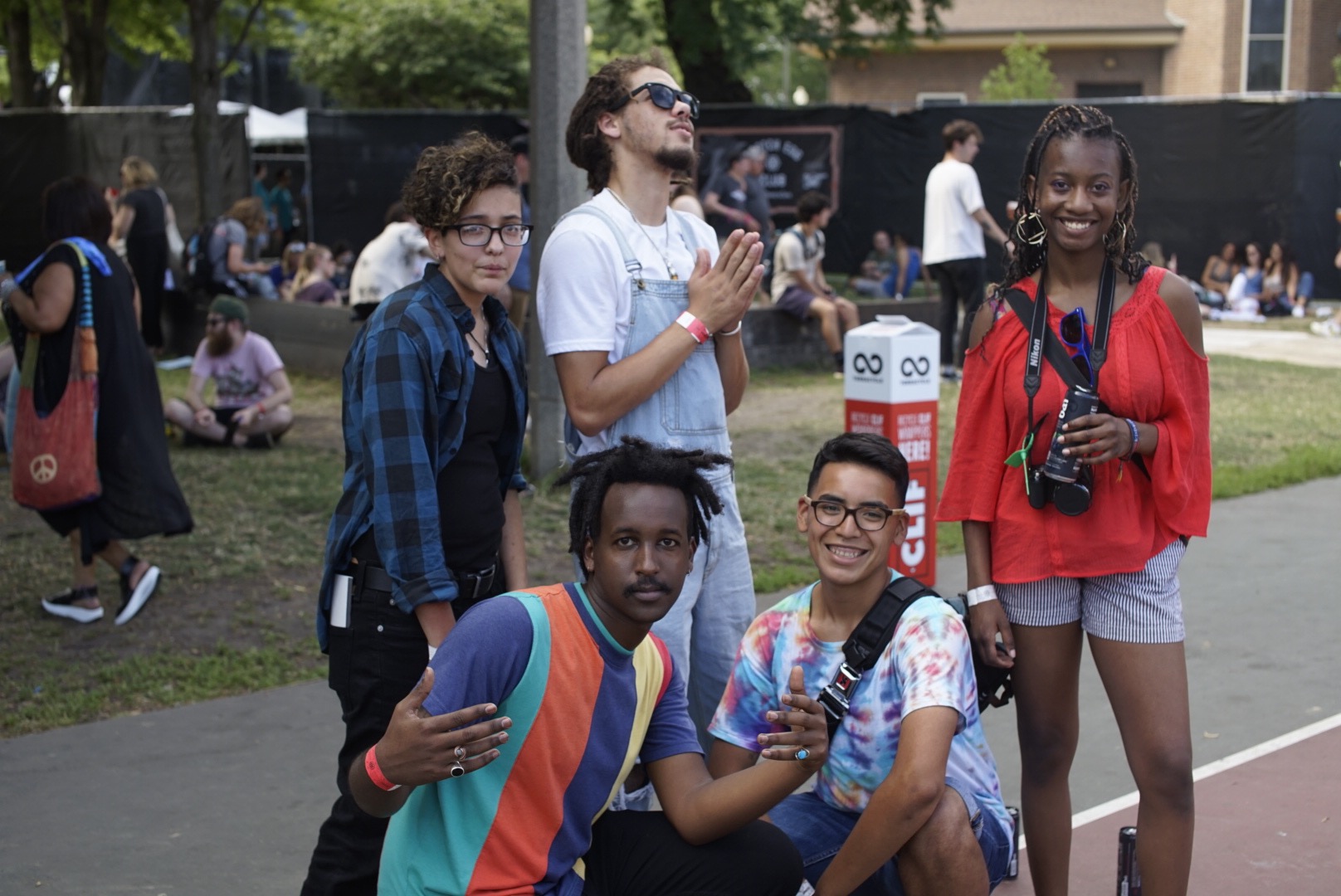 - -
Ambitious, provocative, and original: WebsterX's debut album Daymares encompasses all three. Coming from Milwaukee, Wisconsin with a very unsuspecting background and limited experience — no more than a few high school poetry slams — WebsterX transcends hip-hop with unnatural beats and his vulnerable, lyrical style. Even with so little exposure, WebsterX has been on the rise, collaborating with artists like ishDARR and oddCouple. WebsterX is truly creating something of his own and owning it. — CJ
- - -
CJ [826CHI]: Before we get started, can you tell us a little bit about yourself? We're big fans.
WebsterX: Hi! I'm a twenty-four-year-old experimental hip-hop artist from Milwaukee, Wisconsin. And… we have crazy shows.
CJ [826CHI]: Okay, okay. So Webster, how does it feel to change from Milwaukee, Wisconsin to Chicago and to come up in the world of hip-hop?
WebsterX: It's great! Chicago's a really great place to perform. Sometimes the crowds are a little hilarious in the sense that they don't move that much, but once you get them jumping a little bit, they get really crazy. I'm here often too because it's close, and I've been coming to Pitchfork for like… the last time I was here was 2015… but I was here two or three years in a row, watching A$AP Rocky and Toro y Moi. Hella bands I just love.
CJ [826CHI]: I know you released the album Daymares. After that [release] do you feel like you have other projects in the works, or are you gonna let that marinate?
WebsterX: It's kinda funny because two years ago you probably could have just done that [let it marinate], and that's my release method. I always like to drop stuff and let it sit for a minute because every release really matters to me. Now, moving forward, I'm realizing that I want to push more stuff out because my fans want it more often. That's always fun, so I might be doing some crazy stuff in the next couple of months.
CJ [826CHI]: And I know you were saying that "Doomsday" was the launch towards that album.
WebsterX: Yeah, smart man.
CJ [826CHI]: Why did you choose to do that? Why didn't you decide to just release the album with "Doomsday?" Instead I see you chose "Doomsday" as a single, then the album.
WebsterX: Well, "Doomsday" wasn't on Daymares because "Doomsday" was a mistake. "Doomsday" and "Lately," the two songs that came out in 2015, were supposed to be on Daymares, but the reason why they weren't was because I scrapped it [the album] and made a new one. The other version was too dark, and I thought that people would be like, "This man is sad, dawg. Like this man is… come on, jeez!" So I kinda spiced it up a bit and made it a little more friendly. It was better that way because "Doomsday" actually popped, and what that did for me was give me a platform to release Daymares on. And I was in a better place mentally, so Daymares was a little bit happier too.
CJ [826CHI]: How do you feel finally releasing yourself to the hip-hop fame now that you are finally stabilizing yourself as a hip-hop artist?
WebsterX: It's fun as hell, man! This is something I've been doing for a long time, bro. We've been playing a lot of shows, and that's what I feel like a lot of people don't do — other people release a lot of music and then have no show experience. So with that you just have to go hard. I kinda forgot what the question was, bro. I kinda just started rambling. I do that sometimes. Run it back!
CJ [826CHI]: You know what? I'm gonna run back a new question for you: how did you start developing your flow?
WebsterX: To be honest man, it just came naturally. I don't really take much inspiration from other people's music… but I am a fan of a lot of artists, and I'm not afraid to show it. A lot of people feel kinda weird about that. I'm just like, I love your stuff! Or whatever.
CJ [826CHI]: For sure.
WebsterX: I was doing slam poetry in high school and that transformed into making music. But I never planned on –– I didn't want to rap until I was like, twenty. I didn't really care for it [before].
CJ [826CHI]: How did you find that out in Milwaukee, Wisconsin? Because I know Wisconsin ain't too known for… that scene—
WebsterX: Not at all. I mean, don't even ask about it. Don't nobody be crackin' in Milwaukee with hip-hop. But the cool thing is when I started with IshDARR, who's great, and we started getting that whole blogsphere thing crackin', that sorta brought attention back to Milwaukee. And in 2015, I mean, Noisey did a piece on Milwuakee's hip-hop scene, which was dope because we were able to put other hip-hop artists on, which was really awesome and it felt really awesome. 'Cause at the end of the day, man, it doesn't matter where you are. You can do stuff wherever you are because there is inspiration everywhere. Just because a city isn't necessarily known for something doesn't mean that there aren't dope people there.
CJ [826CHI]: What does it feel like to be joined with a distributor like Closed Sessions, and do you think that changes the way you approach things now?
WebsterX: It's tight! It's really dope to have a third party. I'm the kinda person, the type of artist, who doesn't really like to be tampered with. I don't really trust folks because it's kinda tough to. The reason why I'm working with Closed Session is because we were working together naturally. I mean it was never really like, "Hey, wassup. Can we sign you?" I was just going to the studio, and I knew Aidan Boathouse since I was like… I mean I knew him in Madison, Wisconsin for the last four or five years so… once again, it was a very organic, natural thing. It wasn't forced. So that's why I felt comfortable actually doing it. I gave that stuff a lot of thought before I actually was doing it.
Kacie [826CHI]: I know you said that you just released [music] and started rapping, so how does it feel to be in Closed Sessions surrounded by artists like BoatHouse and Kweku Collins and oddCouple? How has that shaped your up-and-coming rise as a musician and as an artist?
WebsterX: It is the homies completely. Everybody's just fun to work with, and that's a testament to everything being natural. They're friends first, which is tough to find in [the] music [industry] because usually we can just collab like, I like your music, you like my music, blah, blah, blah, but at the end of the day bro, I'm gonna want to be able to kick it with you too. So that's why it's great being with Fruchter and Kweku and oddCouple and BoatHouse and Kolar. They're all hilarious dudes and I mess with them all.
CJ [826CHI]: That's what's up… Aw, man, I'm vibing right now!
WebsterX: SWAG!
Kacie [826CHI]: [laughs] I'm just really excited, like, I didn't know we were gonna interview you, so I'm just excited to meet you.
WebsterX: Yeah! What's your name?
Kacie [826CHI]: Kacie, actually.
CJ [826CHI]: CJ.
Mercury [826CHI]: Mercury.
WebsterX: Mercury? Fire name. Nice to meet all y'all.
CJ [826CHI]: So, what does it feel like to be a part of hip-hop? 'Cause I remember growing up my dad would always put me on some Nas or Madlib stuff like that.
WebsterX: I mean, obviously, I want to be like, well, I'm not there yet, but honestly I do have my stamp in it because the fact that… you know, random validation between gettin' written up or having certain things come your way where you actually have a fan base, or like — people play my music and we're out here so that's also like… Well, I'm happy you asked that question because it's a question that you need to kinda ask yourself too… because you are like, How does it feel, bro? You can get lost and think you're not anywhere yet, but I'm so grateful and appreciative because I'm not really supposed to be here, so…
Kacie [826CHI]: What do you mean when you say you're not really supposed to be here?
WebsterX: I come from the North Side of Milwaukee where none of this stuff is even tangible. Just the fact that I was even able to make it work… white school systems and stuff like that gave me an advantage as well. Being in the hood and going to white schools as well was the perfect… I don't know… because you can talk to anybody lowkey. You start vibing with white people and it's like [you can talk to]…
Kacie [826CHI]: Anybody!
WebsterX: [You can talk to] Anybody! And my parents are Ethiopian, so I've got the culture thing too.
Kacie [826CHI]: With the million dollar melanin and everything!
WebsterX: Straight up! So, all that helps… is what I'm saying.
Kacie [826CHI]: Had you heard oddCouple and BoatHouse's music before you got into Closed Sessions?
WebsterX: Yeah, I mean like… oddCouple had this song called, "Burn This City"… and of course Chance [the Rapper] was popping, so they just took Chance's part of the verse — he was on a song with like four other people and shit — and they [oddCouple] dropped it on YouTube. I was like, This dude is cold as hell. And there was also this dude called Lucki Eck$ who oddCouple produced, and that was also dope too. So I'd heard some oddCouple. When I was able to work with him and then I found out that he was from Milwaukee, I really tweaked. BoatHouse, he's just been a homie — I knew him before he was even like… the "Boat" thing, or right when he started doing that. He was just, like, Aidan, to me.
CJ [826CHI]: I know he [BoatHouse] is known for many of his beats and stuff, and when he got on with Kweku…
WebsterX: Exactly. So he [BoatHouse] can DJ and he can produce and he can lowkey sing — but he don't even believe that. I've heard him on trap before, quit playing games… I'm like, Come on, Boat! Just kidding.
Kacie [826CHI]: When you're talking to your fans and the people that really look up to you, do you think about how they might someday be the next you or the next Kweku? Do you think about how you can pull them up or give them confidence?
WebsterX: Oh, yeah! Dude, I run this youth organization called FREESPACE in Milwaukee, and it's this monthly thing that we have with just young cats… [they] come through and if they can do anything, they can get booked for a showcase. We had a guest headliner come in and then we had two youth artists play. The kids are in the same realm as these real artists, so psychologically they are like, "Yo! I've been playing stages with everyone." Or like, we brought in a lot of cool people from Chicago, like Lili K, and IshDARR from Milwaukee and this big EDM producer. I'm always down to encourage. That's where I came from, just tryin' to lift someone else up. I've matured some as an artist and a person so I've been trying to navigate that more. Sometimes you can be so giving, but then people can take a lot from you so you gotta have that guard up to like… you gotta be open and welcoming but not be a doormat. You know what I'm saying? I'm always down to [help]. I'm always about the same stuff. I mean — I'll tell you this too — anybody can do this. I mean, I was on the internet just accumulating stuff, and I was able to accumulate enough information to use it for my own formula. So that's possible for anybody, you just gotta have the mind for it, and lowkey I'm always believing that if it's meant to be it's gonna happen. I feel like all this stuff is written. All this stuff is life.
Kacie [826CHI]: That's what's up!
CJ [826CHI]: Last question, I have family that's trying to rap. Do you have any tips?
WebsterX: Overall, if you are just trying to get your stuff out there, be a student of the game and understand how other artists are navigating themselves. I'm not saying to steal from other artists or become them because then you are gonna get lost in like, a pool of stuff. Use what you're good at as a person, what you know, because that makes you unique. Everybody has something that makes them unique, but they don't ever promote that because they're scared. And you know what? I feel that. I was scared to show myself off too. Once you're comfortable with yourself, it can be [great]. It can be so so [great], but without getting too deep about it — just post your music, share it on Facebook, that's where most of your friends are. And then from Facebook, make a Twitter and get that online thing crackin' because there are so many connections with the online world now. And then just get yourself out there. Hustle for what you really want. If you really want it — dude I'm telling you — you just gotta really go for it. You have to be thinking about that pretty much every day.
CJ [826CHI]: All right that wraps it up! It was really good talking to you.
WebsterX: Nice to meet you guys. Right on!