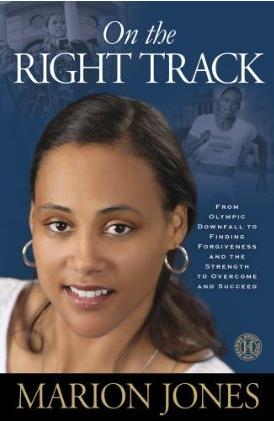 - - -
Under Review: On the Right Track: From Olympic Downfall to Finding Forgiveness and the Strength to Overcome and Succeed by Marion Jones (2010, Howard Books, 213 pages)
- - -
As we've seen in previous Reviews of Self-Help Books by Professional Athletes, the psyches of top-flight, multi-millionaire athletes can and will be woolly, untamed jungles of boundless mystery.
We usually only see their improvised and raw reactions on live TV, but even when these athletes sit down with an editor and probably a ghostwriter and all the time in the world, they still produce work that feels like a painful conversation with an acquaintance who simply does not share the same mental frequencies. (I mean, imagine the mighty waterfalls of sheer self-esteem that must course through individuals who see themselves as qualified to write a book detailing how to be good at life.)
But no athlete manages to be so bizarrely eerie about delivering their tips for success than Marion Jones. The details of her life simply do not align into any sensible pattern. Her 2010 book On the Right Track is a Freudian smorgasbord without a Rosetta Stone for proper decoding.
The career of Marion Jones is practically a Greek myth, a wild swing of airy heights and harrowing lows. As a college freshman in 1994 at the University of North Carolina, she was a major contributor to the national champion women's basketball team. By 2000 she had turned her focus to track-and-field and compiled one of the greatest Olympic performances of all-time, winning three gold medals and five total at the Sydney Games, including a Usain Bolt-esque domination of the sprinting events. In 2010, as a mother of three, she joined the Tulsa Shock of the WNBA, as a 34-year-old rookie. These are the highs—Jones switching leagues at the highest level of women's sports with the ease of the less-talented among us changing our socks.
All of these events just kind of slide by in the background of On the Right Track. Because Jones will always be defined by her lows which are too crazy and plentiful to ignore.
Around the time of her fabled Sydney performance, Marion Jones took banned performance-enhancing substances. This much is definitively known. To nail down any other details is to delve into a seedy underbelly of he-said/she-said claims from people like Jones, once-imprisoned steroid don Victor Conte, and Jones' ex-boyfriend Tim Montgomery. (At one time Montgomery held the world record for the 100 meter sprint, but had that record stripped because of his own consumption of illegal substances, and he just got out of prison for, um—this is real—dealing heroin.) The difference between the two stories is that Jones insists that she was unknowingly slipped the illegal supplements amongst all her above-board vitamins, while Conte and Montgomery insist that she most certainly and knowingly injected herself.
Well, okay, whatever. This dimension to Jones' story actually almost doesn't matter. Lore-drenched sports like baseball and the Olympics have always had a strong, anxiety-stricken reaction to PEDs, their governing bodies and fans growing new ulcers with each new allegation, topped with a probably-unnecessary layer of strong moral condemnation. (Modern machines like basketball and football deal illegally-enhanced players suspensions, then they serve their suspension, and then they return to play, all with very little hand-wringing—which may or may not be the best approach to PEDs but is at least far less tiresome.)
It was the attempted preservation of fabled Olympic lore that made Conte's San Francisco-based steroid ring a federal case, prompting investigators to interview Jones who subsequently lied under oath. So in addition being stripped of her five medals by the International Olympic Committee—taking medals back from cheating athletes is basically part of the tradition of the Games at this point—Jones was also sentenced to six months in prison.
Jones only received a prison sentence not because she juiced but because she lied about juicing. To be very specific about her own interpretation of how she landed in jail: she sacrificed her freedom for claiming she did not recognize a vial of tetrahydrogestrinone (a.k.a. "the clear," as in "clear urine test") that she in fact did recognize and had even ingested, but supposedly ingested without knowing that the substance was tetrahydrogestrinone and thus illegal to ingest, attributing her ingestion of illegal substances on boyfriends who broke her trust by sneakily giving her illegal substances, even though she nonetheless ingested substances she received from noted substance-peddling boyfriends without even once inquiring about the highly likely shadiness of said substances when they were handed to her.
The layers of self-denial and patchwork reputation-preservation at play here are completely bonkers, leaving not-insignificant gaps in Jones' story.
As totally pointless as this all was, Jones fell on her sword and served her sentence in 2008, maintaining publically all the while that her lone indiscretion was being too trusting of others and gee that's not so bad, right? On the Right Track focuses mostly on her time in a Texas prison, Jones being vulnerable and honest—sometimes brutally so—about the emotional depths of the daily shame of prison life. I don't know how to interpret the book other than as a humble, groveling attempt to get back into the public's good graces—a status that Jones clearly craves.
And, it almost works. Almost. Jones has by now indisputably paid her sentence in full, paying a heavy penalty in both the court of law and of public opinion. The only thing she can possibly be guilty of these days is "not getting it." But boy, does she not get it.
A brief tour of the logistical and relational follies throughout On the Right Track:
Jones submits a complaint to prison officials about the health dangers inmates are exposed to from the secondhand smoke wafting over from guards' cigarette breaks. (This is also deemed worthy for inclusion in her book.)
She submits (and writes about) another complaint about mold in the restroom.
With her heartstrings well tugged by the humanity of her fellow inmates, Jones proposes to the reader that "I feel that not everyone who commits a crime is a criminal," effectively waving two bold middle fingers in the face of Merriam-Webster and their namby-pamby word definitions.
In high school, Jones turned down a spot as a relay alternate for the United States at the 1992 Olympics in Barcelona because, quote, "I wanted to earn my own gold medal through sweat and hard work, not get one just for running in a relay preliminary." (Who turns down an invitation to compete in the Olympics?!)
An actual sentence penned by Jones, describing a difficult moment in jailed life: "I didn't sign up for this."
Even the active thesis of On the Right Track wastes what could be an inspirational message with a bizarre dose of self-service: "I want to inspire others by the fact that even an Olympic medalist who earned millions and was on the cover of Vogue could fall to such depths and then rise up and see a new day then they could have a new start too."
Jones has taken this message of maybe-hope out and into the community. From the author bio, quote: "She is actively speaking to teens and other groups and spreading her 'Take a Break' message, through which she advises young people to stop, take a break, think, and seek proper advice from people they trust and who have their best interest at heart before making critical decisions that will have a profound impact on their lives."
Despite being hilariously specific and self-referencing, it's entirely unclear why anybody would see Jones as qualified to deliver this message. In the opening chapter of On the Right Track, Jones recounts in vivid detail how she (1) received explicit advice from her lawyers to answer the questions of federal investigators truthfully and (2) how her interviewers adjourned for a break in the middle of her questioning. So much for that.
Jones' attempts to vicariously uplift our lives through her own fall flat thanks to her frequent mentions of her own financial debt. Jones brings up her bankruptcy and then whisks it away like a secret, noting that millions of dollars once hers have been frittered away, but giving no indication as to how, when, or why. This, alas, is not a problem that can be solved by cleaning out the conscience. Jones' cheery second act as a WNBA player looks a lot scarier after she delivers the financial realities: she received a $35,000 salary for the 2010 season. And, midway through the 2011 season (after this book was published) she got cut by her team, deemed unable to cut the WNBA mustard again. As the book concludes and no other reliable future source of income is visible on Jones' horizon, there is the terrible, horrible realization that baring her soul and wallowing in her misdeeds here in print form might not have just been a way for Jones to cleanse her soul and reconcile with her fans, but also maybe, just maybe, was inspired in part by receiving that publisher's advance.
It's probably best for her and for us that Jones has since retreated to a quiet domestic life. Athletically, she soared and professionally she could not help but beeline right into the sun. May sprinting fans rejoice that we have been living in the heyday of the wholesome, optimistic Allyson Felix—a victorious American Olympian who won't crumble under the weight of all our admiration.