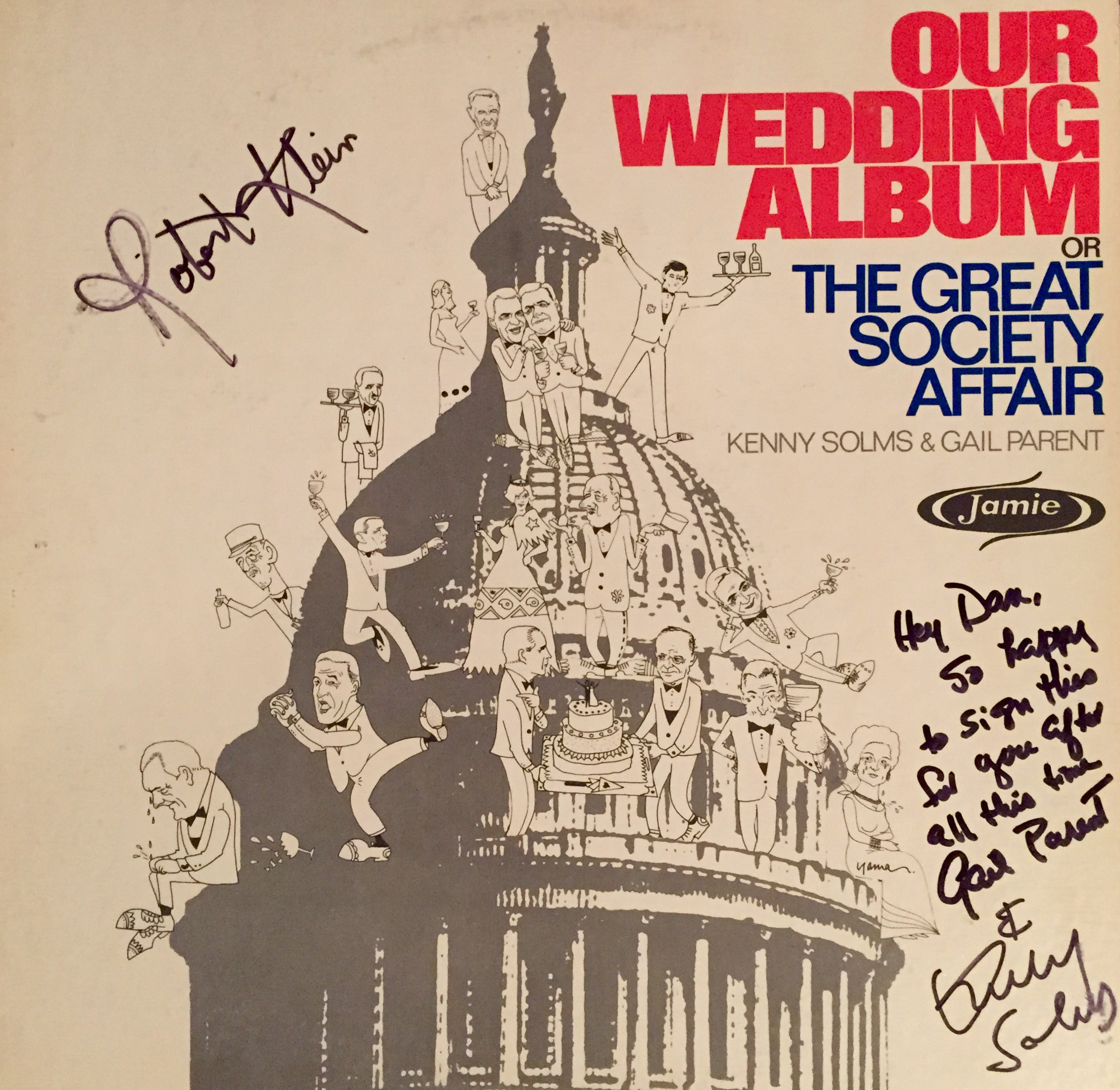 - - -
On February 11th, Alec Baldwin will host Saturday Night Live for a record-setting 17th time and no doubt somewhere in the White House, the eyes of President Donald Trump will be watching. Will the notoriously thin-skinned former reality TV star learn to take it all in stride? He should. It's a well-established bi-partisan American tradition. From the very beginning in 1975, SNL has skewered every president. Chevy Chase famously portrayed as Gerald Ford as a pratfalling clumsy oaf, lampooning incidents of the then-president's documented stumbles. Every president since has been grist for their "not-ready-for-primetime" mill. From Dana Carvey's "wouldn't be prudent" send up of George H.W. Bush to Darrell Hammond's leering Bill Clinton to Will Ferrell's malaprop-prone George W. Bush. At the same time, SNL recently suspended writer Katie Rich over a joke she tweeted about Trump's 10-year-old son Barron, prompting much online debate in the comedy community about finding the lines that should not be crossed when lampooning the first family. But that too is an American tradition whose roots can be traced back to the comedy record boom of the 1960s.
On October 22nd 1962, President John F. Kennedy went on television to tell the world of the growing nuclear missile crisis in Cuba. Incredible as it may seem, on that same date, producers Bob Booker and Earle Doud recorded an album that would be a sort of comedic nuclear first strike. In November, The First Family was released starring master JFK impressionist Vaughn Meader. While rather tame by today's standards, the album of domestic comedy sketches featured Meader and his castmates having fun by imagining the private lives of the young Kennedys inside the White House. The LP rocketed to the top of the Billboard charts going on to become what was then the fastest selling album of any kind in the history of the record industry.
There are conflicting accounts of how President Kennedy felt about the record. He reportedly gave copies of it to friends as Christmas presents and referenced it numerous times in speeches and at press conferences, once joking that he thought Meader's exaggerated New England accent sounded more like his brother Teddy. However First Lady Jackie Kennedy apparently expressed taking offense, prompting the president's press secretary Pierre Salinger to investigate if there was any way to stop these kinds of albums from proliferating, including having conversations with the FCC about blocking them from radio airplay. Nevertheless The First Family went on to win the Grammy for Best Comedy Album and Album of the Year in 1963, making a superstar out of Meader in the process. But it all came crashing down later that year on November 22nd when the president was assassinated in Dallas. Later that night, comedian Lenny Bruce walked onstage to an audience waiting in breathless anticipation to hear what the leading voice in "sick" comedy might say. His opening line was said to have been, "Boy, Vaughn Meader is fucked."
Vaughn Meader was indeed fucked. Unable to escape the shadow of the Kennedy impersonation, he lived out the rest of his life in relative obscurity and died penniless in 2004. But the album did usher in a slew of political sketch comedy records that would endure for a generation. Earle Doud was responsible for producing many of them, clearly hoping lightning might strike again for him. It never quite did, although he did make some very funny albums parodying President Johnson, President Nixon, Secretary of State Kissinger and ultimately a final First Family LP in 1981 with Rich Little as President Reagan. Meanwhile, for the entire span of that era, there were lots of copycats and while none of them came close to the chart-busting phenomenon of the progenitor, there were a few notable successes. The 1966 LP Our Wedding Album or The Great Society Affair was a particularly outstanding example of the genre and the story of its co-creators and co-stars is ultimately a much happier one than Meader's.
In 1966, recent NYU grads Kenny Solms and Gail Parent were beginning to make a name for themselves as smart, sophisticated comedy writers in New York's cabaret scene when they pitched an idea to their manager, a young and ambitious Bernie Brillstein. (Brillstein would later represent SNL creator Lorne Michaels.) At the time, there was an insatiable appetite for coverage of President Lyndon B. Johnson's family. LBJ's eldest daughter was dating actor George Hamilton and his youngest daughter was about to get married. Solms and Parent wanted to make a comedy album set at and around Luci Baines Johnson's forthcoming wedding, leaning heavily on that first family's distinctive Texas drawl. Brillstein loved the idea and sold it quickly. But there was a catch. They had to write, cast and record the whole thing in one week! In the minds of the label the idea was perishable since the real event was only a week away. Undaunted, the pair wrote quickly and cast themselves as Luci and her fiancée Pat Nugent. For the rest of the cast, they hired three fellow funny twenty-something friends from the New York scene: Fannie Flagg, Jo Anne Worley and Robert Klein. At that time, all relative unknowns. The recording went well and, according to Solms in his 2015 memoir Bits, the album was in stores and being played on the radio the very next day. It was an immediate hit, reaching #14 on the Billboard charts. Solms and Parent were on the map. One particular fan of the album was Carol Burnett who tracked them down to write for her brand new CBS variety series. (Burnett would later write the liner notes for Solms and Parent's 1967 follow up LP Here Comes The Bird, set at Lynda Bird Johnson's wedding.) From that point forward, Solms and Parent would be two of television's busiest comedy writers for many years. I recently asked Solms if he ever learned of any reaction to those records from the Johnsons and he had, albeit indirectly. A friend of his encountered Luci who coyly confided, "some people are sensitive."
We sometimes see our leaders more through the eyes of our comedians than through the lens of the news media. And for this president, cries of "fake news" may prove effective in clouding the credibility of any journalistic coverage he finds unfavorable, but there's no such thing as "fake comedy." President Richard M. Nixon had infamously compiled a list of "enemies," including many comedians. As the cliché goes, history often repeats itself and it seems Trump's inclinations are veering in a Nixonian direction. But to borrow from our president's oft-cited typo-plagued tweet, being the target of comic ridicule is hardly "unpresidented."