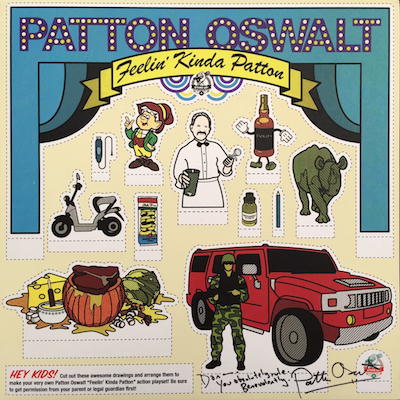 - - -
For most of us, our heroes are the people who inspired us in our youth, during our formative years. But I see myself as always being in a formative state, so while I still hold dear the heroes of my childhood, I seem to keep picking up new ones along the way. And while it may seem odd to view someone my own age as a hero, that's exactly how I feel about Patton Oswalt.
As a kid in my teens and into my early 20s, I was slugging it out as a stand-up comedian, performing in clubs and at colleges around the country. Sometimes for very little money. Occasionally for decent money. Back then, I swam in the changing tides that led to the emergence of what I consider the "third wave" of modern stand up. The first wave were the trailblazers: Lenny Bruce, Mort Sahl, Jonathan Winters, and Dick Gregory. These comedians were the first to realize the potential of the art form as an avenue of individual expression. The second wave of comics built on that foundation and were able to capitalize on it. Jerry Seinfeld. Eddie Murphy. Roseanne Barr. This generation was at the table with their napkins in their laps and forks and knives in their hands when the business arrived with a platter of opportunities. This was the boom. But then the bubble burst, followed by the inevitable bust. After the nation saw an endless number of copycat brick wall comedy clubs open and close, a movement of DIY comedy nights started popping up where I witnessed determined artists bent on discovering something more authentic. This was the third wave. Of course, there were comedians who straddled or defied these generational lines, either by virtue of their sensibilities or the timing of their arrival on the scene. Enter Patton Oswalt.
When I first met Patton in San Francisco in the early 1990s, his style and persona were unlike anyone I'd ever seen. Both ferocious and lovable, he was the epitome of an alpha nerd. Beyond unapologetic, he was defiantly assertive in his art, despite being short, stocky and having a haircut that made him look like "a little lesbian." (His line, not mine.) He is as smart, sensitive and impassioned as anyone who has ever taken the stage. That, coupled with the fact that he was such a shameless fanboy of so many of the same things I loved, immediately drew me to him. Once, back in the days of MySpace, Patton posted a Jaws quiz, testing his friends' knowledge of obscure trivia relating to the 1975 Steven Spielberg classic. I forwarded the quiz to my friend Carl Gottlieb, who co-wrote the screenplay. (He also wrote "The Jaws Log" which chronicled the making of the film.) Carl, impressed by Patton's depth of knowledge and also an admirer of his stand-up, asked that I make an email introduction. Patton was floored. It has always been one of my greatest joys and privileges as a guy working in entertainment to make those kinds of connections. It was especially rewarding to be able to do so in Patton's case because I know that he cares so deeply.
By the time I began working in TV, Patton was in LA and was a star on the rise. With an almost unmatched work ethic, Patton's passions often lead him in many directions at once. I would sometimes caution him that he was spreading himself too thin. I have been at many shows where he would be so sick and exhausted that it was all he could do to muster up the strength needed for the performance… and then practically collapse after. Last year, I saw him give an inspired performance in Bloomington, Indiana where he confessed to being so drained that he couldn't imagine any fantasy more enticing than having an attractive woman come back with him to his hotel where she would sit outside his room to make sure that he got a long night of uninterrupted sleep. Naturally, he killed. Patton always delivers the goods and never seems to stop.
If Patton loves something or someone, he'll find a way to champion it or become a part of it… or both. From time to time I'll get a text or an email telling me to check out the web videos of Five Second Films or the Vines of Will Sasso. It's this love of artists doing great work that led him to create The Comedians of Comedy, a tour and subsequent documentary and TV series featuring Patton, Zach Galifianakis, Brian Posehn and Maria Bamford. If you've never seen it, find it. You'll see four of the funniest people on the planet being stunningly hilarious in the most organic way. It inspired me to develop Maria's web series The Maria Bamford Show and to work several times with Comedians of Comedy director Michael Blieden. No matter where Patton goes, I follow. I pay attention. His acting in films like Big Fan and Young Adult are remarkable studies in humanism and nuance. But above all else, I continue to pay closest attention to his stand up, which keeps evolving into an ever-richer tapestry of storytelling. His recent routine about witnessing a peevish magician "hate-fuck" the audience with magic is every bit as brilliant of a peek behind the curtain of low level show-business as Lenny Bruce's "Lima, Ohio".
Earlier this year I had the pleasure of being in the audience when Patton played Carnegie Hall for the first time. The place was packed. Dispelling any sense of being "alternative", the sold out audience was full of superfans who came out to honor Patton's body of work as much as to see the show. Signature bits drew loud and appreciative applause as Patton launched into them. And in the end, Patton kissed the stage in full appreciation of all the "practice" it took to get him there. Patton Oswalt is one of the pillars of the third wave. And with no signs of slowing down, my guess is that he'll be an essential voice of the next wave… and the wave after that.