Dan Pasternack grew up in Los Angeles in the 1970s and '80s, voraciously consuming Looney Tunes cartoons, Marx Brothers' movies, old-time radio shows, the Dr. Demento radio show, and stand-up comedians on The Tonight Show with Johnny Carson. He went on to become a stand-up comic before embarking on a career in writing, producing, and programming. Dan has been collecting autographed comedy records for most of his life. This is his collection and these are his stories.
- - -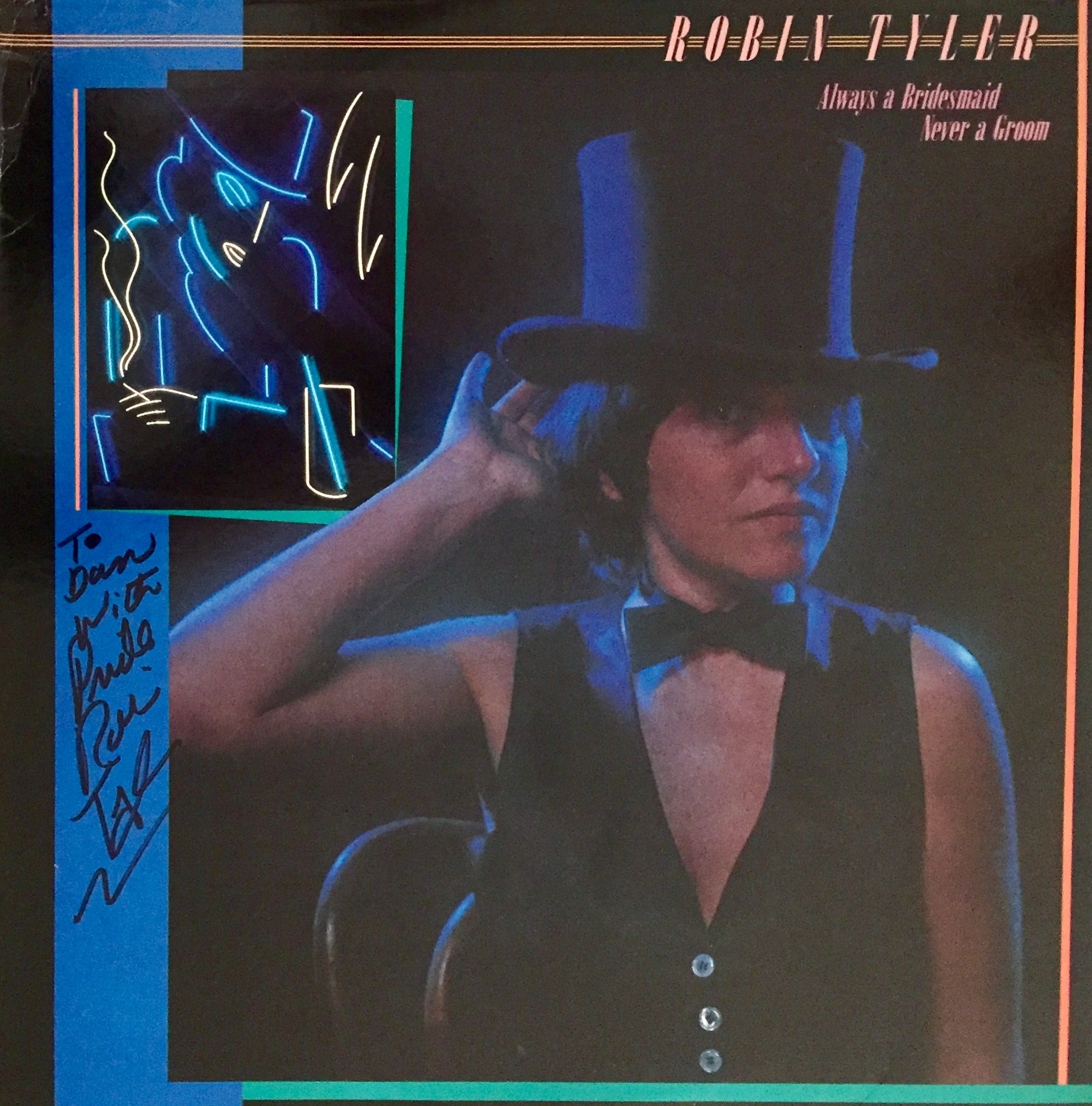 When Robin Tyler moved to New York City from Canada, she wasn't performing comedy yet. She wasn't even Robin Tyler. She was Arlene, a young Jewish lesbian looking for her place in the world. Looking for a community. And looking for love. In 1962, Robin got her first taste of notoriety. After getting swept up in a police bust of a drag ball at the Manhattan Hotel, she used her one phone call in custody to contact the New York Post. The next day, the headline read, COPS GRAB 44 MEN AND A REAL GIRL IN SLACKS. Robin Tyler now jokes that was what got her started in show business. Seizing the moment, she quickly followed up that incident by getting booked at the campy and colorful Club 82 as a singing Judy Garland impersonator. Yes, long before Julie Andrews starred in Victor/Victoria, Robin Tyler was a woman taking on the role of female impersonator. And it was while she was appearing at Club 82 that Robin met the woman that would become her greatest love as well as her comedy partner. A high fashion model named Pat Harrison.
On June 28, 1969, The Stonewall Inn in Greenwich Village was raided by the police. Back then, this was not an uncommon occurrence at gay bars. But what happened that night was unusual. The patrons of Stonewall fought back, refusing to be arrested. The resistance escalated and the call went out quickly across the city to other members of the LGBTQ community. When Robin and Pat Harrison arrived on the scene, there were hundreds of people protesting on Christopher Street. Robin recalls stepping toward the action when Pat held her back, pleading with her Canadian-born lover to not engage, for fear that she would be deported. The two women watched the melee for a couple of hours and then went home. Robin says she cried that night, vowing that she would never refrain from fighting back again… no matter the consequences.
When I sought out the now eighty-year-old Robin Tyler, I didn't know that part of her story. I was just curious and eager to learn more about what I suspected was a largely under-explored chapter of comedy history. I knew that she and Pat had been the two-woman comedy team Harrison and Tyler in the seventies. (I had both of their LPs, the first of which includes a brilliant feminist reflection about how men dislike women using a certain "f" word. "They want us to do it, but they don't want us to say it.") I also knew that when Harrison and Tyler split up, Robin went out on her own as a solo act and had been a fixture at the Comedy Store. But when I first cold-called her and asked why our paths hadn't crossed when I was at the Store in the mid-eighties, she chuckled, "That's because you were above ground. I had gone underground." At that point, two things were clear to me. One, I needed to know everything about this woman; and two, she was, as my fourteen-year-old daughter has since described her, a "badass."
Harrison and Tyler were radicals, both on stage and off. And it was deliberate. As Robin says, "We were the first women to make women the subject and not the object of humor." They performed antiwar material on a USO tour of Vietnam. They had to be dragged off the field during a Rams-Raiders football game after staging a protest about the lack of scholarship funding for female athletes. And when they were courted to star in their own ABC primetime comedy-variety series, they refused to sign their contract until the network removed the "morals clause," because it would have had them affirm that they were not lesbians.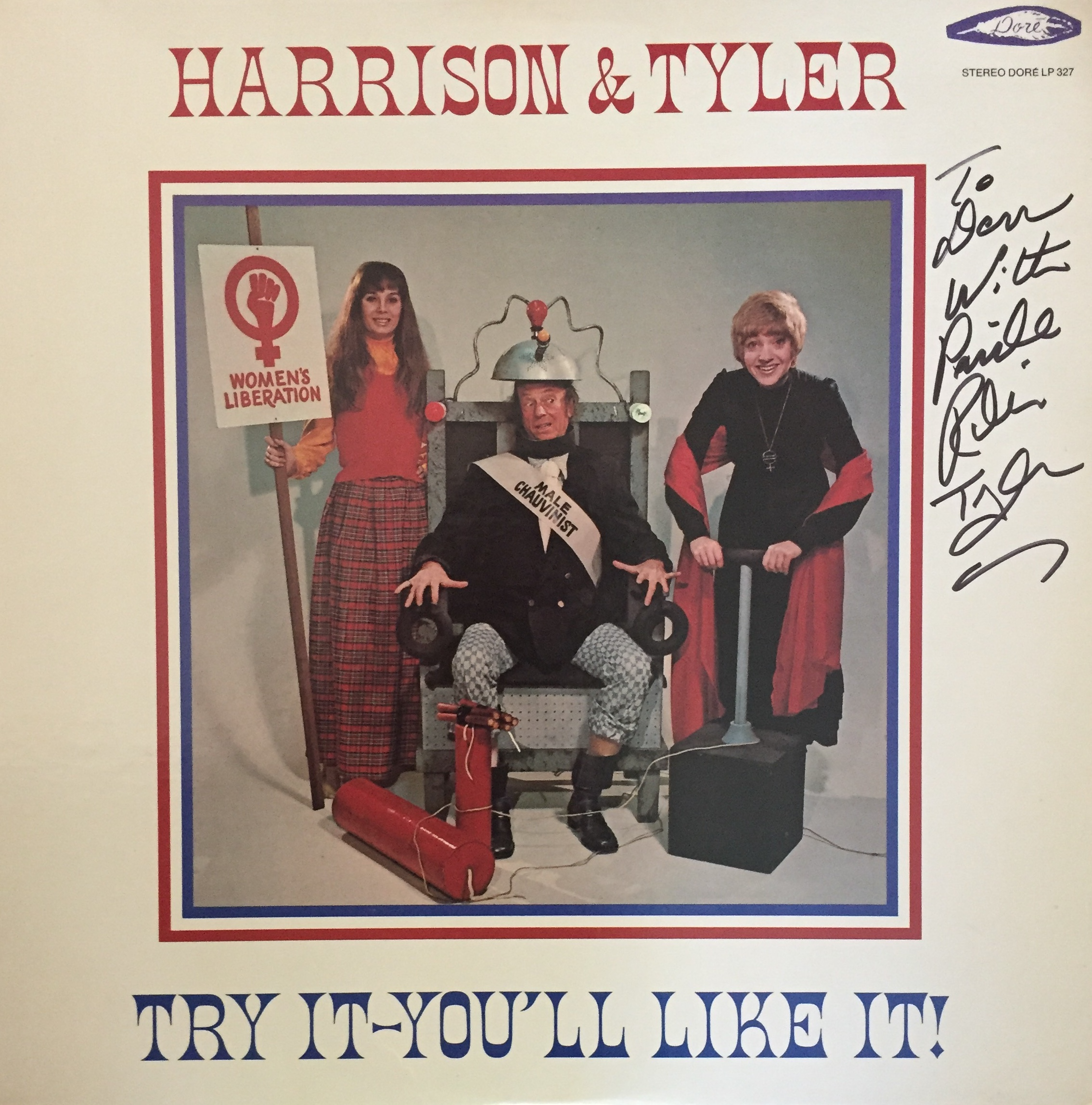 Sadly, after several failed pilots that diluted their voice, the team broke up. But when Robin went solo, the substance of her act went even further. She shared her coming-out story and talked about being a lesbian, leading to her landmark 1979 album Always a Bridesmaid, Never a Groom. At that time, just being openly gay as a performer was practically unheard of. But performing comedy material about it on stage, on television, and on records was totally groundbreaking.
At the apex of Robin's ascent as a comic, her potency as a provocateur began to transform her into a figure of political prominence and power. She started using her platform and her wit to counterpunch anti-gay propagandist Anita Bryant, joking that she was "so homophobic that she quit her church after the choir insisted on singing 'Go Down Moses.'" Then in 1979, following the assassination of Harvey Milk and the criminally lenient sentencing of his murderer, Dan White, Robin served as the MC at the Gay Pride ceremony in San Francisco, delivering an urgent and blistering speech to the angry, broken-hearted crowd. The event took place on the tenth anniversary of the uprising at Stonewall. Later that year, Robin was also a keynote speaker at the first Lesbian and Gay March on Washington, which she had publicly called for the year before. Not since the great Dick Gregory, had a comic assumed such an integral role as a leader in a civil rights movement.
Robin went on to produce dozens of gay and (trans-inclusive) women's comedy and music festivals, providing safe and fertile environments for a whole generation of talent to cultivate their true, authentic art. She also produced the main stage for two subsequent marches on Washington, featuring unforgettable moments, including a moving presentation honoring gays in the military and a mass demonstration for same-sex couples called "The Wedding." Marriage equality continued to be one of Robin's leading causes for years, becoming especially personal when she and her partner Diane Olson sued for the right to marry. Represented by attorney Gloria Allred, the 2008 Supreme Court decision in Tyler et al v. County of Los Angeles resulted in Robin and Diane becoming the first legally married same-sex couple in Los Angeles county. In addition, the City Council unanimously voted for their wedding day, June 16, to be forever known as "Marriage Equality Day" in Los Angeles.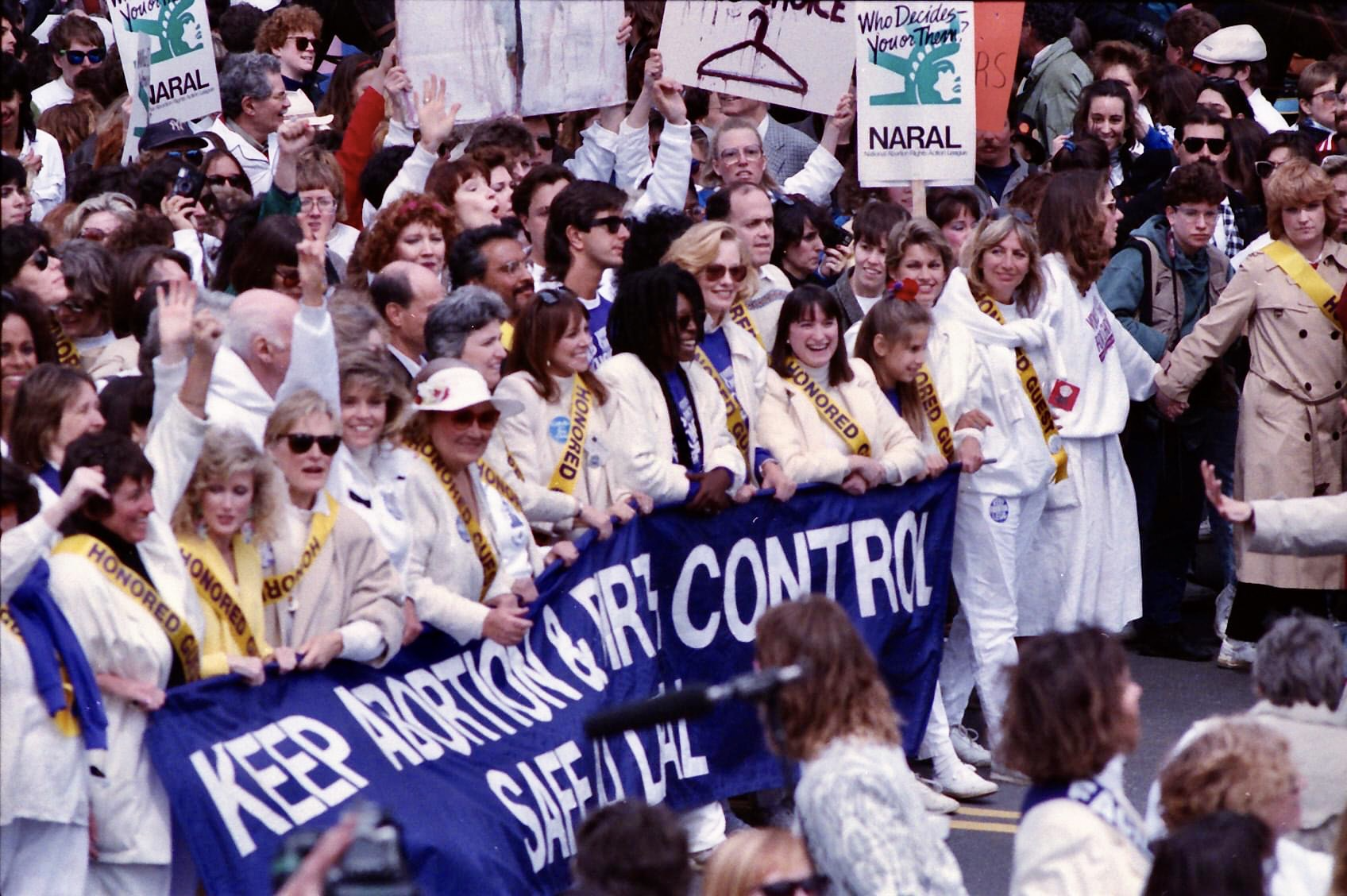 Robin is far left, with her fist raised.
Robin recently lost both her wife Diane and her longtime comedy partner and soulmate, Pat Harrison, who lived with Robin and Diane for many years. Customarily stoic, Robin now breaks down when she recalls how Patty died in her arms. But Robin remains determined to stay vital and in the fight, as she sees treacherous times ahead for so many hard-won civil rights. In fact, just the other day when the Supreme Court took away a nearly fifty-year precedent of women's rights to govern their own bodies, photos of Robin on the front lines of that battle from decades ago began to resurface. She was and continues to be a warrior for justice. And so, as her friend and advocate, I wanted to help tell her story because, as my daughter remarked, "We should be learning about Robin in school." (I didn't have the heart to tell her that we are now also moving in the other direction on that front as well.)
Last year, the FX cable network aired a couple of notable documentaries: Hysterical, about women in stand-up comedy, and Pride, a decade-by-decade miniseries celebration of LGBTQ history. Robin appeared in both. She was included in the former as a trailblazing comic and in the latter as an influential activist and civil rights leader. However, neither project acknowledged the other side of Robin Tyler's impressive legacy. But if you were to ask Robin which aspect of her storied past best defines her, she would be quick to insist that it has to be both. She regards them as inextricably intertwined. And now that I know her, that makes all the sense in the world to me. Because to her core, Robin Tyler is both funny and fierce.